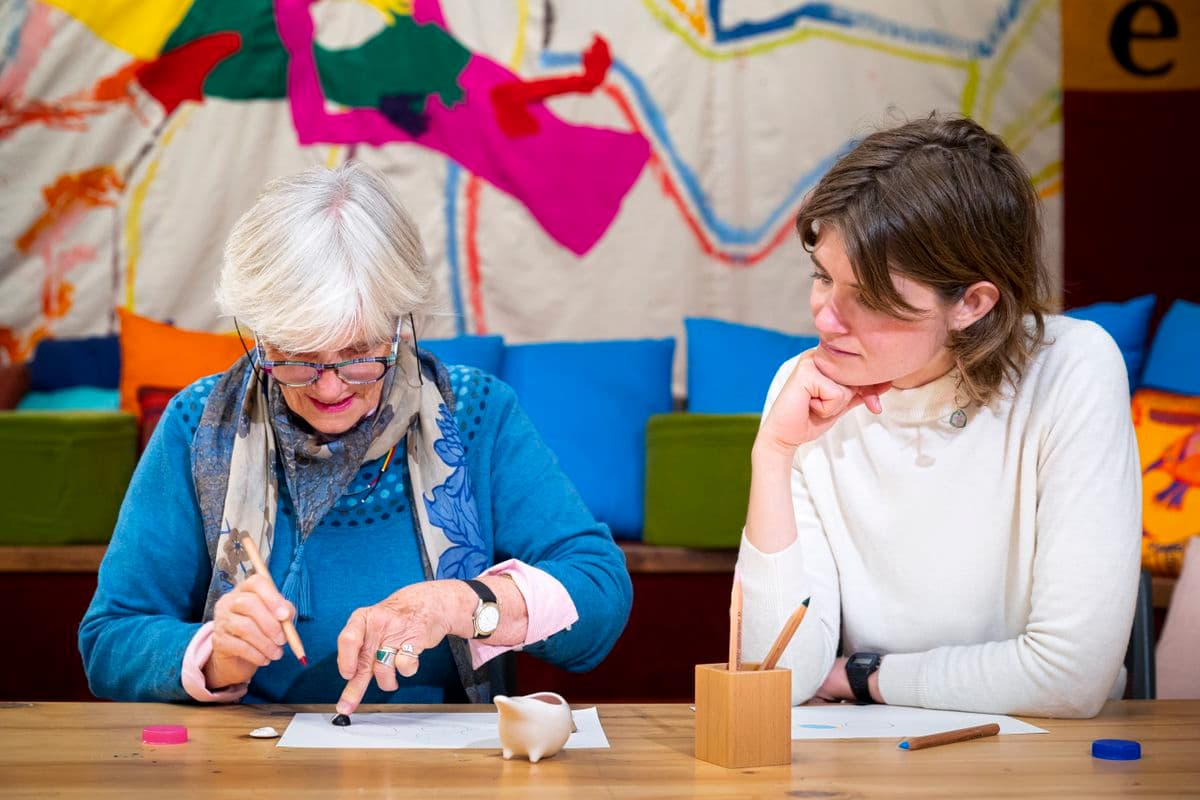 Making It is a series of online workshops for people living with dementia and their care partners. A 'care partner' might include a family member, professional support worker, dementia care staff, or any other person supporting someone with dementia to participate. By engaging in these activities together the care partner will benefit from experiencing the creative process alongside the person they care for.
The aim of these workshops is to extend the reach of the National Gallery's Art and Dementia Program to people living in regional and remote areas and those who are unable to access the National Gallery. Each workshop encourages creativity and self-expression to support wellbeing and quality of life.
Participants will engage with works of art from Australian artists within the National Gallery's collection and experiment with artmaking activities in their own homes and at their own pace.
Each workshop has been designed around a central theme and is intended to be undertaken in two parts: Discussion and Artmaking.
Discussion
Discussion provides an opportunity to view and find inspiration from works of art in the National Collection. A process of discovery, using open-ended questions, allows multiple opinions to be shared. This method will elicit responses beyond yes or no, leading to meaningful discussion where people with dementia are able to demonstrate their ability.
For example: the question, "What colour is the sky?" could be experienced as a test with a 'correct' answer. Try instead: "Tell me about the sky." Asking the question in this way allows participants to make choices and give a variety of responses.
Be patient and open. Allow time for participants to look at the work of art, process the questions and to formulate an answer. Don't be afraid of silence. Discussion should be fun, social, and intellectually stimulating to build confidence and open minds.
Discussion tip:
Allow participants to answer the questions in their own way. They may not provide the answer you were expecting. So, adjust your expectations. Allow the participants to lead the conversation; you may be surprised by the remarkable discoveries you make together.
Artmaking
Artmaking is a way to explore themes and concepts expressed in works of art. The creative process supports the individuality of each maker through experimentation and self-expression.
Each workshop contains a video that demonstrates the artmaking activity. The video can be watched before you begin artmaking, or it can be watched while you make, with participants following along. We encourage you to pause or rewind as required.
Tips to remember:
All participants are encouraged to respond in their own way. Keep in mind that people living with dementia may have lost confidence, ability, or have a reduced repertoire of creative expression, and care partners may have limited experience with artmaking. The workshop can provide an activity with mutual benefits where all responses are celebrated.
If possible, allow time and space for the participant to evolve or repeat the activity over subsequent sessions until they feel their work of art is complete.
Tip to encourage a first mark:
Sometimes people living with dementia may have difficulty deciding where or how to begin. Care partners can assist this process by placing their finger on the page to indicate a starting point or by taking turns to make a mark.
Begin a workshop
Experiment with mark making and discover lyricism in art

Explore horizon lines and play with perspective

Play with found materials and experiment with pattern

Discover the magic of light