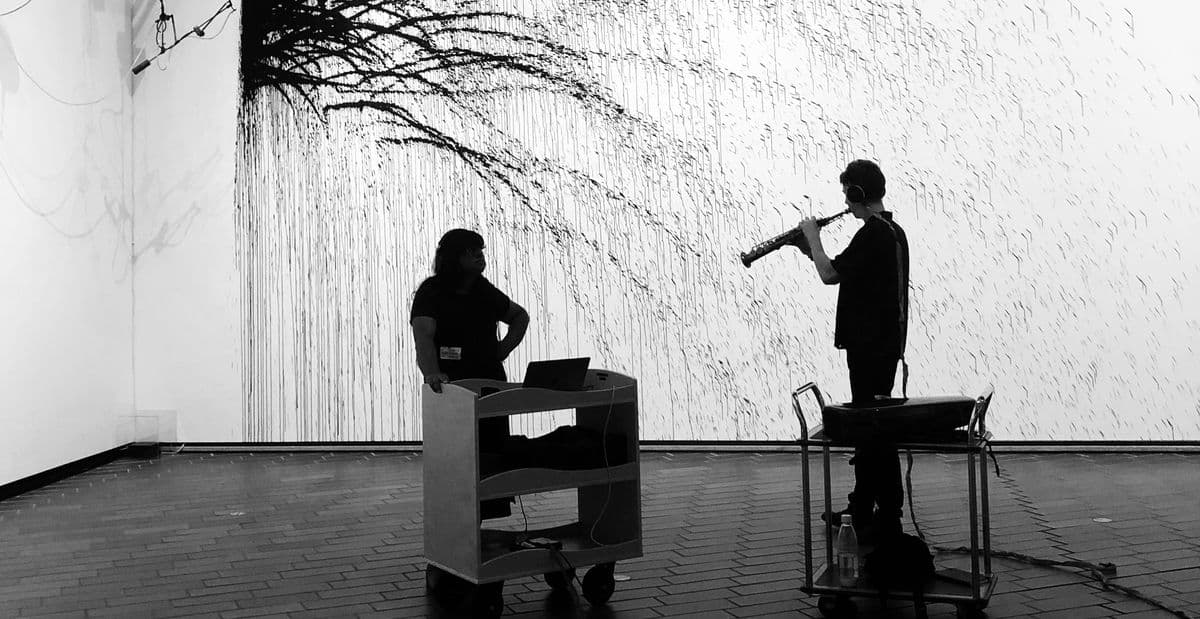 My intention is that I can work to my compositional strengths and use melody, rhythm, abstract sound and tone to create pieces that are both easy to listen to as well as sonically intriguing.
In 2023 the National Gallery engaged sound artist Sia Ahmad to consider the acoustic possibilities of the building using field recordings and live instrumentation recorded onsite. The final compositions also use data sonification software to incorporate building measurements and map coordinates. Born out of this experimentation is five sonic responses featuring Tom Fell on soprano saxophone. Each piece reflects the natural reverb of the building and its numerical and spatial resonances.
The Gallery uses these compositions in digital and onsite programs for moments of welcoming, discussion, contemplation and reflection.
The Artists
Sia Ahmad
With a rich and extensive background in Australian music, Sia Ahmad has been creating idiosyncratic sounds over the last decade and more. Using guitar, keyboard, voice and electronics, she works both as singer/composer and improviser, when performing as Shoeb Ahmad or in collaboration.⁠ Once of acclaimed electronic jazz outfit Tangents and an APRA AMCOS Art Music Award winner, Sia has performed and released a diverse range of original music throughout Australia, Japan, New Zealand, Europe and South Eastern Asia while also working on sound design for dance/theatre, installation pieces and contemporary chamber composition.
Tom Fell
Tom Fell is an improvising saxophonist and educator living and working on Ngunnawal country in Canberra, Australia. Originally trained as a jazz musician, the versatility of Tom's sound and approach has made him an in-demand performer across musical genres for over a decade. Tom has worked as a Performance Teaching Fellow at the ANU and currently maintains a private teaching studio.
The Sounds
Sounds of the Gallery