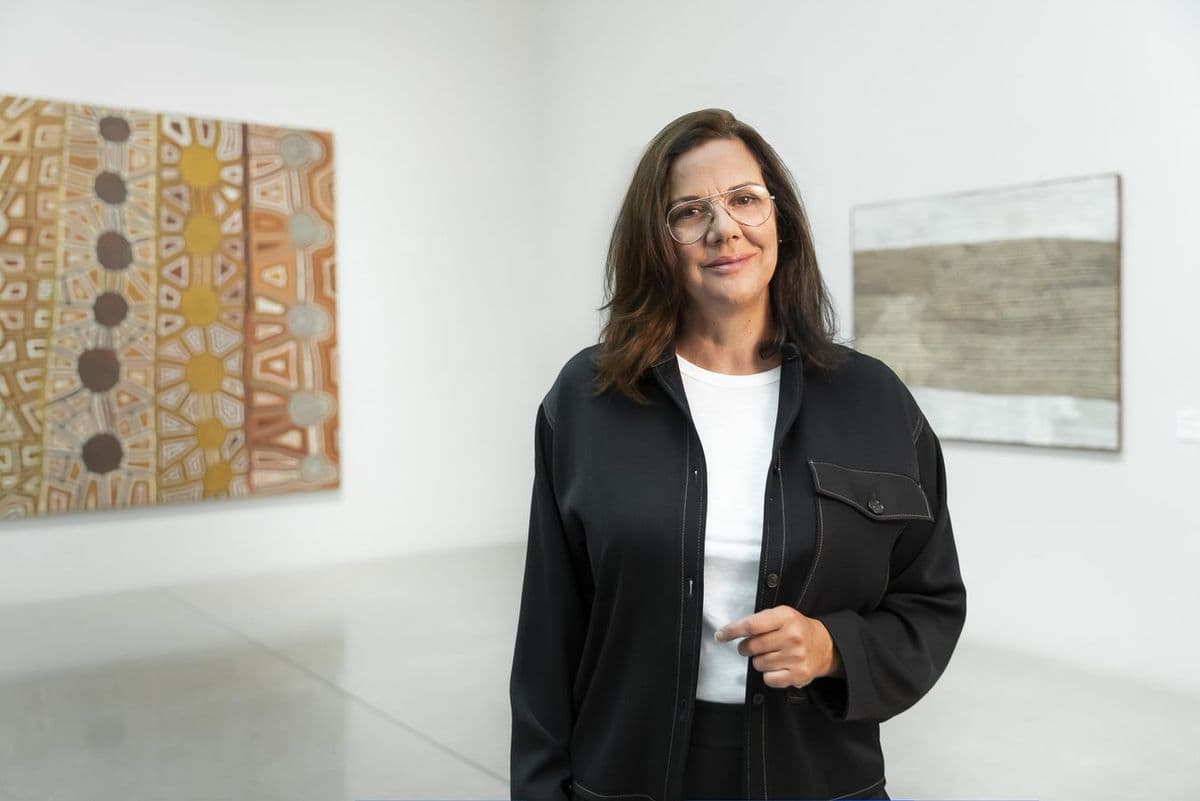 Key information
Thu 21 – Sat 23 April 2022
James Fairfax Theatre and online
This page has been archived for research purposes. You can learn more about the National Visual Art Education Conference here.
In 2022, the National Visual Art Education Conference is presented alongside the 4th National Indigenous Art Triennial: Ceremony. Curated by Hetti Perkins, Arrernte and Kalkadoon peoples, the exhibition presents artworks as "active ingredients" or "radical agents" – works that are active; works that are activist; works that activate.
This year's conference responds to this call by centring the work of First Nations artists, educators and thought leaders. We present a program of active and activating learning experiences that challenge and empower all educators to embed First Nations perspectives in their practice.
Presented online, with opportunities for in-person attendance at the National Gallery, the conference program combines presentations and artist talks, interactive workshops, opportunities for reflection and conversation, and access to a portal of tools, frameworks and resources to support teaching and learning.
Conference delegates will also receive a complimentary ticket to the inaugural Betty Churcher AO Memorial Oration, with Dr Melissa Chiu, Director, Smithsonian's Hirshhorn Museum and Sculpture Garden, on Thursday 21 April, 7pm AEST.
This Conference offers Auslan interpreting and live captioning.

Conference Schedule
Speakers and workshop presenters include:
Hetti Perkins, Arrernte and Kalkadoon peoples, Senior Curator-at-Large, Aboriginal and Torres Strait Islander Art, National Gallery of Australia
Michelle Adams, Yindjibarndi people, Cultural Advisor, NEO-Learning, Big hART
Aunty Mary Atkinson/Charles, Wiradjuri and Ngunnawal peoples, Senior Elder, Educator and Cultural Practitioner​​
Larry Brandy, Wiradjuri people, storyteller and author
Joel Bray, Wiradjuri people, artist, 4th National Indigenous Art Triennial: Ceremony
Dr Melissa Chiu, Director, Smithsonian's Hirshhorn Museum and Sculpture Garden
Ian RT Colless, Dharabuladh (Therabluat) clan of the Gundungurra people, Wesfarmers Indigenous Leadership Coordinator, National Gallery of Australia
Sharon Davis, Bardi and Kija peoples, Director of Education and Ethics, The Australian Institute of Aboriginal and Torres Strait Islander Studies
Krystal Hurst, Worimi people, First Nations Lead Artist Educator, National Gallery of Australia
Mark Leahy, Creative Producer, NEO-Learning, Big hART
Kylie Neagle, Education Coordinator, Art Gallery of South Australia
April Phillips, Galari People of the Wiradjuri nation, First Nations Learning Designer, Australian Children's Television Foundation
Liam Price, Warlpiri people, educator and language specialist, Miromaa Aboriginal Language and Technology Centre
Dr Melanie Riwai-Couch, educational leader in Aotearoa, New Zealand and author of Niho Taniwha: Improving Teaching and Learning for Ākonga Māori (Huia Publishers, 2021)
Joel Spring, Wiradjuri people, artist, 4th National Indigenous Art Triennial: Ceremony