National Summer Art Scholarship
Applications open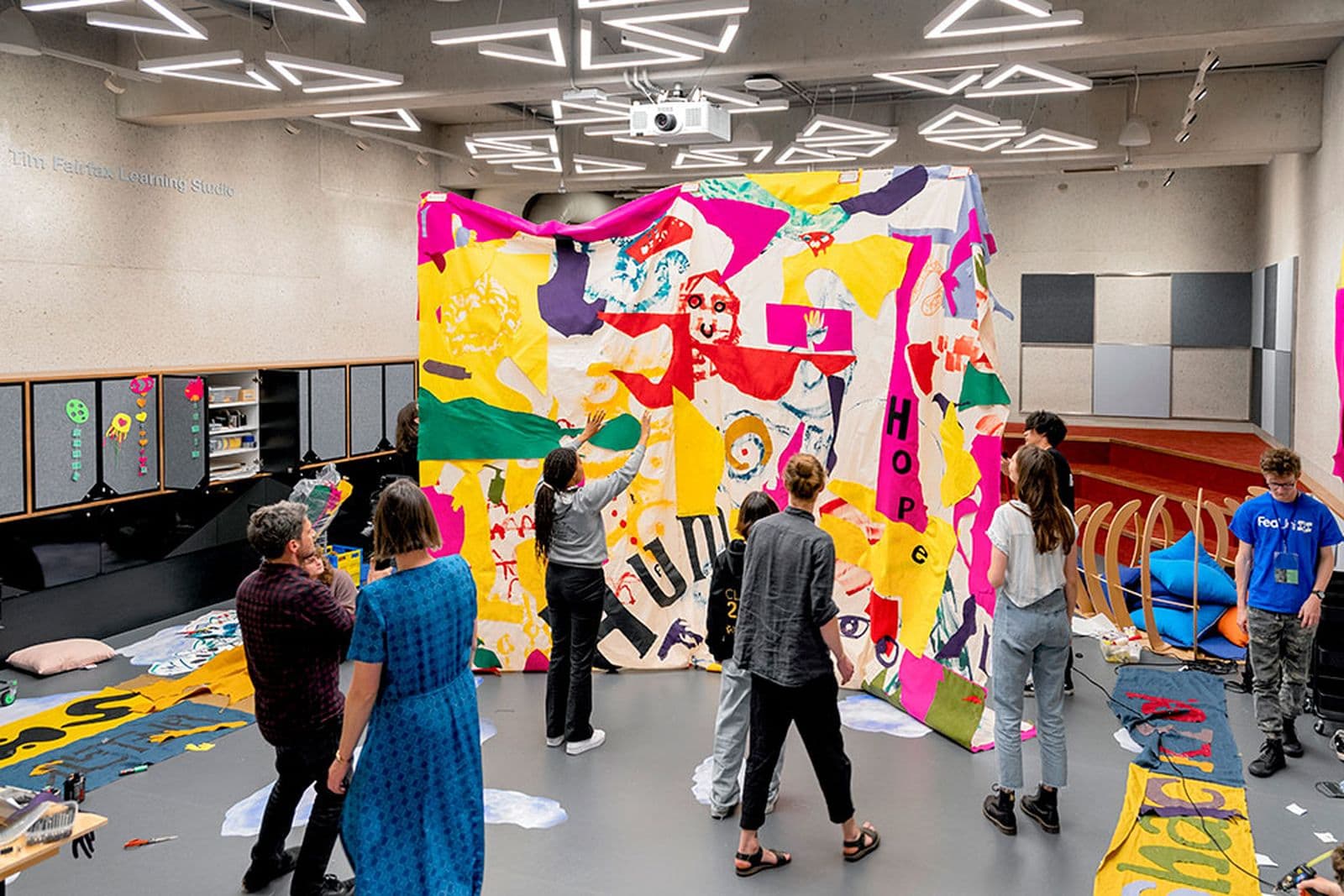 Key information
Are you a young person passionate about pursuing a career in the arts?
The National Gallery is here to guide you! If you are currently in Year 10 or equivalent, and eager to jumpstart your professional journey in the arts, don't miss this incredible opportunity to apply for the Gallery's National Summer Art Scholarship.
2024 National Summer Art Scholarship
Online from December 2023 to December 2024
Residency in Kamberri/Canberra: 7–14 December 2024
If you are unsure where to begin your journey towards a career in the arts, the National Summer Art Scholarship is the perfect starting point. This comprehensive program has been a guiding light for hundreds of young people for more than 25 years.
Seize the opportunity to apply for this year-long program, which includes a week-long residency at the National Gallery of Australia in Canberra. 16 students will be selected from around the country, two from each state and territory.
The application for the full year program is available to students who are in Year 10 or equivalent in 2023. If accepted, the program will assist you in advancing your visual art studies during Year 11 in 2024.
This is an unparalleled opportunity to learn about career pathways in the arts and creative industries through a behind-the-scenes introduction to the operations of the National Gallery. The National Gallery cares for 155,000 works of art from Australia and around the world. Meet the arts professionals who manage this significant collection.
Key dates
Key dates:
Applications open: Tuesday 1 August 2023
Applications close: Sunday 15 October 2023
Applicants advised of outcome: November 2023
Online Residency: 9–10 December 2023
Meet Gallery staff and your fellow participants from across the country.
Hear from National Gallery curators who share behind-the-scenes insights into current exhibitions.
Participate in artist-led workshops.
Quarterly Online Meetings: March, June and September 2024
Join interactive sessions with your fellow participants throughout the year.
Learn more about the National Gallery's extensive art collection, including the largest collection of First Nations work in the world.
Learn about the variety of career opportunities in the arts.
Onsite Residency: 7–14 December 2024
6 days onsite at the National Gallery in Canberra.
Return airfares to Canberra from your nearest airport.
Accommodation and all meals, including a celebratory dinner at the end of the week
Behind-the-scenes access to the National Gallery, including opportunities to meet staff from curatorial, conservation, registration, programming, digital and marketing teams.
Curator and Educator led tours of the National Gallery collection and exhibitions.
Artist-led studio workshops.
The National Summer Art Scholarship is made possible with the support of Digital & Learning Patron, Tim Fairfax AC.
"It was an incredible opportunity that has provided me with so many new pathways in art that I would not have known existed otherwise. It was a truly memorable and life changing experience that was better than I could have hoped for. Thank you all for the time and dedication that you put in to creating this wonderful program and opportunity."
Focus work of art
Ouroboros is an immersive public sculpture created by Australian artist, Lindy Lee. It serves as a profound exploration of Lee's Chinese heritage, influenced by Taoism and Ch'an (Zen) Buddhism. These philosophies view the interconnection between humanity and nature as essential. Drawing inspiration from the ancient symbol of a snake devouring its own tail, which transcends cultures and spans millennia, Ouroboros symbolises the eternal cycle of birth, death, and renewal.
The sculpture invites individuals to enter its "mouth" and venture into a curved space where they encounter darkness illuminated by beams of light radiating from hundreds of perforations adorning its surface.
During the day, its highly-polished mirror surface will reflect the imagery of the floating world, the transience of passers-by, birds in flight, and passing clouds. At night the Ouroboros will be lit internally, returning its light to the world.
Ouroboros will also be a sustainable sculpture – incorporating recycled materials, maximising renewable energy, and work to minimise its carbon impact, helping make it one of Australia's first sustainable works of public art.
The sculpture is being fabricated at the UAP Foundry in Brisbane and will measure around four metres high and weigh approximately 13 tonnes.
Commissioned to commemorate the National Gallery's 40th anniversary in 2022, Lindy Lee: Ouroboros is scheduled for completion in 2024. The sculpture will sit on a pool of water at the entrance of the National Gallery