40 Acquisitions for 40 Years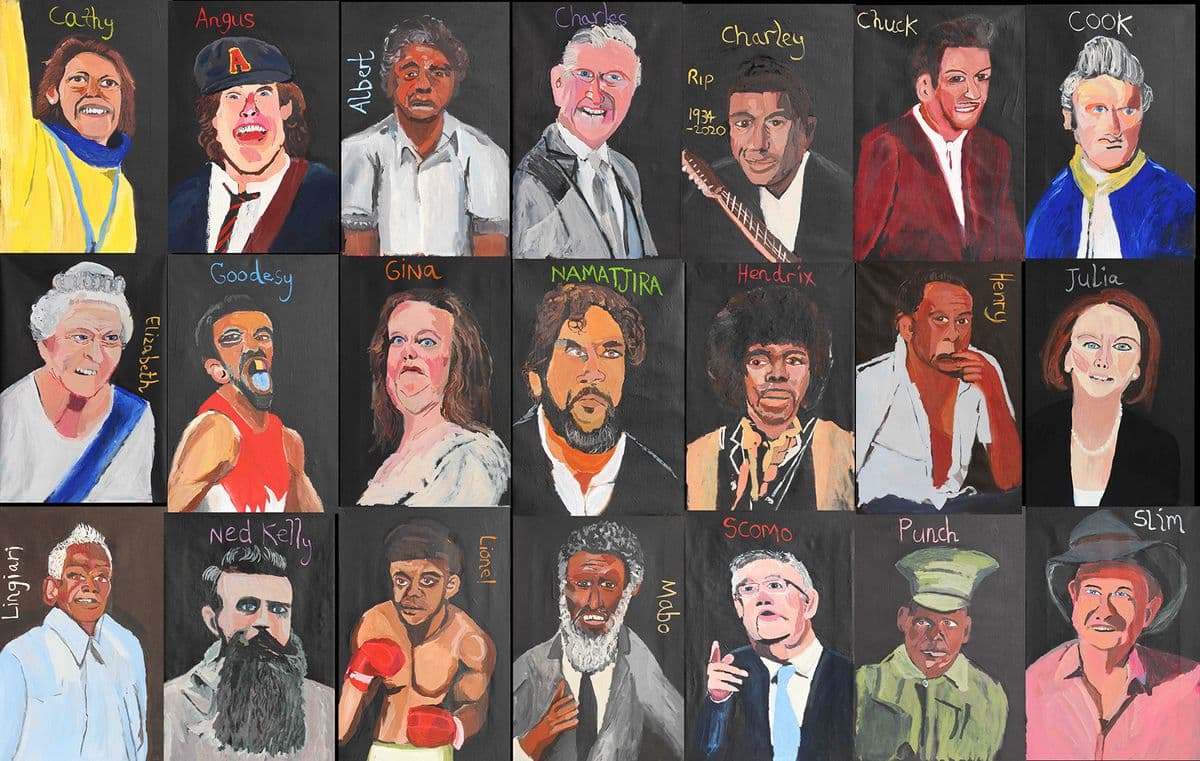 With an upcoming birthday this October, we share 40 acquisitions to celebrate 40 years of building a national collection.
Four decades since the doors opened to the world, acquiring for the permanent collection and the people of Australia remains top priority for the National Gallery. The Gallery kicks off our 40th Anniversary celebrations by sharing 40 acquisitions.
From local custodians Dr Matilda and Paul Girrawah House's traditional tree scarring throughout the Sculpture Garden to a suite of 126 photographs by renowned American photographer Nan Goldin – the Gallery shares works by 40 artists and collectives from here and across the globe.
ALFREDO AQUILIZAN & ISABEL AQUILIZAN
Wings Baanan Series #8, 2021
MICHAEL ARMITAGE
Enasoit 2019
MATTHEW BARNEY
Basin Creek burn, 2018
JAMES BARTH
Adumbral placeholder, 2021
DEL KATHRYN BARTON
my heart is blazing 11 hours 2021
RICHARD BELL
Kamilaroi/Kooma/ Jiman/Gurang Gurang peoples
From little things big things grow, 2019-20
DORRIT BLACK
Backs of houses, Veere, c. 1929
CRESSIDA CAMPBELL
Bedroom nocturne, 2022
KUNMANARA CARROLL
Ilpili, Walungurru, Kiwirrkura, and Yumari, 2021
MARY CASSATT
The fitting, 1890-91
RUSSELL DRYSDALE
Studio still life, c. 1937
TRACEY EMIN
When I sleep, 2018
IAN FAIRWEATHER
Market scene, Peking, 1935
HELEN GANALMIRRIWUY GARRAWURRA
Gurrumaṯtji, 2021
TEELAH GEORGE
Sky piece, falling (Melbourne, Perth), 2020-21
NAN GOLDIN
The ballard of sexual dependency series, 1973-1986
DR MATILDA HOUSE & PAUL GIRRAWAH HOUSE
Mulanggari yur-wang (alive and strong), 2020
NATALYA HUGHES
Woman 6 (Harmony), 2019
JUZ KITSON
Charred urn, a lament for the wildfires, 2021
EMILY KAME KNGWARREYE
Untitled (awalye), 1994
Rosemary Laing,
Where to from here #2, 2019
GRACE LILLIAN LEE
Future woven floral forms (natural and red), 2020
DR CAROL MCGREGOR
Wreath for Oodgeroo, 2020
DHAMBIT MUNUNGGURR
Djulpan, 2020
VINCENT NAMATJIRA 0AM
Vincent's Vision - Seeing through my eyes, 2021
MANTUA NANGALA
Untitled, 2021
NUKUMA PEOPLE
Minja, 1900-1950
BEN QUILTY
Myall Creek Rorschach, 2019
JUDE RAE
Waterloo II (#449), 2021
JEFFREY SMART
Near Knossos, 1973
KIKI SMITH
Earth, Underground & Sky, 2012
ETHEL SPOWERS
Melbourne, 1930
AIDA TOMESCU
A long line of sand III, 2021
BARBARA TRIBE
Eve (Female torso, Thailand), 1971
KARA WALKER
Your world is about to change, 2019
JUSTENE WILLIAMS
Victory over the Sun, 2016
JORDAN WOLFSON
Body Sculpture, 2023
This story has been published as part of the National Gallery's 40th Anniversary. For more visit 40 Years.