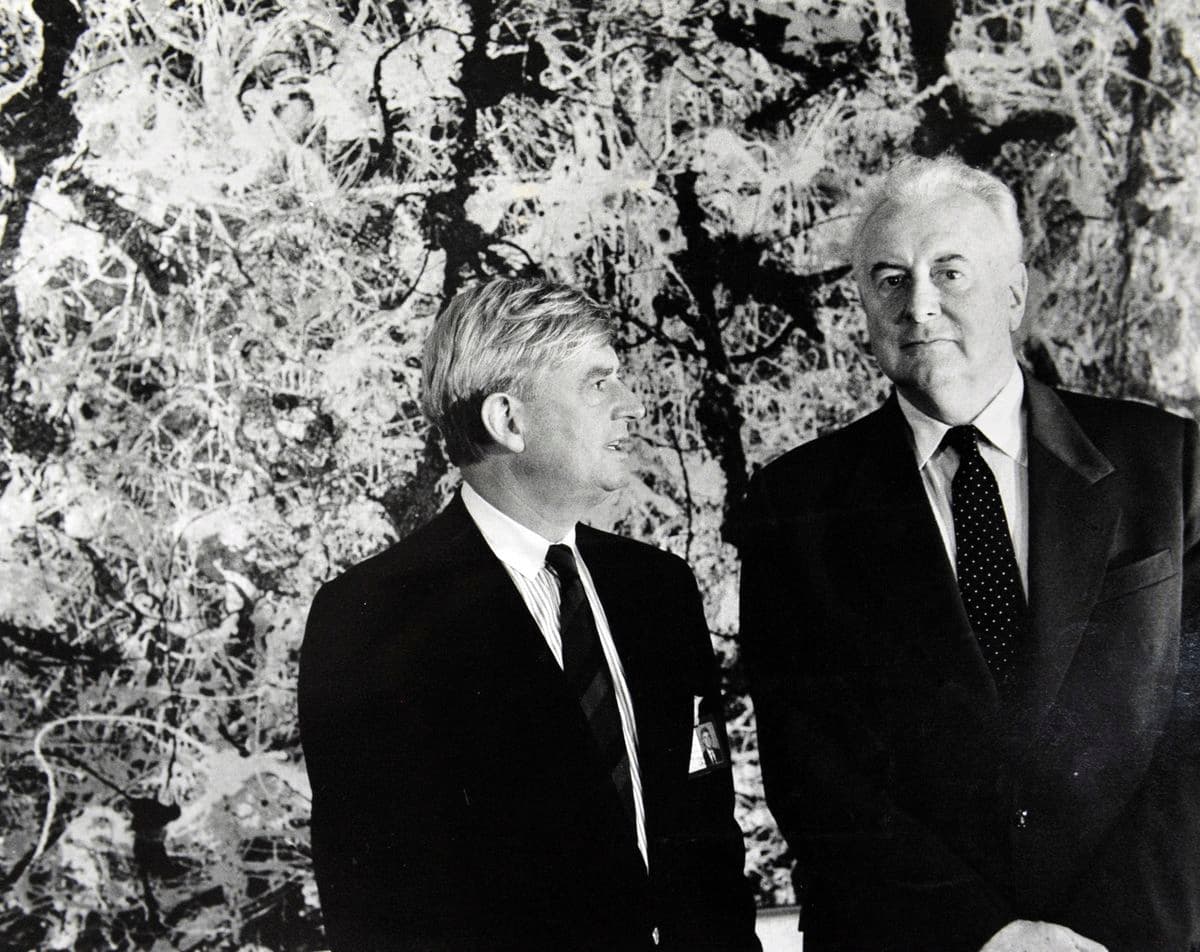 From his early appreciation of First Nations artists to his open-minded pursuit of excellence for the national collection, the National Gallery's Founding Director, James Mollison, was a defining figure in Australian art, writes Dr GRAZIA GUNN.
As Founding Director of the Australian National Gallery, as it was called then, in the final decades of the 20th century, James Mollison set out to establish a national gallery that lived up to that name; appropriate to the times, appropriate to the region. He wanted the institution to showcase art of every kind within its galleries and garden: sculptures, paintings, drawings, prints, artists' books, monoprints, photographs, modern design, textiles, costume and fashion, theatre designs. Some of Mollison's early acquisitions were works by First Nations artists at a time when few galleries represented their art.
The idea of an Australian national art collection was first discussed in 1903 between Prime Minister Alfred Deakin and the artist Tom Roberts. It took decades, and the leadership of several prime ministers, for the idea to materialise due to the First and Second World Wars and the Depression years in between. It wasn't until the 1960s when Prime Minister Robert Menzies resurrected the plan and in 1965 set up the National Art Gallery Committee of Inquiry to report on the proposal that was eventually approved and tabled in Parliament in November 1967 by Prime Minister Harold Holt.
Mollison, then-director of the Ballarat Fine Art Gallery, was recruited to Canberra in 1968 to serve in an informal curatorial role and other loosely defined duties in the Prime Minister's department. From this time onwards, Mollison's art connoisseurship and ambition led to a broadening and shaping of the character of the collection. This period also marked the planning of a prestigious building to house the collected art. Mollison was not involved in the initial stages of the planning – James Johnson Sweeney, a former director of the Guggenheim in New York and the Museum of Fine Arts, Houston in Texas, was the consultant advising the National Capital Development Commission, who were responsible for the building of the Gallery.
In 1972 Prime Minister Gough Whitlam had declared that the new Gallery in Canberra would "fully represent not only the best Australian art, but the art of other civilisations in our region and throughout the world". Mollison, like the Prime Minister, saw the history of art as related to the history of culture and civilisation, but also as having fundamental aesthetic principles. The Director conceptualised the Australian National Gallery as a museum offering an educative experience and not as a treasure palace, solely for pleasure. This is not surprising when you consider he was an art teacher; education through art was one of the many factors that shaped the national collection.
For the grand opening of the National Gallery in 1982, Mollison placed each art object in historical relationship through juxtapositions to form a complex whole. In the sculpture gallery, he suspended from the ceiling in a row Eva Hesse's Contingent a sculpture comprising eight units of cheesecloth, latex and fibreglass, delicate and translucent. By contrast, lined up on the floor next to Contingent were Donald Judd's opulent huge brass boxes, Untitled (1974), and nearby was Constantin Brancusi's L'Oiseau dans l'espace [Bird in space] sculpture reaching for the sky.
Mollison did not differentiate between the work created by women artists and that of men; if the art was of high aesthetic quality it would be unreservedly welcomed into the collection. In his uncompromising search for excellence, he acquired some rare works by Natalia Goncharova, Alexandra Exter, Sonia Delaunay, Lee Krasner, Louise Bourgeois, Agnes Martin and many others.
The Director championed modern art, yet he was also conservative in his acceptance of the latest innovations. He was very aware that Europe's modern masters were not readily available for acquisition so late in the 20th century, yet with determination he sought out and acquired major works of European modern art. He brought into the Gallery's collection work by Kasimir Malevich, the constructivist and suprematist artist who changed the course of the history of modern art. Another major artist, Cézanne, whose work led to Cubism, entered the national collection, as did Matisse's sensuous rendering of Europa's abduction by Zeus, L'Enlèvement d'Europe [The abduction of Europa]. Many other works crucial to the history of Modernism in Europe were carefully chosen to be part of the collection.
Mollison also turned his attention to the wave of Modernism post-World War Two in America. In contrast to the mainstream art of Abstract Expressionism, in 1973 Mollison acquired a black painting by Ad Reinhardt, Painting 1954-1958, that recalled Malevich's geometric compositions, in particular his suprematist painting Black Square. Reinhardt had an interest in mysticism and this would probably have led him to the British physician and mystical philosopher Robert Fludd, who was the first to paint a black square as a picture of infinity. Also acquired in 1973 was Jackson Pollock's Blue poles, a painting Mollison had seen at the Stedelijk Museum in Amsterdam in June 1958, when he was in Europe on a study tour of galleries, museums and art collections.
Mollison's first encounter with Blue poles was not momentous. Writing home to his parents he mentioned the painting, but only to criticise its placement on a wall outside the main gallery where this monographic exhibition had been installed. He makes no further comment on the work or his reaction to it, yet he had an astonishing capacity to unravel a passage of applied paint on canvas as it turned into the magic of art.
This is evident in another of the many letters to his parents. He writes with passion about one of the galleries at the National Gallery, London, "which contained perhaps the cream of the 17th-century Italian crop," and off to one side were two other rooms of… Sienese pictures. "I knew something about these…because one of the first books I bought was by John Pope-Hennessy on Sienese paintings," he writes. Now in London in front of the originals, Mollison felt the mysterious aspect of these works, with their luxuriant golden backgrounds, and the immense emotional power this kind of art had over him.
But what was Mollison's response to Blue poles? Was he astonished by its primal energy? What did he think of the drips and violent splashes of paint covering the entire surface? Did he think that this iconoclastic rejection of established painting conventions was creating a new art language? Did he personally like it? Mollison does not say.
As Director, Mollison was aware that personal taste is secondary to objective professionalism, and that Blue poles is part of the history of Modernism and must be included in the Gallery's collection regardless. Blue poles and Reinhardt's Painting 1954-58 were acquired the same year, but they represent distinctly different aspects of Modernism in America.
Blue poles made a grand entry into Australia, but, of all the major paintings entering the collection in the 1970s, its acquisition was the most controversial historically, politically, financially and socially. The painting was made famous by this initial critical response, yet this is but one of many works in the national collection that, although less controversial, are equally significant masterworks in the long history of Modernism. James Mollison, with his dedication to and love of art, built a varied permanent collection of timeless character for the National Gallery that is his most lasting achievement.
This story has been published as part of the National Gallery's 40th Anniversary. For more visit 40 Years.