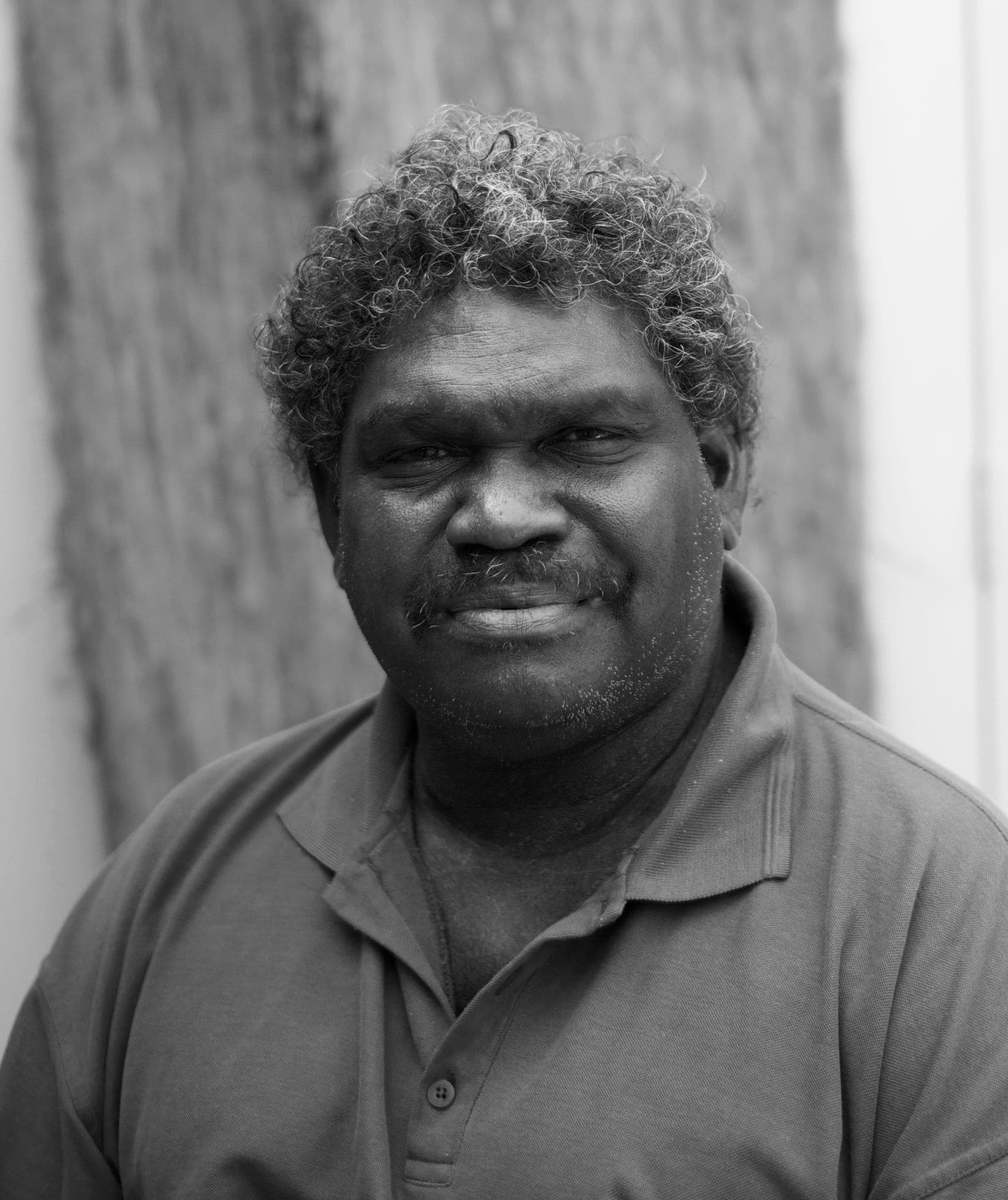 Five larrakitj and two etched metal signs by the late Yolŋu artist Mr Waṉambi, have entered the collection of the National Gallery. The artist recalled the evolution of his vision.
When I was at Dhupuma College a long time ago during the school I hated art. I really hated art in my world, at the school. One day my Father said to me 'Come. Come to Gurka'wuy with me. We need to do the dhapi (circumcision ceremony) for Wanyubi (Marika).' This was in 1976. So I came along with them and participated with them. At the same time listening to the elders of the Rirratjingu and Marrakulu. They asked me, 'What is your aim? Not only about bark painting but about the Law side as well?'
My first priority was listening to these elders. I helped paint Wanyubi for his dhapi ceremony. That photo of him on the cover of Howard Morphy's book Ancestral connections shows Wanyubi painted at that ceremony. I had to ask for help from my elder Djuagya mala (cultural managers from the opposite moiety) like Bokarra Maymuru.
It is very interesting because that was when I began to say to myself, 'Great. This is the way for me.' But I took that back to school and shortly after that my Father passed away and my Mother had already left us.
My Father had no Brothers. My Father was a humble man. And a senior leader. He looked after all the Marrakulu clan. He was their leader. He looked after the land of the Marrakulu around Gurka'wuy. He was the leader for their Law. Dundiwuy Wanambi acknowledged him as the leader. After his death other people assumed that position.
Senior cultural authorities urged me to become the leader but I told them that my Father was a humble man and I followed him in that. He was humble in performing the manikay (sacred song cycles). He was a humble painter. A humble singer. He always sang the manikay humbly — manikay in the old‑fashioned way — selflessly. For example, in funeral ceremonies — to bring that sorrow and to bring the spirit of the Yolàu who has passed away, so that wherever he dwells down — to bring that spirit to the right country. Especially for Marrakulu people.
So, at that time when he died and my Mother was gone I felt alone. I felt like I am nothing.
A long time passed until 1997 when Djambawa said to us 'Come in. Let's come together. Let us paint for our Sea Rights'. [The Saltwater: Yirrkala bark paintings of sea country exhibition contributed to the landmark High Court ruling in the Blue Mud Bay case acknowledging Yolŋu ownership of the sea in the intertidal zone.]
Lucky that I had two elder Sisters. I had the story from them about the ancestral spirits of Gurka'wuy in the form of mullet. My Sisters also reached out to the two ritual specialists, Brothers, Ḏula and Gambali Nurruwthun. We all sat down and talked about the saltwater areas belonging to the Marrakulu and their true identity. They educated us. There was so much to learn and I am still learning.
I was able to receive a piece of paper from my Napibi (Mother's Brother) Yangarriny Wunuamurra at Gäṉgan showing me the dhuyu (secret/sacred) designs. He also gave me further secret instruction in the Law of these areas including knowledge of the sacred regalia attaching to it. I also was instructed by Dr Gawirrin Gumana AO.
I had a lot of Yolàu people and family who helped me to learn how to paint. Somehow by that stage I felt more confident about taking this different pathway. I was supported by the elders. They asked me to take on my role and therefore I moved on. I began the journey upon the path that they directed me on. They opened the door for me and it makes me cry saying this now. I say thank you ... to them ... about what they done for me. They gave me a future. And I repay them by passing it on. It's very hard for me ... thinking back to them ... all those people who helped me ... because they are all gone now.
So, I moved on with my life. From then on I got a job here at Buku. I knew nothing about the other things involved except for the bark and the larrakitj (memorial pole). What happened is one day I went out to Canberra and I saw a digital artwork from Alice Springs. It was in a Museum and I said to Joseph [Brady, Program Director, The Mulka Project], 'Joseph, can you see what I see?' He said 'No', 'That's a piece of art! This is what I want to do. Let's make it happen!' Now I am reaching out to the computer to the digital things that can be made through the computer. Hearing and talking to Joseph and Ishmael [Marika, Creative Director The Mulka Project] and building that bridge and the strength of how they support me through the computer side and how it moves forward.
Today it's been a long journey for me which has made me learn. It's been a long journey and now I am able to pass on that knowledge to my family, to my Daughters and to my Mother's side. I am happy with the way my family is using that knowledge.
And here we are.
This story was first published in The Annual 2022.
Mr Waṉambi was a Yolŋu painter, filmmaker and curator of the Marrakulu clan of northeastern Arnhem Land. He was a founder of the Yirrkala‑based Mulka Project, a network of multimedia artists and video and sound technicians who use new technology as a means of sustaining, archiving and sharing Yolŋu cultural knowledge. He died in 2022.
Reprinted from the publication which accompanied the exhibition Destiny, 2002, with kind permission from Michael Reid Galleries and Buku‑Larrŋgay Mulka Centre.
Art & Artists
Featured
Referenced