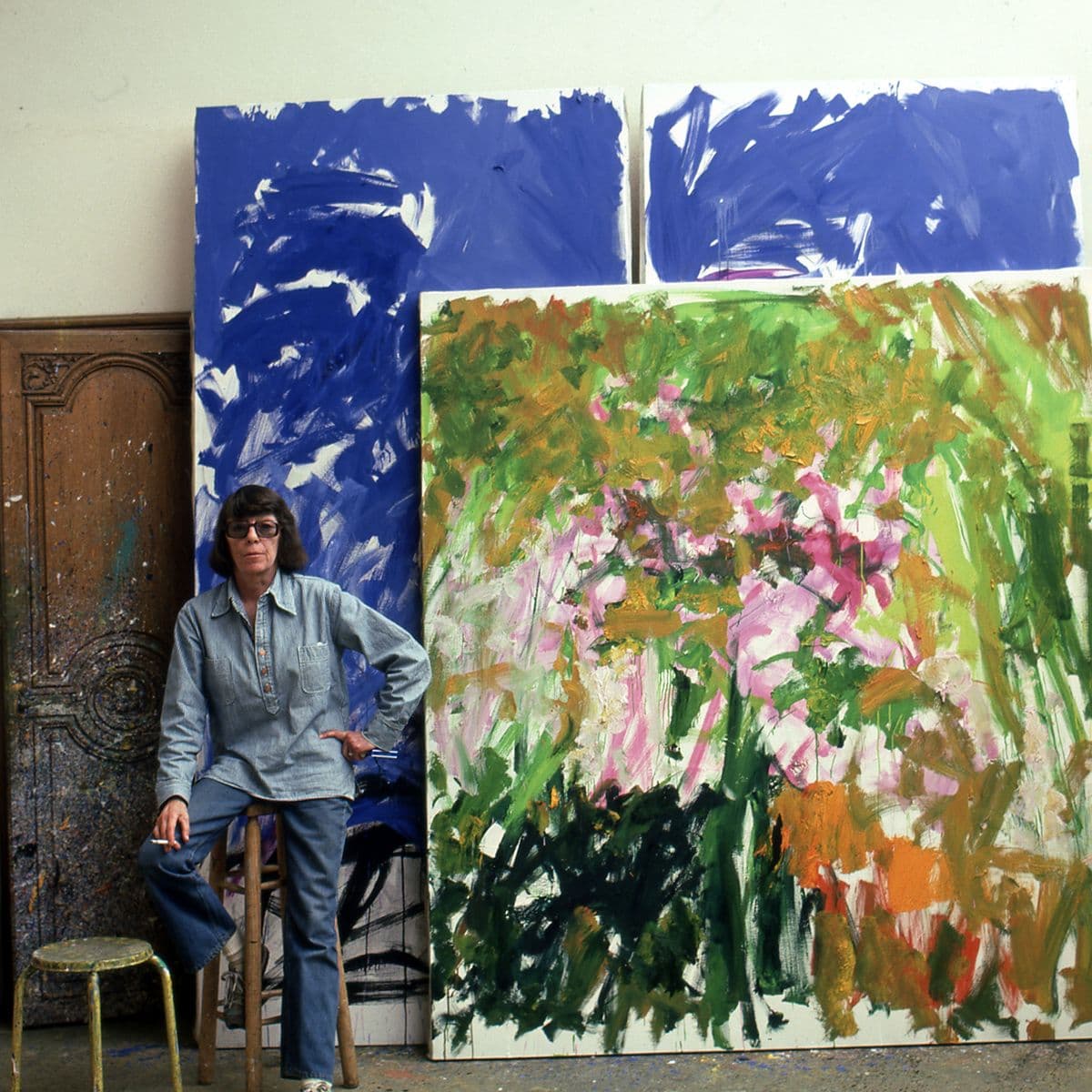 A house in France brought different inspirations to Joan Mitchell and Claude Monet, writes David Greenhalgh.
There is a house known as La Tour on the outskirts of the small, picturesque French village of Vétheuil that has been home to two very different artists: French Impressionist Claude Monet and American Abstract Expressionist Joan Mitchell.
When Monet lived there in 1878 he would carry his paints and easel into the surrounding fields to capture the view towards the town cathedral. Working in the light of day, he strove to put on canvas the vibrant hues of the natural world as he immediately saw it, building up quick marks of pastel colour to convey the evening light across the Seine.
Almost a century later in 1967, Mitchell moved to La Tour (situated 56km from Paris) and became inspired by the same countryside. But instead of working in the light of day, she worked in the studio at night, under the hum of the electric lights, with all the windows blocked by a thick canvas.
Mitchell was a brash young artist from Chicago and part of the Abstract Expressionist movement that originated in New York in the 1940s. Inspired by the bold, gestural painting style of her contemporaries Willem de Kooning and Philip Guston, Mitchell quickly impressed herself upon what was a male-dominated art scene. Her mastery of colour and athletic brushwork produced arresting abstract compositions that for many critics and curators would remind them of landscape painting. Art critic Louis Finkelstein speculated in 1969 that: "Virtually all of [Mitchell's] paintings are in some sense landscapes. Yet in what sense?". Curators accused her of trying "too hard to be like Monet", and while Mitchell's move to France reinforced such notions — particularly her choice to work in a place integral to the history of Impressionism — she repeatedly disavowed such comparisons.
In Mitchell's own words, making art was a deeply personal affair. In an interview with French philosopher Yves Michaud in 1986 she described the act of making as a means of "feeling living", as a way of putting herself back together again.
"I don't set out to achieve a specific thing, perhaps to catch motion or to catch a feeling." — Joan Mitchell
Unlike Monet and many of the Abstract Expressionists, Mitchell's work was not performative or public; she made work privately. Mitchell worked from what she called the 'remembered landscape', a process that puzzled visiting curators who couldn't understand why she chose to work late at night, indoors, when there was such stunning inspiration to be found in the natural world that was at her doorstep. But Mitchell depicted more than just what she saw, drawing on a complex process for creating her abstract work.
"I 'frame' everything that happens," Mitchell told Michaud. "This will be a photograph in my head…of course there is movement, what people call movement, within the frame but it is certainly caught and if the painting works, the motion is made still, like a fish trapped in ice…I don't set out to achieve a specific thing, perhaps to catch motion or to catch a feeling."
This synthesis of emotions and the natural landscape, and the distortive process of carrying this image around in her memory before committing it to paper or canvas produced unique works that retained a sense of the natural world, yet transformed it.
Interviews with Mitchell attest to the importance of memory in her process from as early as 1965, when art historian Dorothy Seckler asked if she worked outdoors to depict the landscape:
"No, no. I do drawings in the studio", Mitchell responded.
"So this is memory then…you begin with a kind of a sense of a more or less place, more than anything?" asked Seckler.
"Yes, or a feeling about it," said Mitchell.
Towards the end of Mitchell's life, she adapted her painting practice to create bold and innovative lithographic prints. Making a lithographic print is a collaborative affair, involving a team of printmakers.
Mitchell was at first reluctant to work with master printer Kenneth Tyler in 1981. To accommodate the artist's methods of working and need for isolation, Tyler set up a private room for Mitchell's experiments when she visited his workshop in Bedford Village, on the outskirts of New York. It was only by accident one day that he caught a glimpse of Mitchell working, which is something that few people had ever seen. He remembers the confidence she possessed in her command of colour and the surety of her mark making as she moved between the printing plates, on which she drew with thick and greasy lithographic crayon, and the far side of the room where she would observe the work's progress, preparing her next approach. Layering marks, she began to build depth without the need to ever erase or revise.
Tyler recounts that it was "as close as you're going to get to Zen drawing. You think about it, and then you make the stroke. You don't go back on it. You just leave it."
In 1991 Mitchell returned to Bedford Village to work with Tyler once again. The editions that she produced in 1992, such as Trees and Sunflowers, were among her last works before she died from advanced lung cancer that October.
These works, which form an integral part of the National Gallery of Australia's Kenneth Tyler Collection, are a testament to Mitchell's commitment to her practice.
For Mitchell, her art was more than an activity, it was a fundamental part of her. As Mitchell once said, her identity was: "a sort of scaffolding made of painting stretchers around a lot of coloured chaos".
Joan Mitchell: Worlds of Colour is the first solo exhibition of Joan Mitchell's work in Australia and runs 13 February to 26 April 2021.