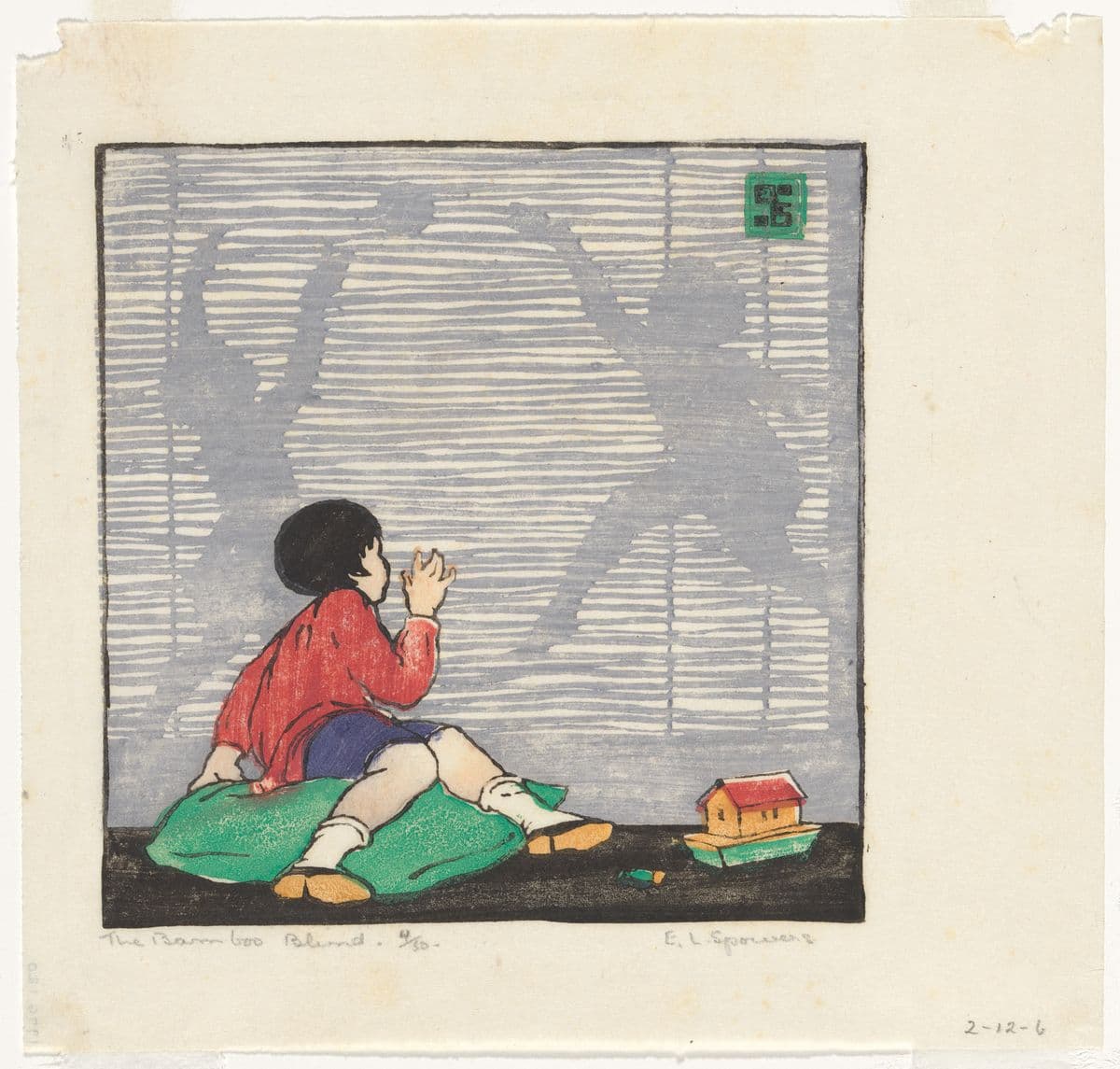 The creative alliance of ETHEL SPOWERS and EVELINE SYME, highlighted by a new exhibition at the Gallery, brought the linocut to Australia while sparking a new acceptance of modernist art forms. By SARINA NOORDHUIS-FAIRFAX, Curator, Australian Prints and Drawings.
Post-World War I was a time of great change for women, with the tireless efforts of the suffrage movement and feminism generating new opportunities for education and independent careers without the expectation of marriage. It was during this interwar period that Ethel Spowers and Eveline Syme emerged as trailblazing modernist artists in Melbourne. The daughters of rival newspaper magnates, they formed an unlikely but dynamic friendship based on shared artistic ambitions. Privileged and philanthropic, both women moved easily between the circles of Toorak society and established art groups in Melbourne and Sydney.
As their artistic paths increasingly overlapped, Spowers and Syme travelled widely and studied with progressive teachers in Paris and London. During the 1920s and '30s, they were among many Australian artists who explored relief printmaking after reading books and articles on Japanese-style woodcuts. After acquiring Claude Flight's handbook on colour linocuts in 1928, Spowers and Syme arranged to study with him in London at the Grosvenor School of Modern Art. Flight taught them that art should say something vital about the changing urban world with its increased speed and mechanisation as if accelerating towards the future. He encouraged a pivotal shift in Spowers's aesthetic from nursery-themed, illustrative prints and drawings to a deftly balanced synthesis of colour, pattern and movement. Spowers applied these technical approaches to childhood themes while Syme would focus on landscapes and figure studies following subsequent studies with painter André Lhote in Paris.
During the early 1930s, the art world in Australia was still deeply conservative, despite the stream of artists returning from abroad bearing news of art movements that explored the geometric and symbolic; subjective and emotional. Small progressive galleries around Collins Street began to exhibit artists working with ideas around colour and form. The Melbourne art world was steadily, finally changing but the backlash from critics and arts educators was intense and vitriolic.
In April, 1930, Melbourne art critic Harold Herbert questioned the "so-called modern art shown here and in Sydney", accusing the local artists of a "tendency to paint the grotesque and the ugly in a more or less unskilled manner, in order 'to be different'".
"Centuries of study and development are discarded, but is the result better, or even new?" Herbert wrote. "It is, perhaps, easy to be guilty of intolerance, but it seems a far better thing at the moment for Australians to be accused of stodginess than to attempt to impress an over-tired world with an art which is but second-hand, and so often the product of ill-equipped extremists."
"I should like to ask all lovers of art to be tolerant to new ideas, and not to condemn without understanding"
Fresh from her direct experience of European art, Ethel Spowers responded politely but firmly: "The idea of 'being different' does not appeal to the serious worker – he works in one particular way because he must," she wrote. "While he is still young he is probably amused by some new idea, then interested in it, and finally sets to work to see how far his individuality can carry it."
Spowers perceptively compared the changing times with the development of the Italian Renaissance from the beauty and realism of ancient Greek and Roman art; followed by Europe's discovery of the arts of Asia, Africa and the Pacific region that would introduce a move towards the symbolic.
"As a nation, we Australians are too apt to be sure that black is black and white is white, without considering the other man's possibly equally intelligent point of view," she wrote.
"This 'Modern Art' is accepted and appreciated in all the capitals of Europe. Surely all Western people cannot be wrong, and we in this country, so far away from the centre of everything, the only people in the world who are right. I should like to ask all lovers of art to be tolerant to new ideas, and not to condemn without understanding."
Two days after this public skirmish, Eveline Syme arrived back in Melbourne after her studies in Paris. The lifelong friends joined with like-minded artists in Melbourne and Sydney to forge new paths in the changing modern world. Syme shared Lhote's cubist-influenced teachings on abstraction and geometry with Spowers and their friend the influential artist/teacher/critic George Bell. In turn, he later incorporated these ideas into the syllabus of the Bourke Street school he established with Arnold Shore.
Meanwhile, Spowers and Syme kept pushing the modern print into the heart of the city. From late September, 1930, they exhibited their London prints with the Arts and Crafts Society of Victoria at the Melbourne Town Hall, during which Syme gave a demonstration of the linocut technique. That December, they were involved with organising the first exhibition of linocuts in Australia at Everyman's Lending Library. Held in the heart of avant-garde Melbourne, the exhibition brought together the recent works of both Spowers and Syme alongside examples by Flight's other Australian students Dorrit Black and Nutter Buzacott, in addition to prints by Eric Thake, James Flett, Fred Ward, and textiles designer Michael O'Connell.
Although initially unconvinced, by 1932 artist-critics including Arthur Streeton and Blamire Young had accepted the colour linocut as a serious artform. The confident prints of Syme and Spowers rippled with energy generated through contrast of lines and patterns, curves and angles. In 1932 Spowers and Syme co-founded the Contemporary Art Group with Bell, which forms part of the bigger story of Modernism in Melbourne through the Contemporary Art Society and the breakaway group of artistic rebels at Heide.
Drawing on the National Gallery's collection of prints and drawings by both artists, Spowers & Syme celebrates the full extent of their pivotal contribution to Australian art.

Spowers & Syme opened on 14 August at the Canberra Museum + Gallery. The national tour of Spowers & Symehas been made possible by Major Patron David Thomas AM, is supported by Visions of Australia, and is a Know My Name project. This article is from the Winter 2021 issue of Artonview, the National Gallery's magazine for Members. Become a Member today.