Conserving Givenchy
Photo essay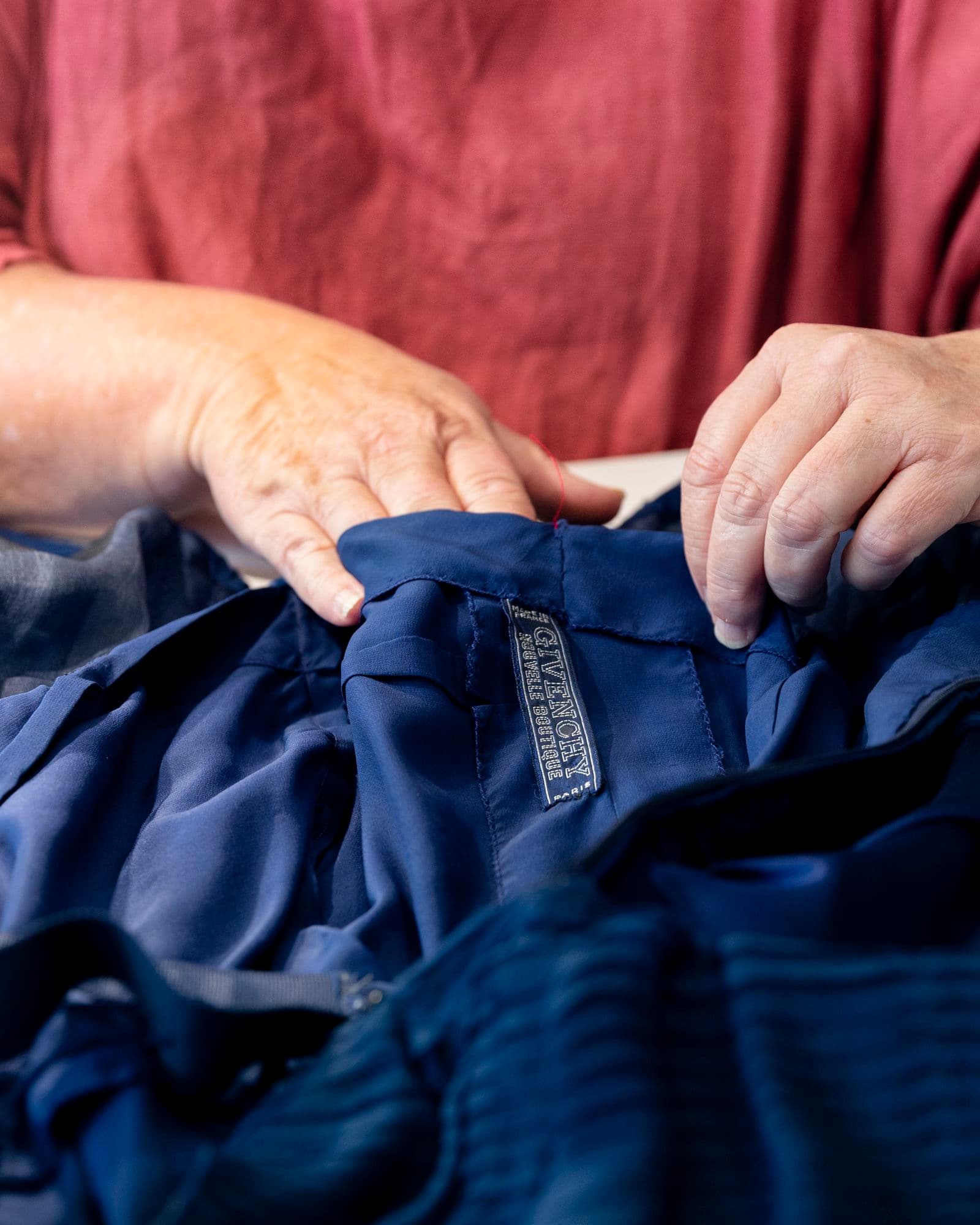 'Fabric is the most extraordinary thing; it has life.' Hubert Givenchy
Hubert Givenchy (1927–2018) opened his couture house in Paris in 1952 at age 25. During the 1950s and early 1960s he became an innovator in haute couture. A staple of his designs was refined and romantic styles, using rich yet understated fabric in bold colours. Audrey Hepburn became his muse, designing both her personal and professional wardrobe. All the key outfits for her character Holly Golightly in Breakfast at Tiffanys (1961) were by Givenchy.
This wonderful rich navy blue 1960's cocktail dress has been lounging around in the stores of the National Gallery. It is finally having the essential treatment carried out to allow it to be handled and dressed on a mannequin for imaging and display. The sleeveless mid-calf dress of softly pleated silk crepe georgette also has a separate matching shoulder length cape.
The internal lining of the dress is fine navy silk organza that has aged and deteriorated over time. The dress appears to have had many outings or seen several parties as there are a few stains and alterations with several failing patches inside to support the damage occurring in the shoulder line.
Here the designer's label can be seen where it is attached to the inner petticoat, a small red marking thread can be seen where it has been unpicked to allow access to the inside of the dress. This will be reattached once treatment is complete.
As the silk organza lining is too deteriorated to sew into and fully support the large areas of damage, an adhesive treatment approach was found to be the best way to retain the shape and support the numerous tears within the shoulders.
Adhesive coated polyester gauze is heat set with a small heated iron to the underside of the organza. A white padded board is used to prevent the adhesive sticking to the fabric below, and also ensures the correct alignment of the weave.
The edges of the armhole and neckline require restitching where they have come undone or where they had to be unpicked to repair the areas of damage.
Polyester thread as fine as human hair is used to repair or secure loose threads or open seams once the adhesive repairs are carried out.
The National Gallery's small but mighty collection of international fashion spans from the mid-19th century to today. It includes works by the most prominent designers from Europe, Great Britain and Japan. Previously unseen gems from this collection, including Paco Rabanne and Pierre Cardin, will go on display mid 2023.