Architects Speaker Series
Contemporary Australian Architects Speaker Series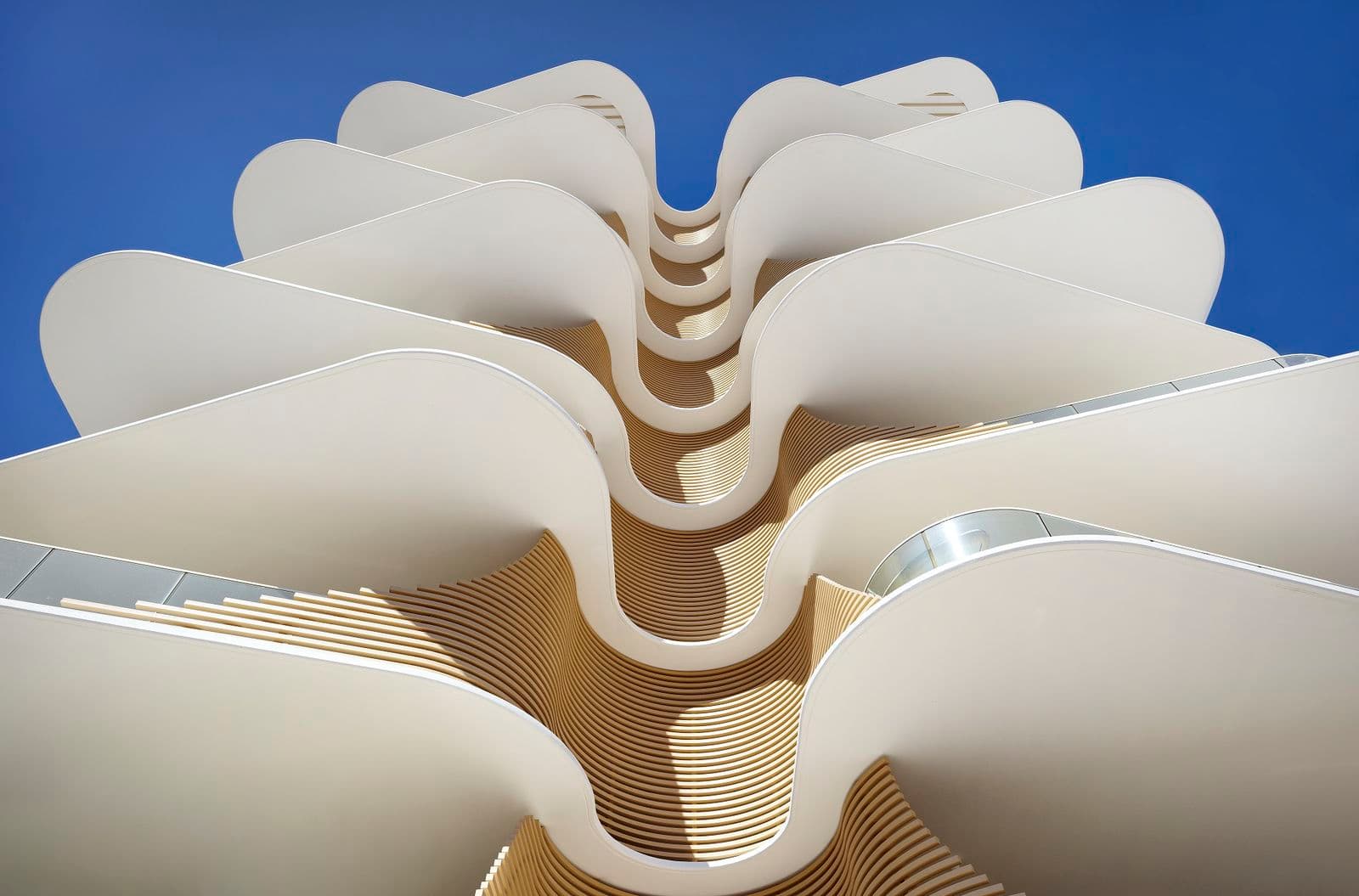 When Canberra-based architect couple BRUCE and CATHERINE TOWNSEND initiated the Contemporary Australian Architects Speaker Series way back in 1987, the nation's capital was a very different kind of city from that which it has since grown into. The National Gallery recently sat down with Catherine to talk about how it all started.
'Canberra was a small, regional outpost in the 1980s,' she recalls. 'It was unexciting, isolated and nobody came here.'
Yet Walter Burley Griffin and Marion Mahony Griffin's famously 'planned' capital city already boasted more than its share of architecturally significant buildings, both residential and institutional – not least, the National Gallery of Australia, designed by Col Madigan AO and his team at Edwards Madigan Torzillo and Partners.
The idea behind the venture was to attract the 'bright lights, the great and the good of architecture' to Canberra.
'There were speaking circuits in Melbourne and Sydney, but we never got a look-in. We felt the tyranny of distance like a stab in the heart and thought to ourselves, we must do something about it,' says Townsend.
Under the auspices of the ACT Chapter of the Australian Institute of Architects, the Townsends began presenting the annual event at the National Gallery of Australia, a relationship that is now 27 years strong and counting.
Over the decades the series has been moved from winter to spring and grown to become a highly anticipated month-long talkfest that engages audiences with accessible, visually-led presentations by the country's most exciting practitioners working in both the residential and commercial sectors.
'It's wonderfully revealing,' enthuses Townsend. 'There has been an emphasis towards residential projects because we're aware of our audience here in Canberra, and people love looking at residential developments.
'But we've felt it's also important that the series has a sense of social responsibility, so we've programmed a range of speakers who've focused on the social, cultural and ethical dimensions of contemporary architecture.'
Townsend's personal highlights have included speakers such as the late Paul Pholeros AM, who was an acknowledged expert on Indigenous housing and a campaigner for housing equality.
'Paul was an amazing architect, author and original thinker who worked with First Nations communities both here and overseas. He came to speak in 1998 and again in 2007,' she says.
She also recalls the lecture given by Elizabeth Watson Brown in 2004.
'Elizabeth's work exemplified beautifully crafted projects responsive to people, place and climate,' says Townsend. 'Her concern for sustainable design of built environments, greening our cities, urban resilience, accessibility, and social equity led to her recent election as MP for the seat of Ryan.'
In an age of 'instant architecture' fuelled by the popularity of renovation-focused reality TV, Townsend believes it's crucial that the series embraces the complexities of the discipline. By privileging the journey over the destination, speakers provide audiences with an opportunity to ride the highs and lows of each brief as well as ponder on the deeper purposes of architecture.
'It's about why they work, how they work, what their drivers might be. In these lectures the architect has enough time to tell us about the adventures they had along the way.'
'It's about why they work, how they work, what their drivers might be. In these lectures the architect has enough time to tell us about the adventures they had along the way,' says Townsend.
'We're all familiar enough with Grand Designs to know that divorces happen, people go bankrupt, you discover rock. Architecture is a high-stakes, tightrope performance,' she says.
'If this was the brief, how on earth did you arrive at this incredible building?'
After running the series for 18 years, Catherine and Bruce stepped back in 2004, passing on the baton to fellow Canberra architects Dominic Pelle and Nathan Judd, although they continue to be involved informally.
'We're the fond grandparents now,' she laughs. 'It's important for a series like this to continue to evolve, and Dom and Nathan have done a terrific job.'
This year's national series, which takes place in the James Fairfax Theatre and online at 6pm each Wednesday in September, will shine a light on sustainability, public design and the transformative power of architecture.
Topics to be covered include feminism and architecture; architectural design informed by the natural world; regional architecture; and research-and-materials-based approaches to practice.
The speakers are Kate Fitzgerald of Whispering Smith in South Fremantle, WA; Koichi Takada of Koichi Takada Architects in Sydney, NSW; Jo Best of Troppo Architects in Darwin, NT and Adelaide, SA; and Aaron Roberts and Kim Bridgland of Edition Office in Melbourne, Vic.
Preceding the series at 6pm on Tuesday, 16 August, award-winning architect Sean Godsell will deliver the Australian Institute of Architects' Gold Medal Lecture.
'I just bought my ticket and I'm excited to hear him speak,' says Townsend. 'Sean is an excellent communicator and his work is unlike other architects' work – it comes from a different mental place.'
As ACT Government Architect since 2016, Townsend, who continues to be a director of her and her partner's architecture firm, Townsend & Associates, acknowledges that the recent natural disasters Australia has experienced have led us to reconsider how our buildings are working for us, or not.
'It's reinforced the notion that our homes are our castle, our ultimate refuge, and it's also caused us to reflect upon where the nation's building stock has failed us. So now we are very focused on where the weak points are in that castle,' she says.
Her point is that architecture matters. 'Architecture doesn't exist in isolation – it exists in a context and must be accountable.'
She remains thankful the series has grown to become a popular showcase of architectural talent each September.
'The Contemporary Australian Architects Speaker Series has enjoyed remarkable buy-in from the Canberra community. To have such a loyal and valued church of architectural groupies is marvellous,' says Townsend.
'And to be able to hear from the very best architects while seated inside a building that exemplifies the extraordinary architectural vision of Col Madigan, surrounded by highlights from the national collection, is a true luxury,' she says.
For National Gallery Director Nick Mitzevich, architecture, like art, has the power to transform our feelings and thoughts.
'Architecture is inspirational in its physicality, it enhances our ability to live, work and experience the world.'
'The National Gallery building is a sculpture that we inhabit with so many purposes: we use it as a vault to store the collection, we use it as an office to do our work, we use it as a meeting place to bring people together,' he says.
'The building is robust and, in its own way, beautiful and poetic. It is a powerful structure that incorporates functional design and environmental integration. We are proud to host this innovative series within the walls of our building, which remains a key touchpoint in the development of Australia's architectural history.'
For more information visit Contemporary Australian Architects Speakers Series.
This story has been published as part of the National Gallery's 40th Anniversary. For more visit 40 Years.
Catherine Townsend is co-director of Townsend + Associates Architects and ACT Government Architect. She provides strategic and independent advice to Government on the built environment and Chairs the National Capital Design Review Panel. Catherine has been active in design and construction quality advocacy for many years and instrumental in reforms in regulation around construction quality.