Contemporary Worlds: Duto Hardono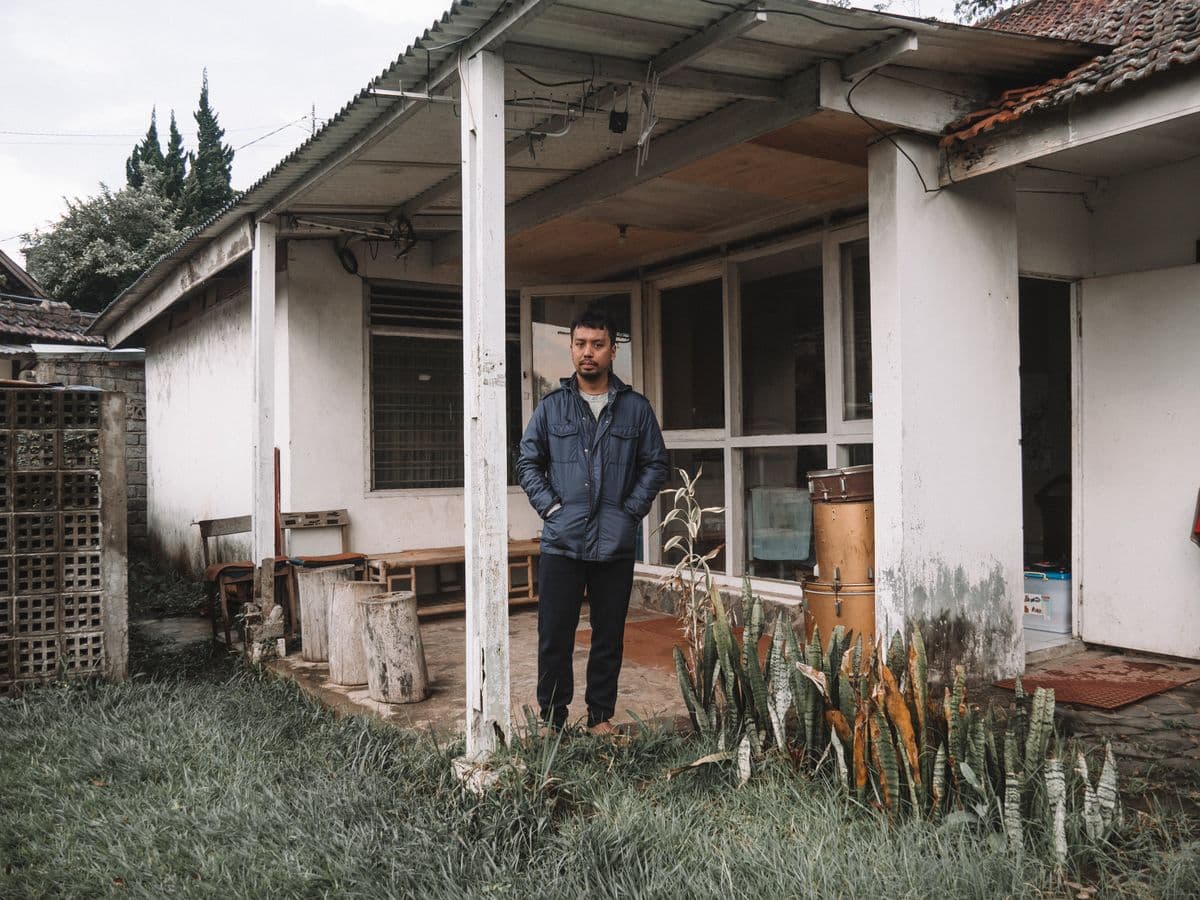 Grace Chen and Felicia Grant discover how Indonesian artist Duto Hardono uses musical loops, repetitions and performance to capture time and speak about our human nature.
Upon entering Duto Hardono's home, I notice the array of fine art and music literature stacked on bookshelves and piled high on the dining table. His audio studio with an assortment of indiscernible cables takes up the space in the living room, and the greenery of Bandung rests in the background, brightened by sun. But it's drizzling outside.
Duto offers tea while we sit around the table. He is warm and grounded. I can recognise his open playfulness in his artmaking, which often pushes conventional boundaries.
The contemporary Indonesian artist began his practice painting on found objects at university before exploring sound and performance through the use of cassette tapes, open reel tape recorders and vinyl. Nowadays, Duto focuses on performance and instructional scores, privileging elements of chance and the process of the work of art over its final outcome. Through his work, he implores us to rethink sound and performance as a medium which can be distorted and manipulated, while also prompting us to undergo a shift in our experience of time.
A recurring theme in Duto's work is repetition and looping. He frames it as a method where 'humans are able to contain time, because we always lose with time.' He is inspired by the Fluxus movement of the late 1950s, which took inspiration from Indian music and Zen Buddhism, whose meditative sounds often depict a singular note being held repeatedly. He describes it like a continuous 'droning' sound, and as something akin to the 'divine' or 'eternal'.
'Those kind of ideas brought me to how humans can understand time. It's talking about experience, it's talking about life and death, it's talking about patterns in your daily life, like routines — something like that, there can be a lot of symbols within it,' he says.
For example, Duto's work LOOP STUDY NO.1: UBER-FEEDBACK 2010 is one part of a three-piece exploration on looping and its characteristics and effects. The work of art utilises a Walkman and tape recorder to record ambient sound inside the room. The first tape records and connects to the other tape player which replays what has been recorded. It then amplifies and becomes an automatic feedback loop.
'The first time I presented it was as a performance for my solo show. I invited the marching band from Institut Teknologi Bandung (ITB) to play some notes over and over again using their horns, saxophones and trumpets, so during the opening night of the exhibition the recorded sound was the sounds of the instruments. But the next day, and the week after, it's just white noise because the layers record over and over again, and then mix with the ambience of the room and resonate within it.' Hardono explains.
Duto also created a looped video where he recorded people screaming as they moved through a giant loop on a roller coaster. He manipulated the footage to resemble an infinity symbol visually, erasing the endpoint of the roller coaster and repeating the ongoing fear of the patrons. The artist highlights the duality of the image as somewhat funny and scary, though ultimately, everyone is stuck, reflecting what Duto describes as a 'nihilistic' sentiment.
Years later, this fascination with looping and repetition persists, but is achieved through instructional score and performance. Duto's performance work Variation and Improvisation for In Harmonia Progressio 2016–17 was originally performed in the Museum of Modern and Contemporary Art in Nusantara (Museum MACAN), and has now been acquired by the National Gallery of Australia where it will be exhibited as part of Contemporary Worlds: Indonesia.
Variation and Improvisation for In Harmonia Progressio features a group of 12–15 actors responding and performing to Duto's instructional score, facilitating a relationship between the actors, their interpretation and the gallery's environment in cultivating the outcome. These actors are separated into three groups — one group performing a repetition of the words 'In', the other 'Harmonia', and the other 'Progressio'. 'In Harmonia Progressio' is Latin for 'Progress in Harmony', and is a 'found object' taken from ITB where Duto teaches. The work's title changes meaning when taken outside its source — its words reconsidered in relation to the musical, social and performative context.
Duto is impressive in his dedication to music and art. Alongside his current exploration in creating instructional scores and performance art, he is also a producer for Indonesian record label Hasana Editions. Hasana Editions documents local Indonesian and international experimental sound music to facilitate a dialogue between the two. Furthermore, Hardono publishes instructional text scores on his Instagram, @duto_hardono using the hashtag #textscoreweekend. He is always seeking audience participation and feedback for his scores.
Find Duto Hardono's Variation and Improvisation for In Harmonia Progressio at the National Gallery of Australia, Canberra in Contemporary Worlds: Indonesia from 21 June – 27 October 2019.
Grace Chen and Felicia Grant are alumnus of the Creative Art and Design Professional Practicum, Australian Consortium for In-Country Indonesian Studies (ACICIS).