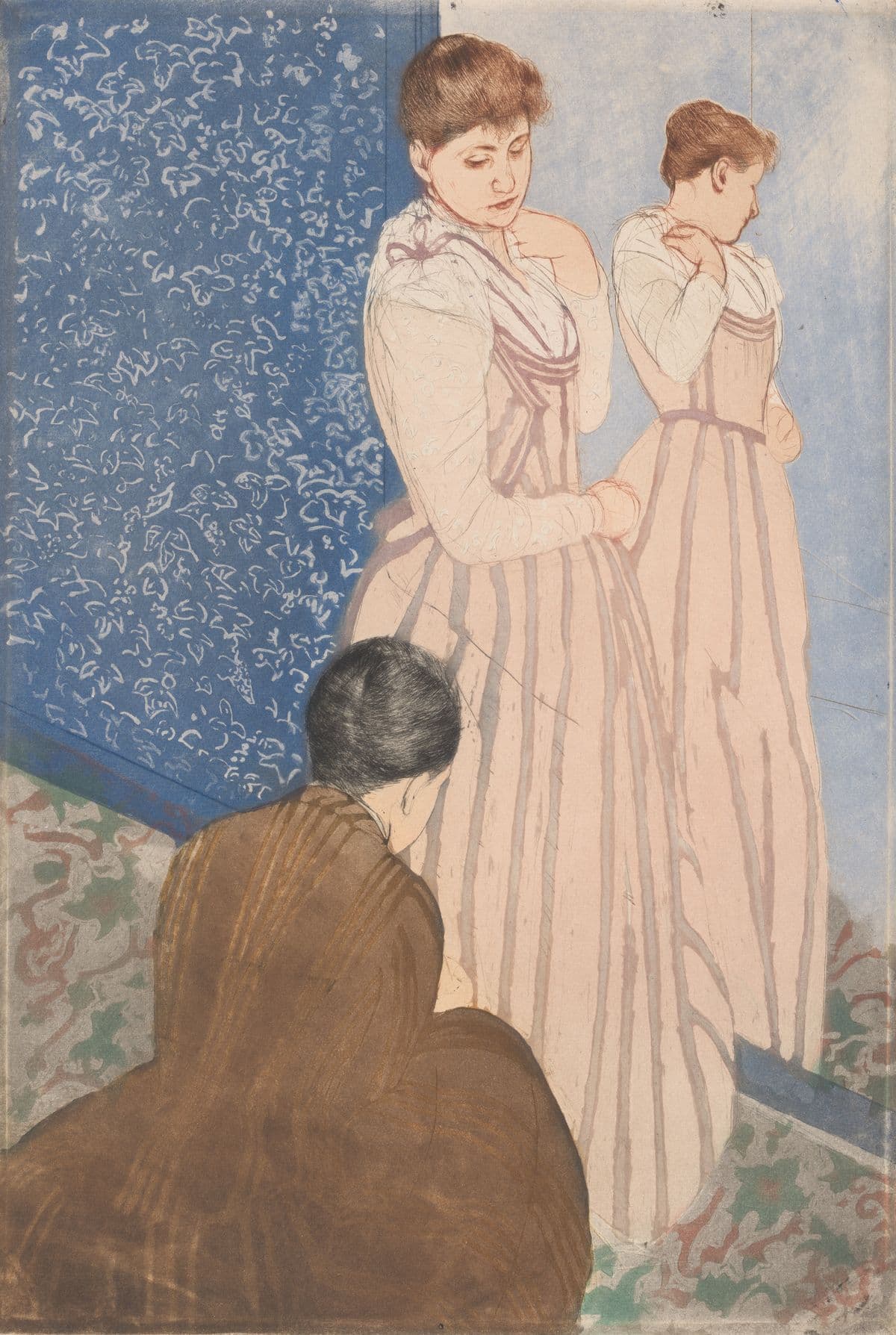 The National Gallery's acquisition of The fitting by MARY CASSATT reveals the artist's radical approach to printmaking, writes GRISELDA POLLOCK.
Between 1878 and 1910, the Paris‑based, American impressionist painter Mary Cassatt (1844–1926) excelled in printmaking. Her remarkable suite of colour prints of 1891 added 'a chapter to the history of the graphic arts and colour prints that have never been surpassed'. So wrote her first cataloguer, print curator Adelyn Breeskin, adding: 'They were her great triumph and one that would give her claim to fame if they were her sole achievement.' 1
Between 1878 and 1910, the Paris‑based, American impressionist painter Mary Cassatt (1844–1926) excelled in printmaking. Her remarkable suite of colour prints of 1891 added 'a chapter to the history of the graphic arts and colour prints that have never been surpassed'. So wrote her first cataloguer, print curator Adelyn Breeskin, adding: 'They were her great triumph and one that would give her claim to fame if they were her sole achievement.' 1
The fitting (drypoint and aquatint, printed in coloured inks) is fifth in the set of 10 colour prints. Each of the numbered proofs was hand‑coloured and pulled by the artist. The suite was first exhibited in Cassatt's retrospective of paintings, pastels and engravings at Galerie Durand‑Ruel in Paris in 1891 and widely thereafter. The prints trace daily rituals from rising to bedtime, rehearsing Cassatt's favoured modern topics: adults tending childish bodies; women in interiors — alone (writing a letter evokes Cassatt's admiration for the then recently 'rediscovered' Dutch artist Johannes Vermeer's interiors and psychological interiority) or engaged in social rituals such as taking tea; an exceptional scene of a mother, child and nanny travelling on a public omnibus; or, by contrast, the private moment of an atypical (for Cassatt) half‑nude woman at her toilette. The artist displays her immense graphic skills in capturing a pose, delineating a psychological situation through gesture, creating atmosphere, defining interpersonal relations both intimate and formal, and invoking emotions. Radically, these works above all expanded printmaking technically through her application of solid and patterned colour, translating the textures and hues of both domestic fabrics and contemporary fashions into richly differentiated and dynamic surfaces.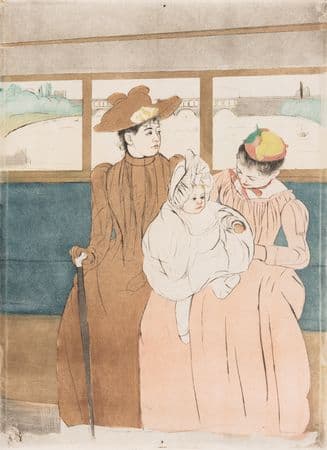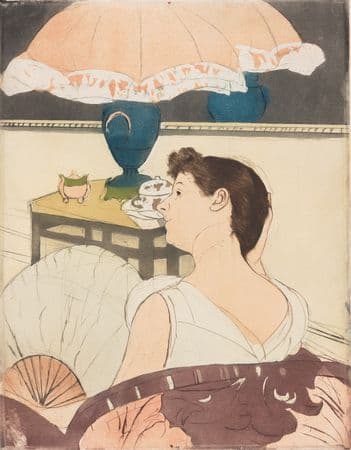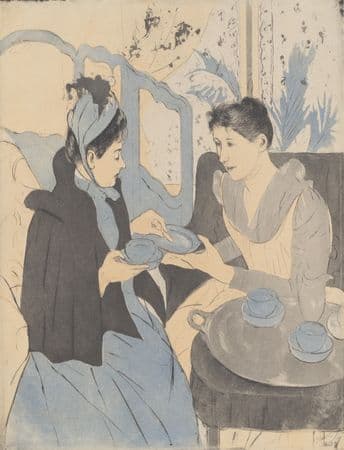 Cassatt became one of the most admired print‑artists of her generation and milieu when she drew inspiration from the Japanese ukiyo‑e colour woodblock prints, which had become a sensation in Paris in the 1860s after Japan reopened to international trade, and were once again the subject of a large‑scale exhibition at the Ecole des Beaux‑Arts, Paris, in 1890. She is also significant, however, for her transformation of Western black‑and‑white etching into colour. She experimented with and devised ways of adding colour, often by hand with a 'dolly' (a rag used to dab colour and pattern), to prints created by etching (drawing on a copper plate then bathed in acid to bite lines where the plate was not protected). Softened textures and discrete surfaces were created additionally with softground and aquatint.
Having trained in both Philadelphia and Paris since the 1860s, as well as having studied in Parma with the famous graphic artist Carlo Raimondi and in Seville, Cassatt finally settled in Paris in 1874 where she exhibited at the Paris Salon that year. She attracted the attention of Edgar Degas, who, with a group of artists regularly rejected by the Salon, had initiated their own exhibiting society that year. He invited Cassatt to abandon the professional route associated with the juried Salon, and to throw in her lot with what she (and Degas) always proudly called 'the independents'. Derogatively misnamed 'impressionist', this gender‑egalitarian project included Berthe Morisot and Marie Bracquemond alongside Paul Cézanne, Pierre‑Auguste Renoir, Camile Pissarro, Alfred Sisley and many others. In 1880, a planned journal of prints, Le Jour et la nuit (day and night).
Cassatt to returned to etching. She exhibited tenderly observed interiors of the daily social life of her bourgeois American family who had moved to Paris to support her career. The 'independents' embraced poet Charles Baudelaire's call for a 'painter of modern life' (1863) to represent contemporary capitalist urban experience and to find visual forms for metropolitan sensibility. Bourgeois rituals of pleasure and leisure, as well as domestic life, would replace classical myth and religious or historical subjects. For Baudelaire, fashion — the signifier of constant change and display — was the very essence of modernity. British couturier Charles F Worth dominated the development of the great fashion houses that made Paris the centre of haute couture in the later nineteenth century and attracted wealthy American women annually to the city to acquire the latest styles of the myriad different outfits, textures, colours and patterns that they donned across a single day. Fashion made women walking mannequins; it fascinated the modern artists like Edouard Manet, whose paintings could be dated alone by his expert rendering of the annually changing styles of women's clothes, while the poet Stéphane Mallarmé founded and edited a fashion journal La Dernière Mode (The Latest Fashion), 1874.
With new chemical dyes, women's fashions became colourful, which was echoed in the higher and purer use of pigments in the Independent group that displaced academic tonality. Excelling in both pastel and oil paint, Cassatt was a supreme colourist. Exploring the effects of gas lighting at the theatre on women's silk evening gowns, and the pearly skin such costumes exposed, became a recurring theme in the 1870s. Her later fascination with the compositional challenge of children's bodies interacting with adult carers slowly drew her increasing attention to complex figure compositions in confined space.
In The fitting, the artist positions two female figures in a single space, staging a bourgeois ritual — being measured for an up‑to‑the‑minute dress — that reveals underlying class relations.
We witness both the skilled labour of the seamstress/ dressmaker, making tiny adjustments to the hem of the newest style that a tall woman is having fitted, and the latter practising the 'labour' of self‑display required of the bourgeois lady. Such dresses were complex technical constructions, hand‑stitched in the backrooms of expensive couturiers, such as the House of Worth, by underpaid women. (See Thomas Hood's tragic 1843 poem, 'The Song of the Shirt'.) The dressmaker, or fitter, in her sombre attire, alone visits the private home, mediating the spaces of working‑class female labour and of display that this fashionable bourgeoise inhabits — comfortably? In boredom? Or anxiety? We see all of these moods across Cassatt's pictures, whether of wary young debutantes in evening dress for the first time or of matrons clothed in the richest silks and latest designs, dressed to enact what the sociologist Thorstein Veblen, in his Theory of the leisure class (1899), would term 'conspicuous consumption'.
Cassatt draws in our eye from the dark, lower‑left corner. We note the shocking, bent knee of the crouching woman with her dark hair (ladies would never crouch) contrasted to the required deportment of the chestnut‑haired model playing a lady, one arm crossing her waist, another elegantly disposed on her shoulder, her face registering dull patience in contrast to the concentration of the dressmaker in profile perdu (lost profile). The print's visual excitement is generated by contrasting the striped patterns of both dresses (dark and light) set against the busy floral wallpaper and the muted swirls on the duller carpet. Both are structurally stabilised by the diagonal skirting board diving into space, and the vertical of the mirror itself punching a hole in the perspective to show us the doubled image of the standing woman, also in profile perdu.
This remarkably simple but formally stunning composition, demonstrates the range of technical challenges and accomplishments of Cassatt the printmaker. It is, however, as significant for her subtle representation of class, labour and subjectivity, which is the hallmark of her compositional and artistic intelligence and modern sensibility.
Griselda Pollock is Professor emerita of Social & Critical Histories of Art, University of Leeds, UK, and 2020 Holberg Prize Laureate for her contribution to feminist art histories. Her monograph on Lee Krasner and Marilyn Monroe, Killing men & dying women: imagining difference in 1950s New York painting (Manchester University Press), and a revised all‑colour edition of her 1995 World of Art monograph Mary Cassatt: painter of modern women (Thames & Hudson) were published in 2022.
This story was first published in The Annual 2022.
1. Adelyn Breeskin, Mary Cassatt: a catalogue raisonnè of the graphic work, Smithsonian, Washington, 1979, p 22. See also Nancy Mowll Mathews & Barbara Stern Shapiro, Mary Cassatt: the colour prints, Harry Abrams, New York, 1989.