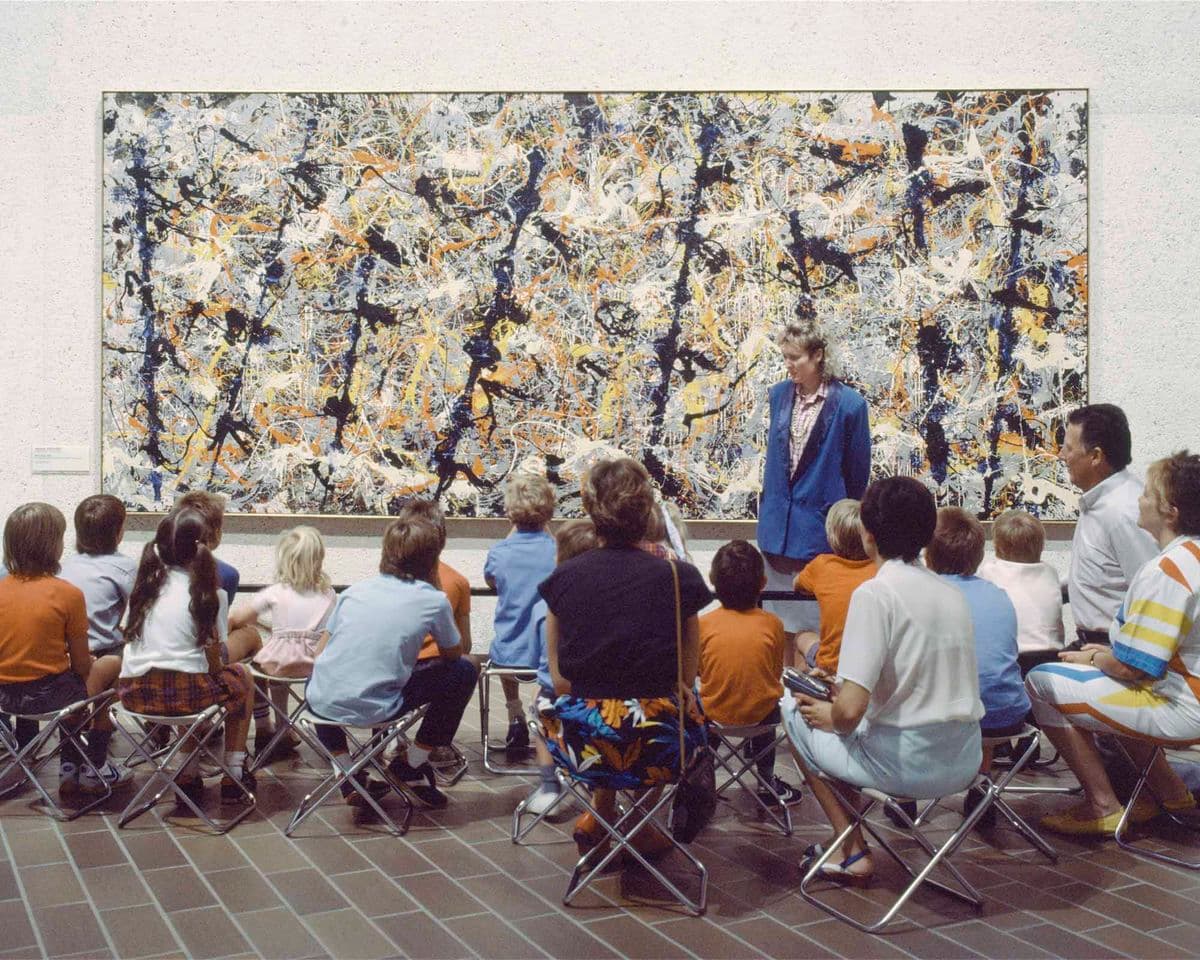 Volunteer guide Kerin Cox looks back at the very first days of guiding visitors through what would become the National Gallery of Australia. She is still guiding today.
Go back forty years and the Australian National Gallery was preparing for its grand opening in October. The builders had left. The fit out was proceeding at a great rate. The trainee guides were hard at work. We were nervous. We had had little training on how to interact with our visitors, with more emphasis on learning about art. We weren't familiar with the floorplan of the building either. We had only recently had access to the galleries and were seeing the collection for the very first time, for limited periods.
We were a varied group. Many of us in our 30's with children. Terence Measham, Senior Curator of Education, wanted to create a guiding body from as broad a social base as possible. Guide Pamela Walker recalled in 1984, 'We were chosen because we had a real interest in art but without a professional or academic background'.
'The guides will be on duty from the first day of opening to introduce visitors to selected works of art in both the Australian and international sections of the Gallery.'
The early days were exciting, like having an ongoing 'blockbuster' every weekend. As Kaye Rainey (1982 Guides Alumni) remembered 'Even if you were rostered as cover, you were almost always sure of getting a tour, just because there were too many people for one guide'. With the introduction of special exhibitions from overseas, the guides' range of knowledge really had to expand. Rembrandt, Ancient Egypt, Renaissance Italy or Peru – were all outside the scope of our first training. We embraced the Russian ballet, revelled in the clothes of the 20th century – the elegance of Paul Poiret to the outrageous Vivienne Westwood. The many cultures of our neighbours in Asia provided new challenges with exhibitions ranging from the National Gallery's wonderful textile collection to the mysteries of Islam and ancient tribal customs. I was enthralled by the sights and art of India seen on a colourful 2007 trip led by Claudia Hyles (1984 Guides Alumni).
But bigger changes for guides came when we began guiding school children in 1991. I had never done school tours, but I loved working with pre-school children. Working with new parents and their babies was a special joy.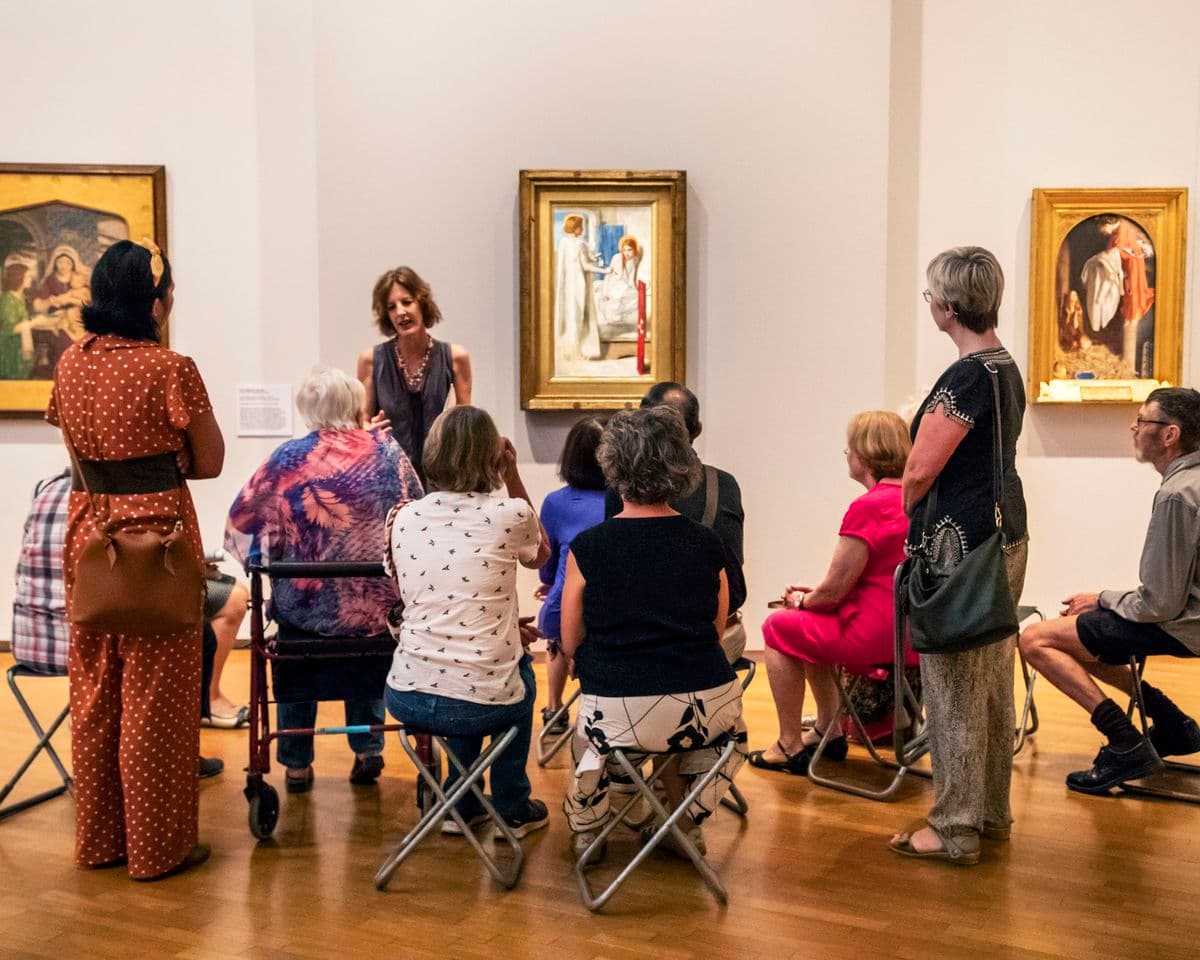 Through all the change, we have grown in our reliance on one's own research and I, personally, have found participating in a study group incredibly rewarding. Research for study group could be reworked for programs like Rendezvous with art – my absolute favourite form of guiding – a bit like having a blockbuster tour, but more intimate, working with visitors who are enthusiastic to learn.
The opening of the Aboriginal and Torres Strait Islander galleries in 2010 revealed a whole new world. We learned about the different styles of art across Australia, and integrated Aboriginal art into our Australian art tours.
I have had four decades of learning, sharing and being immersed in the world of art. It has been an incredible privilege. I look back fondly on the wonderful times shared with so many great colleagues.
With the exception of the 2020 and 2021 COVID-related lockdowns, the National Gallery's dedicated Voluntary Guides have delivered discussion-based tours of the national collection and temporary exhibitions every day of the year, except Christmas Day since the Gallery opened in 1982.
This story has been published as part of the National Gallery's 40th Anniversary. For more visit 40 Years.