Growing a Sculpture Garden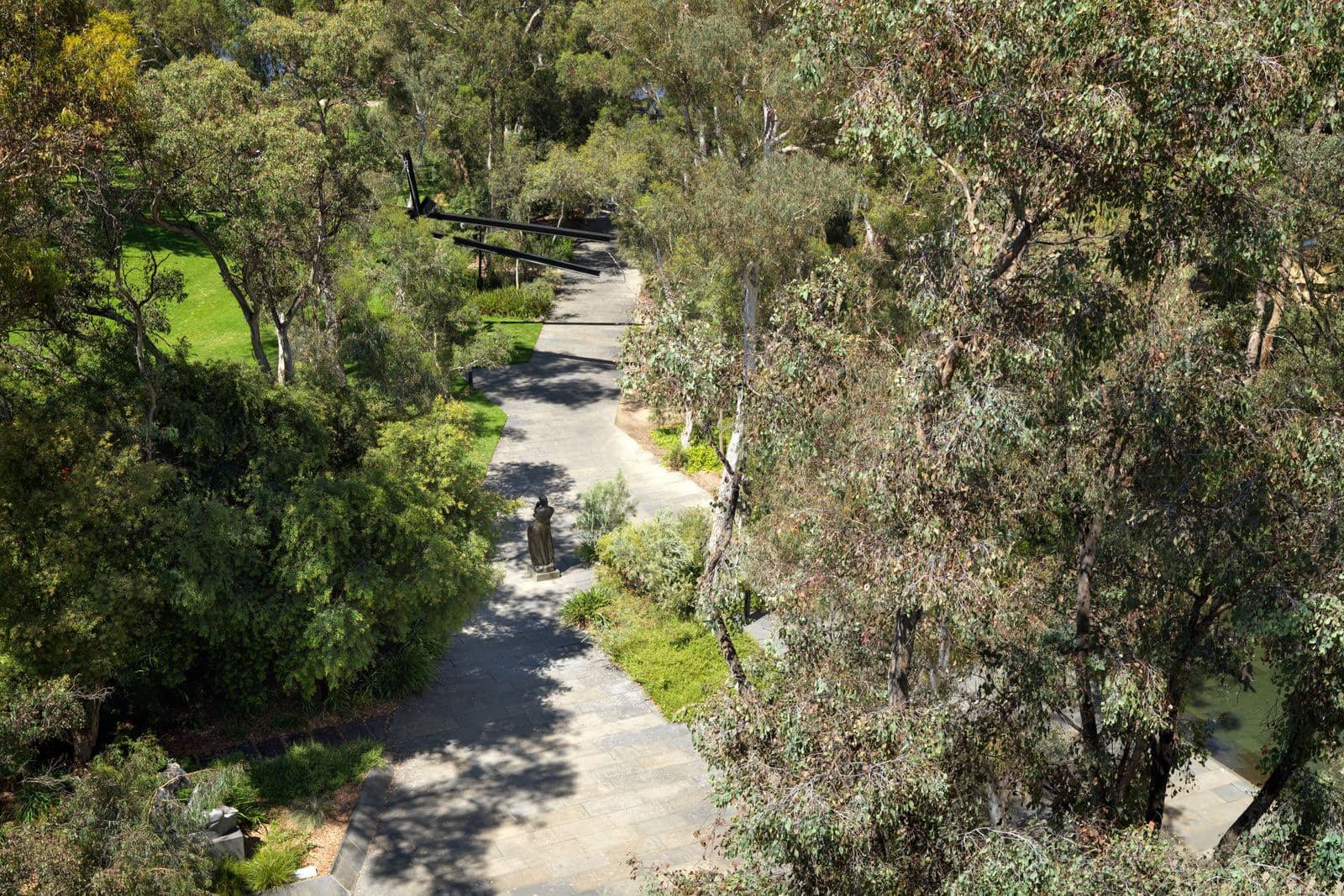 When art and nature meet, something special happens and the National Gallery's Sculpture Garden is testament to this. For the 40th anniversary, we share the history and highlights of the iconic garden.
For 40 years, the art and garden have grown and evolved together. From early additions by Bert Flugelman, Clement Meadmore and Auguste Rodin to contemporary works by Thanakupi, Tracey Emin and James Turrell, four decades on the Gallery has plans to revitalise the Sculpture Garden over the coming years.
Open 24 hours, seven days a week, the National Gallery Sculpture Garden is one of the most developed in the world spanning three-hectares and in the Gallery's 40th year, currently houses sculptures by over 30 artists.
Softening the brutalism of the 60-metre-high concrete building with a flourishing garden of native plants destined for Kamberri/Canberra's severe winter weather and hot dry summers, the garden is a work of art itself.
Following the trajectory of the repetitive triangle present throughout the Gallery's architecture, Founding Director James Mollison worked with Harry Howard and Associates to design a surrounding garden that complimented the building. After a few years of planning, earthworks and plantings commenced on the Sculpture Garden in 1981.
The plants, native to Australia, were selected for their tolerance of Canberra's harsh climates and the garden was designed to replicate the four seasons of the year. Closest to the building for ultimate protection, visitors will find the winter flowering acacias and the earliest figurative works of art in the Winter garden. The Summer garden is situated in the shadiest part of the Sculpture Garden – beneath the Casuarinas near the marsh pond. Come September, the Spring garden explodes with flowering grevilleas and acacias planted by the lake The Autumn garden was never fully realised.
Most of the sculptures were bought and placed in the garden for permanent display during the early 1980s and reflect the abstract, industrial aesthetic of that time. Over the years, it has developed with more evocative additions from Fujiko Nakaya's fog sculpture, the Pukamani burial poles and Antony Gormley's life-sized maquette for Angel of the North which faces over Lake Burley Griffin. To celebrate the Gallery's 40th Anniversary, Tracey Emin's When I Sleep was acquired for the permanent Sculpture Garden collection, Naarm/Melbourne artist Linda Marrinon's Woman in jumpsuit was installed and Lindy Lee's immersive Ouroboros was commissioned (coming late 2024).
HIGHLIGHTS FROM THE GARDEN
The National Gallery Sculpture Garden is open to the public 24/7. For more visit Sculpture Garden.
This story has been published as part of the National Gallery's 40th Anniversary. For more visit 40 Years.