Gutiŋarra Yunupiŋu – Communicating Country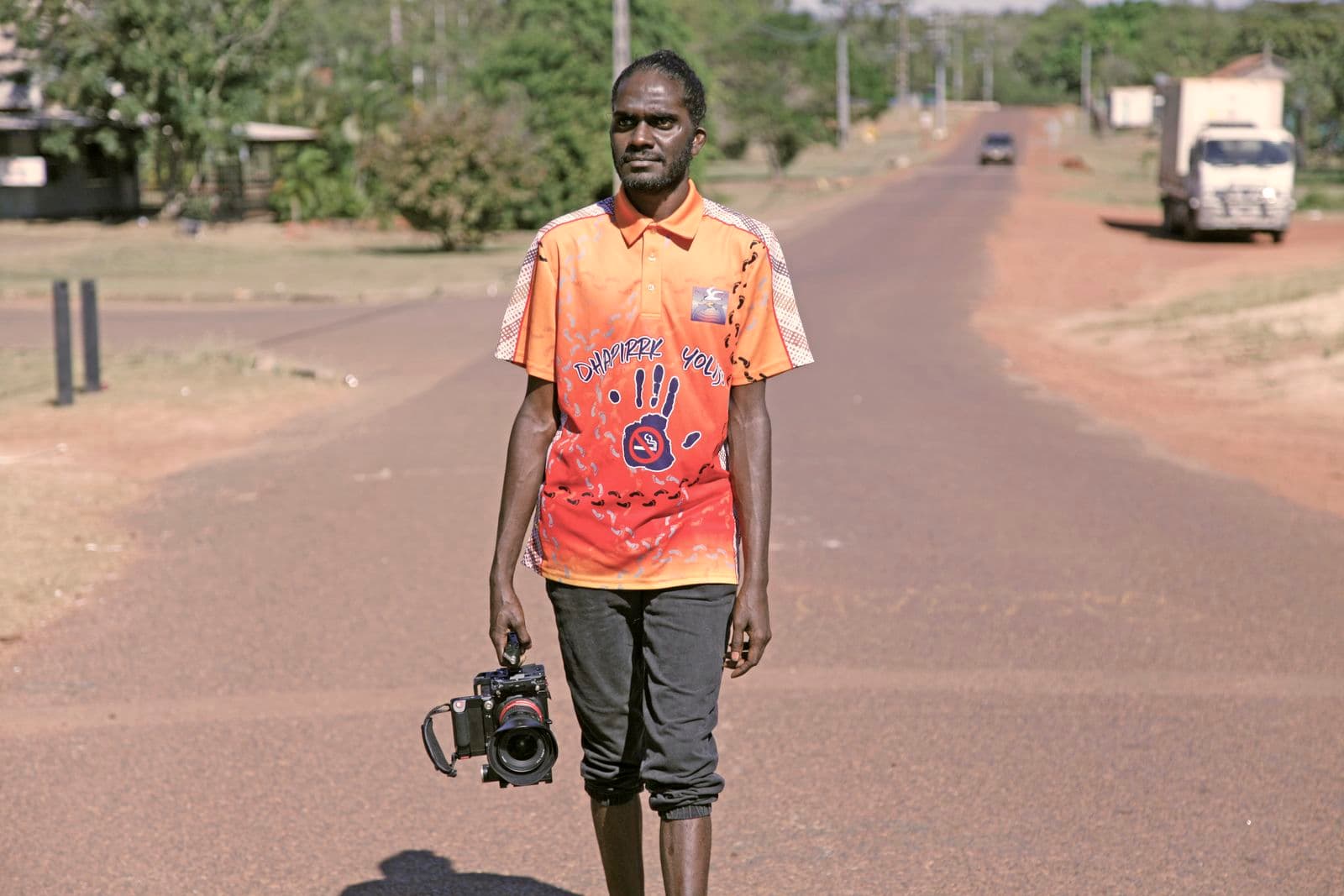 Artist GUTIŊARRA YUNUPIŊU (Guti) was born Deaf and uses Yolŋu Sign Language (YSL). In his video Gutiŋarra Djalkiri, Guti visits his homeland, Buymarr in East Arnhem Land, and discusses with his family and teachers how his connection to Country helped him learn to communicate. This is an edited transcript of translations from the video.
GUTI: Hello, I am Gutiŋarra. Welcome to my home by the sea and the rock mountain where the flag flies. My land, Buymarr.
MITJAŊBA DJERRKURA: This is my homeland. I am a land owner for this homeland, Buymarr. My brother is already gone now, and all my sisters are gone now. I am the only land owner left now for this homeland. I live and look after this homeland. I am Guti's grandmother.
NYALUŊ MAYMURU: My name is Nyaluŋ Maymuru and Buymarr is my mothers' homeland. I am Guti's second mother, I am also the eldest mother for Gutiŋarra. We helped Guti with sign language. We taught him Yolŋu Sign Language, and also he has been learning sign language in Auslan. He used actions and sign language from us when he was a little boy.
GUTI: I could not read or write. I did not know any sign language. But going to Buymarr, my homeland, sitting with my teachers when I was three, I learned by talking with my grandmother and mother, with my uncle and brother, with my niece and grandfather with my father and mother … Sitting with my family, they were my teachers, they helped me learn. Learning and talking, me with my grandmother. I'm thankful.
MITJAŊBA DJERRKURA: [while weaving] Here at Buymarr ... I taught myself [how to weave]. I watched my elders, all my mothers, all my sisters, my other two Warramiri clan sisters – they knew how to make mats. I learnt to make these by watching them back there at Yirrkala [the community in Arnhem Land where Guti primarily lives]. I am making this here at Buymarr and Guti is watching me.
NYALUŊ MAYMURU: First Guti was living here [at Buymarr], and then he got into school [at Yirrkala]. He also got initiated here at Buymarr …
MITJAŊBA DJERRKURA: [showing the beach at Buymarr] They were only kids that time, this is where they all grew up and we all participated at their initiations. They are from this place, Guti here … that's his name, this is where he grew up, when he was little, and all these foods we ate – fish, stingray – and all the bush food, all the seafood – oysters, fish – all the food that we ate here at Buymarr; then he went back to Yirrkala for school.
KATRINA HUDSON (YIRRKALA SCHOOL CO-PRINCIPAL): When [Guti] he started school, he bought all his knowledge about Yolŋu sign to school with him and how to communicate with his friends and family. The key change was when the teachers learnt how to work with Guti and how to communicate where everyone started to understand his potential.
VANESSA LAMBOA (TEACHER): Gutiŋarra Yunupiŋu is very hard-working. One very important factor that I found is seeing how he was very comfortable communicating in Auslan sign language because he already had a Yolŋu Sign Language that he grew up with ... that made it very easy for him to communicate and blended Auslan sign language in and he knew everything that he was doing by communicating with peers, students, family, friends and the community.
KATRINA HUDSON: Guti graduated from year 12 with his Northern Territory Certificate of Education [and Training] and his certificate II in Conservation and Land Management. The participation of the community and his family in his graduation was very, very special.
'Yolŋu culture inspires my film work. A lot of my personal films are self-portrait works but I'm also passionate about filming Yolŋu ceremony for my community. I am very proud to be included in this year's Triennial: Ceremony. Yolŋu ceremonies have always been and will always be the backbone of my life.'
GUTI: I grew up, finished school and graduated. I work here at Mulka [Buku-Larrŋgay Mulka Centre, the community controlled arts centre in Yirrkala]. I go to work every day, which helps me and my life. My boss here is good, he teaches me new skills. Working at Mulka, I'm learning and improving, my work is getting easier and I know my filmmaking work really well.
ISHMAEL MARIKA (MULKA PROJECT CREATIVE DIRECTOR): Guti is great. He comes to work every day, he works all day and does editing work all by himself. To communicate with Guti we use Yolŋu Sign Language. Sometime because Guti learnt sign language in Auslan and also in Yolŋu. When he edits films with sound it's hard because Gutiŋarra is Deaf, he can't hear any sounds, he only sees in that video the wave forms and the video tells him what sounds. Like if there is a sound of traditional song playing and sound of clapsticks, he sees that and he knows where that traditional song will stop.
GUTI: When I was in year 12 I liked to learn. When I finished and graduated, receiving my certificate, I worked and I worked and worked and worked and now my work is good.
KATRINA HUDSON: He's really a role model for all other young people in this community. Guti is an example that it doesn't matter if you have a disability, it doesn't matter if you have other problems in your life, if you're focused and committed and you've got family support then you can achieve anything.
GUTI: I am Gutiŋarra. My mother and my grandmother, my brothers and sisters, my wife and my whole family welcome you to our homeland. Thank you.
My name is Gutiŋarra
My moiety is Yirritja
I am of the Gumatj clan
Our totem is the bäru (crocodile)
My surname is Yunupiŋu, which is the name of a rock in the sea.
Maralitja, Ŋunbuŋu, Dhukulul, Bärrupa, Dhar'yuna is my formal 'identity'.
Maralitja is an ancestral being of wisdom and is a powerful leader.
Maralitja identifies the Gumatj clan as the people of Birany Birany, the land of the gurtha (fire). When a person passes away, Gumatj men and women paint themselves with yellow ochre and white clay on their foreheads. This represents our spirit being of Maralitja.
In my artwork my face is painted with yellow ochre. I am the ancestral being Maralitja. As Maralitja, I am performing the buŋgul (dance) of bäru. Bäru comes from the saltwater, I come from the saltwater.