Jenny Kee
Broadsheet Studio Visit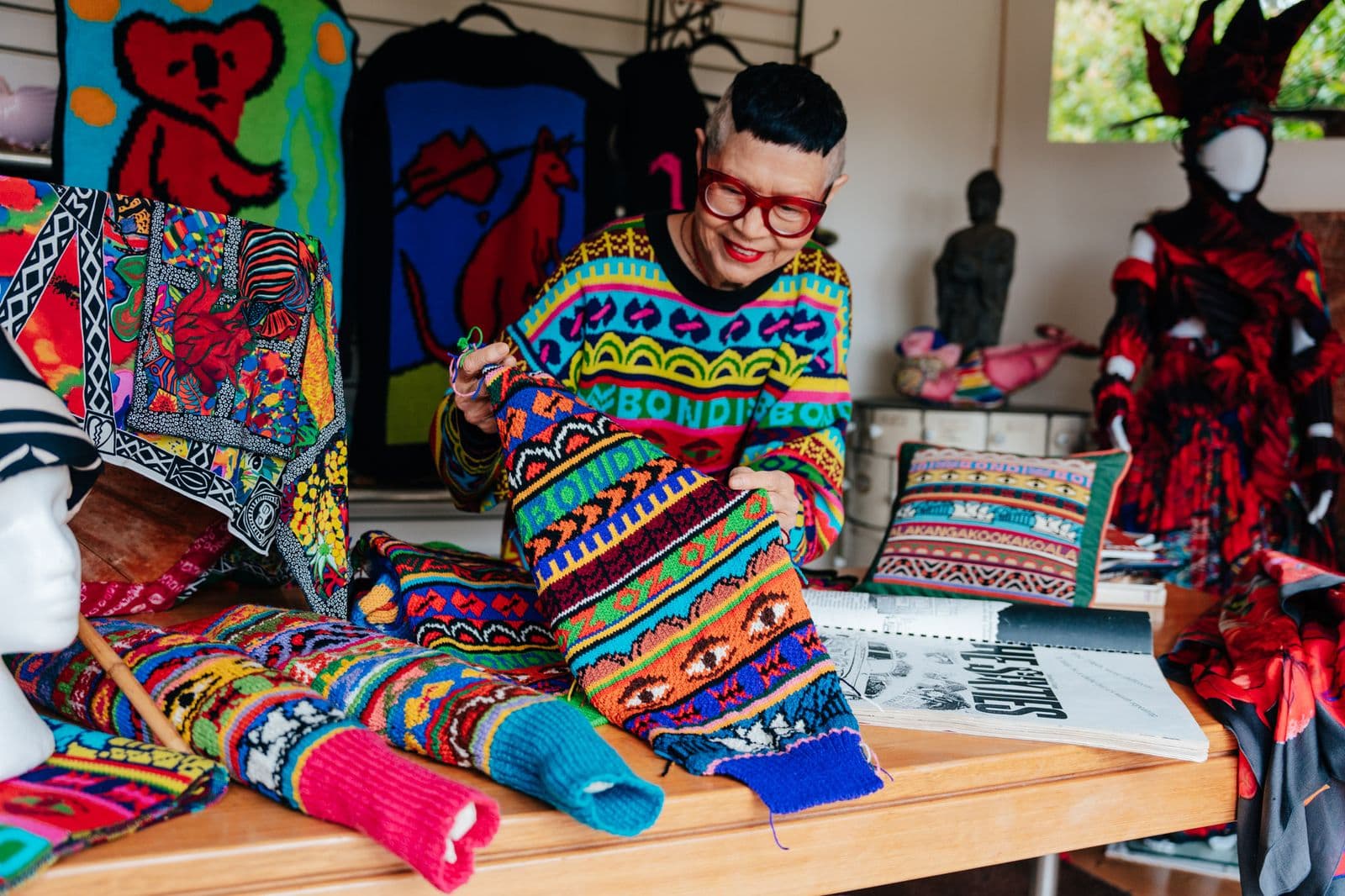 'I feel like my designs are timeless,' says 75-year-old JENNY KEE, whose always-in-demand work has influenced a new gen of designers, including Sydney's Romance Was Born. As an homage to her contribution to Aussie fashion, Sydney Festival has erected huge, amorphous creatures inspired by her work.
'It was a very joyous time when I opened Flamingo Park,' recalls the colourfully dressed and animated Jenny Kee. She's busy pulling out soft silk scarves and chunky graphic knits emblazoned with Australian flora and fauna – from fiery red waratahs (her totem, she says) to iconic tabards with huge, vivid koala and kangaroo motifs – at her home in Blackheath.
'People knew where Australia was after Linda and I started our art clothing designs, because they were all based on the beauty of this country,' she says, fondly.
An icon of Australian fashion design, Kee opened frock salon Flamingo Park in Sydney's Strand Arcade in 1973 with long-time collaborator Linda Jackson. The Bondi-born artist and designer, who has lived in the same house in the Blue Mountains for almost 50 years, is now focused on creating an archive.
'It's my legacy as I'm heading into my 76th year. It is something that I have to do for myself,' she tells Broadsheet.
Of the hundreds of patterns Kee has created, she's particularly fond of one she calls 'Kali Waratara'. It's a flame-red cluster of waratahs – her favourite native flower – that's become something of a self-portrait.
'I was watching the waratahs come after the fires in the '80s when I did a series of paintings that turned into my Waratah and Blackboy series. And it's become the base of an incredible outfit I created with [costume designer] Chloe Simcox. It's my crowning glory. It's all about destruction and regeneration, and that's what Kali is as a goddess.'
Kee's decades-old designs are always in demand – from museums, fashion designers and event organisers. This year Kee lent her Uni Oz stripe design to Sydney Festival for an artwork called The Aunties. Huge inflatable 'aunties', Marge and Una, stand tall in the South Eveleigh precinct as an homage to Kee's contribution to Australian fashion, and in memory of two special women who helped her sew her clothing back in the early days of her career.
'Both aunties were about making things to last,' explains Kee. 'And I feel like my designs are timeless, and that's something I believed in the '80s too … I wanted to create this incredible Fair Isle stripe and make it Australian, and that's how that design was born.'
The vibrant, amorphous creatures dressed in knits (a Kee trademark) are colourful beacons in an otherwise bland world, says Kee. 'I think colour is about being optimistic and feeling free and happy, and I think the world is a very strange place right now … You've got wonderful designers like Romance Was Born and Jordan Gogos doing fabulous colourful artistic designs, but really it's very bland out there.'
Her Blue Mountains studio (just under two hours' drive from Sydney's CBD), looks out onto the Grose Valley, 'a very rich and alive part of the mountains', says Kee. 'I live a simple life, and I'm always inspired because I'm surrounded by the beauty of nature. Yoga, Pilates, swimming every day, walking every day – that's really important to me,' she says. 'Going down the road and seeing a bed of thousands of flannel flowers is the most beautiful thing.'
Broadsheet's Studio Visit series takes a peek inside the creative spaces of Australia's best artists, designers and makers. This article was first published on Broadsheet in January 2023.