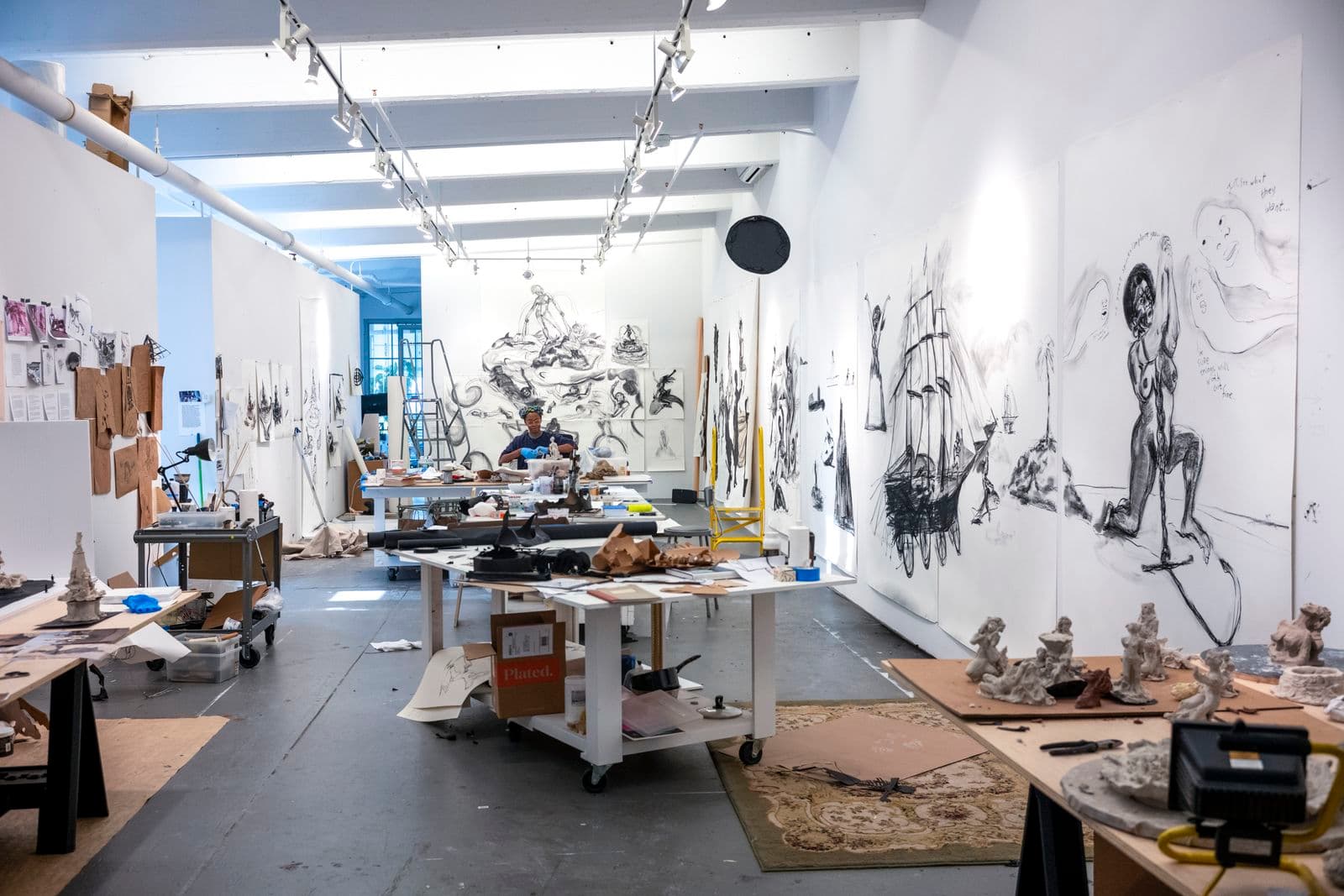 'Heroes are not completely pure and villains are not purely evil. I'm interested in the continuity of conflict, the creation of racist narratives, or nationalist narratives, or whatever narratives people use to construct a group identity and to keep themselves whole.' KARA WALKER
Two new major acquisitions, the moving image work Testimony: Narrative of a Negress Burdened by Good Intentions, 2004 and the monumental drawing Your World is About to Change, 2019, form the centrepiece of Project 2: Kara Walker, the first monographic exhibition of New York based African American artist Kara Walker's art to be held in Australia.
Walker made her New York debut in a 1994 group exhibition at the Drawing Center with a 7.6-metre-long wall installation, Gone: An Historical Romance of a Civil War as It Occurred b'tween the Dusky Thighs of One Young Negress and Her Heart. Featuring silhouettes cut from black paper installed directly onto the wall, it caricatured the pre-Civil War plantations of the southern United States by showing racially stereotyped figures engaged in violent and sexual interactions.
From this moment, Walker has been recognised internationally for her graphically striking work and her creation of narratives designed to lay bare the racist systems, images and stories that accompany colonisation – particularly as it emerged through the slave system that brought over 300,000 people from Africa to the United States as forced labour between the 17th and 19th centuries.
Showing her protagonists – both black and white – entangled in the creation of North America's long-held ideas of freedom and liberation, Walker challenges her viewers to critically examine the complex nature of the master/slave relationship, the perpetuation of racist and gender stereotypes in visual culture, and the systemic global power imbalance that was brought about through the worldwide colonial enterprise.
In 2004 Kara Walker began making shadow-puppet animations that set her black paper-cut silhouettes in motion. Her first film, Testimony: Narrative of a Negress Burdened by Good Intentions, tells the story of a young black female slave who seeks freedom through sex and by murdering (lynching) her white plantation-owning lover.
Narrated through a succession of inter-titles in the manner of a silent film, the unfolding tragedy is reminiscent of the historical testimonies that recorded the life stories of people who had once been held in slavery. In Walker's scenario, however, any moral certainty is complicated. When both master and slave – and by implication, artist and viewer – are burdened with the impossible task of managing human emotions in the face of an immoral and degrading system, no-one escapes ethically unscathed.
An Unpeopled Land in Uncharted Waters 2010 combines Kara Walker's visual language of the black silhouette with the printmaking techniques of etching and aquatint. Its haunting, dreamlike sequence of deep-black, white and grey images depicts the displacement of African slaves to the United States, by way of the treacherous Atlantic crossing.
The print that begins the series is titled no world. This is a pun on the term New World, which was applied to the Americas during the era of European colonial expansion – from the late 16th century until around 1800. It is used here in an ironic manner. For African slaves who were transported to this 'new' place, it was not a passage toward freedom, opportunity and the creation of wealth, but rather its horrifying opposite.
Along with the transport of people and commerce, global exploration and colonisation saw the movement of art and popular images around the world. Forms of image making, which had originated in Europe were transported and adopted in every colony – including to Australia following British colonisation in 1788. The craft-based practice of cutting silhouette portraits from black paper, which was popularised in the mid-18th century and on which Walker draws on to critique intrenched racist stereotyping, was modified by artists such as William Fernyhough (1809–49). Working in Australia in the 1830s, he depicted the faces of First Nations people of New South Wales in black silhouette.
'I wondered how to return the gift of having come to be – through the mechanics of finance, exploitation, murder, rape, death, ecological destruction, co-optation, coercion, love, seafaring feats, bravery, slavery, loss, injustice, excess, cruelty, tenacity, submission and progress – conceived here in the United States, to live in this time and place, with this opportunity, this ability. My work has always been a time machine catapulting me backwards across decades and centuries to arrive at some understanding of my "place" in the contemporary moment'. [1]
In 2019 Walker debuted Fons Americanus, 2019 – a 13-metre-tall working fountain created for the Tate Modern, London's annual Turbine Hall Commission. The fountain was loosely based on the Victoria Memorial, which stands in front of Buckingham Palace. Erected in tribute to Queen Victoria, the memorial was financed through gifts from countries across the British Empire including Australia and was designed to commemorate the role maritime expeditions played in Great Britain's wealth, which grew significantly during Victoria's reign.
The fountain pulls together caricatures of figures drawn from art and social histories to create what the artist describes as "an allegory of the Black Atlantic" – a memorial to the violence and pain inflicted on African bodies in the service of British colonial power and economic prosperity.
The inscription on one of the five preparatory drawings Walker made while planning Fons Americanus bears the ancient names for England and Europe – ALBION and EUROPA – while also referring to COLUMBIA. Derived from Christopher Columbus, this was the historical name used to describe the New World following Spain's colonisation of the Americas in the 15th century. In modern times, Columbia became the symbolic national female personification of the United States of America.
COLUMBIA AND EUROPA BEING SUPPOTRED (Somewhat Reluctantly) by AN Allegorical but nameless African goddess Surrounded on all sides by a history of Capitalism and Exploitation upheld and Beautified in The ARTS – or – 'The Impossibility of Blackness in the mind of Someone white.'
One, among the number, of artists Walker referenced in the creation of the fountain was English poet and printmaker William Blake (1757–1827). A Christian visionary, Blake was a late 18th-early 19th practitioner of European Romanticism and an advocate of British nationalism. In his art, Blake described a world full of emotional personal suffering at the same time as he interpreted the vast wealth that America and Africa brought to Great Britain and Europe as being preordained through God's will. Working in London, Blake produced works of immense passion such as Jerusalem, subtitled The emanation of the Giant Albion 1804–20. At the same time he produced commercial engravings such as A family from New South Wales 1793, after Philip Gidley King, who had sailed with Captain Arthur Philip to New South Wales on the first fleet in 1788.
Your World is About to Change is a monumental four-panel drawing in charcoal, graphite and acrylic paint that depicts an intersecting narrative of displacement, seaborne bondage, slavery and an appeal to liberty. Belonging to Walker's Fons Americanus archive, the drawing references in the figure of a kneeling woman, the abolitionist medallion designed by 18th century English potter and entrepreneur Josiah Wedgwood, Am I not a man and a brother 1787.
Wedgwood's benevolent image of a kneeling man was designed to promote sympathy. Widely reproduced in popular prints in Britain and the United States, it played a significant role in promoting the end of slavery, which was formally abolished in England in 1833 and the United States in 1865. At the same time, however, Walker reminds us that the image also reinforced in the public imagination the image of the black subject, whether female or male, as a figure fated to having to plead to a higher (white) authority for their freedom.
Project 2: Kara Walker draws upon two decades of one of the most influential contemporary artists' work in the sphere of race, sexuality, power and freedom to show how through the processes of colonisation and the institutions that support it, we are all intwined in a vast and complex nexus that reaches from Europe and Britain to Africa and to the United States and eventually to Australia.
This story has been published as part of the National Gallery's 40th Anniversary. For more visit 40 Years.
Epigraph: Yasmil Raymond, 'Maladies of power: A Kara Waker lexicon', in Philippe Vergne et al, Kara Walker: my compliment, my enemy, my oppressor, my love, Walker Art Center, Minneapolis, 2007, p 348
Kara Walker et al, Fons Americanus, Tate Publishing, London, 2019, p 55.
Art & Artists
Featured
Testimony: Narrative of a Negress Burdened by Good Intentions
2004
Your World is About to Change
2019
Referenced