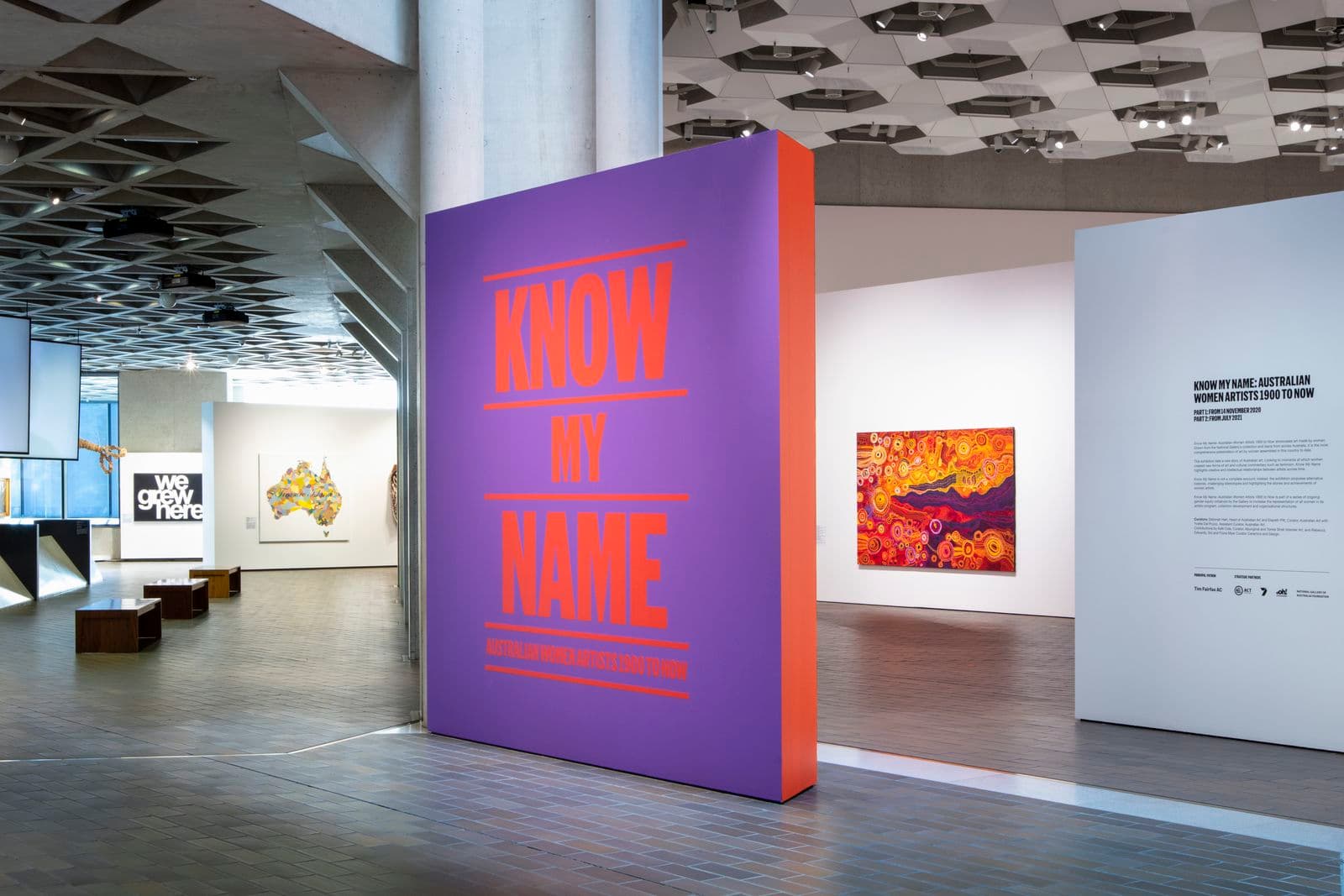 National Gallery Henry Dalrymple Head of Australian Art, DR DEBORAH HART, introduces a landmark exhibition that seeks to elevate the status of women artists in Australia, now and into the future.
Know My Name: Australian Women Artists 1900 to Now, at the National Gallery from 30 May, brings together a range of works by women and female-identifying artists that shed light on diverse ways of considering the stories of Australian art. Co-curated with Elspeth Pitt with the assistance of Yvette Dal Pozzo, the exhibition has been conceived in thematic groupings, including portraiture, dynamism and abstraction, environment and place, and collective and collaborative ways of working. An important aspect of the show is to reveal lineages between women across time — in terms of direct connections and sources of inspiration as well as more open-ended links that suggest commonalities of practice and ways of seeing and thinking.
While some of the artists are relatively well known, others less so, the exhibition seeks to retell the dynamics of Australian art through the work of women to find new meanings and possibilities. It aspires to make the art of women better known in the wider community so that, when they are asked about those who have played a part in shaping the culture of this country, people will know the artists' names.
While the scope of the exhibition is expansive, this article provides insights into a spirit of interconnectedness that informed our selections. At the core of the installation is a reimagining of Micky Allan's first solo exhibition, Photography, Drawing, Poetry: A Live-in Show of 1978, in which she brought art and domestic life into a space where people could sit, relax, reflect and talk, eschewing what she saw as the conventional 'hush, don't speak' formality of galleries. It epitomises a feeling for the democratisation of the arts that many women have yearned for over time.
Allan's body of work, including her pioneering handcoloured photographs, is informed by deeply personal responses to people, places and the cosmos and has a sense of inclusivity that speaks to the joys and vulnerabilities of human experience. Often working in series, her delicacy of touch is apparent in her portraits Babies 1976, which form part of her ongoing interest in the cycles of life. Other photographs included are from her rarely exhibited series The Pavilion of Death, Dreams and Desire: The Family Room 1982. While ambitious in scale, the series conveys an intimacy of connection with her subjects.
Among the most powerful collective works in the exhibition is Kangkura-KangkuraKu Tjukurpa — A Sister's Story 2017 by the Ken Family Collective, or the 'Ken sisters': Tingila Yaritji Young, Maringka Tunkin, Sandra Ken, Freda Brady and Tjungkara Ken. They come from the Anangu Pitjantjatjara Yankunytjatjara (APY) Lands in the far north-west of South Australia, and their painting refers to the Seven Sisters and Honey Ant dreamings, both of which are integral to their Country and community.
Moving beyond the strictures of linear time, these women bring the understandings of a continuing culture into the present. They have a strong lineage that supports their collaborative work. As they said in an interview with Jack Latimer on NITV on 9 November 2018, 'When we work together as a family, we are learning from each other and teaching each other. Our family is strong because we teach all our young women this important Tjukurpa — the force which unites Anangu with each other and with the landscape'. Counter to the idea of the individual, the dynamic of the painting conveys a profound shared feeling for Country and the stories that emanate from it.
The idea of women's lineages is also integral to Lola Greeno's practice of creating intricate, iridescent shell necklaces. As a Tasmanian Aboriginal artist, she learned about threading shells from her mother, and her most keenly expressed dream is to keep her cultural heritage alive. Her necklaces may be considered portraits of her sense of being, connected with community. Similarly, shells shape Esme Timbery's deeply moving work Shellworked slippers 2008, which emerges from the Indigenous practices of artists living at La Perouse at Botany Bay in Sydney. In painstakingly creating this installation of two hundred exquisite small velvet slippers adorned with shells, Timbery presents a poignant memorial to the many Aboriginal children who were part of the Stolen Generations forcibly removed by government edict from their families.
The sorrow inflicted by this process is also implicit in Julie Dowling's affecting portraits of her great grandmother Mary, a spiritual custodian of the Badimia people who had her two youngest children taken from her, including Dowling's grandmother Mollie, who was placed in a Catholic orphanage at the age of 11 by her Irish father. As Dowling said to Gabriella Coslovich in The Age on 31 July 2007: 'My mum was raised, by the (Catholic) church, to be a domestic servant and to marry white, just like my grandmother was. But when she started to read about civil rights and feminism she twigged that it wasn't all it was cracked up to be and tried to find her own path'. In a spirit of reclamation in her work Mary 2001, Dowling depicts her great grandmother with considerable dignity, standing with a dingo and holding a goanna under an atmospheric sky, intrinsically connected with the land.
The struggles for Aboriginal people have informed the work of artists across diverse cultural backgrounds. For instance, Marie McMahon's poster Pay the rent: you are on Aboriginal land [2] 1982 was conceived after she had visited Tikilaru Country on Bathurst Island with one of its custodians, Piparo (Winnie Munkara). The work, in which Aboriginal woman Phillipa Pupangamirri firmly stands her ground, responds to white businessmen wanting to use the land for economic gain by building a resort. It is part of a large wall of posters in the exhibition that have been produced by women, including those working in poster collectives aimed at tackling issues such as racism and violence against women head on.
Vivienne Binns has also tackled these concerns, independently and in her work in communities. Her courage as a young artist in her twenties engaging with gender and sexuality — evident in bold works such as Vag dens 1967 and Phallic monument 1966 — came at a time when feminism was growing in strength and censorship was rife. Like Pat Larter in her performative work, photographs, collages and 'Femail Art', Binns was unafraid to tackle and send up stereotypes and expectations of women in relation to depictions of the body.
Larter, who turned the lens on women and men (mostly gay men, who she found liberating and who enjoyed posing for her), also focused on her own body, taking control of her own image, often with wry humour. In this vein, Julie Rrap's series Persona and shadow 1984 reveals how depictions of women throughout art history, such as those in the images of Edvard Munch (which she used as a starting point), have been made to adopt a series of roles. In a performative way, through her own body, she creates feelings of both dislocation and reclamation. Rrap finds humour in the provocation, and it is in the fearless and bold directness of her vision that she captivates our attention.
An important aspect of the exhibition is the role of performance as a vital art form in women's practice. Among the highlights is a new performance work by dancer and choreographer Jo Lloyd, generously supported by Phillip Keir and Sarah Benjamin, remembering the work of the brilliant but largely forgotten Philippa Cullen who died at the age of 25 in 1975. Cullen's highly experimental dance work included using the theremin to generate sound. Lloyd's performative approach will not recreate Cullen's. Instead, she will bring her own remarkable vision and experience into close connection with the spirit of the earlier performance. In a sense, this project epitomises the idea of lineages in Know My Name, reminding us, as so many women artists do, that while personal endeavour is crucial so too is our interconnectedness across place and time.
A special dimension of the exhibition is the selection of a palette by artist Gemma Smith for the gallery walls. Adopting an immensely subtle colour range, her approach has been collaborative and sensitive to the works on display. Her deep understanding of colour enables her to work with nuances of hues in the expansive architectural spaces that require and reward contemplative time from the viewer.
In curating Know My Name, we are acutely aware that there are many more artists worthy of inclusion than we could possibly incorporate in a single exhibition. In this regard, it is important to note that this is one part of an ongoing program of exhibitions and other initiatives focusing on women artists at the National Gallery, both now and into the future. In endeavouring to convey some of the diverse stories of women artists from 1900 to now, we also pay our respects to and acknowledge the work that others have done in this field over the years. Finally, we thank all the artists, collectors and institutions who have so generously loaned works and contributed in various ways to the exhibition and the initiative more broadly, revealing their commitment to redressing the imbalances of the past and foregrounding women artists in what is clearly a shared national project.