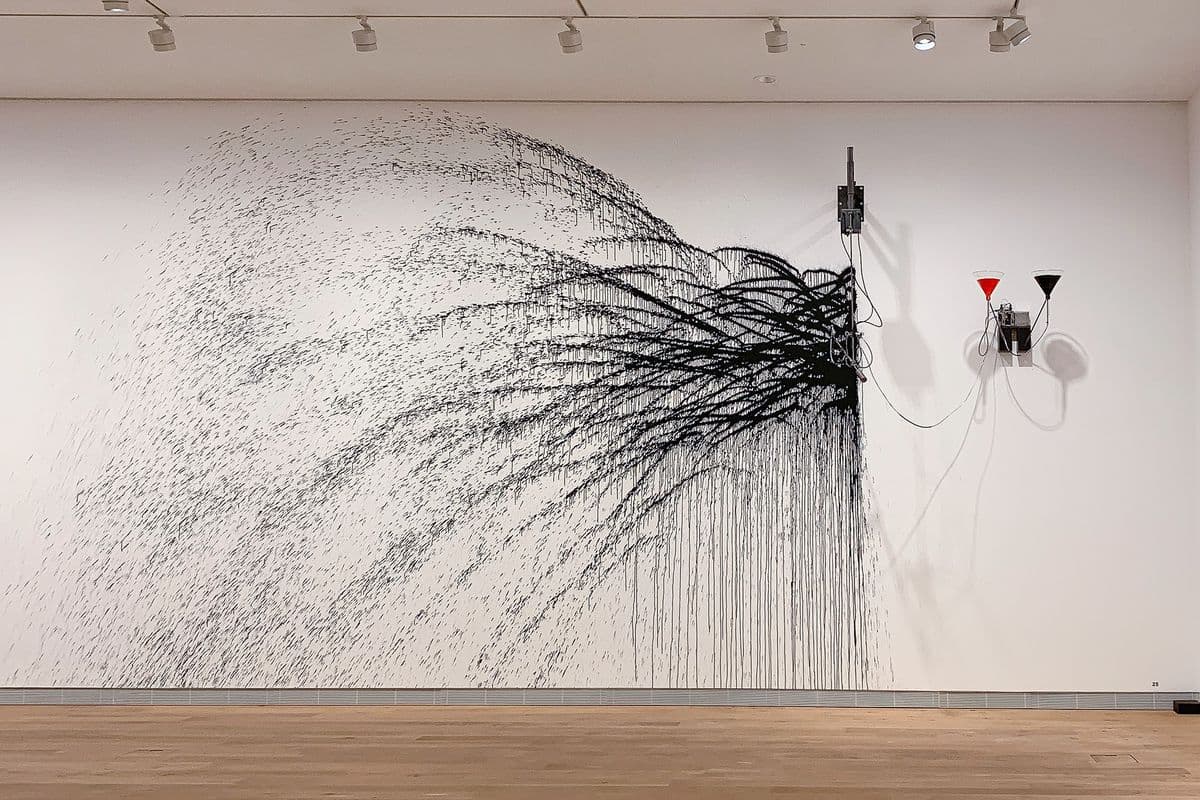 A visit to Rebecca Horn's studio and foundation in Germany, combined with exhibitions in Metz and Basel, offered a rare opportunity to survey the German artist's practice and view Les amants [The lovers], recently acquired for the National Gallery, writes Lucina Ward.
Rebecca Horn's studio and foundation in Bad König, Germany, is the site of a textile factory owned by her grandfather, nestled in the trees and hills of a picturesque resort town in the Odenwald ranges, about 60 kilometres south of Frankfurt.
The artist's base since 1989, the Moontower Foundation operates as 'a village with a museum,' an archive, a space for concerts and studios for artists in residence.
The complex comprises a workshop, preparation areas and an overview of Horn's art housed within light-filled, whitewashed interiors: in one of the larger, warehouse-type spaces, Kiss of the Rhinoceros performs a magnificent ritual, while her smaller sculptures, objects and drawings – sometimes in dialogue with the work of artists she has hosted – are accommodated in attic-like rooms with views to the surrounding landscape. It is, altogether, a wonderful insight into the artist's life and work.
'The lovers prepare themselves, they bathe in pink champagne and black ink and embrace each other inside the painting machine. In a weightless state of love, in a crazed dance, they perform their painting.'
Horn came to prominence in the 1980s for her use of performance, installation, sculpture and film in highly sophisticated and intertwined ways. Human-machine hybridity, alchemical transformation and animistic sensibility are key themes, and she draws on a rich history of European literature, Surrealism and popular culture. Some of Horn's machines were made for use in her films, others were created as independent objects.
When I visited in 2019, key works usually displayed at the Moontower Foundation were on loan to Rebecca Horn: Theatre of Metamorphoses at the Centre Pompidou-Metz in France and Rebecca Horn: Body Fantasies at the Museum Tinguely in Basel, Switzerland. These two distinct but complementary exhibitions explored Horn's work over five decades, from her earliest body sculptures in 1968 – objects and instruments attached to her own or others' bodies that explore contact between humans and their surrounds, with limb extensions or structures suggesting prosthetics and augmented reality – to the machines and complex installations often incorporating sound.
Rebecca Horn: Theatre of Metamorphoses highlighted the role of film in the artist's practice and her use of animal, often surrealist, themes in mechanical forms. Works by several 'spiritual peers' – Constantin Brancusi, Marcel Duchamp, Man Ray and Méret Oppenheim – suggest the range of Horn's influences. Highlights included the dramatic and threatening Peacock machine, the exquisite butterfly-flitting Lover's bed (from the film Buster's bedroom) and the constantly buzzing Bee's planetary map. Within the uppermost space in the building designed by Shigeru Ban Architects – its wooden, fibreglass and Teflon hexagon roof reminiscent of classic cane hats from China – the Dancing Snake Rope performed and snapped under the canopy, seemingly caged and ensuring visitors came to no harm.
At Rebecca Horn: Body Fantasies in Basel, alongside machines and other extraordinary objects by Swiss sculptor Jean Tinguely, the artist's works were in their element. Here, the focus was on transformation, with early performative works and later kinetic sculpture emphasising Horn's key motifs and themes. Pencils, funnels, paint and other brushes – as well as feathers, butterflies, shoes, mirrors, musical instruments and typewriters – recur throughout the oeuvre. The liquid of earlier painting machines is directed onto stretchers, books, shoes or an egg.
'They react as we react. My machines are not washing machines or cars. They have a human quality and they must change. They get nervous and must stop sometimes. If a machine stops, it doesn't mean it's broken. It's just tired. The tragic or melancholic aspect of machines is very important to me. I don't want them to run forever. It's part of their life that they must stop and faint.'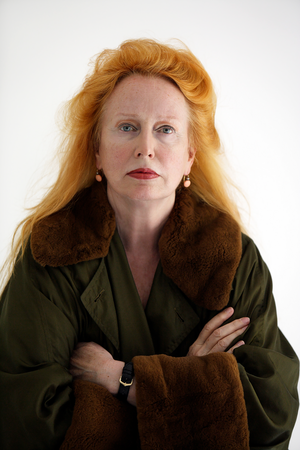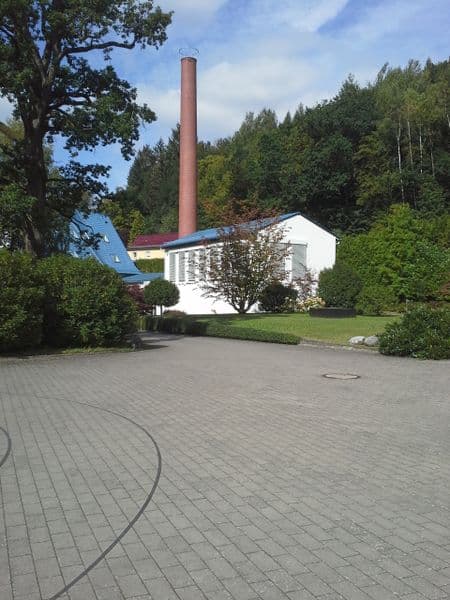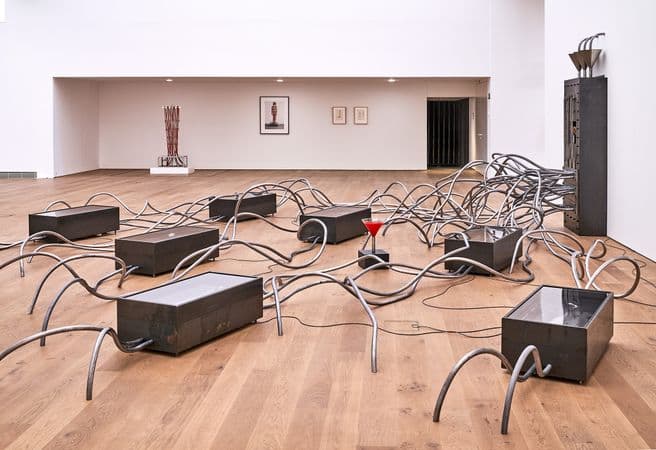 In previous incarnations The lovers painted in a corner space and, on occasions, expanded to the floor; in Basel it extended over a long wall. In an adjacent gallery the installation El Rio de La Luna pumps mercury (or 'liquid moonlight') in ways which recall the veins of the human body, its passion and pain, as well as the larger systems of an urban space. In Fluchtkoffer a fluttering suitcase with paint-splashed interior periodically attempted escape via a pole spanning the double-height space. Both exhibitions demonstrate Horn as one of the most important artists of the second half of the 20th century, whose combination of technology and human concerns, comedy and pain, menace and pleasure results in works that are startling, intriguing and often exquisitely beautiful.
The National Gallery has long sought a major work by Horn and several were under consideration for acquisition. Ultimately, The lovers won out. Fuelled by a combination of ink and champagne, The lovers perform for one minute before pausing for three. When the correct mixture is achieved a long, wall-mounted motorised arm sweeps the wall, spraying and dripping across its surface. The painting complete, The lovers rest until next time. Horn's machines confound notions of what technology can do but are, ultimately, without function. Despite and because of their precision engineering these objects tire, shudder or even, at times, seem to refuse to participate. All of them develop a distinct sense of personality: these are machines with souls.
Rebecca Horn, The lovers is featured in the new collection display Worldwide.
This article is from the Summer 2022 issue of Artonview. Become a Member today.
This story has been published as part of the National Gallery's 40th Anniversary. For more visit 40 Years.
Art & Artists
Featured
Referenced