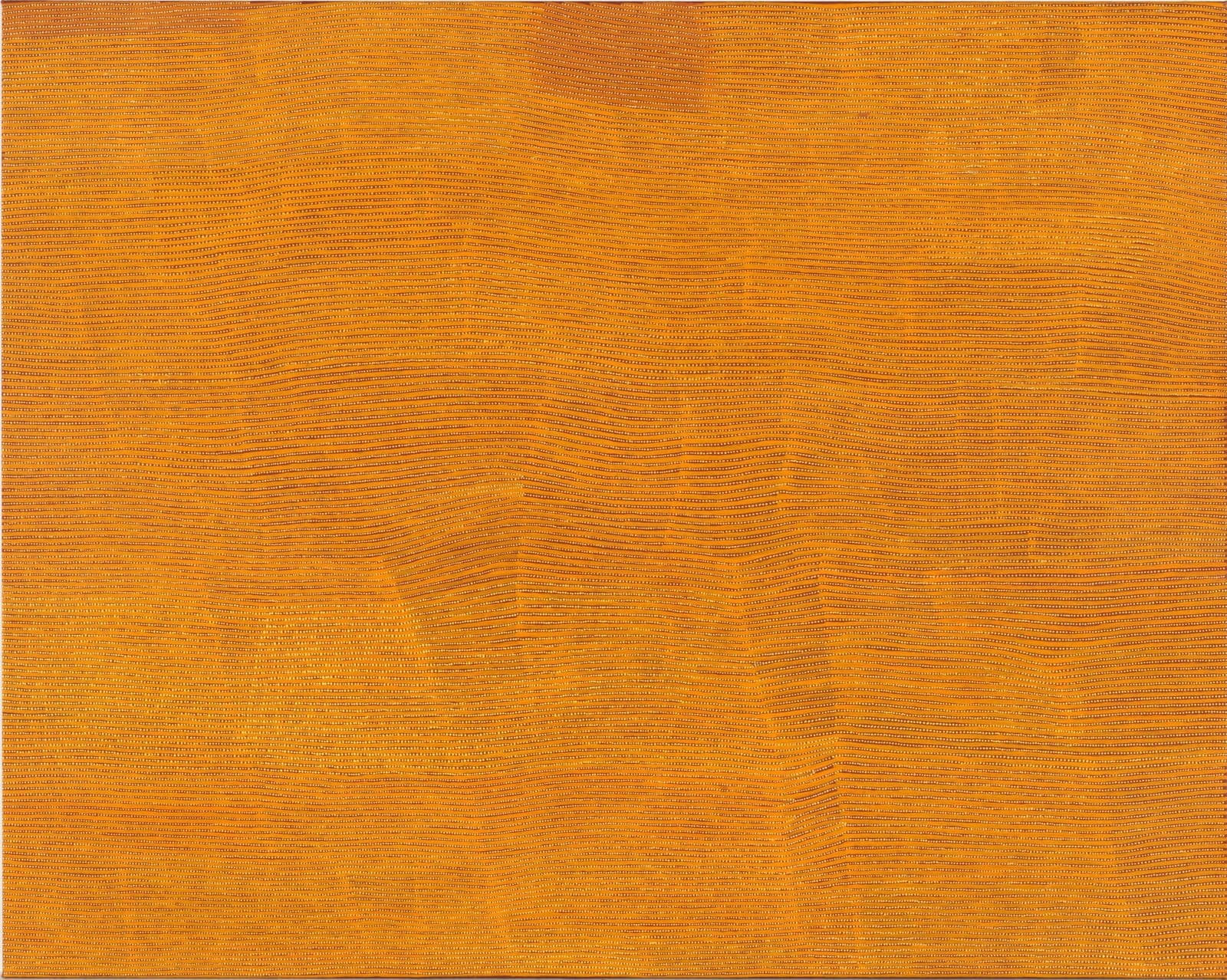 The paintings of Papunya Tula artist MANTUA NANGALA, Pintupi people, relate to the epic travels of the Kanaputa Women who travelled from the west, passing through celebrated women's sites. Mantua talks with HETTI PERKINS about the renowned Western Desert art movement and her major new triptych for Ceremony.
Fifty years ago in Papunya, a government outpost established 240 kilometres northwest of Mparntwe/Alice Springs to facilitate the assimilation of desert peoples in the region, a group of men gathered to put their cultural inheritance 'on the record' in drawings and paintings. In response to the government-sponsored strategy to erase their cultural identity, the artists literally drew their knowledge of traditional body and sand painting associated with ceremony. The early 'boards' captured a raw power that continues to reverberate through the works of the descendants of the founding artists. From inauspicious beginnings, the desert artists have changed the cultural landscape of Australia, bringing a new way of seeing and signifying Country to national and international audiences.
The spark of the cultural burn lit in Papunya in 1971 spread throughout the desert over subsequent decades and became known as Western Desert art. At the vanguard of this extraordinary Australian movement is Papunya Tula Artists (PTA), established in Papunya the following year when the 'painting mob' formally incorporated as a company comprising an Aboriginal board, shareholders and artist members that continues today. With 50 shareholders, the company now represents more than 80 artists. PTA has a gallery space in Mparntwe/Alice Springs and studio facilities in Walungurru and Kiwirrkurra, 530 and 700 kilometres west of Mparntwe, respectively. The company has supported major infrastructure including the Kintore swimming pool and the Purple House remote dialysis service, as well as funding ceremonies, funerals, music projects, festivals and an aged care service.
A first step in the outstation movement, the journey home for families was largely funded by the sale of artworks and the empowerment that came from activating their ceremonial connections to their Country. Yayayi was an outstation community 42 kilometres west of Papunya, set up in the early 1970s by Luritja/Pintupi families in the direction of their homelands – some as far away as the Gibson Desert in Western Australia. A collection of the works created at Yayayi was acquired by the newly established Aboriginal Arts Board of the Australia Council and the community was the subject of academic research undertaken by Fred Myers and documentary footage shot by Ian Dunlop for Film Australia. During the following decade, Pintupi communities were established at Walungurru (Kintore) in 1981 and then Kiwirrkurra in 1983.
The National Gallery commemorates the juxtaposition of the two milestone anniversaries of the advent of the Western Desert art movement and the founding of PTA with the commissioning of a major new work by Mantua Nangala for the 4th National Indigenous Art Triennial: Ceremony. Nangala's triptych Untitled spans seven metres and is a first for PTA in its monumental scale. In this work Nangala paints Marrapinti, a site close to her birthplace in her father's Country at Tjulyurunya (close to Kiwirrkurra and Pollock Hills), Western Australia.
Mantua created her first painting for PTA in early 1998, about 18 months after the original group of Kiwirrkurra women artists began painting. Mantua's Country lies west of Kiwirrkurra and deep into the Gibson Desert where rows of parallel sand dunes (tali) dominate the landscape. Along with those of many of her fellow artists, her paintings relate to the epic travels of the Kanaputa Women who travelled from the west, passing through the celebrated women's sites of Mukula, Marrapinti and Yunala.
Nangala is among the senior artist members of the art centre today and is also a member of an illustrious artistic family. Her father was Anatjari Tjampitjinpa who, along with his family, was brought out of the desert into Papunya by the Northern Territory Welfare Branch patrols in 1964. The patrol's meeting with Tjampitjinpa the previous year was the subject of Douglas Lockwood's 1964 book, The lizard eaters. Tjampitjinpa began consistently painting for PTA at Yayayi outstation and was one of the movement's most influential artists from the mid-1970s. Nangala's sister, Yinarupa Nangala, and both of her brothers, Ray James Tjangala and George Yapa Tjangala, are leading artists, as was Nangala's late husband, Yumpululu Tjungurrayi.
HETTI PERKINS (HP) Where were you born, and how long have you lived at Kiwirrkurra?
MANTUA NANGALA (MN) I was born at Tjulyurru, Western Australia. I have lived in Kiwirrkurra since the 1980s. I started working in Kiwirrkurra as a health worker at the clinic, so we moved here during the days of Charlie McMahon [a former outstation coordinator who built essential services in the Western Desert before going on to form the band Gondwanaland and play didgeridoo with Midnight Oil].
HP When did you first become aware of painting for PTA? Has your family been involved in it for a long time?
MN My father [Anatjari Tjampitjinpa] had been painting in Papunya and Yayayi in the early days. That was when I first saw those canvas men; all the old people were painting for Papunya Tula.
HP Did someone in your family teach you about painting or inspire you?
MN I watched my father and my husband [Yumpululu Tjungurrayi] painting and learnt about canvas and paint, and then decided that I wanted to make canvas as well.
HP When did you do your first painting? Did you assist another artist?
MN I just started myself after watching all the old people painting, started off with little ones first and then made some bigger ones. I first painted for Papunya Tula in 1998, I think, but had made a few canvasses in Mparntwe/Alice Springs before that. I was just making them for a little bit of money for tucker. I used to help my husband a little bit when he was working on large canvasses.
HP What do you paint, and why do you paint the way that you do?
MN The story that I paint is Marrapinti. It is a sacred women's place that is my ngurra [Country] – it is a very important place for my people.
HP Do you prefer certain colours, and why?

MN I like to have colours that are close but are a little bit different, usually five colours and all creamy whites. When you look at the canvas you can see movement; I like the way it changes over the canvas.
HP Your paintings are very beautiful and obviously take a long time to create. What is it that allows you to spend so much time and energy creating your paintings? Are you thinking about tjukurrpa, songs, Country, etc?
MN I like to make my paintings slowly, every dot slowly and carefully. When I paint I'm thinking about my Country and my family. It is very relaxing for me and makes me feel good, palya.
HP Do you feel like you are in a different 'place' when you are painting?
MN When I'm painting, I'm at home on my ngurra in my head, thinking about Marrapinti stories and songs, Minyma Tjuta (all the woman) it makes me feel good, palya.
HP What would you like people to think or feel when they look at your paintings?
MN I want them to feel palya, good inside and in their head, thinking about these paintings.
HP What message do your paintings have for all Australians, especially as they will be shown in Kamberri/Canberra?
MN I think it's important that a lot of people will be able to see these paintings; it's good to share my culture with everybody. It makes me happy that people can see my story and my tjukurrpa.
HP Is art an important part of your life in a remote area community? How important is PTA to you and the community in your life in Australia today?
MN It is very important for us artists all over the Western Desert; it helps us get some money for our families. We have helped raise money for dialysis with Purple House and lots of other things for the community. We help people every way with Papunya Tula.
Art & Artists
Featured
Referenced