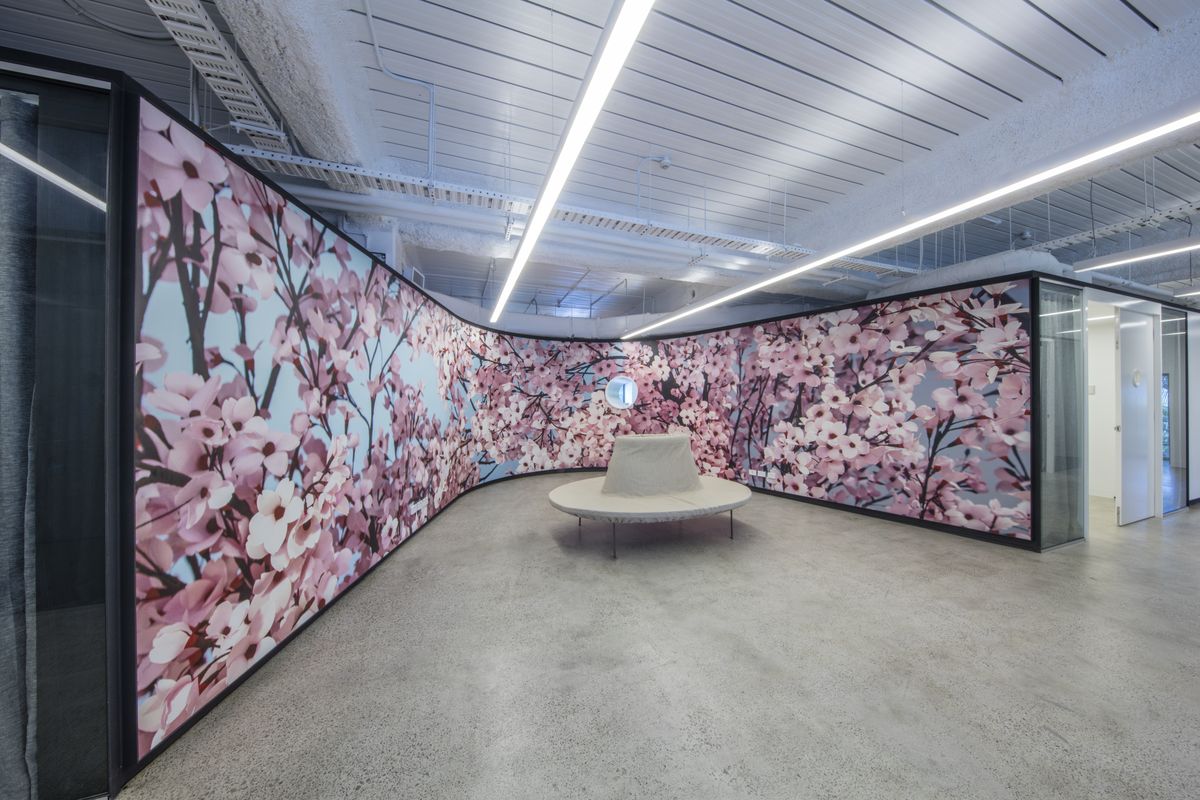 We visit the private collection of a National Gallery donor. This month: NAOMI MILGROM AC speaks with Director NICK MITZEVICH
NICK MITZEVICH: Your collection sits within the private and public lens, so we are interested to hear about your approach to collecting art.
NAOMI MILGROM: For me, selecting art is not a single activity, it's part of an aesthetic and a broad creative lens. It's always been the combination of design and architecture – much more than just one discipline – it's about looking at it through the lens of a lot of different disciplines.
I don't see the creative side as being uni-dimensional at all. The last thing that I supported was the ORA Singers at the Tate Modern (in September). So for me voice is also a creative a endeavour that sits very comfortably right across art, design and architecture.
NICK: And you've also supported theatre and live performances, which continue to define that approach.
NAOMI: My philosophy is about creating public accessibility and supporting things that other people wouldn't. I try to nurture provocative ideas and ambitious creatives who wouldn't be enabled otherwise.
NICK: I can see how successful you've been in those endeavours, and it's interesting when you look at the projects that you've supported over the years, that it has encouraged others to go into that field.
NAOMI: Definitely. If you look at the multi-dimensional work of William Kentridge and the exhibition William Kentridge: That which we do not remember we put on at AGSA, the way that Kentridge works with both sound, film, drawing, sculpture – everything points to a multi-disciplinary way of looking at the creative industries or creative arts, and publishing books. We're doing a lot of work with books – we recently published MPavilion: Encounters with Design and Architecture which illustrates this broad creative lens. It's not just about collecting, it's about collaborating and enabling. We talk a lot about this whole idea of collective creativity because that's what we want to engender; recognition of how collaboration allows creativity.
NICK: I suppose the driving force behind that is to make sure that creativity in our world isn't really pigeonholed because, when you start to define something and put it in a box, it somehow doesn't achieve its full potential.
NAOMI: Of course. I've been thinking a lot about collective creativity and how we need to encourage or provide these unique opportunities to advance creative culture. And to present these opportunities to creative people who want to push the boundaries the hardest. For example we're working with a furniture designer, who then works with a woodworker, who then works with a painter, who then works with a sculptor. So it's that series of connections, collective creativity is to pull those connections through.
NICK: Can you remember the first work of art that you connected with?
NAOMI: Well, there's a few things. When I was at university, I used to work for the dealer and collector Joseph Brown.
He was a great mentor to me, he was just fabulous. There was a lot of influence from looking at the likes of Clifford Pugh and Rupert Bunny with his beautiful collection at home, as well as what he actually sold in the gallery. At the time I also really loved Godfrey Miller, he was one of my favourites.
NICK: What was the first work of art that you acquired?
NAOMI: It was two works. One was Rosalie Gascoigne, and the other artist I bought very early on was Marea Gazzard. That was when I was at the University of Sydney. I did a DipED in Sydney and I'd seen a Craft Australia book with Marea Gazzard. I knocked on her door in Paddington and asked her if I could come and see her work. She was incredibly generous and we became lifelong friends.
NICK: You've assembled a large collection of her work.
NAOMI: I'm a great admirer of her work. She's an extraordinary woman and she was very generous to me.
NICK: When did you start thinking about putting together a personal collection, or did you just acquire things that you connected with and loved?
NAOMI: Obviously, I'd seen the beautiful collection of my parents (Marc and Eva Besen), and lived amongst some of the most beautiful works – the Drysdales, the Dobells – that they were collecting in the 60s and 70s. My father used to take me on his travels, particularly to the Australian Galleries on a Saturday afternoon and we'd sit with Anne Purves and her son Stuart (who now runs the gallery) and we'd look at pictures together and talk about things. I also used to spend a lot of time with Georges Mora in Melbourne and then Rudy Komon in Sydney. So I was absorbing it – it was a natural osmosis in a way – but I was never conscious when collecting. One of the most exciting days was going to see a room full of Howard Arkley at Georges Mora's Tolarno Gallery in St Kilda.
NICK: Was that before he represented Australia at the Venice Biennale in 1999?
NAOMI Yes, and he was very excited doing that. These were all people who had a great love of books, who had excellent eyes for design. Georges in particular had a great love of food and wine, as we know with Mirka. So I think that I was exposed to this broader creative view and aesthetic from a very early age.
NICK You're supporting Patricia Piccinini's upcoming Skywhales: Every heart sings project with us, which we're so grateful about. What motivated you to support this project and your general approach to giving?
NAOMI: I have a history with Patricia, I opened her exhibition Patricia Piccinini & Joy Hester: Through love… at TarraWarra last year. I'm a great admirer of hers, she's doing extraordinary work that is really very much of the moment. I had the great pleasure of seeing Skywhale go up and over the Yarra Valley, which was very exciting. A lot of people see these works as balloons, but they're actually sculptures, and with her sculptural works Patricia spans so much.
She's not uni-dimensional at all in her approach, she uses a huge amount of texture and different materials in her work. I'm just such a great fan of hers.
NICK: I love that she's not limited by anything and she just moves ahead and has a quiet ambition about her practice that's really bold, and she does it in a way that's so confident. It's very rare to see that.
NAOMI: Patricia's confidence is also generous. She's very embracing, a person who thinks about the universe, and about what is happening in science. Her topics are so relevant today, more than any other time really. I believe this is clearly a very important view of life, particularly now.
NICK: You hang some of your collection in your offices at the Sussan Group headquarters in Melbourne. What affect does that have on the staff and how do they interact with it?
NAOMI: The office was never meant to be just an office, we wanted to test a new paradigm for a work environment, and encompass great design with all of the elements – sky, water, trees or forests, smell – in terms of the flowers or plants we chose. It was about creating a work environment that offered much more than a desk. And part of that was my love of art and design and architecture. So the architecture reflected this love, the art was part of that. It offered the opportunity to be inspired, to be at one with nature, to look at great design – sometimes you don't understand what great design is, but you feel it. It's a bit like when you hold a piece of cutlery; yes, it's a piece of cutlery that's been beautifully designed but somehow, it feels better in your hand. The Franz West chairs in the office were very much part of it as well, they are not art hanging on the walls in the traditional sense. You can look at a West as just as a utilitarian chair, which has beautiful colour and comfort, but it is also an expression of a desire to add creative layers into a working environment.
NICK: Well, the times I've visited, it feels very dynamic and it feels really alive.
NAOMI: And that was the point!
NICK: My final question: is there a work in the national collection that inspires you or is a favourite?
NAOMI: I love this question. There is nothing else that is more beautiful and more inspiring than your Brancusi sculptures (L'Oiseau dans l'espace [Bird in space]). They are number one and number two.
NICK: I love them too. They are my favourite thing in the national collection by a long stretch.
NAOMI: Me too. If there's anything that speaks of ambition, that's them.
- The Naomi Milgrom Foundation is a Major Patron of the 2021-22 Touring Exhibition of Patricia Piccinini's Skywhales: Every heart sings.
This article is from the Summer 2020 issue of Artonview, the National Gallery's magazine for Members. Become a Member today.