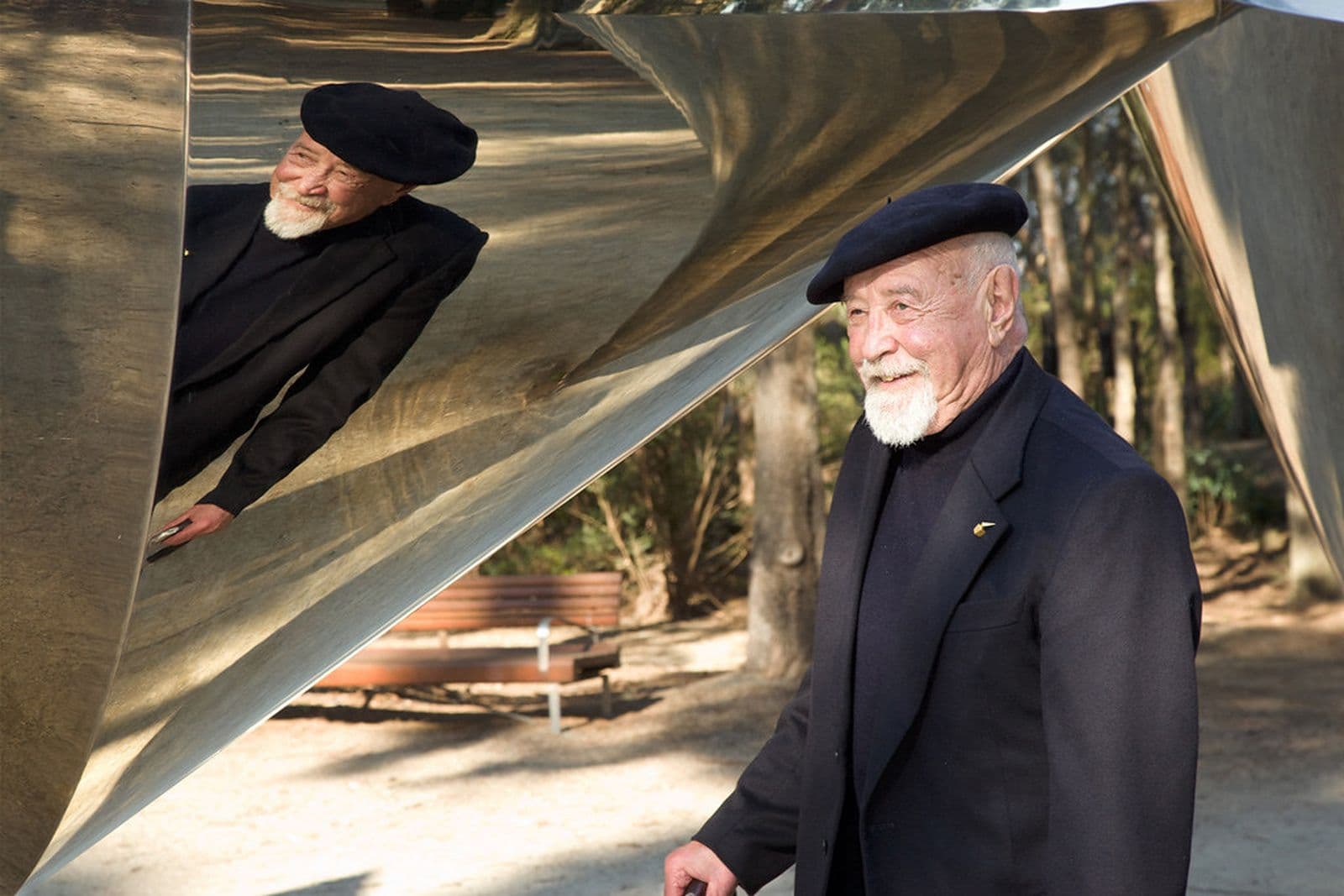 BERT FLUGELMAN'S sculptures can be viewed in public places around Australia – including Cones in the National Gallery's Sculpture Garden. But what about the one you can't see, buried underground in a Canberra park? In an extract from the archives, the late artist tells DEBORAH HART, Head Curator Australian Art, about Earthwork / Tetrahedra – which has remained buried in Commonwealth Park since 1975 – and his other most famous works.
One of this country's pre-eminent sculptors, Bert Flugelman brought passionate determination, courage and humour to his practice, which spanned several decades. Best known as a sculptor, he worked in a wide range of media including performance, painting and printmaking. He was also a dedicated and much-admired teacher over many years.
In 1968 he worked at the Tin Sheds Gallery at the University of Sydney – a new initiative instigated by the artist and art theorist Donald Brook, who encouraged a cross-disciplinary approach to making art. In this interview we undertook in 2009, Flugelman recalled these heady days as an invigorating time of "burning euphoniums, feathered offices and performance art on peak-hour buses". His mantra was always that, irrespective of the approach, art was to be engaging and it was for everyone.
Born in Vienna in 1923, Flugelman came to Australia in 1938 as a 15-year-old, his father having relocated in flight from the Nazis. It seemed a cruel blow that around the time when the young artist returned to his city of birth after the war that he contracted polio. He was determined not to be defined by the affliction and it was perhaps these challenging formative experiences that gave him the sense of needing to live life to the fullest and to make the most of his lively intellect and artistic talent. While a number of his formative sculptures were figurative, by the 1970s Flugelman was interested in a more formalist, geometric approach as he increasingly worked in stainless steel and aluminium. Yet he never lost the interaction in his works between precise artistic resolution and human engagement. He also retained his spirit of irreverence and questioning what art could be, as revealed in his buried sculpture discussed below.
Flugelman's much-loved Cones in the National Gallery's Sculpture Garden is one of his major achievements, impressive in its conception and scale, extending over some 20 metres. It is full of life – the cones pivoting on points, interacting in a dance with one another, with the natural environment and with the audience reflected in the luminous surfaces. Like many of his public sculptures it is a tribute to a much-admired and respected artist who was a tremendously vital presence in Australian art.
DEBORAH HART: Tetrahedra brings together that sense of the sculptor, installation and performance. Can you take us on the journey this work went on?
BERT FLUGELMAN: In 1975 Tom McCullough [curator of the Sculpture '75 exhibition in Canberra], asked me whether I'd be interested in doing an earthwork. Quick as a flash I said, 'Yes, of course.' And then he said, 'Well, we can let you have a bulldozer and a driver, and we can let you have a site out at Commonwealth Park.'
And I literally didn't know what to do, but it seemed an interesting idea to use the bulldozer as a tool, and to have that openness. I had seen earthworks which had been done in America and all over the place, and earthworks which were handed down through the ages – like the earth drawings in South America [the Nazca Lines in Peru] and the [Uffington] White Horse in Oxfordshire, England, where people had worked on that scale.
I decided to take six tetrahedrons which had been exhibited first in Sydney, Melbourne and Adelaide. And I loaded them on a trailer [in Adelaide] and took them to Canberra. I told the bulldozer driver what I had in mind, that was to dig a trench about five or six metres deep, 20-odd feet wide, and 60-odd feet long. And to have a level floor at the bottom. And we installed the six tetrahedrons at the bottom, exactly the way they were installed at the gallery the last time. And then we gradually and gently filled in again, making sure that ... the tetrahedrons weren't disturbed in any way at the bottom of the trench. Then he gently filled in again ... And he made good the landscape until there was nothing left except the curve of the hill. And they're still up there.
While we were digging into installing these things, I had a phone call from a property owner in Victoria, who said he and his wife had seen it on television and they'd like to buy it. And she said, 'How much do you want for it?' I mentioned a reasonably outrageous price at the time; $10,000 – [in] 1975, that was a lot of money. They said: 'That's a bit steep. But we do want them. When can we have it?' And I said, 'Well, you can own it from now!' And he said, 'No, no, whenever you dig them up.' And I said, 'I'm not going to dig them up, I'm going to leave them here. But you can own them!' This opened up a whole can of worms about what constitutes a work of art; is it the object or is it the idea? Is it the conceptual thing or does one have to have a token? Is just the knowledge of the event not sufficient?
Were they made out of aluminium or stainless steel?
They were made of aluminium. This adds further speculation … we made it aluminium, it oxidises fairly readily, and those tetrahedrons, I would suggest, by now they're just tetrahedral cavities with a little bit of aluminium oxide at the bottom. Any future excavation will wonder what that was!
Quite a number of your works have been on interesting journeys. The Dobell Memorial, one of your most famous works, was quite controversial, wasn't it?
Well, it got a lot of publicity. It was controversial because it was a competition and there were about 14 of us invited to submit maquettes. … I won the competition and there was quite an outcry. … Lloyd Rees objected to it in the Sydney Morning Herald. And then, after it was up, he wrote me a letter saying he saw it for what it was, he realised he'd been an old-fashioned fogey and apologised. After that, the then Lord Mayor took against it and when Martin Place was reinvented he insisted they took it out of there. So it was pulled down, went into storage at the council depot, had a garbage truck drive into it. There was a public outcry and they decided they would restore it and ... they moved it two blocks to Spring Street, which was in many ways a better site. But it wasn't what it was designed for ... next to the waterfall and all the rest of it. And not only that, but it cost the city $350,000 to repair this thing and shift it two blocks. When the original fee for making it was $80,000!
Spheres was commissioned for Rundle Mall in Adelaide, a city you've had a very long connection with. Tell us a little bit about the making of this work.
I had the maquette of two spheres on top of each other, which were exhibited at Waterhouse Gallery in 1972. In about 1975 there was a competition for three sites in Rundle Mall.
I entered the maquette and they stipulated that it be about five metres high and two metres wide, roughly. Now, in order for the one to sit on top of the other you have to slice an 18-inch piece off. Well, that's negligible, it's only about two inches high, which you cut off the two spheres. And then there's a flange welded on, and another flange, and the two are bolted together. You could never, otherwise, manufacture them without destroying the clean joining of the two surfaces.
It was mad to attempt it. And I was lucky that the people who worked for me, the fabricators who made the thing, the engineering firm, were enthusiastic about solving problems. They were one-off people, they weren't mass production. They came from three generations of coppersmiths and they had a pride in their skills that is quite unusual.
It's really an extraordinary work in Rundle Mall, and the way people interact with it. I think those reflections are very important, as they are with Cones.
They installed it on a Saturday afternoon and there were a few people there. And on Monday morning I went in to watch people look at it. I stood there, looking, and a little old lady came up and looked at it quite closely and peered at it, then she opened her handbag, took up a hanky, and then ... [blows nose]! So I knew it was a winner!
Cones was commissioned by the Gallery in 1978.
It had to be finished by 1982 [for the opening] … I had a budget, and as always budgets are very stringent. And in order to make it for the amount of money that there was, I went to this fabricator in Adelaide, and I said: 'Look, you've got four years to make it. You can use it as a filler job, when you're slack.' … And so finally, it cost nothing to make it. Well, they saw the sense of it and they made it, and everybody was happy.
When the commission was approved by the trustees, you told a story that the trustees asked about the longevity of the work.
When the trustees wanted to know what the longevity of the sculpture was, they were much concerned that we used the best kind of material, and to get as many years as possible out of it. And so I wrote to Commonwealth Steel, which was a subsidiary of BHP, [to ask] if they would supply the steel. And finally I got a letter back from a metallurgical laboratory of BHP saying that the make of steel being used and the gauge of steel being used, they could estimate that it had a life expectancy, under normal conditions, of 75,000 years! I got a letter back from [the Gallery], saying, 'Dear Bert, this will be very satisfactory!' So, we aim to please.
It's such an amazing feat of engineering in the way the double cone is kind of balanced as if they're almost on points.
It went through quite a number of stages. I started making it by cutting a circle in a piece of paper, of thin cardboard, using a compass, and then cutting it in half so I had a semicircle. And you take the semicircle and you join the two edges and you have a cone. And if you hold it up and look at it straight, it's an equilateral triangle that is formed by the silhouette. And this equilateral triangle goes right through both my stainless steel sculptures. It's the one discipline I submit to. Having a considerable backbone allows you then to invent as freely as you want, because all your pieces are related; there is a family feeling about them.
It's become what I always intended with public sculpture, and it really becomes a mark which stays there, and will stay there for a long time. When architecture has changed, buildings have changed, the landscape has changed, that is the one thing that is permanent. And it's this unfashionable sense of permanence that gives it that effect, I think, to a very large extent.
One thing you did say about the particular choice of the number of the cones, that seven actually was quite important?
Number seven … it's a magic number, and I'm not the first one to say so. But also, if you have five you can conceive it as a symmetrical thing; two and two, and a centrepiece. If you have seven, it's already long enough to read as an endless column in the vertical or horizontal. You imply that it goes on and on and on and on. So it's not a long asymmetric thing but an ongoing thing.
This article was first published in the Autumn 2021 issue of Artonview, the National Gallery's magazine for Members.