The Kenneth E. Tyler Collection
Page turners: artists' books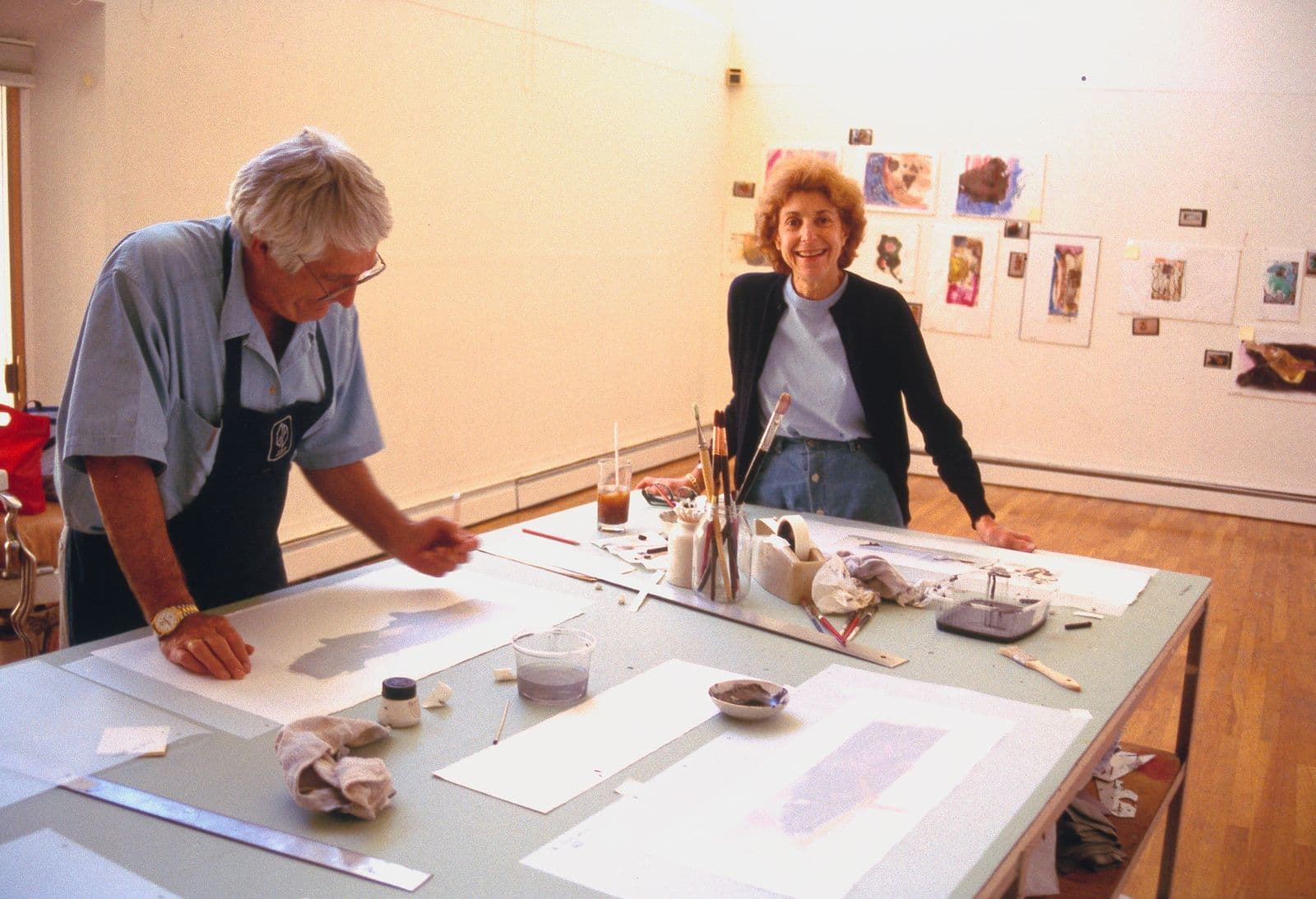 A recent morning spent at a book fair saw me trawling through old exhibition catalogues and artist biographies, emerging an hour later with an armful of pre-loved volumes and a sudden desire to learn more about a different kind of art book – the artists' book. The focus of much debate over the years, in the context of this post the term is used to signify those books which are made or conceived by artists,1 and that are 'dependent upon the book structure to articulate its content.'2 Here we look at a few key examples from the Tyler Collection.
Accustomed to large-scale print production, the particularities of the artists' book presented a new challenge for Tyler, and he engaged in numerous ambitious book projects over the course of his career. Volumes produced in Tyler's workshops featured fine art printmaking techniques, handmade papers, and were released in small editions, recalling the European tradition of illustrated books of the early 20th century known as livres d'artiste or livres de luxe. They thus stand in contrast to the modest, mass-produced, cheap booklets championed by Ed Ruscha and American conceptual artists in the 1960s and 1970s, which were designed to be 'something that you would ideally be able to buy at a train station for little cost, read in the train, and leave behind on your seat with no regrets'3 (ironically, many such publications are now housed in the world's leading museums).
About women, 1966
Tyler made an early foray into the medium with John Altoon, a brash Los Angeles artist who lived next door to Gemini Ltd. Altoon drew inspiration from the poetry of friend Robert Creeley to create 10 boldly coloured lithographs which feature his distinctive lexicon of ambiguous amorphous forms, phallic references and fluid line. Indeed, the emotionally charged content of Creeley's poems ('Anger', 'The Woman', and 'Distance') created an ideal context for Altoon's ongoing exploration of sex and women to unfold, with text and image echoing rather than illustrating one another. Consisting of loose-leaf lithographs interspersed with pages of text, About women 1966 breaks from traditional book form. It nevertheless achieves a bookish quality, with sheets sequentially arranged within a box, which opens like a book cover.
El Negro, 1983
Robert Motherwell's lifelong obsession with literature made the artists' book a natural conduit for his creative vision; El Negro – published by TGL in 1983 – is the second of four volumes produced during his lifetime and stands as one of the most ambitious. The idea for the project emerged in 1980 at an exhibition opening of Motherwell's paintings in Madrid, during which Spanish poet Rafael Alberti read 'El Negro Motherwell', a poem honouring the artist's use of black. Meeting for the first time, Motherwell and Alberti acknowledged their mutual admiration and agreed to collaborate on an artists' book. Poetry such as Alberti's connected with Motherwell's approach to image making:
'My vocabulary works only with poetry, that is to say with non-narrative writing to which my visual metaphors can be matched with verbal metaphors springing from the same kind of source…not illustration, but a series of explosions or fireworks, or oppositely, a kind of restrained silence.' [4]
To illuminate Alberti's verse, Motherwell created 19 gestural lithographs reflecting on the physicality of black, the weight and depth of which was augmented by layering a number of black inks. Tyler's design for the book abandoned a uniform format in favour of gatefold pages of varying horizontal lengths, accommodating the spectrum of Motherwell's imagery. Image and text coalesce to form a harmonious whole, emphasised by Motherwell's incorporation of handwriting in several compositions.
This is not a book, 1997
Helen Frankenthaler's desire to create an artists' book stemmed not from a beloved text, but rather from the physicality of the book form itself. She had long wanted to make prints for a bound volume but struggled to find an appropriate text, and eventually proceeded without one. Through its omission of written word, This is not a book challenges traditional constructs of the book as an inherently text-dependent form and reveals the potential of the serial format as a site for visual exploration.
Frankenthaler harnessed this new framework to experiment with form and materials, working in an intuitive, playful manner: 'I had to do it my way and make it up as I went along … I used pastels, crayons, inks and paints of all kinds. I poured, rubbed, smeared.'5 She worked closely with Tyler and etcher Anthony Kirk over a two year period, continuously proofing and reworking plates until the desired result was achieved. As Kirk explains, printing the edition proved enormously challenging, as multiple works had to be printed on the front and back of the same sheet of paper to avoid a series of blank pages.
Despite the difficulties they encountered, Frankenthaler has said of their collaboration, 'The three of us worked together in a beautiful dialogue filled with feeling and invention.'6 The 9 lyrical intaglios contained within the book's 36 bound pages attest Frankenthaler's mastery of painterly printmaking.
Other books in the Tyler Collection include: Steven Sorman's Lessons from the Russian, (1999), Joan Mitchell's Poems (1992) and Helen Frankenthaler's Valentine for Mr Wonderful (1995).
Clive Phillpot, Booktrek: selected essays on artists' books (1972-2010) (Zurich: JRP/Ringier; Dijon: Les presses du reel 2013) p.83.
Ibid., p.149.
Christophe Cherix quoted in Phillpot, Booktrek, p.4.
Robert Motherwell to Andrew Hoyem, 30 March 1987, reprinted in Stephanie Terenzio (ed.), The collected writings of Robert Motherwell (New York: Oxford University Press 1992) p.283.
Helen Frankenthaler, 'Notes' in This is not a book (Mount Kisco, New York: Tyler Graphics Ltd. 1997)
Ibid.