Penny Evans
Studio spotlight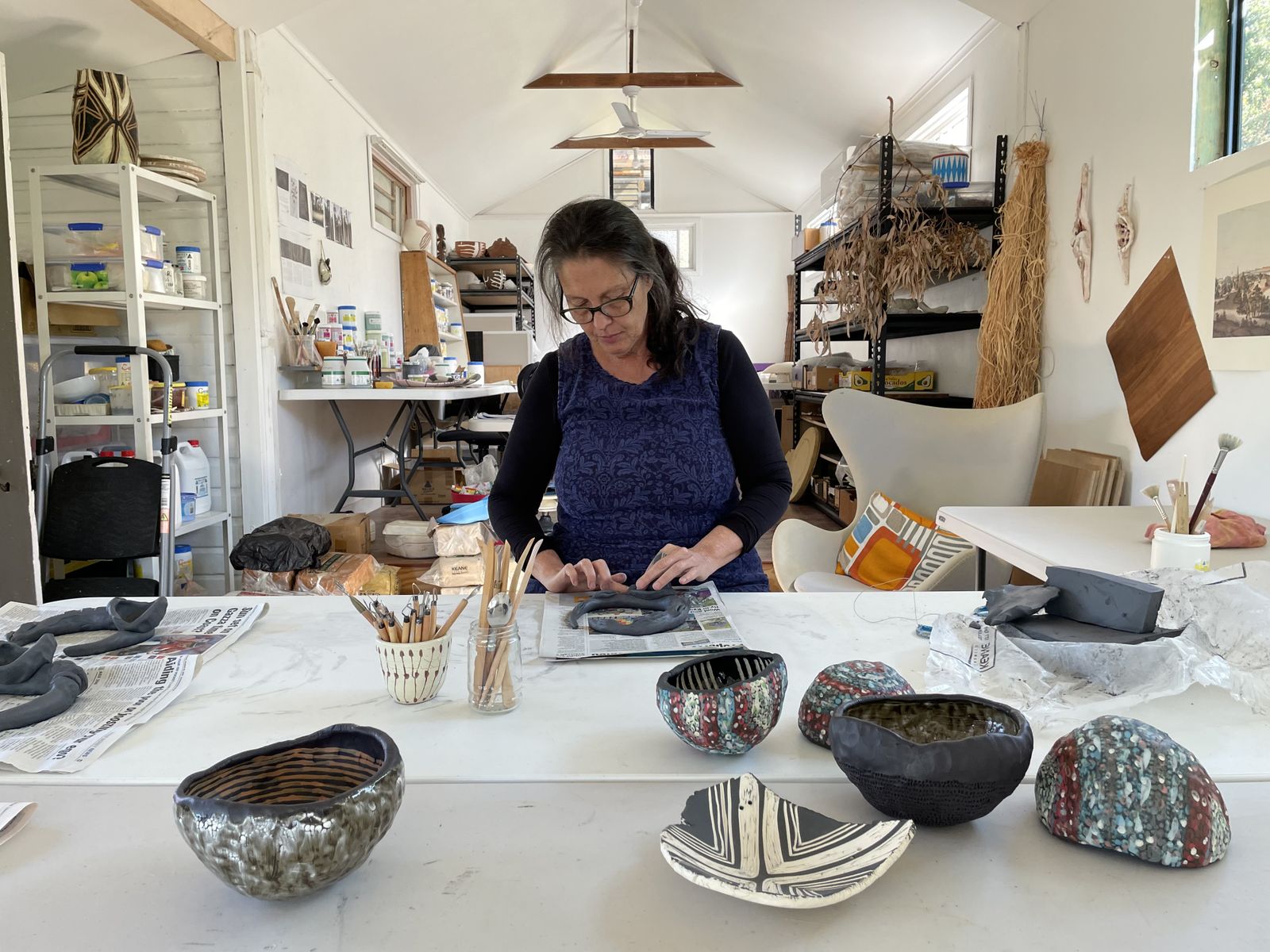 'Ceremony to me is about ritual. It's about transformation. It's about growing up. It's about respect and responsibility.'
PENNY EVANS
Ahead of the opening of the 4th National Indigenous Art Triennial: Ceremony on 26 March, we visit K/Gamilaroi artist Penny Evans, in her studio.
'I live in Lismore, Bundjalung country, northern New South Wales. I'm a descendant of the K/Gamilaroi people of northwest NSW – my pop's country where my Ancestors were born.
'I have always been an artist. I knew it from when I was a child. I love working with clay, it connects me to the ground, to Country. It's healing. Our Ancestors used to make clay totemic effigies leading up to ceremony, and I love the thought that I could follow in that tradition somehow intuitively.'
'My home studio is my sanctuary. It was purpose-built as an extension from the existing old 1890s shoebox-sized shed that I've worked in for 20 years. Luckily, we finished the extension just as COVID-19 lockdowns started last year.
'My main stipulations were to have more space and light, which meant plenty of windows out into the garden. When we bought this place it was a suburban block covered in lawn with no trees. We got busy planting as soon as we got the keys and created the whole garden.
'I love paperbarks, they are very spiritual beings, and I have three different species that I can see from the studio. They attract multitudes of birds and insects when they flower. They complement and accent the studio and the house. I am currently in the process of planting all natives and reducing the amount of exotics. Gardening is definitely a part of my process and is good to do when I need a break from making.
'For my work in Ceremony I'm working very loosely with the clay, letting it speak, playing with mark making and textures. I've chosen red terracotta clay as the main body for the work as it has a high iron oxide content, which relates to red ochre, which our people use for ceremonial purposes.'
'The work is called gudhuwali BURN. It's a re-creation of a fire ground seen in Yaegl Country where I visit regularly, in the Yuraygir National Park (on the NSW north coast).
'I happened upon that Country about seven years ago. I needed somewhere to go and have a break and I went to this place I'd never been to before and there had just been a massive fire through sections of that Country. The energy was very intense. It was a fire that was too hot and destructive in some areas, yet other sections were less burnt or untouched. I've spent a lot of time there over the past few years and have witnessed the regrowth and changes in the various adjoining ecologies. My powers of observation increased during this time.
'There were so many banksia in the different areas that I walked through in different stages of breaking down and I was completely overwhelmed by the sheer diversity of what I was seeing. I felt like they were talking to me.
'Banksia are anthropomorphic – there is a real human quality to them, they're very beguiling. It was like they were calling me, whispering to me, wanting their photos taken. I obliged.
'When I recreate them in clay, I use a pooling glaze so the pieces are predominantly matt black and then some of the mouths and crevices have a deep orange pooling glaze in them. This represents wii (Gamilaraay) burning fire but also speaks to DNA, our blood. My studio has the same colours. I painted the exterior of my studio black with red doors, our colours.
'Ceremony to me is about ritual. It's about transformation. It's about growing up. It's about respect and responsibility. I'm so thrilled to be in this exhibition and the fact that it is themed Ceremony. We all need to be practising ceremony and rituals in one form or other, getting back to ourselves and to who we are as people and how we connect to Country. It's so important for us to survive as a human race. Connecting to Country is the most important thing. I'm so grateful that I know where I connect to, it's profound.'