Reaching for the stars
Lindy Lee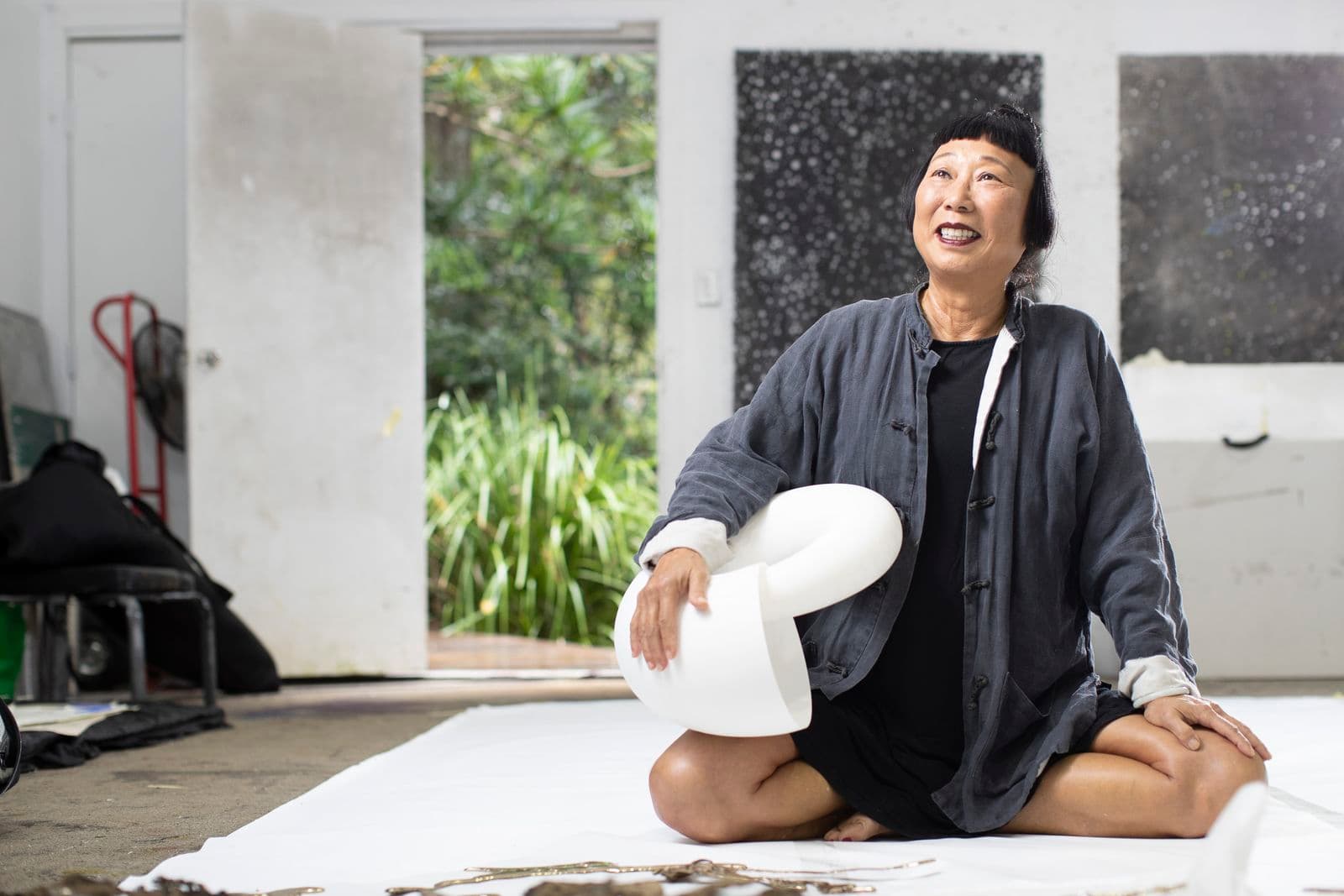 LINDY LEE has been commissioned to create Ouroboros to celebrate the National Gallery's 40th anniversary. The professional high comes in a year of personal loss for the leading Australian contemporary artist, writes SOPHIE TEDMANSON.
Lindy Lee is sitting on top of a sand dune at Tallow Beach near Byron Bay. She is barefoot in the lotus position, basking in the moonlight that glistens on the ocean behind, just like one of her luminescent sculptures. A sense of serenity surrounds the artist. Cane toads, bats and bush turkeys rustle the bushes around us. But the artist is seemingly undistracted by the nocturnal noise.
'I love being near the water,' she says later. 'It is meditative for me.'
We meet at the end of 2021, a bittersweet year of career highs and deep personal lows for Lindy Lee. In September it was announced that she had been commissioned to create Ouroboros, the largest and most ambitious commission in the National Gallery's history. Just a few weeks earlier, in June, her husband of 28 years, the photographer Rob Scott-Mitchell, passed away after a brief illness.
When we visit Lindy's studio in the lush Byron hinterland, we find her juggling various projects and visiting friends, still grappling with her grief. The corrugated iron studio is nestled below her house, down a winding road. When we visit it is bustling with energy: Lindy's assistants, Demian Burman, Zoe Wesolowski-Fisher and Angelika Stepanova, are variously working on maquettes, taking calls in the house, collecting produce from the veggie garden; and her four beloved Scottish terriers (Mae Mae, Ziva, Mungo and Kevin) roam freely, following her around the grounds, occasionally barking at a bush turkey.
It is a smaller studio than one might expect for one of Australia's leading contemporary artists, but it is very Lindy Lee. Outside, one of her large, egg-shaped Life of stars sculptures takes up the entire deck while it is being patterned. Lindy darts in and out, delegating and juggling myriad things – prepping a work of flung bronze on the floor for an upcoming commission, fielding calls about ingredients to pick up for the soup she is making us all for lunch and posing for photos. All the while, Lindy smiles.
On one wall is a list of upcoming projects and timelines; tables are strewn with papers bearing geometric measurements; we are surrounded by new works and detritus from previous projects possibly waiting to be repurposed into a future work (sustainability is very important to Lindy).
Lindy's practice spans more than four decades. She has exhibited widely around the world including in Australia, Canada, China, Hong Kong, Japan and the US. In recent years, she has collaborated with the UAP Foundry in Brisbane to create significant works that enhance public spaces all over the globe: at the Art Gallery of South Australia in Adelaide; on Sanya Bay, Hainan Island, China; at the Province Midtown Cultural Centre in Zhengzhou, China; and at the Museum of Contemporary Art (MCA), Sydney.
'I trained as a painter and I never thought I would ever work three-dimensionally,' she continues, 'so working in these big public spaces is immensely satisfying because you're actually changing civic space and how people interact in these. You're providing opportunities for pause and reflection, and also a sense of inclusivity of something bigger that's actually very positive.
'I hope the works I make are mesmerising. I love the way they work – especially the stainless steel work, like outside the MCA or the Art Gallery of South Australia, and the Ouroboros at the National Gallery. During the day, these mirror-polished surfaces of stainless steel absorb and capture the images of the world. So you get fragments of scudding clouds or birds or passersby or traffic. I love this idea that it's receiving the imagery of the world during the day, and at night, because the lights are on and it's dark, it sort of pulses this energy back into the world. So… this kind of cyclical thing, which kind of gave rise to the Ouroboros, by the way.'
Ouroboros is Lindy's most significant work to date. Based on the ancient image of a snake eating its own tail, the idea for Ouroboros emerged from Lindy's preoccupation with infinity and eternity. 'I started to think about the figure-eight,' she says, 'and trying to make this sculpture out of the figure-eight wasn't working. I was just playing around with ideas. And then, all of a sudden, I thought of the ouroboros, which essentially is this circle of infinity, the snake swallowing its own tail.'
'It's about this eternal return, the cyclical nature of life, of birth and death and renewal, looping back to this moment here, now.'
Lindy's Ouroboros will be sited at the entrance to the National Gallery and will stand about four metres high and weigh approximately 13 tonnes. It will be the artist's first fully immersive sculpture; visitors will be able to enter the 'mouth' of the sculpture and walk into the curved interior to experience darkness punctuated by light beams emanating from the hundreds of perforations in its surface. 'I really wanted no internal structure, so that people could actually go into the belly of the beast,' Lindy says. 'This is also the first opportunity I've had to make a truly immersive work, so that you can feel, you can experience a sense of being intrinsic to the work.'
Being in the water is also where Lindy gets ideas for her work. 'Meditation is so important to me, and particularly swimming meditation,' she says. 'One of the most succinct descriptions of meditation is just being head, heart and body together. For instance, in swimming, I do an hour and a bit of just long laps; lap after lap. And this is boring as hell for the first half hour. But eventually it becomes this state where you allow this thought to come up and then another thought comes up and something happens. You let it go and you just allow that magic to come together and somehow in that swim, a solution will happen or a pathway will be clear.
'My best ideas come from swimming,' Lindy continues. 'In fact, my team now understand, Lindy doesn't get to work until 11am because Lindy is busy swimming! And they've seen the results. Before a swim, Lindy can get stuck, you know, like, "Oh, what's the idea for this?" After a swim it just comes together.' Art, Buddhism, swimming, meditation: these are all symbolic threads that run through Lindy's life. They are intertwined, just like the Ouroboros.
Commissioned to celebrate the 40th anniversary of the National Gallery, Ouroboros is due for completion in 2024 and, in a stroke of serendipity, it brings full circle Lindy's association with the Gallery. 'I've always had a very soft spot for the National Gallery, because in 1984 [Founding Director] James Mollison was travelling around Australia and buying up young artists through an emerging artists fund he created, and when I had my first solo show he came and bought my work. I mean, how cool is that?' Lindy says. 'And then Betty Churcher, who was my art history lecturer [at Brisbane's Kelvin Grove Teachers' College], becomes the first woman Director [1990-1997].
'In some ways I feel as if, unknowingly, the National Gallery has kind of nurtured me and helped me on my path. And now there's an even bigger connection and that'll be this massive sculpture, which will be a beacon for the National Gallery, I hope. If you think about Ouroboros and going back to the beginning when my first work was acquired, I've had 40 years with the National Gallery.''I really wanted no internal structure, so that people could actually go into the belly of the beast,' Lindy says. 'This is also the first opportunity I've had to make a truly immersive work, so that you can feel, you can experience a sense of being intrinsic to the work.' Lindy's face lights up with that sparkling grin.
This article is an excerpt from the Summer 2022 issue of Artonview.
Lindy Lee: Ouroboros has been commissioned in celebration of the National Gallery's upcoming 40th anniversary and is due to be completed in 2024. It will be located in the Sculpture Garden at the entrance to the Gallery.
This story has been published in celebration of the National Gallery's 40th anniversary. For more visit 40 years.