The Kenneth E. Tyler Collection
Remembering Walasse Ting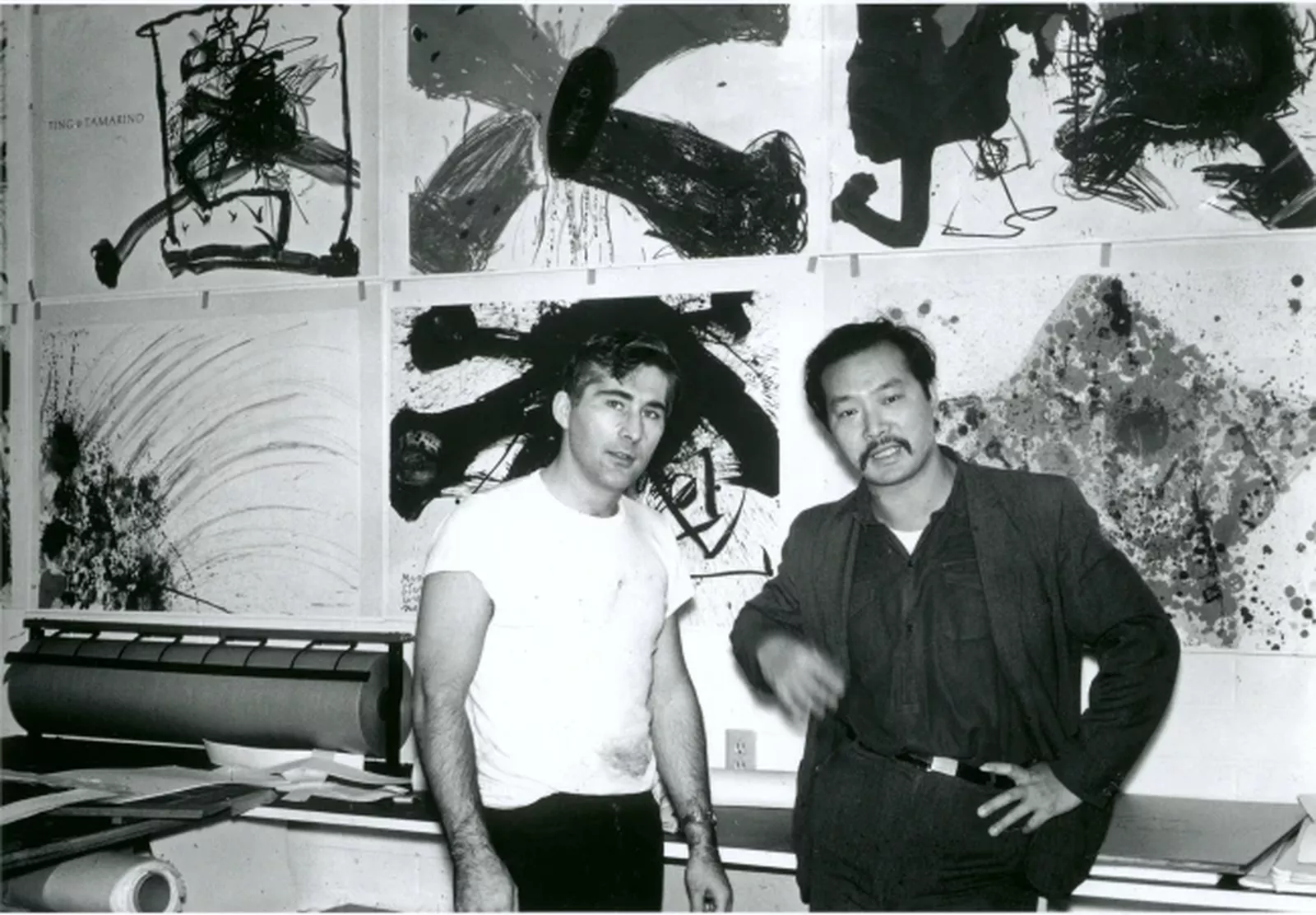 The Kenneth Tyler Collection curators reflect on the remarkable life, career, and friendships of print artist WALASSE TING.
In 1964 Roy Lichtenstein was joined by 27 of his contemporaries in contributing lithographic illustrations to One Cent Life, a volume of poems by Walasse Ting. Visitors to Roy Lichtenstein: Pop remix have the rare opportunity to view sections of this significant publication, in which Ting's 'raunchy Pidgin English'1 is united with the work of key artists including Joan Mitchell, Robert Rauschenberg, Andy Warhol and Claes Oldenburg. Ting, a Chinese-American poet, printer and painter, produced several illustrated portfolios over the course of his career; however One Cent Life stands apart for bringing together European and American artists working within disparate frameworks, effectively signposting the seismic shift occurring at the time from the dominance of Abstract Expressionism to Pop Art.
Born in 1929, Ting was raised in Shanghai where he studied briefly at the Shanghai Art Academy. The young artist left China in 1949 before settling in Paris for a six year period, during which he met members of the avant-garde group COBRA. When Ting arrived in New York in 1958, Abstract Expressionism was in full swing and he quickly immersed himself in the buzzing American art scene, painting large gestural canvases and meeting artists who would come to have a great influence on his work, such as Sam Francis.
Following a recommendation by Francis, Ting worked at Tamarind Lithography Workshop as an Artist-fellow from September to October 1964, producing two lithographic suites, Fortune Kookie and Hollywood Honeymoon. It was during this period that Ting met Kenneth Tyler, Tamarind's then Technical Director. Tyler recalls that Ting 'showed me his poetry publications and gave me a verbal window to Paris printmaking. This was my first exposure to contemporary artists from NYC and Europe. I gleamed a great deal from all of them when we met outside of work.2 A lasting friendship formed between the two, with Ting one of a number of artists who encouraged Tyler to open his own workshop.3
In memory of Ting, who sadly passed away in 2010, and inspired by the inclusion of One Cent Life in Roy Lichtenstein: Pop remix, Ken and Marabeth Tyler have kindly gifted three of his unique publications to the Tyler collection: My Shit and My Love 1961, Hot and Sour Soup 1969 and Fresh Air School 1972-73.
Within the pages of the latter – an exhibition catalogue of paintings by Ting, Francis and Mitchell – Walasse Ting condensed his remarkable life into the following autobiographical passage:
'Born in Shanghai, China, 1929. 4 years old paint in sidewalk. 10 years old draw on wall. 20 years old left China to traveling after reading the book of I-Ching. In 1953 arrived in Paris. Six months later meet Pierre Alechinsky. Six months later meet Asger Jorn. Six months later meet Karel Appel; drink coffee with them in Paris-Café. Working all kinds of job to making a very simple living. Living in a six inches window room. Paint there, eat there. In 1963 arrived in New York City. Six months later meet Sam Francis. Six months later meet Tom Wesselmann. Six months later meet Claes Oldenburg. Eat hot & sour soup with them in Chinese restaurant. Not working any kinds job. Sleeping all day living in a sixty feet window loft. Eat there, paint there. Self- taught. Individual. Not belong to any group.'
Riva Castleman, A century of artists books, New York : Museum of Modern Art, 1994, p.40.
Ken Tyler, in correspondence with Jane Kinsman 21 September 2004.
Ken Tyler, in correspondence with Jane Kinsman 21 September 2004.