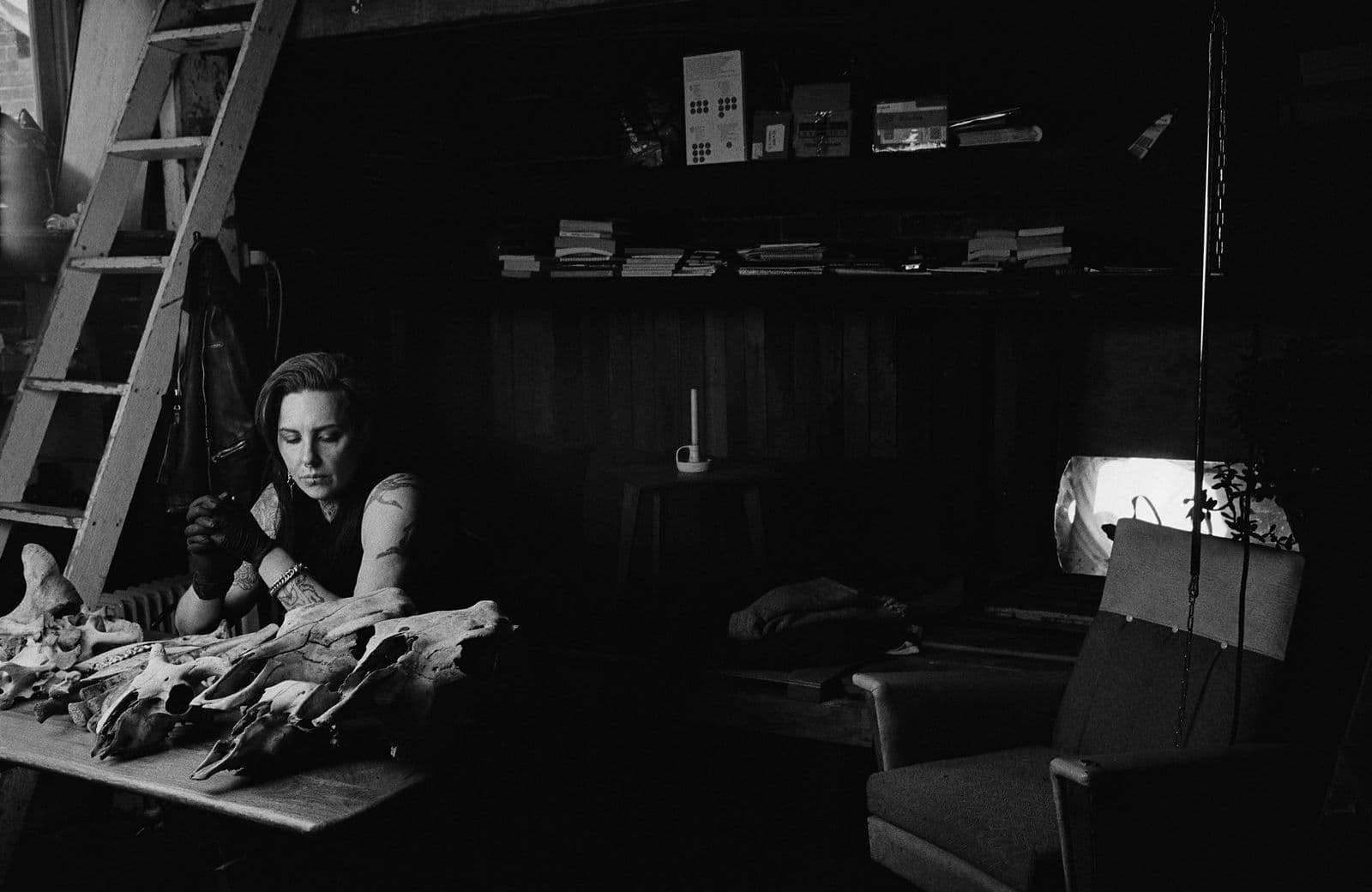 For his Ceremony work, Bone Library, Koori artist S.J NORMAN collaborated with National Gallery curator Aidan Hartshorn's Walgalu community to engrave a dictionary of taken language onto the bones of "totemic colonial beasts". It's power lies both in the objects and in the loss they highlight, writes Hartshorn.
Our languages come from Country, the animals and the plants. Like the scars left on the trees, middens layered deep beneath the ground and the repeated marks of grinding grooves worn into stone over time – our languages continue to be imbedded within ourselves and in our Country.
My father, Shane Herrington, a Traditional Custodian of Walgalu Country, once told me that our language came from the magpie, the raspy audial and melisma of its voice reflecting the words spoken by our Ancestors while encompassing the essence of our people – similar to how we communicate, but different enough to be unique. Language holds our lore, our customs and our knowledge, and connection to place. It is the longest living linguistic form of human communication today.
Walgalu Country reaches from Thelbingung (Mt Kosciuszko region) across to Ngambri Country (Queanbeyan), down to Dumuth (Tumut Valley) and back into the high country at Djilamatang (Tumbarumba). As part of the Ngurmal Nation, the Walgalu are one of many groups from the surrounding regions within Ngurmal and are the cultural custodians of one of the most sacred places for the high country, Buugang (bogong ) Peaks. Buugang Peaks is an area where many ceremonies for neighbouring groups associated with the Walgalu had taken place, none more well-known than the Buugang moth feasting ceremonies. Known for its beautiful landscape, Walgalu Country was noticed by early colonists and renamed the 'Snowy Valleys', with many explorers renaming significant Walgalu sites and living spaces which now form the town networks and recreational places within the valley.
Pre-colonial incursion, Walgalu culture thrived. But along with the inquisitive colonists who came to Walgalu country also came the rapid deterioration of our culture. Between the smallpox epidemic, land selectors, gold mining and the rapid growth of the agricultural industry in the area, many significant places were destroyed, taking away thousands of years of custom, lore and language. The Walgalu mountains are filled with erasure and continue to be at the mercy of assimilation, as colonial Australia has consciously chosen to favour their history of occupation over Indigenous ownership and management of Country. Yet while much of our cultural existence has been significantly lost, it is slowly being regained.
Traditional language for mob holds generations of understanding and meaning of Country. Since the arrival of the British, their English language has been used against Indigenous people. Colonists used their words to justify the rape, murder and kidnapping of Aboriginal women, children and men, with euphemisms like 'dispersed' to disguise their inexcusable actions. For 250 years, many were denied speaking any traditional language, instead it took second – and sometimes third – place in favour of the 'mother tongue' of the colony.
Language plays a key role in inserting Indigenous culture and presence within spaces. It can be subtle but also quietly powerful. Specifically, small gestures and cultural shifts within galleries that Indigenise spaces by renaming 'unknown artist' to 'Ancestor', a powerful act of acknowledgement that is thought-provoking, respectful and sensitive.
For Koori artist S.J Norman, utilising language has also become a powerful tool throughout his art practice by using the power of words as an act of recovery and repossession. Through subtle infiltration and reclamation, S.J reinserts Indigenous voices within colonial spaces that for so long were silenced.
S.J is an intellectual cross-disciplinary, non-binary, transmasculine Koori person of the Wiradjuri Nation. A formidable artist, performer and writer, S.J has gained great recognition for his art practice and thought-provoking junctures of life as a non-binary First Nations person in present-day Australia. S.J describes his art practice as a 'deeply personal and deeply spiritual' experience wherein making work becomes a way of 'connecting with people, with communities and with place'.
On first meeting S.J, I was excited to meet a successful fellow artist, someone whose practice I had studied at university. Throughout our discussions of the concept behind his proposed work, his practice and his last iteration of Bone Library, it was evident that for the work produced for this Triennial, Ceremony, S.J's focus was to represent and explore a local language that had been deemed extinct or forgotten within the Kamberri/Canberra region.
Bone Library is an installation exploring the living aspect of Indigenous languages that had been classified as forgotten, dead or extinct, while pushing back against the notion that Aboriginal people are a 'dying race'. As a part of a much larger conversation and project called Unsettling Suite, Bone Library critically examines the colonial ethnographic methodologies of collection while liberating Indigenous languages from the constraints of words like 'extinct' that impose connotations that they have become 'artefact', raising the question: what is the relationship between artefact and living culture?
As a Walgalu man, whose Country is part of the Gnurmal Nation and situated within the region of what is now known as the Australian Capital Territory, I proposed that S.J utilise the Walgalu language as the centre for his next incarnation of Bone Library for Ceremony.
Like many other Indigenous languages across Australia, the Walgalu language over time was taken and rendered extinct. The remnants of language are inconsistent as a result of colonisation, with only small fragments and pockets of dialect to refer to in colonial archival texts. Through consultation with my father, a fragmented list of words recorded by 'explorers' was passed onto me, which formed the cultural vernacular of the latest iteration of Bone Library.
The Bone Library performance occurs within a darkened room set up as if it were a theatrical stage where audiences enter for the experience. Staged as a dark clinical space, its aesthetic is attributed to that of a 'morgue library' reminiscent of museum collections lined with illuminates tables and bones. Elusive and forensic in nature, S.J sits silently at one end of the room behind clear plastic sheeting, working to the sound of grinding bone and scouring tools. Surrounding the artist are the bleached skeletal remains of deceased animals, the collected bones of livestock.
'My work as an artist is an expression of a very personal practice of reconnecting through my body and through embodied practice with ceremonial technologies, spiritual technologies... It's also a process which is about me and my personal connection to my culture, to my whole mob, to my communities, to land, to time, and to knowledge. That is, that finds an expression in my art practice. My artistic practice exists within and draws upon multiple lineages of ceremony.'
As with previous iterations of Bone Library, the bones of cattle and sheep – animal detritus of the Australian pastoral industry – have been collected from farmland, on this occasion in Walgalu Country, a landscape imbedded within the history of Indigenous custodianship and the conflict of colonial occupation. As with most instances of farming properties, the local mob of that area had been pushed out of these places in favour of sheep and cattle stations and other pastoral crops; the bones representing the residue of Indigenous displacement.
Over the duration of the exhibition, S.J inscribes cursive text onto each bone, every object 'inscribed with a single word of language', marking the colonial relics with the indelible print of Indigenous words. The inscriptions challenge the falsities of Western history, that state our languages are extinct. The act of inscribing animates the work, demonstrating to audiences that our languages are not forgotten or extinct but were forcibly made dormant. As S.J moves his hand across the bones, the act of permanently scarring the remains reignites and welcomes language back into Country through Indigenous authority. It is an act of ceremony.
Once the words are placed onto the bones, the objects are ritually moved to a sorting table in the centre of the room creating a catalogued bone dictionary of 'forgotten' language. With the bones spread out, audiences are met with the stark evidence of a linguistic history that pre-dates the arrival of the English by millennia. The engraved bones provide an educational role and enable audience engagement with the unfamiliar by showing how these languages were withheld from non-Indigenous Australians as well as Australia's First People – audiences should question what these bones and their inscriptions signify, what they have replaced, and what other languages have been lost.
At the end of the inscription, audience members are given the opportunity to become a temporary trustee or custodian of a single bone and inscribed 'extinct' word. They are entrusted to hold on to it and care for the bone until the complete collection is recalled by the artist at any given point.
'In doing so, the audience become members of an international network of Bone Librarians, responsible for the shared trusteeship of a floating collection ,' says S.J. Through this shared experience, through the act of a generous gesture, Bone Library decentralises the 'idea of collecting cultural knowledge and looking at what it means to disperse and hold knowledge collectively'.
Throughout S.J's practice, and specifically with Bone Library, he questions what we as a nation choose to remember, what we choose to acknowledge and what we choose to do with that information once it is understood. Bone Library provides audiences with a space to be confronted with the intergenerational trauma of the First Peoples of Australia. Providing both an active and contemplative space for audiences to engage in, Bone Library continues to reignite the resting languages of the First Nations People of Australia.
— Aidan Hartshorn (Walgalu/Wiradjuri peoples) is the Wesfarmers Assistant Curator, Aboriginal and Torres Strait Islander Art
S.J NORMAN
'I was born in Sydney, Wangal Country. My dad is an English immigrant and my mother is a Koori woman. My mother's grandfather was a Wiradjuri man displaced to Barwon Mission, which is where he met and my mother's grandmother, a Ngemba woman. My mother was born in Redfern, Wangal Country, as were most of my uncles, and raised-up by her grannies who were itinerant workers – the family moved between Redfern, Western Sydney, Dharug Country, and Nyngan, far-west New South Wales, the point where Wiradjuri Country becomes Ngemba Country – the arid plains, where the red dirt starts. If you ask my Aunties and Uncles, they'll refer to Nyngan as Home, as our family seat. Home for my mother is Redfern and Parramatta. Home for me is many places.
'I was born in the city, but I grew up moving around a lot – that's how I learnt to be in the world. I first got out of Australia at 21 and moved to Japan, training with a dance company. I've spent time in different parts of the British Isles, particularly near where my dad is from, and was based in Berlin for the better part of 11 years. Now I am based between Gadigal Country/Sydney and the continent known to many native people as Turtle Island, also known as the United States. I work pretty extensively there and have ongoing collaborative relationships and loving partnerships with Indigenous people there.
'My art making is one manifestation, or one expression, of my spiritual being and my spiritual practice. And that's a very personal journey. And I hope at least through doing things in public and inviting other people into direct collaboration, that some of that journey can be shared and that it might help other people on their path.
'Unsettling Suite was a suite of works that looked at the embodied legacy of colonial trauma, the ongoing legacy of colonial violence as it's experienced in the body. I first started working on Bone Library back in 2007, but it didn't see its first public iteration until 2010. I was doing a lot of research at the time into the presence of our bones in colonial museological archives in the stacks of colonial museums, and the really horrific history of theft of our remains [and repatriation from colonial museums]. I was also thinking a lot about language and if we think about language as the bones of a culture, we think about language as the underlying architecture of the body that is the culture. So, I started working on Bone Library with those ideas in mind. It is a long durational performance work, but it's also a cumulative sculpture installation. It involves a repetitive engraving process, so I learnt the craft of engraving and bone carving. And I start out with an empty room with a lot of specimen tables. It's a space which is designed to evoke a multilayered potential interpretation of either a forensic process or a taxonomical process.
'I begin with a room of six to eight empty tables and about 1,500 to 2,000 prepared animal bones. They're the bones of sheep and beef cattle, specifically the bones of these kind of totemic beasts of Australian colonial pastoralism. The rearing of sheep and beef cattle is a practice which is historically, and also now, very connected to the disposition of our mob from our land, particularly Wiradjuri people. It's something which continues to impact Country. I am reclaiming the bones of these animals and using them as the basis of this work, where every one of those bones is inscribed with a single word from a language, usually the language of the Country where the work takes place, which is something which has been done in consultation with local mob.
'Every bone is inscribed with a single word from that language and then catalogued and displayed. At the end of that process, the bones are handed over in the presence of, and with the blessing of, Elders and community, into the public trusteeship of audience members.
'The idea is that we are decentralising this collecting of cultural knowledge and looking at what it means to disperse and hold knowledge collectively.'