Ten Questions with Jordan Wolfson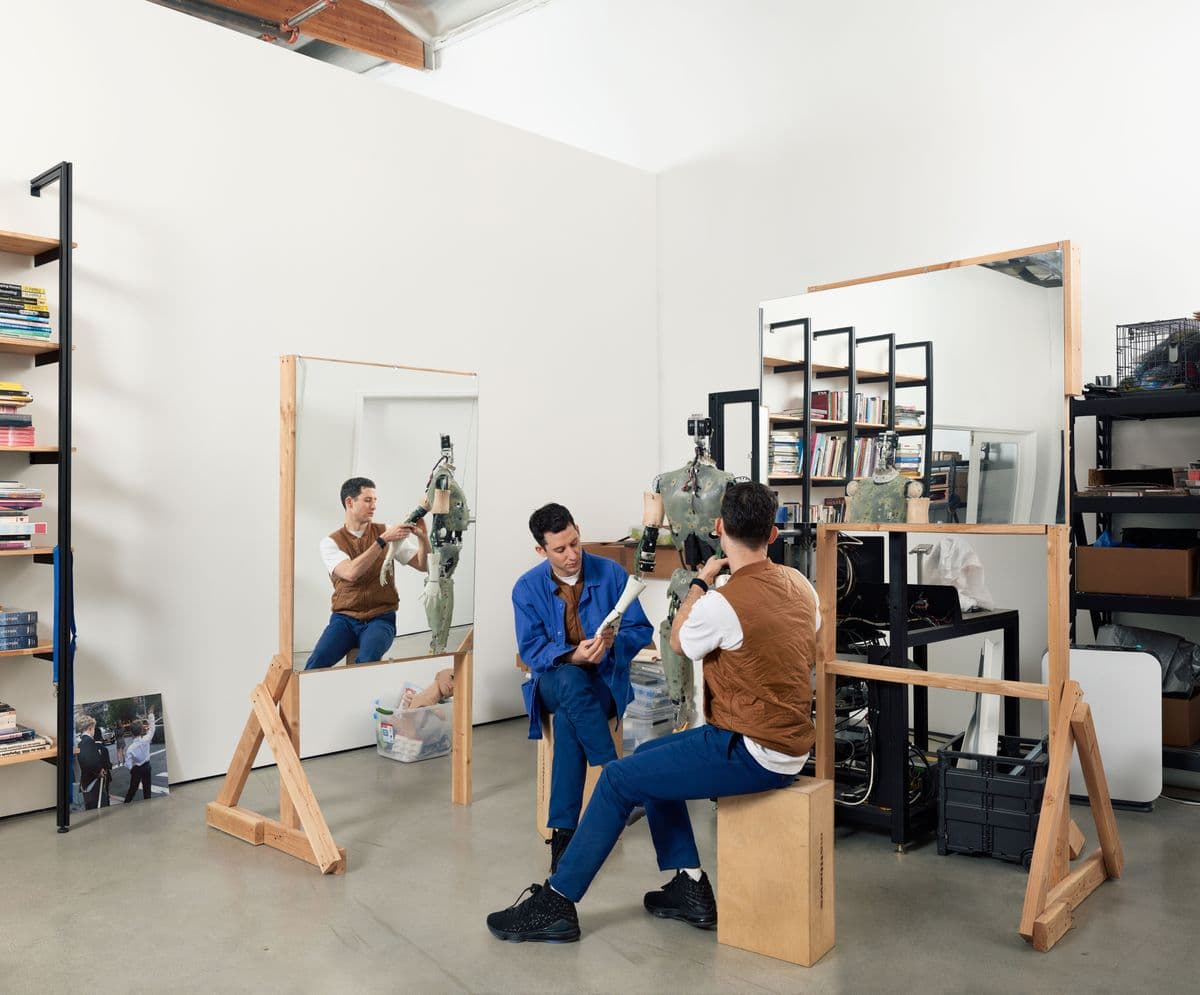 JORDAN WOLFSON'S Body Sculpture, a recent National Gallery acquisition, will be unveiled in December 2023. The American artist reveals his early influences, what he sees as the role of the artist, and what questions he constantly asks himself.
THE ANNUAL: What was your first experience of art?
JORDAN WOLFSON: I don't remember, but I grew up in New York City and my parents exposed me to art from a very early age. I do recall seeing Matthew Barney's Drawing restraint 5 (1989) when I was 18, and it was so strange that I have never forgotten it. Two years later in college, I got to know Barney's work.
TA: What do you see as the function of art and artists?
JW: Art, for me, is the capturing and instilling of consciousness into objects. Artists are the ones to do this.
TA: How much does the internet inform your practice?
JW: Probably as much as any other artist. I scan for images and try to get a feeling from a type or genre. Things intuitively fall into categories that are mostly generational, for example tabloid imagery from the 1990s or computer renderings from the late 2000s.
TA: What are you currently reading and listening to?
JW: I'm always moving through something. Right now, I'm deep into Blake Gopnik's 2020 biography of Andy Warhol, Tom Wolfe's 1970 novel Radical chic & mau‑mauing the flak catchers and listening to a lot of Willie Nelson. I like the song 'Highwayman'.
TA: What is the role of intuition in your work?
JW: Intuition is my most important tool.
TA: Which artists of the past interest you?
JW: I've always looked at pairs of artists. For example, as a student in Europe, I remember being fascinated by the works of Chris Burden and Felix Gonzalez‑Torres. Then, I was into Mike Kelley and Bruce Nauman. Later, it was Cady Noland and Ingmar Bergman. These artists didn't have any apparent connections to each other except that I was fascinated by them simultaneously, which maybe is enough; somehow, my unconsciousness is involved. I don't look at the work of other artists much anymore. I think it's partly due to growing older that I have stopped looking for solutions for my art outside of myself.
TA: Does provocation have a role to play in your art?
JW: I don't think of what I am doing as provocation, but as art. I find the idea of provocation silly. I'm making the kind of art that I personally like and it's doing what I think good art does — which means it doesn't leave you cold or with a lesson or an answer. Also, don't you want to walk away from an exhibition and think:
'Geez, what was that? That was so weird. Was that ok? Does the artist get to say that? What does it mean to say that? What does it mean that I felt that?'
TA: How would you describe Body Sculpture?
JW: Body Sculpture is an artwork without a moral position or 'new' moral position, in that the previous artworks were trying to express something that wasn't morally or socially accepted yet. Instead, Body Sculpture suggests that an object can mirror your body and reinsert you into your body, assuming that you are not present in your body. I'm therefore proposing that most people at most times are not present in their minds or bodies, they are elsewhere distracted by anxiety, confusion, desires, etc.
The intention is that the movement of the sculpture elicits the viewer to become activated in their bodies and therefore present. So, it's very formal — in a way, it's the most formal work I've made. It's about seeing ourselves through three‑dimensional objects, which is what I believe sculpture as doing.
TA: Is your thinking shaped by the audience?
JW: The audience is an abstract idea to me, in that I consider myself the audience. All my work is tailored to my experience as the first viewer, so what you see is basically how I see or what I prefer to see or what I saw intuitively. I assume the audience will have either similar or different reactions. It's almost as if they're wearing a mask of my consciousness: sometimes it fits and sometimes it doesn't. Either experience is productive.
TA: What question, or questions, do you constantly ask yourself?
JW: 'Is this good enough?' 'Am I good enough?' 'Did I do my best work?' 'Am I avoiding my work or an idea out of fear?' 'Am I still a good artist?'
Jordan Wolfson was born in 1980 in New York City, USA. His practice has spanned video, film, installation, virtual reality, performance, print and photography. In 2022 he had a solo exhibition at Kunsthaus Bregenz, Austria. Body Sculpture will be unveiled at the National Gallery in December 2023. This story was first published in The Annual 2023.