Things Seen
Cressida Campbell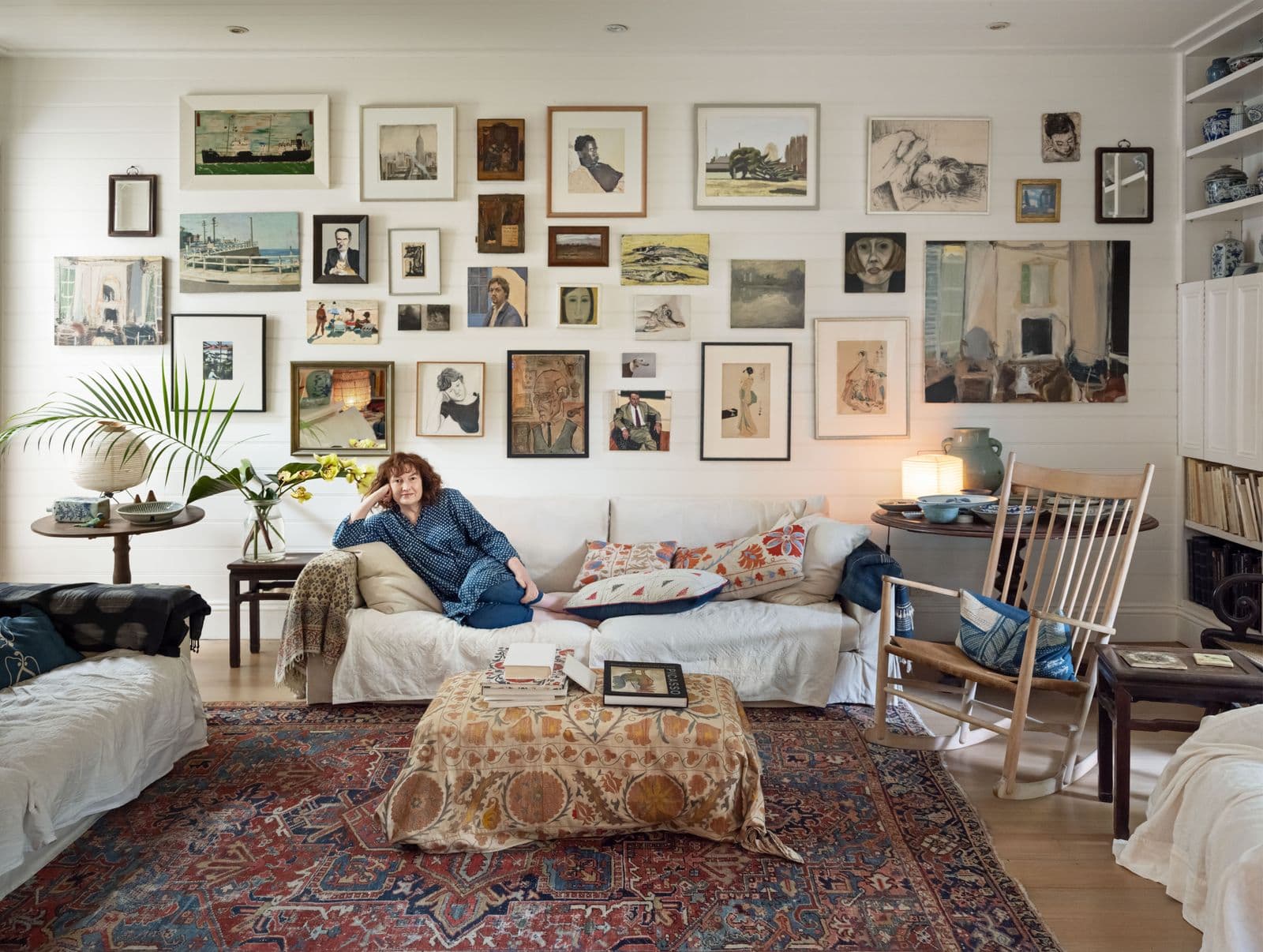 On the eve of CRESSIDA CAMPBELL'S retrospective at the National Gallery, novelist TEGAN BENNETT DAYLIGHT paid a visit to the artist's studio.
'An artist's place of work is a little like a bedroom, a space in which the body is no longer aware of itself.'
Let me be clear: with the writer's permission, I stole this title. It comes from Vicki Hastrich's stirring, soaring memoir‑in‑essays Night fishing (2019). In 'Things seen' the writer records the small beauties (and perhaps future absences) of marine life in Brisbane Water, where she lives and works. The leatherjacket. The fairy penguin. The turtle swimming at the corner of the oyster lease. The raven that comes down out of the banksias to the sand at the quiet end of the beach.
Things seen: the words keep coming to the surface as I wander the rooms and garden of Cressida Campbell's house. This place is full of future compositions: a green chair, a creamy ceramic jug, a nailbrush. Flowers, bowls, fruit, plates and cups on a dishrack. Fabric, draped on tables and couches, some patterned, some pale and monochrome. Leaves on trees and bushes — today, in yet more rain, glossily jostling one another.
The house itself is weatherboard, sitting on a hill in the beach‑side suburb of Bronte in Warrang/Sydney. It doesn't feel as though it has been added to or even much embellished; instead, it is lovingly preserved. The boards inside and out are painted white and there are pictures on every wall. There are no sea views — all attention is turned inwards.
I'm here to talk to Campbell on the eve of her major exhibition at the National Gallery of Australia — a retrospective that will include not just the work but the work as it was being made. On exhibit will be Campbell's juvenilia as well as her later paintings, drawings and prints, allowing audiences to see the development of her career over the last 50 years. Included is what Campbell calls her 'illuminated manuscript', showing the 'witch's script' she and a childhood friend invented for private communication. There is a birthday card for her mother, illustrated with a self‑portrait and the loving phrase 'have a great time always', paintings of zebra and an antelope, and Hen with little golden eggs 1967, painted by the seven‑year‑old artist, which suggests that an early influence might have been Gustav Klimt.
Campbell's parents, both journalists, did not earn a great deal, and had four children to support. Her father Ross Campbell, best known for his regular column in the Daily Telegraph chronicling the gentle trials of family life, was a graduate of the University of Melbourne and a Rhodes scholar who studied at Oxford. Her mother Ruth (née Seale) went to art school in Warrang/Sydney, where she was taught by William Dobell. Lack of material capital does not mean lack of cultural capital, and Campbell was fortunate to have much of this. She grew up in Greenwich, once an inexpensive suburb on the city's Lower North Shore, in a house that had plenty of rooms and books, as well as a big garden 'with a tree that we dangled all sorts of things from'. And of course, paints, pencils, paper.
Born in 1960, Cressida is much the youngest of the four Campbell siblings. I am only nine years younger, but the artist's reference points and her way of positioning herself seem to come from my grandparents' era. Her father, who fought in World War II, turned 60 in the year she was born; her mother was 47. Campbell talks about her talented parents with a respect and reverence I don't see in friends my own age, who frequently engage in gleeful dissection of their parents' faults and foibles. Campbell's mother was the biggest influence on her artistic life. 'She'd always wanted to have children,' the artist explains. 'She said it was like a career to her. [It was] one of the one most creative things you could do.' It is, I agree, but it requires a kind of creativity that is generally directed away from the self. Ruth's children reaped the benefits of her loving attention: Sally is a fashion designer and artist in her own right; Laura is Little Nell, a celebrated actress of the 1960s and 70s; Patrick pursued a degree and a successful career in science. Campbell's mother was 'curious about everything. She was one of those people who loved sport and politics and art and ballet and, you know, you name it.'
Campbell began her formal training at East Sydney Tech in 1978, going on to become a mask‑maker at the Nimrod (now Belvoir) Theatre, a job procured for her by her teacher Martin Sharp. She followed this with years of living in cheap housing with other artists, and travelling to Tokyo to learn traditional woodblock printing and Malaysia, where she began collecting ceramics — an enduring passion of hers. I ask Campbell to describe her childhood home, which is where every artist's work begins. After having made sure I have tea and cake, she lies full‑length on one of her draped couches; she's been beset with health problems for several years now and tires easily. I'm pleased to see her eyes slide out of focus as she turns her mind to those rooms of the past. When an artist looks into the middle distance you know you've both got and lost their attention.
'Was the house dark or light?' I ask, thinking about art and its needs. 'Oh, it was pretty light actually, because one side of the house faced north [and] they were reasonably sized rooms.' Except Sally's, I learn, which was small and dark and subterranean — it could only be accessed from outside. But Patrick, who was 'clever electrically' built 'this system where he somehow or other wired the house. So Mum could buzz him and Nell and Sally and me … you know, one buzz for come upstairs, two buzzes for lunch, three buzzes for dinner, four buzzes for a time bomb or something.' Time bomb. I like this family.
Campbell and I make each other laugh when she tells me about a recent interview with a journalist who asked her a series of questions that she was only allowed to answer with a single word. 'Like "What do you prefer? Meat pies or sausage rolls?" I mean, can you believe it?' She was also asked what her favourite colour was. 'Well, I don't have a favourite colour, but the trouble is you could only answer one. Oh God, one, one word. Yeah. I just said celadon and they said' — Campbell mimics the interviewer's voice — 'What's celadon?"' There's a beat while I decide whether to throw in my lot with the journalist or the artist. 'So, er, what is celadon?' Campbell shouts with laughter. 'It's that beautiful kind of jade‑y sea glass colour.' She gestures at a table. 'You see that jar?' Later, poking about on my own, I see the colour again and again: walls, tiles, paintings, the jug and the nailbrush arranged on the corner of a table, waiting for the artist's attention. It's the colour of Chinese ceramic greenware; milky, calm — a greyish green. It's also the colour of eucalyptus leaves. At this point a film crew arrives, bustling with energy. We'd been told to expect them, and now I'm very happy to hang back. Although keen to see the studio, I'd felt oddly shy about asking. An artist's place of work is a little like a bedroom, a space in which the body is no longer aware of itself, and in this sense I can't help thinking of it as private.
When Campbell leads the film crew through the garden to the studio, I follow. The space is as I expected — light, messy, awash with sheets of paper on which she mixes her colours, and, in the depths of winter, absolutely freezing. The desk itself is accessible and functional, the engraving tool the artist uses to carve into her woodblocks hung on one corner by its electric cord, waiting. Her work begins with composition and arrangement, a cool eye cast on the lights and shapes of the interiors and exteriors of Australian life. It finds its next expression with pencil and paper, progresses to woodcut (what the artist calls 'carving') and is concluded, over many weeks, in painting and printing. I love this extra note; once she is painting, she listens to the radio and talks to friends and family on the phone. It's hard for a writer to imagine doing this; we need to hear the voices in our heads. But Campbell can make art while other people talk. I imagine it has to do with the child hanging things from the tree or looking into rockpools, while the part of her mind concerned with colour and light works quietly away.
I stand around feeling very lucky to be here, but very cold. Finally, with the camera‑man still talking about ways to climb the roof to film through the clerestory windows, I leave, going back down the sandstone steps to the garden.
The garden is full of patterns — trees and bushes grown, it seems, for colour and contour, but also for profile — each leaf, picked out by the endless rain, appears in sharp relief to the next. There are two enormous mirrors propped against the eastern fence, spanning its entire length. They reflect the garden back to itself, the jostle of leaves, the pots, the sandstone steps, and the white wall of the house. Contrast is key to Campbell's paintings: look through the treasures of the new catalogue of her work and you will see the rich purple of plums against a patterned dish: open, black‑shelled oysters on a green lettuce leaf; Campbell's russet eyes against her pale freckled face. Because this is where we start and this where we end: with Cressida Campbell's work. Hard to find words for its deep, modest satisfactions. Perhaps just this: things seen.
This story was first published in The Annual 2023.