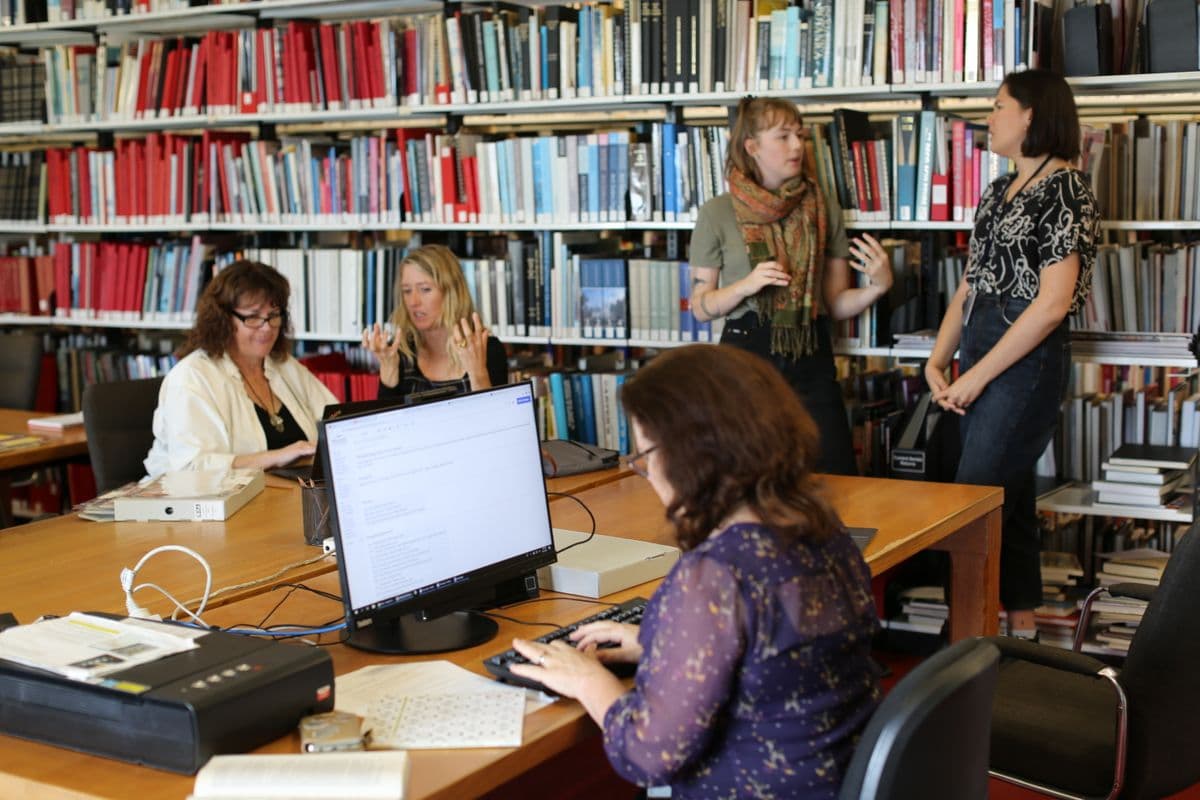 Collection strengths
The Research Library & Archives collection is a specialist collection of publications and archives that supports the National Gallery's art collection, exhibitions and programs. The library collects in line with the Gallery's Art Acquisition Policy which "gives emphasis to the visual art of Australia, Europe and North America as well as Asian and Pacific countries."
Notable strengths are Australian art, including an extensive collection on Aboriginal and Torres Strait Islander art;  Asian art with an emphasis on south and southeast Asian art, Indian art and textiles; and the Pacific arts. There are smaller collections on African and Pre-Colombian Art.
Additional areas of specialisation include publications on photography, including a collection of 19th century photographic technical manuals; prints; 19th century decorative arts; French salon publications, and the visual arts relating to the National Gallery of Australia's Ballets Russes collection.
There is an emphasis on modern and contemporary Australian and international art. In the international arena there is a focus on exhibition catalogues and art movements relating to the Gallery's art collection.
The collection also includes materials of practical support resources on art conservation, museum practice and curatorship, and art librarianship and libraries.
Collection highlights
Exhibition and museum catalogues
The library has an important collection of over 50,000 original exhibition and museum collection catalogues dating from the 1850s to the current day. These include individual artist and group exhibitions.
Catalogues raisonnés
Catalogues raisonnés are comprehensive annotated compilations of all the known works of an artist – the oeuvre or all works in a given medium (such as painting, prints, sculpture) at the time the catalogue is compiled. Over 1000 catalogues raisonnés are listed on the Research Library catalogue.
Auction catalogues
Australian and major international auction houses are held from 1900. Sales prices for major Australian and international auction houses can be found in online databases available onsite.
Ballets Russes
Over 200 resources are held on the Ballets Russes – the dancers and artists; theatre design; catalogues and books on décor and costume design, portraits, posters and curtains; and the Ballets Russes in Australia. There is a collection of rare souvenir programmes such as Souvenir: Serge de Diaghileff's Ballets Russes with originals by Léon Bakst. Other rare books include a limited-edition Bakst: story of an artist's life by Andre Levinson. The Archives include MS 68 Papers of Paul Jellard, a Sydney-based fashion retailer, which comprises a collection of approximately 1500 photographic negatives, mostly unpublished, recording the period in which the Ballets Russes performed in Australia, 1930–1940.
Archives
Paris Salons
The National Gallery of Australia Research Library has an internationally significant collection of Paris Salon catalogues.
Rare books
The National Gallery's rare books collection comprises over 3000 volumes and supports the Gallery's art collection and exhibition programs.
Rare books include limited editions, fine art press, historic or valuable items. The rare books collection's strengths include catalogues of significant exhibitions, photography; 19th century lithography, Ballets Russes theatre programs and the decorative arts including furniture design.