The Workshops
A history of Kenneth Tyler's four print workshops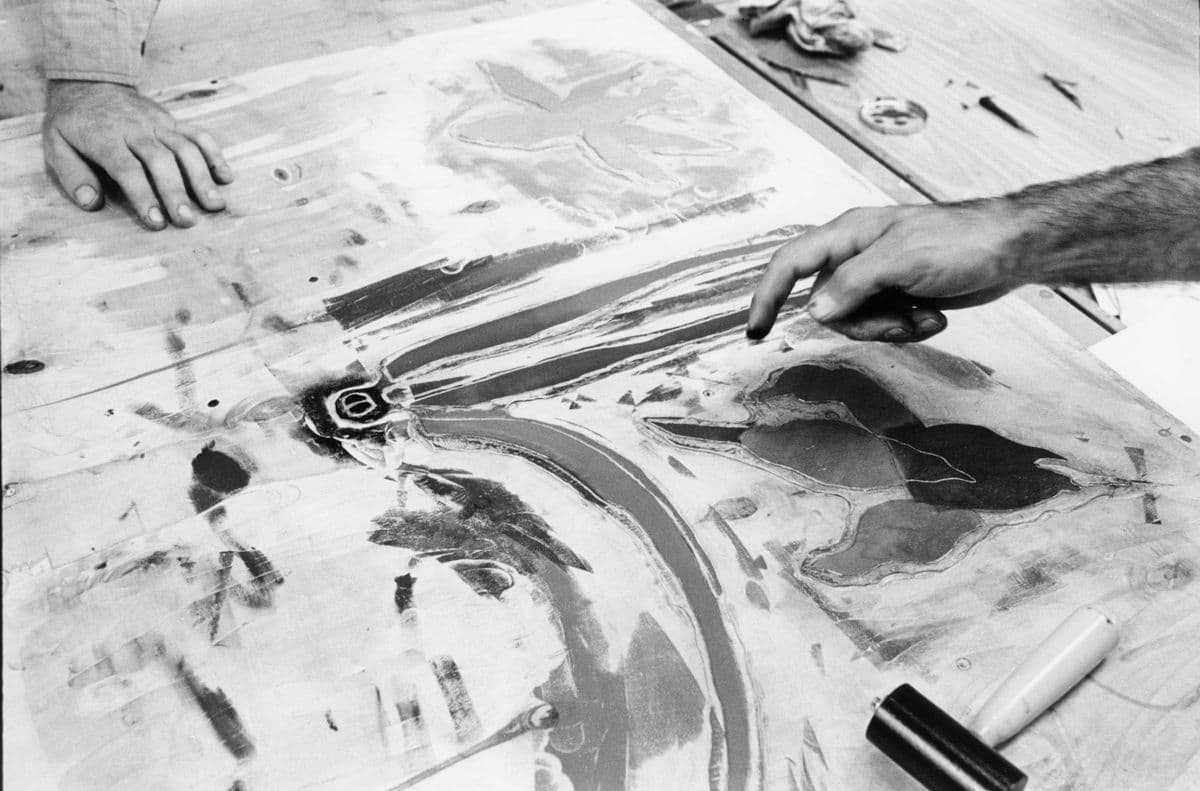 In 1965, after attaining the title of 'master-printer' and rapidly rising to the role of technical director at June Wayne's Tamarind Lithography workshop, Kenneth Tyler decided it was time to branch out on his own. Over the next 35 years Tyler established four print workshops that set the benchmark for advances in contemporary printmaking. Tyler's workshops were places where anything was possible and his 'no rules, no restrictions' mantra allowed artists to push the boundaries of print in a collaborative environment characterised by technical prowess.
Gemini Ltd / Gemini GEL, Los Angeles, California
In 1965 Tyler decided to risk everything to set up a custom printing house of his own. He and wife Kay established the first of Tyler's workshops – Gemini Ltd – in the back room of a frame shop on Melrose Avenue, Los Angeles. It was here that Tyler worked with David Hockney for the first time, on the series A Hollywood collection. The Melrose Avenue workshop was, at this stage, a print workshop and not a publishing house, so the series was published in London by Editions Alecto.
In 1966 Tyler took on two partners – Stanley Grinstein and Sidney B Felsen – and the modest operation became a print publishing house: Gemini Graphic Editions Ltd, or Gemini GEL. Josef Albers' seminal White line squares was the first edition to be published by Gemini GEL, and set the standard for what was to come: Robert Rauschenberg's Booster, which at the time of its production in 1967 was the largest print ever made; three-dimensional multiples by Claes Oldenburg, Jasper Johns and Roy Lichtenstein; two iconic David Hockney series and Weather; and the first prints of Frank Stella. Gemini GEL quickly earned a reputation for its embrace of technology and in 1971 was celebrated in the exhibition Technics and creativity: selections from Gemini GEL at the Museum of Modern Art, New York.
Gemini GEL continues to operate out of Los Angeles. In 2005 the workshop in conjunction with the National Gallery of Art, Washington, published an online catalogue raisonne documenting all prints produced from 1966–2005.
Tyler Workshop Ltd / Tyler Graphics Ltd, Bedford Village, New York
In 1973 Tyler again felt the need to go it alone. Leaving behind the success of Gemini GEL on the west coast, he headed east to set up Tyler Workshop Ltd in Bedford Village, New York. This workshop became Tyler Graphics Ltd in 1974: the name under which all future Tyler prints were published.
Situated about 55 kilometres from New York city in a coach house built in 1850, life at the Bedford Village workshop began in direct contrast to the fast pace of Gemini GEL. Tyler again collaborated with Albers on the workshop's inaugural edition, the Gray instrumentation series from 1975.
Of course, Tyler Graphics Ltd did not remain quiet for long. In 1978 the swimming pool in the backyard inspired David Hockney to create his Paper pools series in paper pulp. Other artists – including Kenneth Noland and Ellsworth Kelly – also experimented with the possibilities of paper pulp. By 1980 Tyler had hosted an impressive new list of artists including Nancy Graves, Michael Heizer, along with old friends from Gemini GEL like Roy Lichtenstein and Frank Stella. Being close to the vibrant art world of New York allowed Tyler to build lasting relationships with many artists, including members of the Abstract Expressionist school: Helen Frankenthaler, Robert Motherwell and Joan Mitchell all worked on several projects at Tyler Graphics Ltd in Bedford Village.
After 14 years – and despite many renovations – Tyler Graphics Ltd had outgrown the workshop at Bedford Village: it was time to move again.
Tyler Graphics Ltd, Mount Kisco, New York
In 1987 Tyler Graphics Ltd started operating from a purpose-built facility in Mount Kisco. This workshop was designed to Tyler's specifications and included a dedicated gallery space, large artist studio and state-of-the-art press room. The Mount Kisco facility also included a custom paper mill, fitted with specialised vacuum moulds for creating three dimensional papers.
At Mount Kisco Tyler's extraordinary technical repertoire expanded to encompass bigger and more complex projects than ever before. Between 1989 and 1990, Tyler worked with James Rosenquist on Welcome to the water planet. The new facilities at Mount Kisco were put to good use as huge sheets of paper were specially made and paper pulp 'pistols' operated from moving platforms were developed to create the spectacular series. Since their initial project at Gemini GEL in 1967, Tyler and Frank Stella had worked together on increasingly complicated prints. In 1992 they reached the pinnacle of their collaboration with the seven metre long, 67 colour, woodcut, etching, aquatint, relief, dry point, screenprint The Fountain.
As he had in each of his earlier workshops, at Mount Kisco Tyler balanced his zeal for innovation with respect for traditional working methods. With Masami Teraoka Tyler Graphics Ltd produced the Hawaii snorkel series that combined traditional Japanese ukiyo-e woodcut techniques with etching and aquatint. Between 1996 and 1998 Norwegian born Per Inge Bjørlo worked at Mount Kisco to produce a series of 17 black and white intaglio prints Heads from balance.
In 2000 Tyler closed the Mount Kisco shop. The presses were relocated to the specially founded Singapore Tyler Print Institute, where they continue to operate today. Tyler continues to contribute to printmaking through his support of collections of artworks and documentary materials from his workshops in public collections around the world. The Kenneth Tyler printmaking collection at the National Gallery of Australia, Canberra, is the largest and most comprehensive of these. Other collections of Tyler's artwork can be found at the Tate Modern in London; the National Gallery of Art, Washington; the Center for Contemporary Graphic Art and Tyler Collection Archive, Fukushima Prefecture, Japan; and the Walker Art Center, Minneapolis.