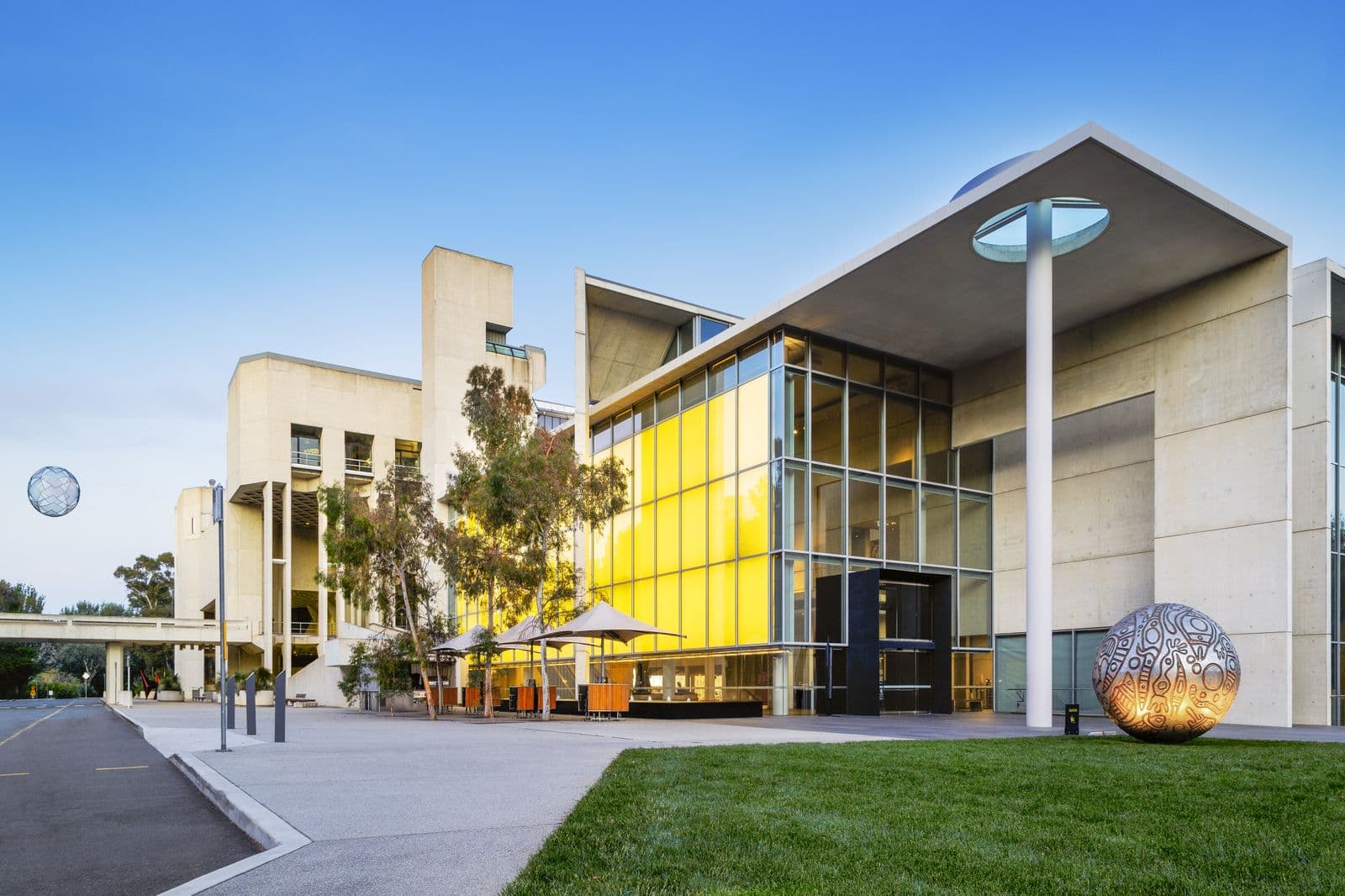 Key information
The National Gallery is located in the heart of Kamberri/Canberra, near Parliament House, the High Court of Australia and next door to the National Portrait Gallery. You can also get to the Gallery from the path around Lake Burley Griffin if you walk through the Sculpture Garden.
Parking
Paid parking applies on weekdays and weekends until 5pm in the main carpark. The main carpark (P1) is underground and accessible from Parkes Place off King Edward Terrace – see map here. This carpark has a height limit of 2 meters.
On weekends and public holidays above-ground parking (P2) is also available off Bowen Drive – see map here.
Limited mobility parking is available in both carparks free of charge. Free parking validation is only available for motorbikes and those with a valid disability parking permit. You may be asked to present a disability parking permit to verify your use of limited mobility spaces. Note that assisted lift access to the Gallery is available only from the underground carpark. For further information on accessibility and validating your parking ticket see Physical Access.
Please see the parking signs and below for rates and conditions. Please note payment is by card only.
Car parking rates
| | |
| --- | --- |
| 0–1 hour | $4.00 |
| 1–2 hours | $8.00 |
| 2–3 hours | $12.00 |
| 3–4 hours | $16.00 |
| 4–5 hours | $20.00 |
| 5–6 hours | $24.00 |
| 6–7 hours | $28.00 |
| 7 + hours | $32.00 |
| Weekdays (after 5pm) | FREE |
| Weekends & Public Holidays | $5 flat rate |
Conditions
Pricing as of 1 August 2023.
Fees do not apply to motorbikes or mobility parking spaces when ticket is validated at the Information Desk.
Lost tickets incur the maximum daily charge of $32.
Number plate recognition camera in use.
Payment
Payment is by card only.
The pay station is located adjacent to the lift in the underground carpark.
There are other parking spots within a short walk to the Gallery.
BIKES AND WALKING
There are 15 bikes racks in total at the Gallery. Ten are located at the base of the ramp at street level and there are five more closer to Lake Burley Griffin, near the Sculpture Garden.
BUSES
The closest bus stop is on King Edward Terrace and Parkes Place East, just a short walk from the Gallery. For timetable information visit Transport Canberra or call 131 710.
TAXIS AND RIDESHARES
Taxis can drop off at the front entrance of the Gallery. Call Cabxpress on 1300 222 977 or Canberra Elite on 132 227.
The Gallery also has an automated self service Taxi Butler with ACT Cabs located at our Information Desk at the main entrance. Simply press the button once to book a taxi that will pick you up on Parkes Place East, near our Street Cafe.
Airline Partner
As a proud supporter of the National Gallery of Australia, we encourage you to travel on Australia's national airline, Qantas, for your visit to Canberra.
Visit Canberra
Find more than you came for when you visit Canberra. Whether it's iconic masterpieces or breathtaking natural beauty, whether it's world-class wining and dining, everything is just moments away. Indulge in wine tasting and boutique shopping, power through mountain biking and rock climbing, experience a jam-packed calendar of festivals and events or simply let the kids run wild.