Max & Olive
The Photographic Life of Olive Cotton & Max Dupain
Exhibition
18 Mar 2016 – 10 Jul 2017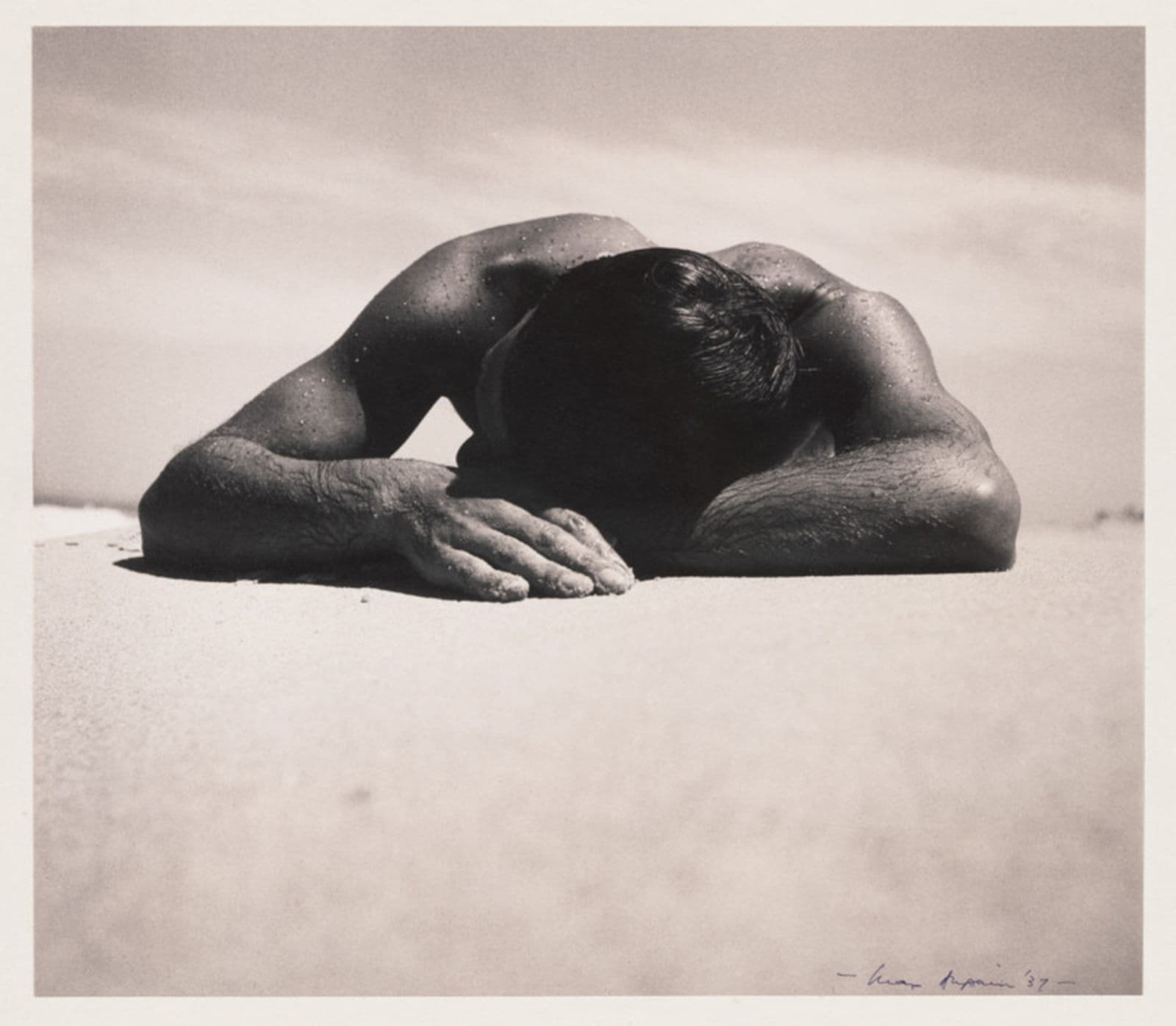 About
---
Olive Cotton and Max Dupain are key figures in Australian visual culture. They shared a long and close personal and professional relationship. This exhibition looks at their work made between 1934 and 1945, the period of their professional association; this was an exciting period of experimentation and growth in Australian photography, and Cotton and Dupain were at the centre of these developments.
This is the first exhibition to look at the work of these two photographers as they shared their lives, studio and professional practice. Looking at their work together is instructive; they were often shooting the same subjects, or pursuing subjects and pictorial effects in similar ways. Comparisons articulate and make apparent Dupain's more structured – even abstracted – approach to art and to the world; similarly, comparisons highlight Cotton's more immersive relationship to place, with a particularly deep and instinctual love of light and its ephemeral effects.
This exhibition focuses on the key period in each of their careers, when they made many of their most memorable images. Keenly aware of international developments in photography, Cotton and Dupain experimented with the forms and strategies of modernist photography, especially Surrealism and the Bauhaus, and drew upon the sophisticated lighting and compositions of contemporary advertising and Hollywood glamour photography.
They brought to these influences their own, close association with the rich context of Australian life and culture during the 1930s and '40s. Their achievement can be characterised, borrowing terms they used in discussions of their work, as the development of a 'contemporary Australian photography': a modern photographic practice that reflected their own, very particular relationships to the world and to each other.
Curator: Shaune Lakin, Curator of Photography
pamphlet Essay
Lives
Cotton and Dupain's friendship stretched back to childhood summers spent at Newport Beach, NSW, where their families spent summer holidays. They were both given their first cameras – Kodak Box Brownies – by relatives as young teenagers, and spent days together wandering around taking photographs. They shared a similar commitment to photography as teenagers and young adults: both made and published or exhibited photographs while at school, and in 1929 they became members of the Photographic Society of New South Wales. But their approach to achieving the 'professional life' of a photographer took different paths: Dupain undertook a formal apprenticeship with the pictorialist master Cecil Bostock between 1930-33, while Cotton studied arts at Sydney University with the idea of becoming a teacher and photographed after hours.
Cotton and Dupain became romantically involved in 1928 and married in 1939; they separated in 1941 and eventually divorced in 1944. In spite of these personal vicissitudes, Cotton and Dupain remained professionally connected. Cotton managed the Dupain studio from late 1941-45, while he worked with the Department of Home Security's Camouflage Unit during the Second World War. On his return, Cotton left Sydney and spent the rest of her life in relative isolation near Cowra, NSW, where she raised her family of two with husband Ross McInerney and, between 1964 and 1983, operated a small studio. And while Dupain returned from the war to develop his reputation and significance as Australia's most recognised twentieth-century photographer, his work was deeply affected by his experience of the war and took on a completely different complexion to his work from the previous decade.
Studio
In 1934, Dupain opened a studio in a rented room at 24 Bond Street, Sydney; Cotton joined him as his assistant soon after. By 1936, the Dupain studio's business had expanded to the extent that it moved into larger premises in the same building, before relocating in early 1941 to a whole floor of a building at 49 Clarence Street.
Their positions at the Dupain studio were clearly defined – he was the photographer, she the studio assistant. Even so, Cotton and Dupain each maintained distinct but in some ways closely aligned practices, both in and out of the studio. Cotton did not tend to take photographs commercially until after she took over the management of the Dupain studio in late 1941, when photographs were circulated in her name. Before then, she made use of the studio's equipment afterhours, including Dupain's large Thornton Pickard camera; her work was exhibited and published on occasion, both locally and internationally.
At the same time, Dupain's photographs became increasingly widely-seen and influential. Sydney Ure Smith's iconic monthly magazine The Home regularly published Dupain's portraits, documentary work, social photographs (often actually taken by Cotton), and fashion and product photographs made for clients such as David Jones. When Dupain went to war, the studio continued to operate successfully under Cotton's management. While some long-standing clients such as David Jones took their business elsewhere, Cotton took some of her most important pictures in the early 1940s, and her increasing confidence at this time can be identified across images of the city, industry and labour.
Dialogue
Cotton and Dupain were active members of Sydney's network of young artists and photographers, of which the Dupain studio was a centre. Along with their contemporaries, including figures like Geoffrey Powell, Damien Parer and Lawrence Le Guay, they staked a claim for photography as a vital part of contemporary culture, exhibiting photographs alongside other artworks at venues like Sydney's David Jones Gallery.
Their networks included members of Sydney's progressive architectural, design, publishing and advertising communities, with whom they often collaborated. The threads of influence within this complex network of making, exhibiting, publishing and commissions were intricate. It is possible, for example, to see Dupain's strong visual style affect those around him. His interest in surrealist style, which really took hold in 1935, can be identified in work by other, often lesser photographers working at the time, and indeed in the design of The Home, which published his work in editorial and advertisements. There were also times when Cotton indicated certain directions for Dupain. For example, her images of bodies outdoors, which cleverly pulled together classical and modernist motifs, predate similar images by Dupain.
It is clear also that Cotton and Dupain were engaging in dialogue within their own work.  Their shared interest in photographing form, texture and shadow is seen across many pictures throughout the mid- to late 1930s. Their pictures also engage critically with photography as a medium, in images that draw attention to the photograph as a double of its subject, and in pictures that seem to play with photograph's stillness. As Dupain later remembered, together they 'shared the problems of photography'.
Contemporary Australian Photography
What were 'the problems of photography' that Dupain and Cotton sought to settle? In the most straightforward sense, they involved the assumption that Australian photographers were yet to completely embrace or realise the medium's potential, which rested in careful attention to its aesthetic possibilities, recognition of its mechanical origins, and negotiation of the particular way the medium engaged notions of objectivity and subjectivity. Their solution to these problems involved a progressive photographic practice that intended to release photography from the shackles of history and orthodoxy, and to revel in photography's great capacity to make sense of the relations of light, texture and form as they exist in the present.
Cotton's and Dupain's solution to 'the problems of photography' was to make work that made a feature of the medium's modernity, and the strange way that mechanics, physics and aesthetics come together in modern photography to look at the world and to find beauty in it. They did this in a way that remained firmly footed in their own, very particular place in the world and history. In terms of style, their solution integrated legacies of Pictorialism – especially its interest in the atmospheric effects found in landscape – with a range of other, often competing modes and styles: a modernist concern with line, form and space; documentary photography's interest in realism and 'the living moment'; and the pictorial and formal attributes of commercial photography.
It is possible that, for the first time, Australian photography found in the work of Cotton and Dupain a contemporary expression: a photographic practice that emerged from, responded to and expressed the mood, ambitions and sensibility of its time.
Touring Dates and Venues
2016 – 2017
Riddoch Arts & Cultural Centre, SA
18 March – 8 May 2016
Ian Potter Museum of Art, VIC
31 May – 24 July 2016
Cowra Regional Art Gallery, NSW
6 August – 4 September 2016
Wangaratta Art Gallery, VIC
10 September – 13 November 2016
Hazlehurst Regional Gallery and Arts Centre, NSW
17 December 2016 – 5 February 2017
Mornington Peninsula Regional Gallery, VIC
12 May – 9 July 2017