Jess Johnson & Simon Ward: Terminus
Touring Exhibition
Hyphen Wodonga, VIC
16 Jun – 13 Aug 2023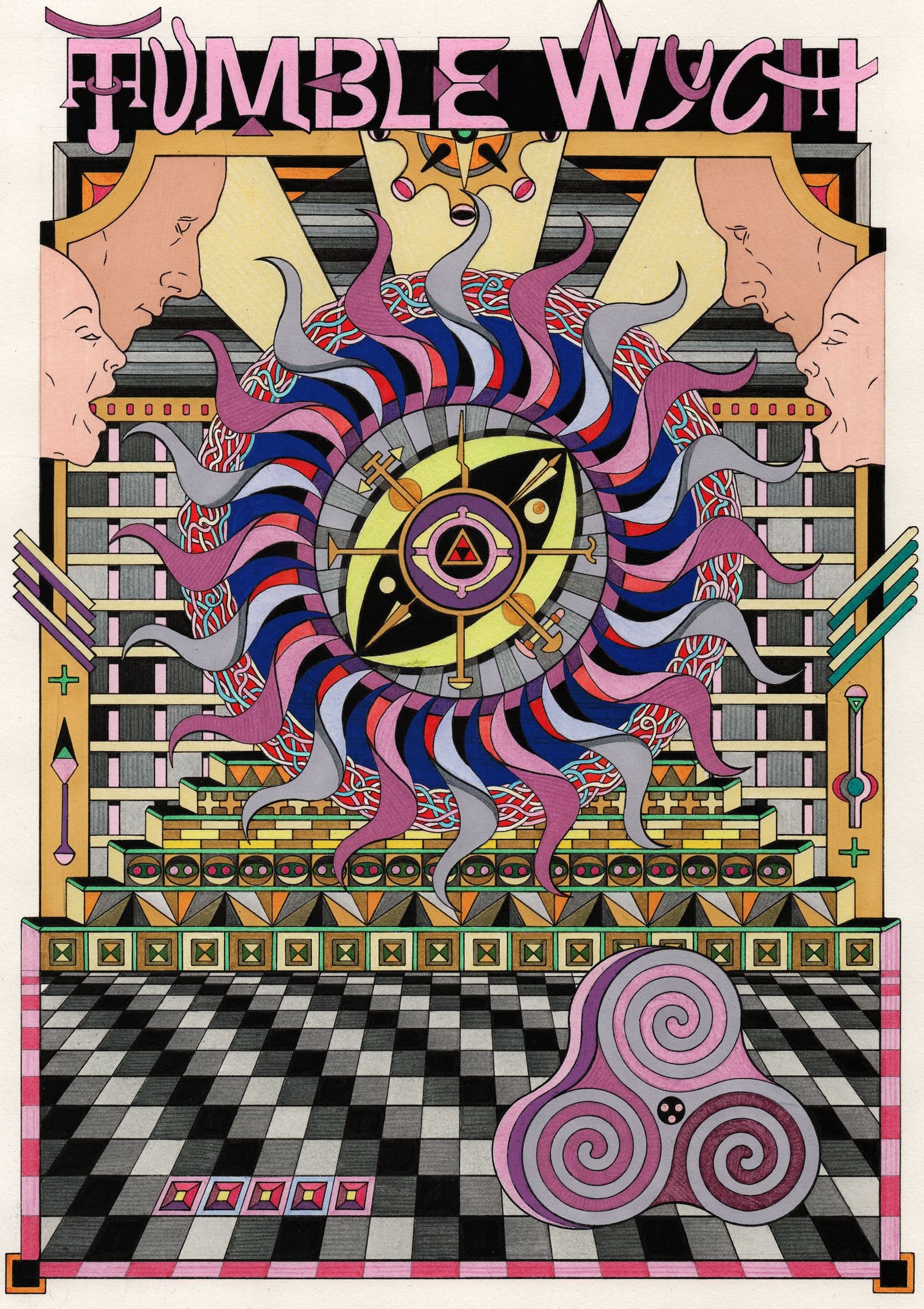 'It's complete escapism, virtual reality. I'm much more attracted to complete immersion as opposed to augmented reality. I want to be catapulted to a different planet entirely.'
About
---
Inspired by Sci-Fi, comics and fantasy movies, Jess Johnson and Simon Ward: Terminus is a virtual reality (VR) installation that transports the viewer into an imaginary landscape of colour and pattern populated by human clones, moving walkways and gateways to new realms.
With their pioneering use of virtual reality, artists Jess Johnson and Simon Ward hold a unique position amongst contemporary art practitioners. Johnson's drawings are transformed from analogue into digital, and from solo practice into cross-disciplinary collaboration, forming the basis of this virtual experience. Animated by Ward and enriched with input from Smith and Clarke, the result is Terminus: a mysterious universe of alien architecture populated by humanoid clones and cryptic symbols, explored via a network of travellators and gateways.
Terminus presents a quest, a choose-your-own adventure into the technological. Prepare yourself for a slippage of time and space as your journey propels you through five distinct realms.
Jess Johnson & Simon Ward: Terminus is a Know My Name project and part of the The Balnaves Contemporary Series.
Curator: Jaklyn Babington, formerly Senior Curator, Contemporary Art
Plan your visit
Terminus includes five VR experiences, which are each approximately 5:30 minutes in duration. You may need to allow between 30 minutes to 1 hour for your adventure. As each experience is individual you may find there is a short wait before you can begin your quest. You may want to take this time to explore Terminus' immersive environment.
Dates & Venues
National Gallery of Australia, ACT
5 May – 23 September 2018
Touring dates
This touring exhibition was sponsored by Visions of Australia and the National Collecting Institutions Touring and Outreach program.
2020
Heide Museum of Art, VIC
4 November 2019 – 1 March 2020
Plimsoll Gallery Hobart, TAS
13 March – 3 May 2020 (closed early due to COVID)
Murray Bridge Art Gallery, SA
5 December – 17 January 2020
2021
Maitland Regional Art Gallery
19 February – 2 May 2021
Cairns Art Gallery, QLD
3 September – 21 November 2021
2022/23
Hamilton Gallery, VIC
8 April – 5 June 2022
Hazelhurst Regional Gallery and Arts Centre, NSW
25 June – 28 August 2022
Western Plains Cultural Centre, NSW
1 October – 4 December 2022
Wagga Wagga Art Gallery, NSW
17 December 2022 – 5 February 2023
Hyphen Wodonga, VIC
20 May – 13 August 2023
Central Goldfields Art Gallery, VIC
26 August – 5 November 2023