Welcome to the Water Planet
Paperworks by James Rosenquist
Exhibition
10 Jun 2006 – 12 Sep 2006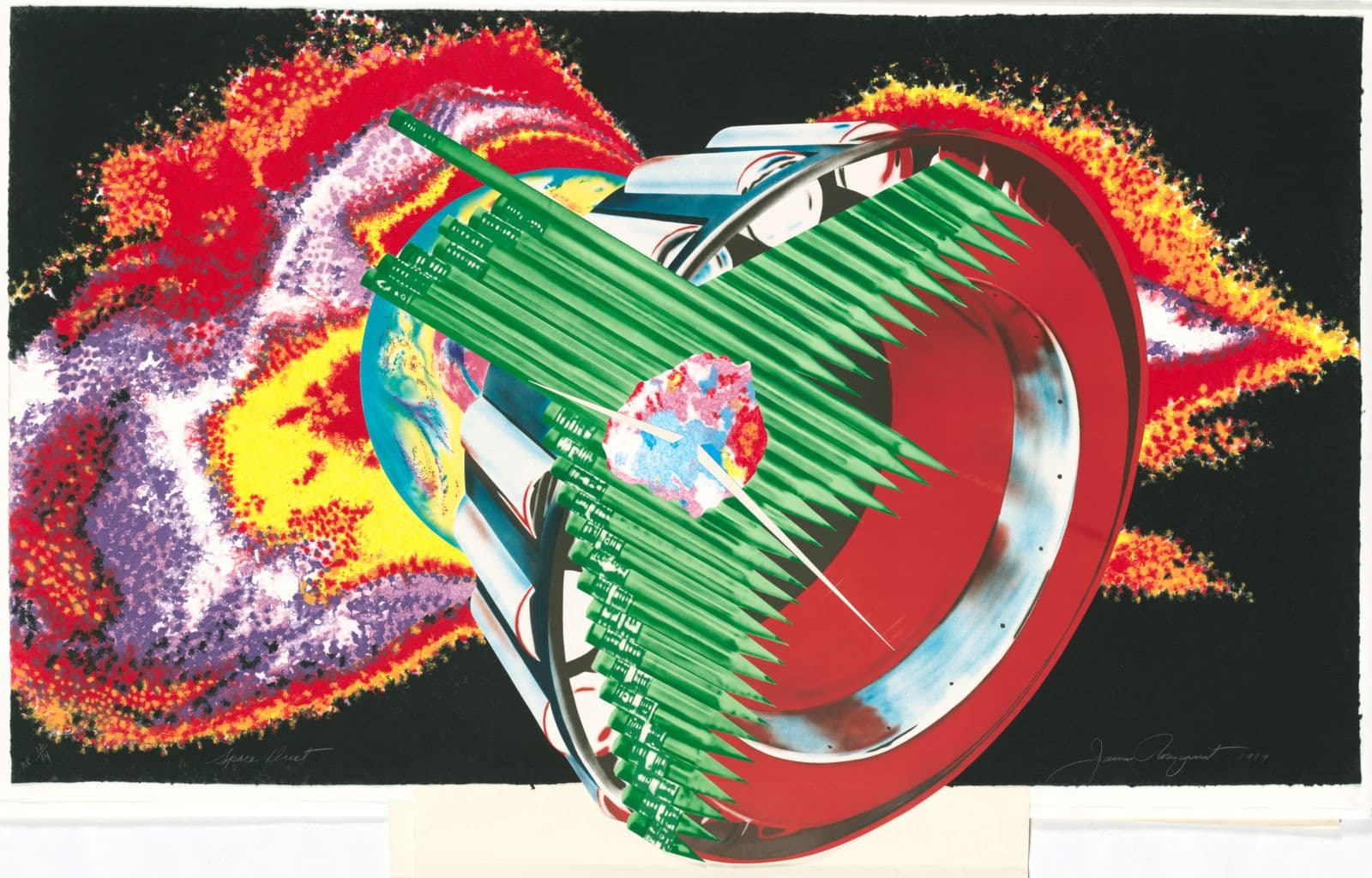 About
---
Over a period of 100 days artist James Rosenquist, with master printer Ken Tyler, produced 720 sheets of handmade, hand-coloured paper forming the basis of the series which combines commonplace objects like pots and flowers to objects with extra-terrestrial imagery. Using brilliant luminous colours on a massive scale these works show the earth as a rich but vulnerable planet under threat from a growing consumer culture.
Rosenquist Biography
The American artist James Rosenquist was pleased he was now exhibiting with the prestigious New York Gallery, Acquavella. 'All I have to be now is brilliant', he recently mused in conversation. In his career the elusive 'need to be brilliant' is something the artist has constantly searched for. Sometimes it seemed he was successful, sometimes he wasn't, and he could never quite work out why, other than it sold.1 Rosenquist has an unusual modus operandi to achieve his goal. Art historian Judith Goldman calls it a 'taste for a convoluted idea'.2 He likes to draw together visual elements or notions that fascinate or intrigue, which he then places together to form a complex composition. With this process, whether the artist is brilliant or not can only be judged on completion.
In the mid 1980s, when Rosenquist agreed to work at the print studio at Tyler Graphics Ltd at Mount Kisco, in New York State, he was required to be 'brilliant'. The artist had been invited by Ken Tyler, printer and publisher, to explore the idea of making some paper pulp works. These came to form the series Welcome to the water planet and the works House of fire and Time dust, which were produced in 1988 and 1989. Rosenquist had been a long-time admirer of Tyler and his working methods. 'Ken liked to get his hands dirty' and he was 'voracious' in the studio in his enthusiasm for new ideas about printmaking, new techniques and new materials.
Tyler's approach was in stark contrast to Rosenquist's early experience in printmaking, when he made his first lithographs in 1965 and 1966 with publisher Tatanya Grosman at Universal Limited Art Editions, West Islip, New York. He found the atmosphere of the studio 'old fashioned' with more traditional technical methods used, leisurely lunches and no sense of urgency.
As a young man Rosenquist had long desired to become an artist. Born in provincial Grand Forks in North Dakota in 1933, he studied at the University of Minnesota, supporting himself by painting Phillips 66 Gasoline signs as he travelled to the border of the State of Iowa. Rosenquist then graduated to painting billboards, including the billboards advertising Davy Crockett, King of the Wild Frontier, the film first released in 1954. He painted two versions of this up and down the highways leading to Minneapolis. The following year he left the Midwest for New York to pursue an artistic career, winning a scholarship to attend the Art Students League in New York. There he continued painting billboards to support himself. His work now graced the skyline of New York's Times Square and Brooklyn and Rosenquist gained a certain notoriety when he was featured in an article published on 6 June 1960 and dubbed 'Broadway's biggest artist'. In this article, not noted for its understatement, the overly enthusiastic UPI journalist commented further that while 'bigness isn't always greatness, his creations nonetheless dwarf the most grandiose artistic accomplishments of Rivera and Michelangelo'.3
By the 1960s, the experience of painting on a large scale influenced his own art. Rosenquist began working on huge canvases and incorporating figures from the mass media. Because of their very size, the individual forms became abstracted when viewed close-up. The effect that scale changed figures from realistic images to abstract ones was something Rosenquist delighted in.
Rosenquist's growing popularity as an artist had him regularly showing at Pop Art's mecca, the Leo Castelli Gallery in New York. The Castelli stable of artists included Roy Lichtenstein, Robert Rauschenberg, Jasper Johns and Andy Warhol. All were in some way associated with Pop Art. This was a movement that evolved in the late 1950s, and embraced ideas, subjects and techniques of popular culture. Pop saw the adoption of forms, colours and methods of mass culture drawn from advertising, television, film, music, comics, pulp novels and magazines. Rosenquist was one of the central artists who drew inspiration from such sources. However, unlike other Pop artists, Rosenquist's art method of the convoluted idea made his imagery not immediately clear. It was an art of fragments juxtaposed in often apparently bizarre, but at the time oddly pleasing, sequences.
Rosenquist's association with Ken Tyler goes back many years to the time when he was keen to be further involved in printmaking to reach a wider audience through using new media. The artist and printer had planned to work at Gemini GEL in Los Angeles decades earlier. However, as fate would have it, Rosenquist had a car accident in 1971 in which the artist, his wife and child were seriously injured and so nothing came of their first attempt to work together in the early 1970s. In 1974 they met in Bedford New York when Tyler had moved to the east coast of the USA, but again nothing eventuated.4 The 1970s were a testing time for Rosenquist, both personally and as an artist, and he said of these years that they were 'not a very good time in my art work at all'. 5
As Rosenquist's career advanced both as a painter and maker of prints, his progress in each medium was decidedly uneven. In fact, the artist had become disillusioned with printmaking. He found painting more immediate, on a larger scale, and a more inventive way of making art. In contrast, he came to consider that prints were too small, too rigid in technique and lacked spontaneity. When, in 1987, Tyler wrote to Rosenquist inviting him to work at his new purpose-built workshop at Mount Kisco in upstate New York, he needed to be convinced the experience would be worthwhile – that making paper works and lithography with Tyler would be different from his earlier experiences. In response, Tyler promised Rosenquist that he would provide handmade paper as big as the artist could imagine and then sent him sketches of his premises and equipment. By the next year, Rosenquist had agreed to work at Tyler's studio.
The new premises at Mount Kisco were established to further Tyler's desire to provide the utmost assistance for artists who worked with him on print projects. In discussion it became apparent that the intention was that Rosenquist and the printer would develop a project – perhaps to make some paper pulp works. Tyler had a long held an interest in handmade papers. He had worked on collaboration in 1973–74 with Robert Rauschenberg at the Richard de Bas paper mill in France, where the artist made 12 paper works. Tyler then continued with paper pulp projects in the 1970s with artists Elsworth Kelly, Keith Noland and later, in 1979, David Hockney. Hockney produced spectacular paper pulp works, notably in his Paper Pools series, which brought paper works to new heights in terms of scale, colour and textures.
When he arrived, Rosenquist had an idea, a convoluted one, which he hoped would develop as an image – slow heating popcorn taking its time – and tying this notion together with his growing concern about the state of planet earth – the only water planet known in existence in the universe at this time. Arriving at the workshop, Rosenquist had the same need 'to be brilliant'. He mulled over such disparate thoughts. Telling Tyler of his initial idea, the printer joked, 'Well, that was one idea, where are the rest of your ideas?'. As an artist Rosenquist liked to work with fluid concepts initially, that would then take shape during his time at the Tyler studio, which is what happened for the project that became Water planet: 'So then we're getting into this print called The bird of paradise approaches the hot water planet. He says, "What's the next idea?" So I brought them the next idea. He says, "Oh great! That's fabulous. Where's the next one?" I said, "I don't have any idea yet".' 6
In fact, Rosenquist wished to remain as spontaneous as he could, untrammelled by long-held or preconceived ideas. 'I wanted them to come right out of the air'.7 To work in this manner required a print workshop that could be innovative and on the spot. Rosenquist was pleased to be working with Tyler on such a momentous project because he considered him 'probably the best printing technician in the world'. Unlike other printers who, when faced with a difficult task put to them by the artist, would shake their heads and say sorry they couldn't deal with the new ideas, 'with Ken – he'd look at you, walk away and the next day he would have devised something to make the new idea work. Nothing would stop him … he would go to any length … He would never say no.' For the project Tyler devised a huge deckle box to make hand-made papers about 150 x 305 cm, and a giant printing press for lithography and etching (305 x 610 cm).
Over the months as the pair worked together a series of large-scale paper pulp works evolved, using huge sheets of handmade paper made on the TGL premises. The project was inspired by the exotic vegetation of Florida (Rosenquist's studio was in Aripeka on the Gulf of Mexico), and reflected his disquiet with what was happening to the earth. All this combined to project Rosenquist's concern, 'We all live on the water planet', the artist discussed at an interview. 'John Glenn [the first American astronaut to orbit the earth] said when he went into space he turned around and looked at Earth, and he wondered why so many people were spending so much money on blowing it up, and they actually lived on it. It seems very bizarre'.8 Rosenquist's series of paper works were intended to act both as a celebration and a warning to what might happen to the water planet.
Rosenquist included imagery that evoked the colourful and sensual riches of the earth and brilliant flora from Florida, set within a wondrous star-lit universe. This he combined with contrasting ideas about the mistreatment and destruction of the earth represented by detritus, pots and pans, rocket ships, fighter planes or missiles of destruction with the addition of torpedos in the form of ruby red lipsticks or jet engines as acid green pencils. 'The water planet is earth. A visitor from another universe comes by, and we say, "hey, welcome to this mess! It's hell, it's burning up, but come on in!"'9
The first idea that came to form was The bird of paradise approaches the hot water planet. From his early days as a billboard artist it was Rosenquist's habit to work from a small drawing, often a collage of various images, and upscale the composition and develop this to be a gargantuan size. Deconstructing the image into its component parts, artist and printer decided to make the curved lines of cross-hatching, so characteristic of Rosenquist's work in general at this time, and it would then be printed in colour lithography. These lithographic elements would then form a collage that would be laid for a brilliantly coloured paper pulp sheet. The separate colours were made by filling different moulds with paper pulp placed on top of the large sheets of handmade paper, which were cut out in metal according to Rosenquist's design.
At the initial stages of the project the method of using metal moulds, or 'cookie cutters', was clumsy, time-consuming, and the paper pulp lacked consistency – it was just 'so awful', he remembered. The paper pulp was messy and not easy to control. Rosenquist was also frustrated by the lack of spontaneity in the whole procedure. He was losing momentum. To counteract these problems, Tyler worked on the consistency of the pulp and the shapes of the moulds, but still there were problems in translating Rosenquist's designs into paper form. The artist developed a group of templates that took a great deal of time to make, based on his drawings and cut for each form he wanted. Tyler drew on his own technical expertise and the constant desire for experimentation and innovation to solve problems in the workshop. For the large areas of graded colour, impossible to achieve using mould shapes, Tyler proposed to use a spray gun, used for applying stucco to walls in houses, which could spray the gradations of brilliant and unusual colour across the pulp on which the lithographic elements were collaged. The technique was a success and the results were glorious with a look of apparent spontaneity and effortlessness, which belied the hours of preparation and a technique born of experimentation.
Rosenquist was delighted with his paper pulp works. 'The wonderful thing about paper pulp is the colour. If you take a magnifying glass, you'll see a little fuzz rising like smoke off the surface of this handmade paper – like doing giant watercolours and letting this watercolour seep together at the perfect moment … '.10
Jane Kinsman
Senior Curator, International Prints, Drawings and Illustrated Books
James Rosenquist in conversation with Jane Kinsman, 9 March 2006. All quotes refer to this interview unless otherwise indicated.
Judith Goldman, 'Whenever you're ready, let me know', in James Rosenquist: Welcome to the water planet and house of fire 1988–1989, Mount Kisco, United States: Tyler Graphics Ltd, 1989, p 13. For further reading see Constance W Glenn, Complete Graphic Works 1962–1992, New York: Rizzoli, 1993, cats 214–23, Time dust, illustrated, pp 160–68.
United Press International, 6 June 1960, quoted in Judith Goldman, James Rosenquist, New York: Viking Penguin, 1985, p 25.
Ken Tyler in correspondence with Jane Kinsman, 18 April 2006.
James Rosenquist referring to the years 1971 to 1977, quoted in Constance W Glenn, Time dust: James Rosenquist, Complete Graphics: 1962–1992, New York: Rizzoli, 1993, p 51.
James Rosenquist in Welcome to the water planet (Documentary film) (New York: Seven Hills Production, 1989).
James Rosenquist (Documentary film) 1989.
James Rosenquist (Documentary film) 1989.
James Rosenquist quoted in Walter Hopps and Sarah Bancroft, James Rosenquist: A retrospective, New York: Guggenheim, c 2003, pp 126–27.
James Rosenquist (Documentary film) 1989.
Kenneth Tyler Interview
Interview with master printer Kenneth Tyler and curator Jane Kinsman, Connecticut, May 2006.
Q: Could you outline when you first met Rosenquist?
Kenneth Tyler: I remember my meeting Jim at my workshop in Los Angeles, and later having dinner with him at my house in January of 1971. What transpired was a very lively and animated exchange of ideas. Jim was, as usual, very difficult to pin down as to the exact nature of a project he would be interested in doing at my workshop. So we talked about his interest in video and moving images and his thoughts on space and about scale for his images.
We discussed the Art and Technology exhibition at the LA County Museum of Art, which took place in 1970, and why he didn't participate in it as one of the artists, since he was so interested in aerospace. It turned out that he didn't come up with a project to present in time to be a part of the program. I talked about the giant ice bag sculpture by Claes Oldenburg that I worked on for this show and where I thought dimensional multiples were going.
We seemed to have a lot in common about our thoughts and he left me with the feeling that we would develop a print project some time in the near future, but he would have to schedule it after he got back to Florida. Unfortunately, shortly upon his return to Florida while driving with his wife and son he got into a terrible automobile accident where they were seriously injured. As I recall, Jim escaped with a punctured lung and broken ribs.
For the next 17 years we stayed in contact but didn't come close to fixing a date for collaboration. I moved to the East Coast in 1974 and opened a small workshop, that I kept enlarging, as you know. The resulting growing pains limited my ability to take on projects, other than those I had scheduled well in advance, and Jim's life seem to reflect the same situation as he too moved to a new studio home and life changed.
When he visited me in the late seventies at my Bedford studio he gave me hope that we soon would get together, but soon was not until I moved into my new workshop, Mount Kisco, in the mid-eighties.
He came to the grand opening of the workshop, hobnobbed with all the artists and staff, and afterwards told me that he enjoyed the space and would like to work in the new facility, and asked me how large my papermaking could be. I said, 'How large would you like?', and he said, 'Around 5 by 10 feet'. I told him I would make 5 by 10 foot papers if he gave me a few months to devil up the equipment and refit the paper mill.
As it worked out, we agreed that he would come and make work using the new scale paper some time in September. The Welcome to the water planet series started in the fall of 1988 and Jim spent over 100 days in the workshop creating the 10 works in the Water planetseries and the largest mural work the shop ever created, measuring 85 x 420 inches, titled Time Dust.
Q: Make an assessment of this work in the context of late twentieth century printmaking.
Kenneth Tyler: Okay, this papermaking and printmaking project, I think, pushed coloured handmade paper to a new dimension and added to the rich tradition of collage in printmaking. As I look back upon this ambitious project it becomes apparent to me, however, that major projects like this one leave their mark as art statements and technical achievements.
But the costly involvement of having a large work space and a staff of 29 printers and collaborators, and creating the process and techniques to accomplish a project of this magnitude, is too intimidating and expensive for the general print world. The chances of this information in the short term entering the mainstream of printmaking and having an influence on the average printmaker or publisher is limited.
Nevertheless, it does change the way people think about the process of making handmade paper and colouring it. Eventually I believe more and more parts of the processes and techniques from these projects do become widely recycled and used.
One must remember that these projects could only be made with the creative talents of those artists who made them, and major statements like these are rare. I think they go down in history as being rare. I think only somebody with a big idea for this kind of image making could benefit from our inventions and collaborations. Unfortunately, there aren't many artists out there with big ideas for printmaking at the moment.
Q: Describe briefly Jim's working procedure
Kenneth Tyler: The great joy of working with Jim, a very talented artist, was his professional discipline and organisation. Once he set his mind to making a particular image he would carefully select the colours and scales for the drawing and during this process the workshop created the necessary colour pulp test as approved by Jim.
Sufficient amounts of colour pulp would be mixed and tested for correct colour, then Jim would spray small sheets to sample out the effects he wanted. After the first full-scale five by 10 foot sheet was made he would lay out his lithographed collaged elements on the newly made sheets and make his final adjustments for colour pulp and colour lithograph printing.
I would make a step-by-step chart for making the colour pulp and as the sheets were made a job record sheet was kept, detailing and breaking down the sequence of colouring.
Occasionally during the papermaking process Jim would have us alter the sequence in colours to see if he preferred another combination. The resulting proofs became the colour trial proofs. He made the litho elements with the same attention to colour and drawing detail, all of which were also recorded on our job record sheets. Jim mixed almost all the litho colours or stood by as one of the printers mixed the colours to his direction.
Q: Describe collaboration with Jim
Kenneth Tyler: I think collaboration with Jim was a mixture of hard work, long hours, good camaraderie and a lot of storytelling. Jim loves to tell stories. He had the rare ability to be one of the workers in the workshop and also the artist. I found that Jim and I had in common many mid-west work ethics and we enjoyed tools, machinery, invention and the challenge of making things with our hands.
There wasn't any task in the workshop that Jim would not take upon himself to do when the moment came. We pushed each other in the collaboration with mutual friendship and respect. After all, you wouldn't last doing this serious labour for more than 100 tense days if you were not having fun, and fun we did have.
James Rosenquist Interview
Interview with artist James Rosenquist and curator Jane Kinsman, Aripeka, Florida, May 2006.
Q: Would you describe your early days as an artist in New York.
James Rosenquist: I was studying art at the University of Minnesota in the fifties with Cameron Booth, a wonderful teacher who was 10 years older than the year. He studied with Hans Hofmann in Munich after World War II. He said, 'Jim, there's nothing for you in Minneapolis, you should go to New York and study with Hans Hofmann.' I was interested in composition. Hans quit teaching, moved to Provincetown, so I tried for an out of town scholarship with the Art Students League and I won it for a year's schooling. So I arrived in the autumn of 1955 with 350 bucks in my pocket and started at the Art Students League.
You have to remember, New York at the time was a very different place than it is today. New York City was almost empty because the war vets who lived in Manhattan originally, families, moved to Long Island or New Jersey, so rents were cheap. I had a room on West 57th Street for eight bucks a week. I had later on a five room apartment on the Upper East Side for 31 dollars a month. So it was a very, very inexpensive place to be and a wonderful thing to live in a cosmopolitan city with all the advantages and not have to worry about money too much. Although I did, I didn't have any money, so I was always a starving artist, as many artists are.
New York was a fascinating place. I had been painting outdoor signs in Minneapolis for General Auto Advertising and I transferred into the union in New York, the Sign Painters and Pictorial Painters Union Local 230, which was largely run by Italians, and they said there was no work for me. But I made a speech saying I respected the rights of all the older gentlemen in the union and I'm willing to take my turn and they went, 'Ha, ha, ha. Okay, bring your money around Thursday'.
So I joined the union, went to work in Brooklyn painting Schenley whiskey signs above practically every candy store in Brooklyn. I painted 145 of them. After about number 50 I got so tired of this that, so boring, that on the label instead of writing, 'This spirit is made from the finest grains' and so on, I wrote 'Mary had a little lamb, its fleece was white as snow'. I was totally bombarded by advertising, which I didn't care for but it was something I did. I think that is probably my relationship to what is now called Pop Art.
I was bombarded by advertising right in front of my nose. I graduated from Brooklyn to Times Square and I painted the Astor Victoria Theatre seven times, which was 395 feet (120 metres) wide and 58 feet (17 metres) high. I also painted everything good enough to sell. You had to paint beer shirts, movie stars, anything good enough to sell it, otherwise you'd be fired.
So New York was a much different place and a young artist would have time to gather steam in New York. I mean, the people that I knew, middle-aged people I knew, were commercial artists but their fine art was a private social club and there was no demand for it, fine art, these avant garde artists, so they would have cocktail parties and show their art to each other but not in galleries or anything until probably a few years passed.
So I think that's a great advantage of that era because now it's so expensive in New York that the young artist thinks he or she has to show their fine art immediately and the critics say they stink and they go, 'Oh, no, I really am bad? Oh, that's terrible', and then they have to work twice as hard to show the audience that they're actually pretty good.
Q: Your use of collage seems important in your working method. How did this style of using a collage develop when you began working as an artist? Why did it appeal in those early days?
James Rosenquist: Well, all that working in collage, it started for me … well, way back during World War II in a museum in Ohio I saw a show in a museum where right next to each other was a little painting, a flower, live flower and a shrunken head, and I wondered what the hell does that mean?
Then, you know, naturally Kurt Schwitters, he's allegedly responsible for contemporary collage, but my experience was going to work for Artkraft Strauss Company with a lot of dissimilar material sitting on a desk, I would have to scale a lot of this material into one sign. It was all different sizes and so I'd have to scale it up, scale it down, put it in place, and then they'd send me out to paint this big sign, whether it was for the movies or it was for the Castro Convertible (sofa beds) sign on 47th street or the DeMille (theatre) sign on 47th street.
So I learned how to square things up from any size to billboard, one foot squares or two foot squares on a big sign, and that probably started me thinking about collage. I would take disparate images, put them together and try to make another sense out of them. It was almost like the idea of listening to radio and thinking about something in the abstract.
Q: How did you use collage for your paper works you made with Ken Tyler?
James Rosenquist: Well, I knew Ken Tyler for a number of years but I never worked with him. He called me up and he said, 'Jim, I've got a new facility up in Mount Kisco New York, why don't you come out here and light the place up'.
So, okay. So I went to see him, and Ken had very small presses, I mean, the press beds were rather small, but we wanted to do prints 5 by 6 feet (1.5 by 1.8 metres), 6 by 7 feet (1.8 by 2.1 metres), 10 feet (3.0 metres) and so on. So what did we do? Well, anyway, I brought him one collage and he said, 'Is this all you've got?' I said, 'Okay, maybe I'll bring in another one'.
So we had enough trouble doing the first one. What we did was he ground up Chinese rag paper pulp into a big porridge like material and put it on a big piece of felt so it would look like a quarter inch thick rug made out of mush. Then I coloured this paper pulp for a background and then on top of this stuff, this paper pulp, I made lithographs on a regular small lithograph press and we adhered those to the paper pulp after it had been dried. So they really became like gigantic collages because Ken didn't have the presses large enough.
Q: When you made the paper works with Ken over the months from September 1988 to December 1989 and again in 1992 at the Mount Kisco workshop, how did your working methods change?
James Rosenquist: Well, the one thing was the colour that I would spray on to the paper pulp with a house ceiling spraying machine for paint. The colours in this water, this watercolour, was a completely different colour than what it would dry up to be, almost like scenic art paint.
So sometimes you would want a very, very faint blue-grey and it would look like just plain water, dish water. Other times you'd want a rich red and the richest red after it was dried and pressed would become pink. So you'd really have to test a lot of colours for spraying on these colour backgrounds.
Q: Did you like working in paper pulp?
James Rosenquist: Working in paper pulp for me, and Ken, was a great experiment. Ken really produced this situation and he was ingenious in producing this because he had a mill that ground up the paper and then these huge hydraulic presses that would press the water out of the paper pulp, so it was purely his invention and I think I've never seen it done anywhere else to this day. He was a great innovator.
Q: In the light of your express desire to be more spontaneous in a print workshop, did you succeed?
James Rosenquist: I don't know (laughs). I don't know if I succeeded or not. I know that financially it was a big success for Ken and myself, but I just worked like a worker, sort of blindly, being excited by this adventure and it all seemed to come out pretty well.
Q: How did this working method at Tyler Graphics contrast with your earlier ways of making prints?
James Rosenquist: Well, Ken Tyler is a great innovator so the difference between Ken Tyler and other print shops was that if you came with an idea for Ken that seemed extremely difficult, he'd sort of think it over, shake his head, and then he'd walk away. The next day he would come out with a great big welded aluminum extrusion, he'd spare no expense to have something made out of magnesium or aluminum or whatever merely as a template to do a work. If it worked, fine, if it didn't work he'd merely throw it in the parking lot. But he would do and try everything. He was a total enthusiast.
Q: Do you think that the experience that you had working with Ken at Mount Kisco subsequently affected your methods and painting?
James Rosenquist: Probably only in maybe terms of colour, because I was always making rather large paintings and to make a print that approached the size of a 6 by 6 foot (1.8 by 1.8 metres) painting or whatever seemed to be very huge.
Initially when I started painting back in 1960, '61, I was trying to do a new kind of artwork where I tried to make a mysterious painting by painting fragments, very realistic fragments of realistic things, and the last one would be so huge that you couldn't quite identify it, although it seemed real or whatever, so I've tried to make a mysterious painting by the viewer identifying the pieces in the painting at a rate of speed. All I wanted to do was mysterious paintings.
Q: The Water Planet series and related works House of Fire and Space Dust were made in the late 1980s and early 1990s. What were the issues you were concerned with when you were making these works?
James Rosenquist: Well, first of all it's called Welcome to the Water Planet and I've always thought of aliens visiting us and wondering who we are or what we are and what do we do, so there really was a pun or a joke because Welcome to the Water Planet, what you see is what you get, or what you expect is pretty much what it is.
So ecologically our country has been going on a disastrous path towards oblivion with our government and just a handful of people recognise the ecology of our world, the oceans and so forth, and so these art works called Welcome to the Water Planet were comments on this delicacy of our ecology.
Q: What message do these works have for us today one or two decades later?
James Rosenquist: Well, unfortunately it's the same old story, that our government policies continue to sort of kill the ecology of the world.
Q: Any other thoughts?
James Rosenquist: Well, it was a great deal of work and fun to work with Ken Tyler and now his shop is no longer available. I believe he's raising thoroughbred cattle. Also in my life, outdoor pictorial sign painting no longer exists. That was a thing that happened once and I was very fortunate to be able to experience that. My goal in that was I wanted to learn how to paint the Sistine Chapel. Now, I could learn the mechanics, I don't have the content but I could paint practically anything huge if I had the idea. That's about it.
Note: Beverly Coe asked questions on Kinsman's behalf.