Burial Ceremonies
Hollow Log or Bone Coffin Mortuary Ceremony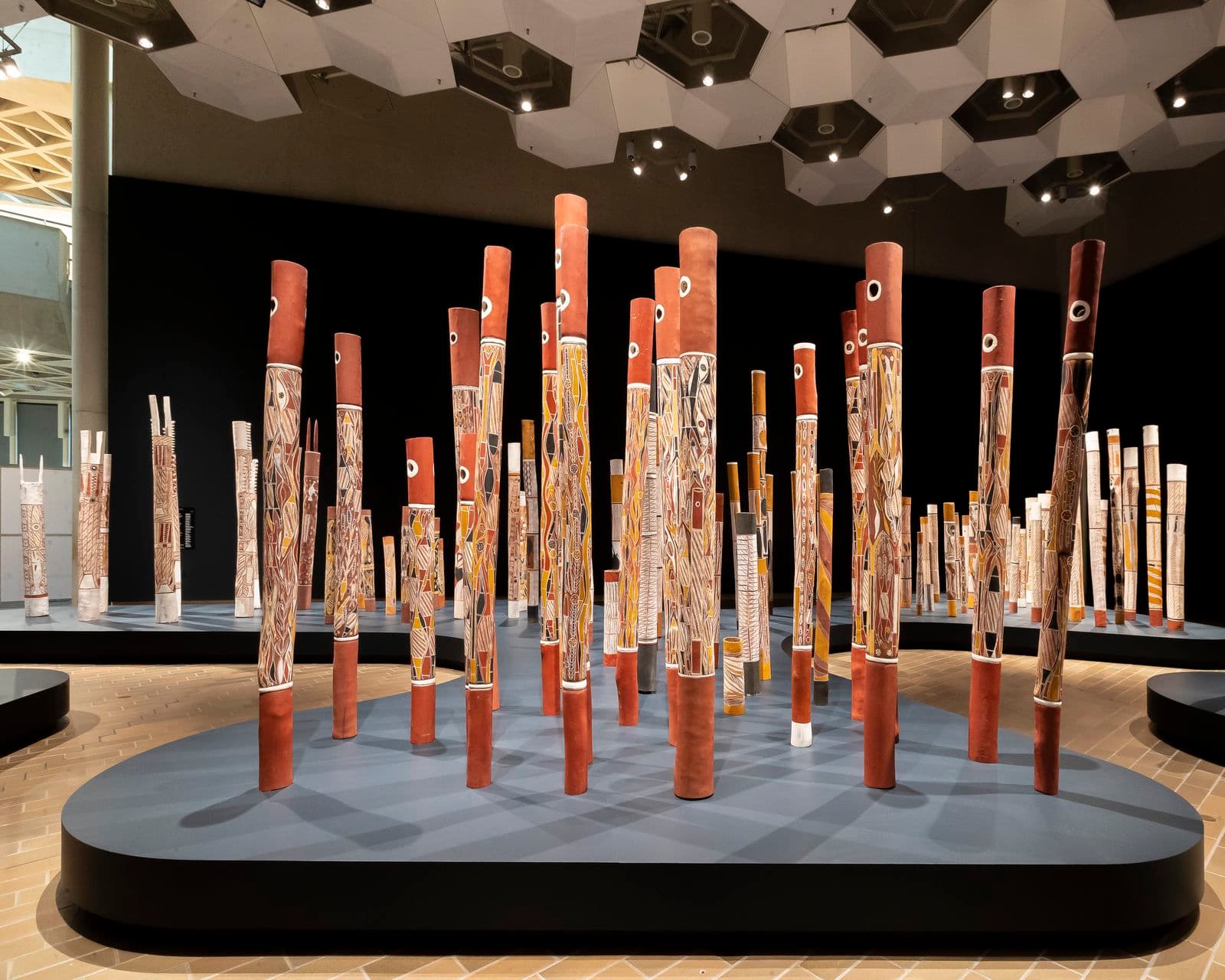 The Aboriginal Memorial installation is inspired by the hollow log or bone coffin mortuary ceremony of Central Arnhem Land. Most commonly known as the Dupun ceremony, it is also known, according to language, as Lorrkon, Djalumbu, Badurru, Mudukundja, Mululu and Larajeje. Though similar to Indigenous burial practices in other parts of Australia, the hollow log ceremony is unique to Arnhem Land. The purpose of the ceremony is to ensure the safe arrival of the spirit of the deceased on its perilous journey from the earth to the land of the dead.
Burial practices of indigenous Australians in other parts of Australia include the Pukumani ritual of the Tiwi people and ceremonies using burial platforms and carved trees.
Traditionally, when a person in Arnhem Land dies the body is ritually painted with relevant totemic designs, sung over and mourned. It is then taken to the deceased's clan land, and is either buried or placed on a platform in a tree and left to decompose. The bones are recovered later (this can be months or even years later) and a hollow log ceremony is performed.
A tree trunk, naturally hollowed out by termites, is cut down, cleaned and, in a ceremonial camp, is painted with the clan's totemic designs. The bones of the deceased are painted with red ochre and, during special dances, placed inside the log. The larger bones and skull are broken before being inserted. The coffin is danced into the main camp, placed upright and the final songs and dances performed. It is then left to the elements, and the burial cycle is complete.
At no time did the log coffins in the Memorial contain bones, nor were they used in a mortuary ceremony. Like other sculptures by indigenous Australians, shown in galleries, they were made as works of art for public display.