National Gallery celebrates women artists for International Women's Day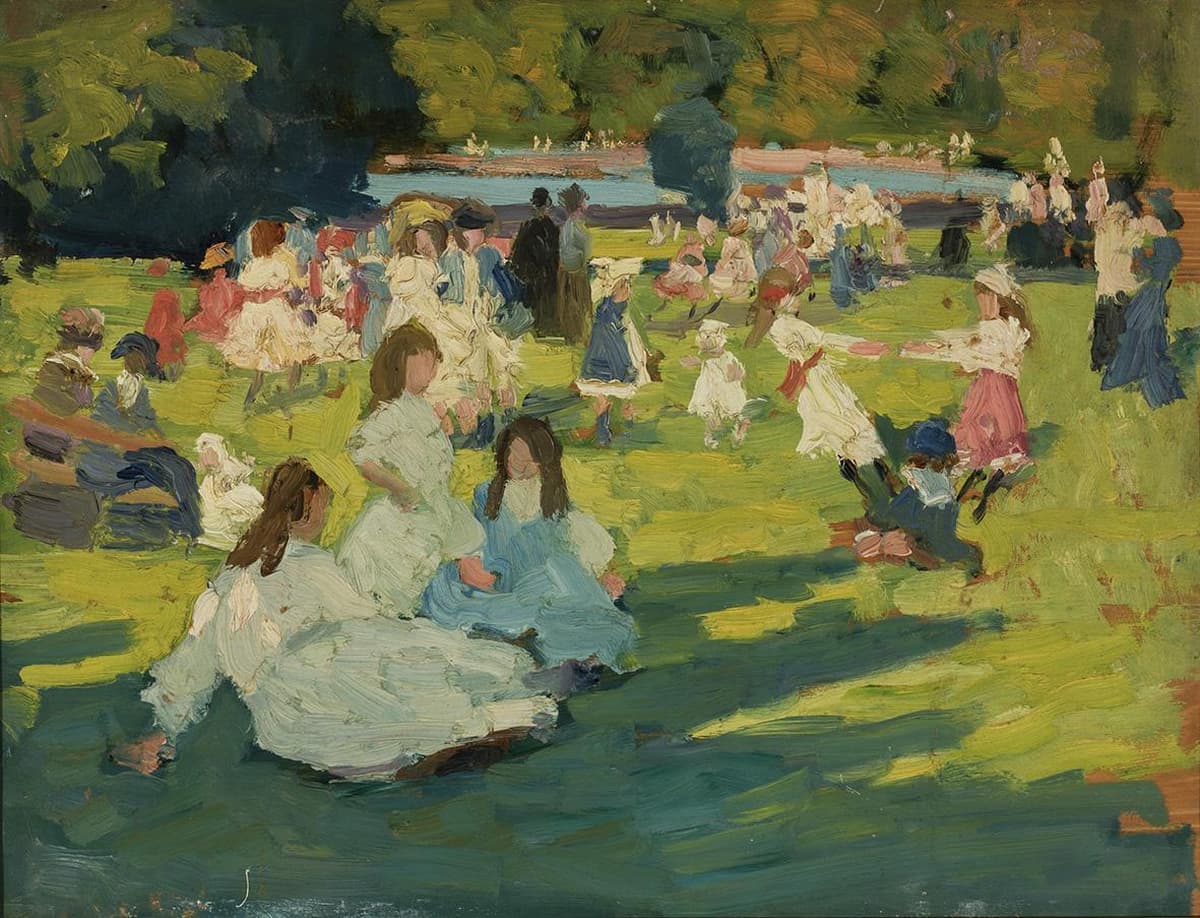 International Women's Day is being celebrated at the National Gallery with the acquisition of three remarkable works by women artists, the achievement of gender equity commitments in 2022 and an Australian award for Excellence in Women's Leadership (ACT).
Henry Dalrymple Head Curator, Australian Art, Dr Deborah Hart said the newly acquired three paintings – Ethel Carrick, Esquisse en Australie [Sketch in Australia] 1908, Bessie Davidson, Tulips with white pot c 1935, and Alison Rehfisch, Lemon and grey 1933 – reflect the Gallery's commitment to acquiring exceptional works by women artists and amplifying their role in Australian art history.
'The acquisition of these extraordinary works is part of the move towards addressing the under-representation of women in the national collection,' Hart said.
'Ethel Carrick was one of the most significant female artists working in the early twentieth century. Our new acquisition, Esquisse en Australie, 1908, is a key work in her career that is also one of the first Post-Impressionist paintings by a woman artist painted in Australia that will help us retell the stories of art in this country.
'Australian artist Bessie Davidson's painting Tulips with white pot was created in her Parisian studio in the mid-1930s and is one of her most resolved and accomplished works. While Davidson is represented in a number of public gallery collections, like many artists who spent much of their career overseas, she is often overshadowed by artists working locally.
'The delicate balance of pattern, colour and tone, enforces Lemon and grey as one of Alison Rehfisch's great achievements as a painter. Significant works by underrepresented Australian women artists, such as Rehfisch, continue to be sought in light of the Gallery's Gender Equity Action Plan.'
GENDER EQUITY COMMITMENTS
Launched on International Women's Day last year, the National Gallery's Gender Equity Action Plan is proud to announce it has met its gender equity commitments over the past 12 months.
In 2022, women artists were represented at the National Gallery in:
55% of the total works acquired;
64% of the works in Special Exhibitions; and
44% of the works in Touring Exhibitions
The Gallery's 2023 artistic program also reinforces our commitment to gender equity with on-site and touring exhibitions by leading women artists:
Emily Kame Kngwarreye – an extensive survey of Anmatyerre artist Emily Kame Kngwarreye's work will bring together the most important works of the artist's oeuvre;
Changing From From to From – a presentation of recent works by leading Seoul and Berlin-based artist Haegue Yang;
Nan Goldin – an exhibition of the American photographer Nan Goldin's most renowned series, The Ballad of Sexual Dependency;
Clarice Beckett – A collection of intimate works by Clarice Beckett, one of the most original Australian artists of early twentieth century; and
Know My Name: Australian Women Artists – The national tour of the Gallery's comprehensive presentation of art by women begins at Mornington Peninsula (VIC) this November.
AUSTRALIAN AWARDS FOR EXCELLENCE IN WOMEN'S LEADERSHIP
National Gallery Assistant Director Natasha Bullock was this month announced as the ACT recipient of the Australian Awards for Excellence in Women's Leadership for her advocacy work and the creation of the Gallery's Gender Equity Action Plan.
Bullock, Assistant Director, Collections and Exhibitions, led the National Gallery's Know My Name initiative, a national program of exhibitions, commissions, education programs, partnerships and creative collaborations that celebrate the diversity and creativity of Australian women artists.
'It is an honour to be recognised for this award and within a legacy of so many outstanding women leaders' Bullock said.
'Having worked extensively as a curator with artists and their ideas, I appreciate the power of images to make and share meaning. Art reflects humanity, helping to create a sense of our collective and individual selves and for that reason we and the following generations need to see more art by women on the walls of galleries, in the pages of books and in our collections. This values and celebrates the contributions of all genders equally.'
CEO of Women & Leadership Australia Karen Taylor said 'Traditionally and shamefully, women and First Nations people have been missing from spaces that celebrate art and culture. Ms Bullock's work not only includes the creations of women and First Nations people, but actively highlights them. Her dedication to boosting inclusion is an example to all of us in inclusive, diverse leadership, and we are honoured to recognise Ms Bullock's leadership and advocacy in this way.'
Read the full Gender Equity Action Plan here.
About the Gender Equity Action Plan
The National Gallery's inaugural Gender Equity Action Plan was developed over 18 months, in consultation with artists, staff, community, government and the visual arts sector. It was approved by National Gallery Council in October 2021 and was officially launched on International Women's Day 2022.
The Gallery's Gender Equity Action Plan commits to:
Accelerate gender equity in collections, programming, learning, content, marketing, and communications – onsite, online and on tour.
Advocate for sector wide collaboration to achieve gender equity and empowerment of all in the visual arts.
Strengthen organisational culture by fostering an equitable, diverse, and inclusive professional environment for all staff, stakeholders and audiences while addressing bias, intersectionality, and gender awareness.
Empower participation ensuring all genders are empowered and have access to, and equal opportunities in, leadership and professional development.
Amplify data for equity by employing data to inform strategic and operational gender equity objectives.
About The Australian Awards for Excellence in Women's Leadership
Nominated by members of the public, the annual Australian Awards for Excellence in Women's Leadership highlights the successes of Australian women leaders across various industries and their achievements. The Awards are an initiative of Women & Leadership Australia, one of the largest gender equity initiatives in Australia and globally, having directly supported more than 60,000 women through professional development programs, events and advocacy. Women & Leadership Australia forms part of global education provider, Navitas.
MEDIA ENQUIRIES
Kirsty Noffke
Communications Manager
P +61 2 6240 6756 M +61 401 090 089 E kirsty.noffke@nga.gov.au