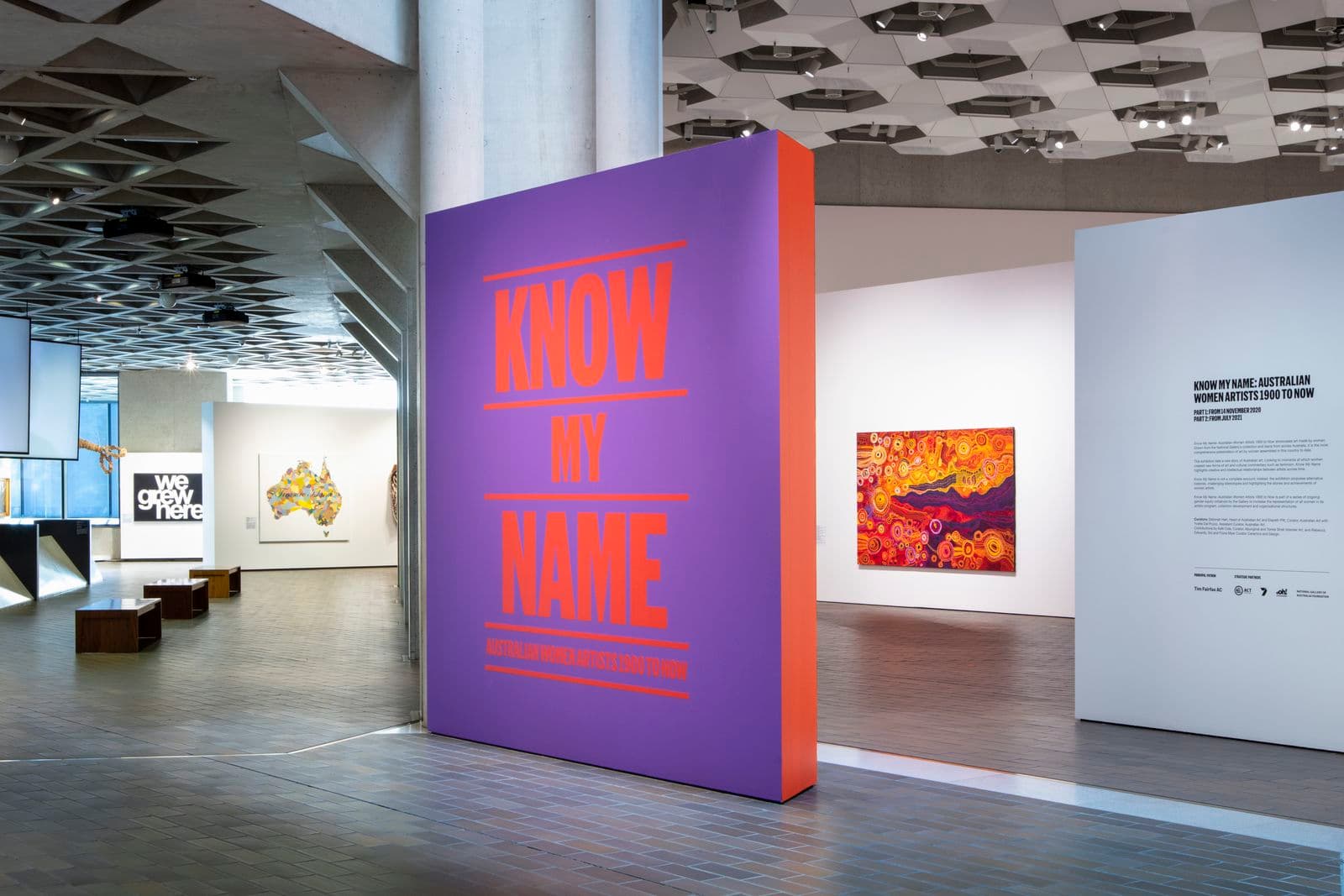 Australian/British artist and Senior Lecturer, DR KATE MCMILLAN examines why the National Gallery's Gender Equity Action Plan is necessary.
I was late in coming to Drusilla Modjeska's biography Stravinsky's lunch (1999), which chronicles the lives of two Australian artists, Stella Bowen (1893–1947) and Grace Cossington Smith (1892–1984). In fact, it was almost 15 years after the book was written, when I moved to London from Perth, Western Australia, that I encountered it for the first time. Stravinsky's lunch — whose title is inspired by the composer's insistence that his family eat in silence in order not to disrupt his thinking — maps the career trajectories of two very different artists: Bowen, who moved to Europe, living largely in the shadow of several 'great' men, including the novelist and poet Ford Madox Ford (1873–1939); and Cossington Smith, who didn't marry and barely strayed from where she grew up on the outskirts of Sydney. Cossington Smith is an important modernist in Australian art history, but not elsewhere, and Bowen was overlooked in both Europe and Australia. In the depths of my first London winter, it brought sharp awareness to the layers of invisibility women artists face; these early experiences of marginalisation are solid preparation for the inevitable, often silent, struggles they will experience over a lifetime. Despite the intersecting challenges that shape each of our lives, being a woman is almost always the first barrier.
Of the 70% of women who now make up art school graduates each year in most OECD countries, some were presumably drawn to study visual arts under the false pretence that the field is characterised by meritocracy and egalitarianism.1 In my 2020 report 'Representation of Women Artists in Britain', commissioned annually by the Freelands Foundation, 15% of lots in the Sotheby's London Contemporary Art Evening sales were by women, 11% were by black and brown men and there were no works by black or brown women artists.2 The data is clear that the visual arts are steeped in patriarchal and Eurocentric traditions, and that the art object as a form of investment is one of the single biggest barriers to change. As Frances Morris, Director of Tate Modern, noted in an interview with me in 2019:3
'One of the reasons that the art world moves very slowly in making those shifts is that a lot of money is tied up and invested in works of art, so try and tell anybody that Jackson Pollock is less important than Lee Krasner … It's money, you're talking about money in relation to the history of art … The market has invested very, very heavily in the products of male practices and North American and European practices.'
As is made clear in The Countess Report — an online resource on gender equality in the contemporary art sector — the Australian landscape is different.4 In the last published data from 2019, almost 53% of the artists represented in Australian commercial galleries were women. While this does not reflect the number of women graduating from Australian art schools (71.57%), it is at least representative of the population. Ambitious initiatives such as the Gender Equity Action Plan (GEAP) at the National Gallery of Australia highlight the enormous task of embedding systemic change. The quotas set out in the report — 40% women, 40% men, 20% gender diverse — are also achievable, given that 35% of artists in the collection are women.5 By comparison, at the National Gallery in London, home to 2632 artworks, just 1.1% are by women. It is difficult to adequately express what it feels like to walk through a national institution and not see your labour represented, and then imagine the enormity of the task required to rectify that reality.
As a naive art student in Australia in the 1990s, however, it seemed to me that gender discrimination was a thing of the past. Inside the Visible, an exhibition of 30 female artists curated by Catherine de Zegher at the Institute of Contemporary Art Boston in 1996, which toured to the Art Gallery of Western Australia in Perth the following year, filled an important gap for those of us who had barely seen ourselves on the walls of a gallery, except as a muse. At the time, I still believed that tenacity and hard work counted for more than it did.
The absence of women's histories and the effect that being a woman has had on my career as an artist has grown clearer over time. When I relocated to London, I was told by one museum director that it was unlikely any public institution would look at my work without the support of a commercial gallery. This was an enormous shock. But it made me think carefully about ecologies in global art centres.
'If commercial galleries were co‑funding public programs and publishing substantial histories of art, who was and wasn't being included?'
In 2016, Lisson Gallery — which has two spaces in London, three in New York, one in Shanghai, and forthcoming galleries in Beijing and Los Angeles — posted an image on its Instagram feed titled 'Just some of our artists'. The backdrop was the gallery's inaugural New York exhibition featuring the work of the Cuban‑born American artist Carmen Herrera (1915–2022). In addition to Herrera, the picture frame was filled with 17 male artists, most of them white. New York art critic Jerry Saltz reposted the image, calling it a 'sausage party'. It was quickly removed by Saltz, and he insisted to me via a private message that his post 'was a bit harsh — there were many female artists at Lisson'. In fact, at the time, only 10 of the gallery's 51 artists were women.
Over subsequent months, I got lost down a deep rabbit hole, compiling the gender data of more than 100 commercial galleries in London to see whether Lisson was an anomaly. Of the 111 commercial galleries I surveyed, only 28.9% of the thousands of artists they collectively represented were women; only 20 galleries showed 50% or more female artists. When I checked again in 2019, only 31.2% of the artists were women, and only 25 of the galleries represented more than 50% female artists. Over a period of four years, that equated to an improvement of less than 2%, even at the height of the #metoo movement.6
I shared the 2016 data on social media, and it quickly attracted attention, leading to numerous public talks in the UK and North America, followed by a request to be the annual author for the Freelands Foundation 'Representation of Women Artists in Britain'. Since 2015, this report has mapped data across the career span of an artist, beginning with gender statistics on art and design courses at secondary school, through to auction‑house sales. It now includes markers for ethnicity and class to evidence how these factors intersect. It makes for grim reading. The numbers are proof of our lived experience.
The data shows that some things have changed dramatically, such as the number of women enrolling in art schools. Yet, despite the fact it is now acceptable for all women to pursue a career in the arts — not just the (mostly white, wealthy) women who often enrolled on creative courses as a sort of finishing school in the late nineteenth and early twentieth centuries — there is a persistent belief that women's attitudes to developing a career lack seriousness. In a series of interviews I undertook with commercial gallery directors in 2019 for the Freelands Foundation report, some expressed a nervousness of taking on women who may just, as one anonymous respondent put it, 'move to the countryside and have babies'.
What I now know is that, even when progress looks promising, it is not inevitable. In 2021, the Global Gender Gap Index noted that Australia had slipped 11 places to number 50 since 2019, and that gender parity globally would not be reached for 135 years at current rates of change.7
'What I now know is that, even when progress looks promising, it is not inevitable. In 2021, the Global Gender Gap Index noted that Australia had slipped 11 places to number 50 since 2019, and that gender parity globally would not be reached for 135 years at current rates of change.'
This slipping is seen in the art world, too: in 2020 45% of solo presentations at Frieze London were by women artists, an increase of 11% from the previous year's art fair, but only a 3% increase from 2016 when 42% of solo presentations were by women artists. In 2017 it went down to just 20%. So, what are the experiences that we minimise, dismiss and try to move on from? Younger women find themselves exploited and sexualised, and often their gender intersects with a lack of class privilege, which plagues the visual arts, particularly as the income divide increases.8 In art school, they've likely found themselves overlooked by senior (generally male) staff. In a sea of women students, their male peers seem to stand out. Consequently, unlike the male art students, women may have less confidence when networking or putting themselves forward for opportunities.
Women overwhelmingly still do the lion's share of child raising and care giving, something which increases during the perfect storm of parenting teenagers and supporting aging relatives while also going through the menopause.9 This unequally distributed and invisible labour is almost always justified by society because women earn less than their male partners.10 If they are in same‑sex partnerships, then the family income is doubly impaired by the 13.8% gender pay gap, even if domestic labour is more equitably shared.11 For trans women and non‑binary people, there is evidence that discrimination and its impact on all aspects of life is far worse.12 For the small number of women artists who have survived these obstacles, managing to retain their practice, the last decades of their life might, as Carmen Herrera found, reap some rewards.
Within this dismal landscape, what is to be done? What works, and who is doing it? A heartening example was Cecilia Alemani's exhibition for the 2022 Venice Biennale, The Milk of Dreams, 90% of which was work by women or non‑binary artists — a heady mix of contemporary and historic artists, some of whose work had, for too long, been lost in the archives. And yet, there was no explicit statement about quotas — Alemani simply selected the art she thought was the best.
Morris insists on gender quotas at Tate Modern. According to her, not to do so implies that, of the 70% or more women graduating from art schools, most are not good enough, and that the 30% of male graduates are exceptional and should be disproportionately collected and exhibited. Changes to the gender balance in temporary exhibition practices such as this are crucial, as we begin to imagine what a world that represents women's creativity might look like. The two iterations of Know My Name: Australian Women Artists 1900 to Now, held at the National Gallery between 2020 and 2022, confronted this head on, featuring 282 artists who identify as women.
Yet, so much of what needs changing for artists is less visible. Initiatives such as raising the age cap on prizes, enabling childcare costs to be written into grant applications, making childcare tax deductible, and ensuring opportunities such as residencies are family‑friendly will chip away at many of these obstacles. Hettie Judah's forthcoming book, How not to exclude artist mothers (and other parents), will explore these issues in depth. For artworkers trying to instigate change within slow‑moving institutional ships, often with old collections, it is not easy to reshape decades, and even centuries, of cultural misogyny.
As Natasha Bullock, Chair of the GEAP working group at the National Gallery, noted to me: 'Changing representation in collections and exhibitions is easier than shifting systemic inequality.' This is why the National Gallery GEAP 2021–26 addresses deep biases. Its key principles are to 'improve the representation of women across all collecting areas and programs, and to prioritise projects that add new perspectives to art, particularly in relation to First Nations peoples, women and LGBTQI+ people'. Importantly, as the leading institution in Australia, the goal is to encourage other institutions to sign up to these principles. It is part of a suite of initiatives — including a Reconciliation Action Plan, a Disability and Inclusion Action Plan and a Sustainability Action Plan — which act as living documents that lay the foundation for systemic change.
'It is crucial that the struggles faced each day by women who choose to be artists are recognised as part of broader societal struggles.'
Improvements in the representation of women working in and collected by our cultural organisations should be seen as a wider battle against structural bias. Progress is not inevitable. We must remain vigilant.
This story was first published in The Annual 2022.
For global data on gender inequality, including participation in art and design education see the Unesco report by B Conor (2021) 'Gender & creativity: progress on the precipice'
'Representation of women artists in Britain', reports, 2015–,
From a series of interviews I undertook in 2019, which form an academic research paper currently under peer review.
The National Gallery of Australia 'Gender Equality Action Plan (GEAP) 2021–2026',
A forthcoming article will explore this data in more detail, including statistics collected from 2022.
For the full; Global gender gap report 2021'.
Carlos Gradín, Murray Leibbrandt, and Finn Tarp (eds), Inequality in the developing world, Oxford, 2021; online edn, Oxford Academic, 22 Apr 2021,
There has been substantial research on unpaid and invisible labour, largely undertaken by women. See, for example, Anna Zachorowska‑Mazurkiewicz
(2016), 'Gender, unpaid labour'
Angela McRobbie, Be creative: making a living in the new culture industries, Polity Press, Cambridge, 2016.
For further details on the gender pay gap in Australia.
See, for example, Ingrid Bretherton, Emily Thrower, Sav Zwickl, Alex Wong, Daria Chetcuti, Mathis Grossmann, Jeffrey D Zajac, and Ada S Cheung, 'The health and well being of transgender Australians: a national community survey', LGBT Health, vol 8, no 1, pp 42–49.