L'Estampe Moderne
(The Modern Print)
Exhibition
1 Jun 1983—
14 Aug 1983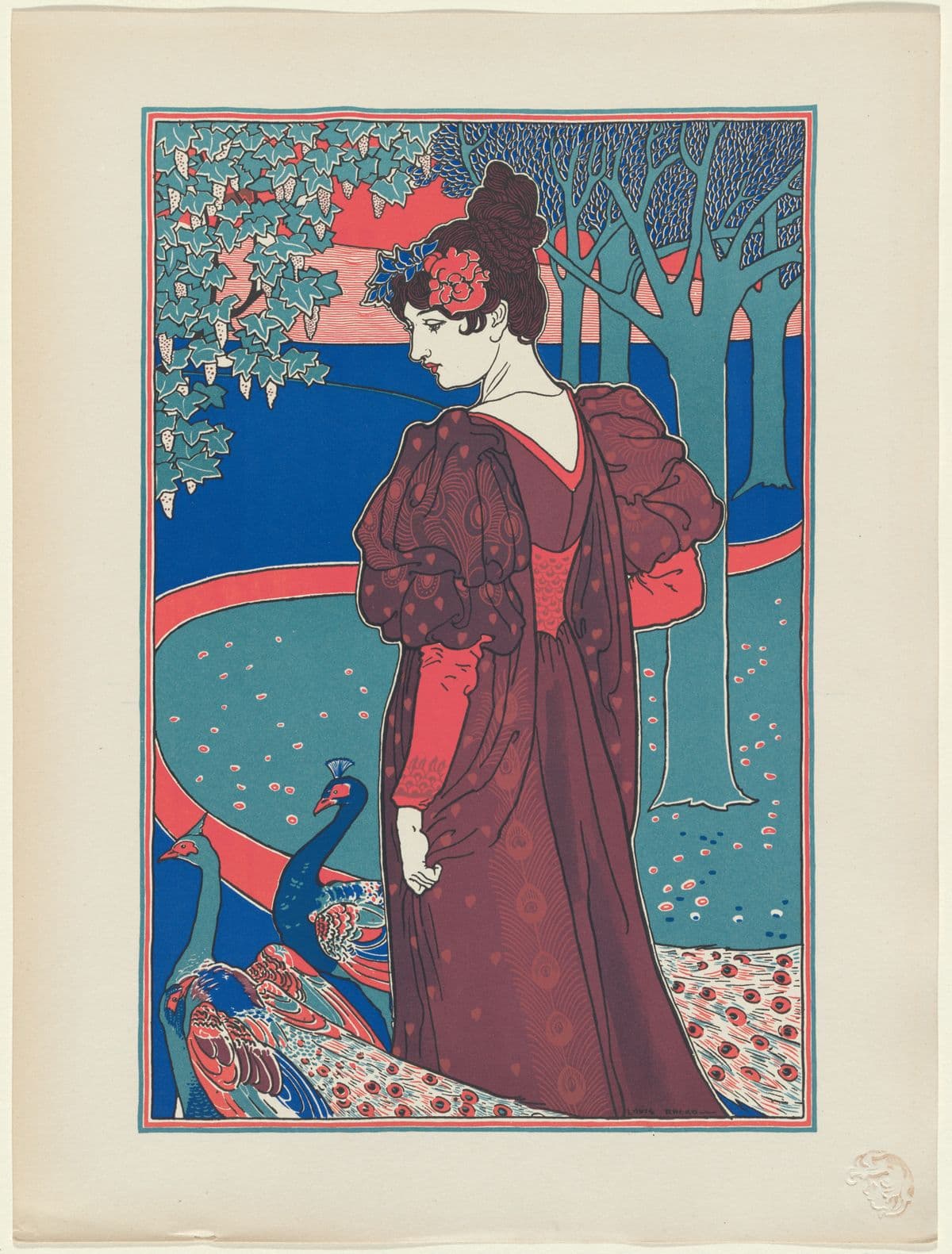 Essay
In 1973 the Gallery purchased Felix Man's collection of more than 2,600 artists' lithographs. Among several hundred books, albums and portfolios which accompanied the prints was a complete run of L'Estampe Moderne (The Modern Print), a popular print portfolio published in Paris in the late 1890s, miraculously preserved in its original monthly parts. Shown here in its entirety for the first time in Australia, L'Estampe Moderne offers a fascinating reflection of various facets of late nineteenth century middle class taste.
L'Estampe Moderne was published in twenty-four parts from May 1897 to April 1899. Four prints were issued each month; every six months a free print was offered. The majority of prints published were colour lithographs.
In Paris during the 1890s there was tremendous public interest in prints and posters, especially colour lithographs by painters. In 1898 the influential critic André Mellerio called colour lithography the 'distinctive artistic form of our time'. Radical young French artists used colour lithography as a creative medium. In the ten year period prior to Toulouse-Lautrec's death in 1901 at least twenty-three dealers, printers or journals in Paris were issuing prints by contemporary artists.
Most publications came out in editions of one or two hundred and their distribution was restricted to wealthy connoisseurs. L'Estampe Moderne was different; through an edition of 2,000 it aimed to reach 'the great public' and to popularise art through prints. Self-consciously 'democratic', the prints in L'Estampe Moderne cost subscribers less than one franc each. This was about one fifth of the price of those issued in other contemporary portfolios. However, since a manual worker at that time probably earned only 2.25 francs for a ten hour day, the prints in L'Estampe Moderne would still have been beyond his reach.
The intention of the editors of L'Estampe Moderne was to popularise art through prints. This was symptomatic of the view then generally held in advanced artistic circles in France that public taste was in need of urgent reform. The decline of artistic quality in manufactured products was attributed to the accelerated industrialisation of France which was taking place in the second half of the nineteenth century. Machines made available to the public for the first time a plethora of shoddy mass-produced goods. The artist Paul Gauguin wrote 'where machines have come, art has fled'
Following the success of colour posters designed by Jules Chéret in the eighties, which had been called the 'frescoes of the poor', critics felt the solution lay in manufacturing inexpensive decorative and practical objects designed by artists for the home. Colour prints and posters were considered ideal for improving the taste of people who could not afford to buy paintings.
One hundred prints were published in L'Estampe Moderne during its two year run. Some of the less imaginative subjects, such as those by Calbet and Donnay showing stiffly drawn and tightly conceived figures, belong within the mediocre conventions of the day. Others, more interesting, represent the realism established after Courbet's one man exhibition in 1855. The defeat of France in the Franco-Prussian War of 1870 and the consequent loss of Alsace-Lorraine intensified French nationalism providing the impetus for 'realist' artists to record traditional aspects of French life.
Many of the artists represented in L'Estampe Moderne were retreating from the materialistic world of late nineteenth century industrialised France. A leading critic, Alphonse Germain, wrote in 1892 in his book Pour le Beau (Forward Beauty) that:
Artists can feel nothing but disgust for politics ... disgust for profiteers, for warmongers and for colonialists ...
Escaping from the urban materialism of cities in the mid 1880s, certain artists, including Paul Gauguin and Emile Bernard, went to Pont-Aven in Brittany to paint. Artists continued to go there in the 1890s, romanticising the remote rural society they found. Bernard wrote that in Brittany he found himself 'more and more a man of the Middle Ages'. The rural pursuits of the inhabitants, their picturesque historical costumes, the medieval churches in which they worshipped and in some cases their simple piety all attracted artists. They were regarded as outward signs of social archaism. Artists represented in L'Estampe Moderne like Balluriau, Wéry and Borgex made the pilgrimage.
Several of the artists in L'Estampe Moderne are categorised as Symbolists. Artists of this tendency preferred to contemplate what they termed the 'inner reality' of the imagination and the subconscious rather than a contemporary industrialised society which they found increasingly hostile.
French poets grouped around Stéphane Mallarmé (1842-98) provided the ideological background and source material for Symbolist artists. Mallarmé's philosophies on the nature of poetry had wide circulation and were applied to the visual arts and to music. Mallarmé told a reporter in 1891:
To name an object is to suppress three-quarters of the enjoyment which is created by the gradual pleasure of apprehending it. To suggest it, that is the dream ...
The French Romantic writers Charles Baudelaire (1821—67) and Gustave Flaubert (1821—80) were very important influences. Baudelaire's 'theory of correspondences' in which sensations were regarded as interchangeable well suited the Symbolists' intuitive approach to experience. Baudelaire wrote in his poem Correspondances published in 1857:
Some perfumes are, like children innocent,
As sweet as oboes, green as meadow sward,
—And others, complex, rich and jubilant ...
Baudelaire inspired artists to probe the imagination in search of subjects. One of them wrote in 1886:
We carry the analysis of self to the extreme, we let the multiplicity and intertwining of rhythm harmonise with the measure of the Idea ...
Symbolist tendencies in art included literary and historical subjects, an intense longing for the past, exoticism, eroticism, an interest in mysticism and religion, and the obsessive use of symbols such as hair, swans, peacocks, lilies, and irises. Hair was a feminine symbol, triggering the contradictory responses of many late nineteenth century artists to the idea of woman—as madonna and whore. In his disquieting lithograph 'The Enigma' Bellery-Desfontaines explores this theme. Swans brought recollections of Wagner's Lohengrin and of the canals of Bruges, a Gothic Belgian city, the 'capital' of Symbolism.
Alphonse Mucha's graphic art was identified by his contemporaries as the embodiment of the French Art Nouveau style which reached its apogee with the massive Universal Exhibition held in Paris in 1900. His work includes a number of the characteristic tendencies of Symbolism combined with those of Art Nouveau—the presence of the 'femme fatale', arabesques of trailing hair, exotic costume, theatricality. Mucha was perhaps the best known and most popular artist working for L'Estampe Moderne.
The influence of Japanese colour prints of the Ukiyo-e school is still notable in L'Estampe Moderne. In 1856 the artist and collector Félix Bracquemond discovered an album of woodblock prints after drawings by Hokusai at the shop of the intaglio printer Delâtre. They had been used as wrapping on export porcelain from Japan. Following Japanese models artists made their compositions asymmetrical, worked with bold flattened forms and adopted both their elevated horizon and very low viewpoint. New ranges of colours, in startling combinations transformed the appearance of European paintings and prints. By the late 1890s when L'Estampe Moderne was published, Japanese ideas had been thoroughly assimilated into French art.
There was considerable controversy in the 1890s over the definition of an 'original' print. Purists claimed that only subjects conceived as prints and, in the case of lithographs, committed to a stone or zinc plate by the artist could be described as 'original'. For some critics, subjects derived from existing paintings or drawings were not 'original'. Nor was the use of any photo-mechanical process or hand-colouring by anyone other than the artist.
An earlier publication in the nineties called L'Estampe Originale (The Original Print) had been extremely successful and the publishers of L'Estampe Moderne made the claim that their prints too were all 'original'. In fact, in a number of cases, this was not so. A process called collotype was used to reproduce existing drawings and paintings by a few contributors, and other recently developed photo-mechanical processes such as line block and half tone were also employed—the latter a pioneering use of the technique.
Although contemporary critics do not seem to have noticed these departures from strict originality, there was criticism of the portfolio. Mellerio, who favoured avant-garde printmakers of the period such as Toulouse-Lautrec and Bonnard, considered L'Estampe Moderne 'banal' because it did not represent avant-garde tendencies, but rather middle class taste. His criticism probably also stemmed from a distaste for the inexpensive machine made papers on which the subjects were printed and the tendency of some of the prints to resemble commercial chromolithographs. These had been produced earlier in the century to satisty a demand for colourful sentimental prints. Although their quality could be high there was also a flood of cheap, garishly coloured prints and novelties including postcards, calendars and souvenirs which were much criticised for their vulgarity. By the nineties the word 'chromolithograph', which simply means colour litograph, had become a term of abuse.
Although the greatest avant-garde painters of the 1890s, such as Toulouse-Lautrec, Vuillard and Bonnard did not contribute to L'Estampe Moderne, it contained prints by Mucha, de Feure, Grasset and Aman-Jean. L'Estampe Moderne appears to have been financially successful. When announcing the appearance of the final number the editors claimed that they had intended to publish for only one year but had been persuaded to continue for a second. Today we are less likely to be concerned about process and 'originality' in printmaking than were the connoisseurs of the 1890s, and we are able to appreciate the variety of prints in L'Estampe Moderne on their own terms.
Select Bibliography
Chipp, Herschel B. Theories of Modern Art Berkeley 1968. Chapter two 'Symbolism and other subjective tendencies'.
Goldwater, Robert. Symbolism. London 1979.
Jullian, Philippe. The Symbolists. London 1973.
Milner, John. Symbolists and Decadents, London 1971.
New Jersey. Rutgers University Art Gallery. The colour revolution. Colour lithography in France 1890—1900 by Phillip Denis Cate and Sinclair Hamilton Hitchings. 1978.