Albert Namatjira
Painting Country
Exhibition
15 Jul 2017—
2 Apr 2018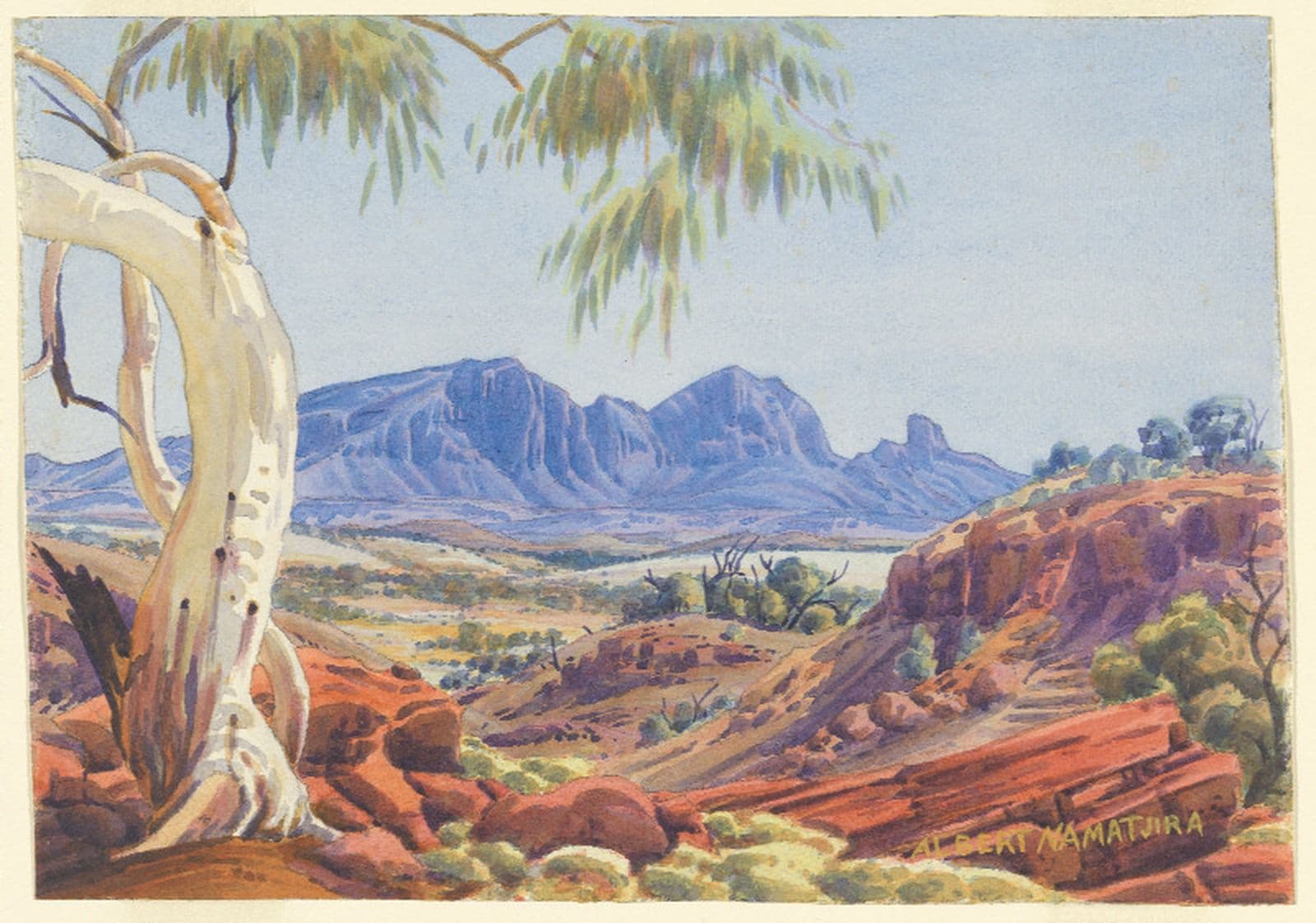 About
---
This display celebrated the donation of Gordon and Marilyn Darling's collection of watercolours by the critically acclaimed Western Arrarnta artist, Albert Namatjira. It also featured works by the Hermannsburg artists who continue his legacy.
One of the oldest waterways in the world, the Finke River begins its 600-kilometre journey amid a stand of ti-tree and eucalypts at Ormiston Gorge in Central Australia and continues as a string of waterholes that stretch towards the edge of the Simpson Desert. The riverbed carves its way through the MacDonnell Ranges at Glen Helen, curves around the whitewashed buildings of the Lutheran mission at Hermannsburg (Ntaria), before heading south through the sandstone gullies of Palm Valley. This is the traditional Country of Western Arrarnta artist Albert Namatjira, who translated the ancient beauty of this desert landscape through his tin box of watercolour paints.
As an Indigenous artist and traditional custodian, Namatjira was aware of the physical presence of ancestral beings embodied in the towering ghost gums and geological forms of the surrounding mountains and gorges. It is this numinous quality that entranced Gordon and Marilyn Darling who, over the last 30 years, formed an extraordinary collection of watercolours by Namatjira. Since 2008, they have generously gifted over 55 paintings to the National Gallery of Australia and supported the research and future acquisition of works on paper. The Darlings' legacy is celebrated in this display of watercolours by Albert Namatjira, while the adjoining Gordon and Marilyn Darling Gallery of Hermannsburg Painting highlights how his artistic heritage continues through his descendants and those he inspired.
Framed within a rectangular format and articulated in Renaissance perspective, the watercolours of Albert Namatjira can be positioned firmly within the Western landscape tradition. However, Namatjira did not simply render the Central Australian landscape through a European gaze. The pastoral ideal sought to define the Australian landscape in European terms, removing the presence of Aboriginal people and culture in a visual act of dispossession. As an Indigenous artist, Namatjira was able to subvert and question the possessive function of the landscape genre. These images were not an example of assimilation, they were a display of reclamation. This is definitively Namatjira's land, represented in two visual languages at their point of intersection and difference.