Vivienne Westwood
34 Years in Fashion
Exhibition
12 Nov 2004—
30 Jan 2005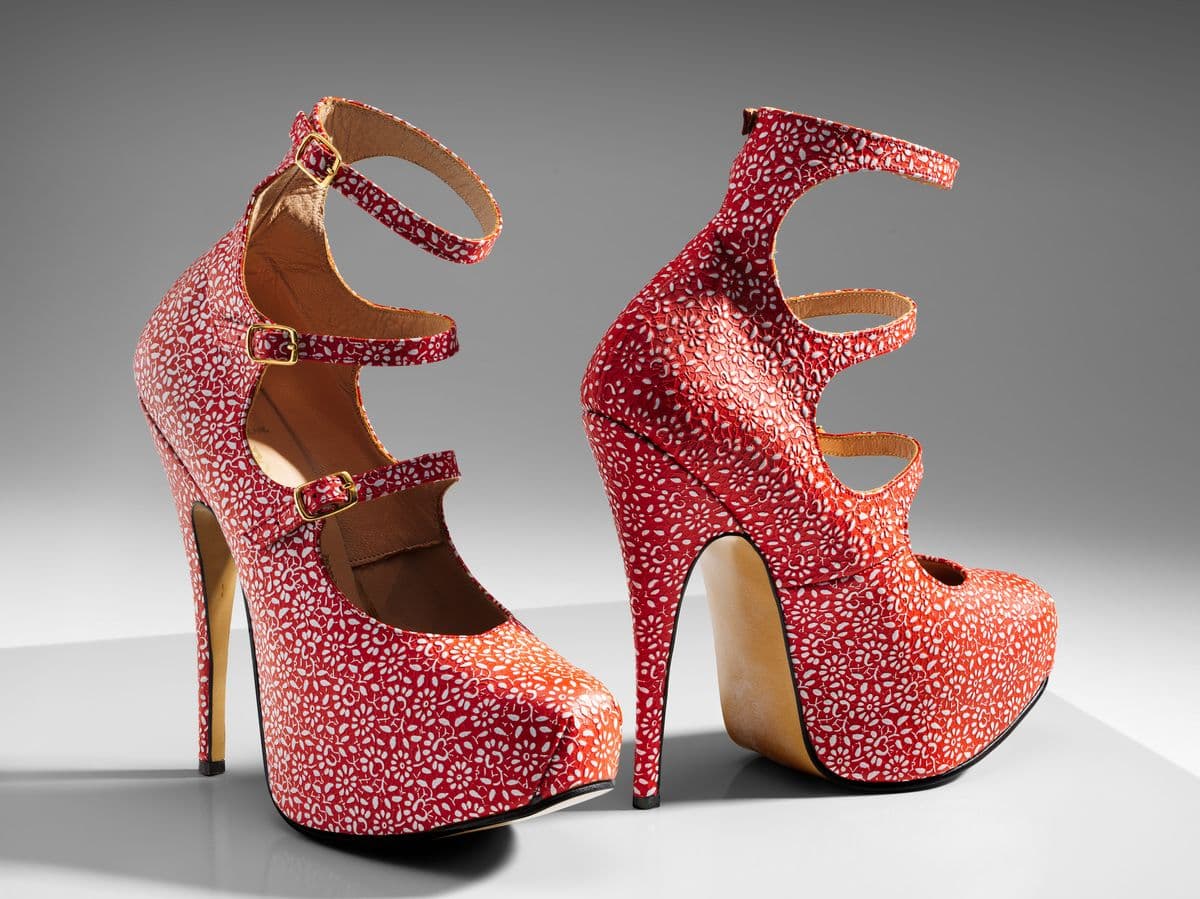 About
---
Vivienne Westwood is one of Britain's best known and most admired fashion designers. She has made a major contribution to international fashion for over three decades and was awarded British Designer of the Year in 1990 and 1991. In 1992 she was honoured with the Order of the British Empire for her outstanding contribution to fashion.
She is respected throughout the industry and fashion world as a highly influential designer, and continues to show her couture and ready to wear collections bi-annually in Paris.
This exhibition will present a highly accessible and visual exploration of the culture of fashion from the 1970s onwards through one designer's vision. It will reflect the dynamism of Westwood's contribution to fashion, from the early punk years to the historicism of her more recent work.
Key exhibits will include examples of punk clothing worn by members of the group Sex Pistols in the 1970s; examples from the revolutionary 'mini-crini' and 'Pirate' collections of the 1980s; the infamous shoes in which Naomi Campbell toppled over on the catwalk in 1993; a sumptuous ballgown worn by Linda Evangelista; major recent pieces worn by Sarah Jessica Parker as style icon Carrie in the television series Sex and the City, garments worn by the artist Tracey Emin and a dress worn by Cameron Diaz at the 59th annual Golden Globe awards in January 2002.
Exhibition organised by the Victoria and Albert Museum, London
Robert Bell Essay
Vivienne Westwood, the major retrospective exhibition of the work of the celebrated British fashion designer, Vivienne Westwood, will be staged by the National Gallery of Australia in November 2004, following its inaugural showing at London's Victoria and Albert Museum, the organiser of the exhibition which was curated by Claire Wilcox. In includes garments, ensembles and accessories from the V&A's collections and Vivienne Westwood's own extensive archive of her work, produced from the late 1960s to the present. Westwood is one of Britain's best known and most admired fashion designers and her work has been an important influence on international fashion for over three decades. She was awarded British Designer of the Year in 1990 and 1991, and in 1992 was honoured with the Order of the British Empire for her outstanding contribution to fashion.
Westwood's first commercial ventures into clothes were with Malcolm McLaren, with whom she set up a clothes shop, Let it Rock, in London's Kings Road in 1971. Recreating the mood and detail of early 1950s Teddy-boy and Rocker clothes, Westwood began to look to the past for inspiration for clothing that would reflect the present. With later name changes to Too Fast To Live, Too Young To Die (1972), SEX (1974), Seditionaries (1976) and, finally, World's End (1979), Westwood's and McLaren's shop became the epicentre for Punk, their slashed t-shirts, rubber clothes, anarchic imagery and bondage details giving visual form to the movement, while McLaren's group, the Sex Pistols provided the anarchic soundtrack. Later borrowings from the worlds of pornography, sado-masochism and fetishism layered more stylistic influences into the amalgam of their work.
With the inevitable decline of the Punk movement's power to shock and the absorption of its anti-Establishment imagery into mainstream fashion, Westwood began to direct her interest in the politics and theatricality of dress to the examination of the very idea of Englishness and the forces it has exerted on conventions of dress and sexual politics over the past two hundred years. Ready access to the Victoria and Albert Museum's National Art Library and its great collections of dress and costume allowed her to explore historical costume and, from it, to develop a completely new range of clothes that would form her first catwalk collection in 1981. The Pirate collection drew inspiration from historical men's clothing and became the look for the emergent New Romantics, while providing Westwood with a vastly expanded repertoire of styles of cutting and tailoring, construction, fabric design and manufacture, pattern, colour and texture.
Westwood's subsequent collections, Savage (Spring/Summer 1982), Buffalo (Autumn/Winter 1982–83) and Punkature (Spring/Summer 1984), along with the opening of a second shop, Nostalgia of Mud, in 1982 explored the cultures of the Third World that were becoming a visible part of life in multicultural Britain. These collections combined 'primitivist' imagery with informal cutting and textile structure, distressed fabrics, folk art patterns and accessories and bizarre juxtapositions of under- and outerwear, corsets and brassières. It brought Westwood's work into an alignment with the sculptural asymmetry and conscious aesthetic impoverishment of the work of the then emergent Japanese designers such as Rei Kawakubo and Yohji Yamamoto. However, her satirical orientation and willingness to draw from, and exploit, diverse cultural imagery, differentiates her work from the austerity of that of her Japanese contemporaries.  
The corset emerged from this period as a key element in Westwood's language of forms, along with other historical body-shaping devices such as the crinoline, the bustle and the elevated shoe. Working in Italy from 1984 to 1986, she developed the crinoline idea as the Mini-Crini, abbreviating it as a provocative new shape in total contrast to the exaggerated shoulders and narrow hips of the prevailing style of 'power dressing'. Drawing also from the conventions of men's tailoring and using indigenous British fabrics such as Harris Tweed and a variety of Scottish tartans, Westwood presented a completely new silhouette and wearer 'attitude', recalling the way that Christian Dior's celebrated 1947 New Look had reinvented the shape of the postwar woman. Indeed, Westwood acknowledges Dior's continuing influence on her work in her recurrent series of strictly-tailored and elaborately-cut suits and evening gowns that revisit the formal glamour of mid-twentieth century Hollywood film star outfits.
Her Time Machine collection (Autumn/Winter 1998–99) fused Dior's French elegance with British aristocratic dress conventions, Westwood stating that "I am never more happy than when I parody the British in the context of a classical perspective".[1] Her later Anglomania collection (Autumn-Winter 1993/4) explored this theme in more depth with mini-kilts, complex outfits and grand gowns in a dazzling variety of specially-created tartans and tweeds combined in theatrical Scottish themes. This can be seen in the most important work in the National Gallery of Australia's collection of Westwood outfits: the celebrated tartan Wedding ensemble designed for her Anglomania collection.
Westwood's dialogue with the past intensified in her work from the mid-1980s, reaching back to the Tudor period in her Cut and Slash men's and women's collections (Spring/Summer 1991), with their machine-slashed and frayed denim, silk and knitted wool layers revealing unexpected colour and pattern when worn. In the Portrait collection (Autumn/Winter 1990–1), her most opulent to date, Westwood drew inspiration from the Wallace Collection of eighteenth century French paintings and decorative arts assembled in the nineteenth century. Her deconstructed and pared-back interpretations of dress styles as diverse as the coquettish sack-back dresses depicted in Watteau's paintings of the 1720s or Boucher's shepherdesses' corsets bring the dress codes of the Enlightenment into the new light of contemporary manners and attitudes.
Inspired by the seventeenth century French essayist, La Rochefoucault, she revisited this theme in her Spring/Summer 1996 collection, Les Femmes ne Connaissent pas toute leur Coquetterie ('Women do not understand the full extent of their coquettishness') with body extensions such as padded busts and hips and metal cage bustles creating an exaggerated hourglass silhouette that took some of her designs close to the realm of the unwearable. Others however, such as the sumptuous, strapless sack-back Watteauevening dress of tumbling green and lilac silk taffeta (famously modelled by Linda Evangelista), brought these exaggerations together in an unmistakably contemporary statement. A later collection, Café Society (Spring/Summer 1994), again explored the limits of clothing form in a homage to the corseted, S-shaped silhouettes of the English-born Charles Worth and son, Jean-Philippe Worth, couturiers working in late nineteenth century Paris, whose extravagant designs defined the belle époque.
Claire Wilcox notes 'In Westwood's clothes, sexuality is determined by sensation. …[her] intention is arousal, both physical and mental, and to instill the wearer with the confidence that clothes bring not only private and public pleasure but also an increased awareness through dressing up.'[2] In her interpretations of historical dress, Westwood has continued to emphasise the idea of constriction as a way to define the body and its movement and to direct posture. From her early bondage trousers, corsets and bodices to her highly structured tailoring and more recent, looser and deconstructed cutting, she draws attention to the figure through exaggeration and distortion of the body shape. A confident wearer of her clothes will find that with these techniques, Westwood has found a way to theatricalise arousal and eroticise power, while celebrating skill and the craft and history of materials. To place such contemporary pleasures in the context of history and cultural interchange with wit and panache continues to be Vivienne Westwood's unique contribution to fashion and design.
Robert Bell
Senior Curator Decorative Arts and Design

This essay was first published in The World of Antiques and Art, August 2004- February 2005, pg 14- 16.
[1] David Bernardi 'Vivienne Westwood' Flash Art (Jan/Feb 1992) p.161.
[2] Claire Wilcox 'Vivienne Westwood: 34 years in fashion' Vivienne Westwood, London: V & A Publications 2004 p.30.
Claire Wilcox Essay
'You have a much better life if you wear impressive clothes'
Surveying the life and career of Vivienne Westwood is, as Westwood herself has described it, like trying to get a ship into a bottle, for her story is an extraordinary one. She was a central figure in the London Punk movement in the mid 1970s and has gone from being a subversive shop owner to a pillar of the British fashion establishment. As an independent female in a highly competitive industry she has survived without compromising her ideals. Her vision has at times been at odds with the rest of the fashion world, yet her work has often been prescient. She has provoked outrage, amusement and ultimately respect. Her overriding gift to fashion is a conviction that clothing can change the way people think. She once said: 'I think that the real link that connects all my clothes is this idea of the heroic'. As a self-taught designer, Westwood has brought an utterly original slant to fashion, and been responsible for many fashion ideas that are now taken for granted. Although her clothes are often revolutionary, she has embraced traditional British fabrics and materials, and made them her own. While her work in the 1980s, post Punk, was wildly eclectic, the dominant theme of the 1990s was historicism. Westwood is ambitious for her craft. She has great faith in fashion as personal propaganda, as mental and physical stimulation, saying 'clothes can give you a better life'.
Vivienne Westwood was born in Derbyshire in 1941. Her family moved to London when she was a teenager and in 1965 she met art student Malcolm McLaren. Their working relationship lasted from 1970 until 1983, and memorably launched Punk. Fashion became for Westwood 'a baby I picked up and never put down'. Between 1971 and 1981 the couple ran a shop at 430 Kings Road in London which became the centre of the emerging Punk movement.
The absorption of this outrageous and provocative cultural phenomenon by the mainstream and a growing disillusionment with working on the fringes led Westwood and McLaren to reassess their position. McLaren became increasingly involved in music although he continued to contribute ideas for their collections. Westwood recalled: 'I didn't know what to do ... Malcolm said "look at history"'. She began to research in the National Art Library in the Victoria & Albert Museum, London and found patterns for 18th-century men's clothing. These formed the basis for the billowing shirt and exaggerated trousers of the colourful, romantic 1981 Pirate collection, their first to be shown on the catwalk. The Pirate collection entered the bloodstream of mainstream fashion immediately. It also came to the attention of the Victoria & Albert Museum curators who acquired the Museum's first outfit from World's End (the many times re-named outlet at 430 Kings Road).
In 1982 Women's Wear Daily described London as 'a teeming fashion market-place buzzing with ideas. They bounce off the streets and out of the prodigious art colleges'. That year Westwood and McLaren launched their second collection, Savage (Spring/Summer 1982), which featured geometric American Indian patterns. Although the balance of Westwood and McLaren's creative partnership was changing, Vivienne still consulted Malcolm. She said at the time: 'He edits my work, sorts out my story, unscrambles my programming and gives me an avenue of approach'. The third collection, Buffalo (Autumn/Winter 1982–83, also called Nostalgia of Mud, featured sheepskin jackets and big swirling skirts. Westwood exhorted her fans to 'Take your mother's old brassiere and wear it undisguised over your school jumper and have a muddy face'. Like many of her fashion ideas, the bra worn on the outside was soon picked up by other fashion designers. Westwood was now on the Paris fashion circuit and Buffalo was followed by Punkature (Spring/Summer 1983), a futuristic interpretation of Punk. It introduced the tube skirt, one of Westwood's most successful and commercial designs.
For the next collection, Witches (Autumn/Winter 1983–84), Westwood incorporated art work by New York graffiti artist Keith Haring whose work she described as 'a magical, esoteric sign language'. Witches was the first catwalk show to feature trainers, customised with three tongues. With a rap music soundtrack and strobe lighting, Westwood described the freeze-frame effect of the Witches show as 'like sequences of things, where people are dislocated somehow at the same time that they're moving'.
In 1984 Westwood moved briefly to Italy with her new business partner, Carlo D'Amario (today Managing Director of her company) and most of her 'ready-to-wear' is still produced there today. She designed Hypnos (Spring/Summer 1984) which featured sleek garments made out of synthetic sports fabric in fluorescent pinks and greens, anticipating later trends in sportswear. The Hypnos collection was selected to be shown in Tokyo at Hanae Mori's Best of Five global fashion awards. By the mid 1980s, Westwood's self-taught tailoring skills converged with her increasing interest in British traditional clothing in the humorous Mini-Crini and Harris Tweed collections (Spring/Summer 1985, Autumn/Winter 1987–88) The crini was a short, full skirt with plastic boning, inspired by the 19th-century crinoline and also by a ballet performance which Westwood had seen. She said: 'Even if you're on a crowded tube, it always springs back after being squashed'. For summer, it was made in printed cotton with polka dots and stripes and teamed with cotton twin sets by the long-established British company John Smedley. The winter version was in bright red Harris Tweed, hand-woven in the Western Isles of Scotland. It was worn with a matching jacket with velvet collar, inspired by the traditional double-breasted children's coat. Westwood said 'I'm not really trying to be English — you can't avoid it, it's what you've absorbed. I do have fun knowing that I am doing it. I very much enjoy parody and this English sort of lifestyle ... and I really am in love with the fabrics'. She has continued to draw international attention to British fabrics, including tartan, throughout her career and was awarded the Queen's Award for Export Achievement in 1998. The Harris Tweed collection also launched the corset, which Karl Lagerfeld described as one of the most important fashion ideas of the 20th century.
The next five collections were later known as Britain Must Go Pagan. Westwood explored a diversity of influences, from Sevres porcelain to pornographic Greek scenes. The clothing reflected the inherent contradiction in Westwood's work between respect for tradition and culture and a love of parody and sexual liberty. She paired classical drapery with Prince of Wales check, Fair Isle sweaters with computer-game patterns, and designed articulated jackets and corsets with removable sleeves, inspired by medieval armour. Precise 'Miss Marple' suits (after Agatha Christie) in thorn-proof Harris Tweed received a fillip with saucy tulle flounces. She teamed Savile Row-style jackets with nude tights with a fig leaf, creating something that shocked even herself: 'When I first did the fig leaf, in 1989, I just kept screaming. It was porno and so hilariously mad. Then I got used to it, and I think it looks so elegant and ironic'. The style was inspired by the short jackets and flesh-coloured pantaloons of neo-classical menswear. Westwood famously wore this outrageous ensemble to lend support for a strike over the loss of museum staff outside London's Natural History Museum in 1990. Her message was that culture must be saved.
In the 1990s Westwood gained increasing respect for her work internationally. In October 1991 and 1993 she was named British Designer of the Year and was awarded the OBE by HM the Queen. Westwood began to attract society clients and even came to the attention of Margaret Thatcher who said 'I'm so glad she's British'. The most characteristic aspect of Westwood's work in the 1990s is its historicism. Her revelation is that fashion is profoundly enriched by renewal and reinvention, and she believes this to be a radical departure. She once said: 'I am a great believer in copying; there has never been an age in which people have so little respect for the past'. In Portrait (Autumn/Winter 1990–91) Westwood created one of her richest and most elaborate collections at a time when minimalism was becoming prevalent. Her intention was to suggest that her models had just stepped out of a painting. She used rococo designs derived from 18th-century furniture printed in gold ink on to stretch black velvet and photographic prints of Boucher's paintings on shawls and corsets. Later, her love of painting was expressed in creations that emulated the very quality of the artist's technique, for example in her Gainsborough blouse, its edges gently frayed to suggest fine brushwork, and in sumptuous ball gowns styled in the spirit of Winterhalter. The Victoria & Albert Museum's important collection of 17th-century slashed costume inspired a dynamic collection of hand- and machine-slashed shirts, jeans and even knitwear, while another collection featured jackets in costly woven silk based on 18th-century 'Spitalfield' waistcoats. Westwood's fascination with English and Scottish traditions — as sources of inspiration and subjects for parody — was celebrated in Anglomania (Autumn/Winter 1993–94) with mini-kilt tartan ensembles. The Locharron Textile Mill in Scotland created a special tartan for Westwood called the 'McAndreas'', after Westwood's second husband and co-designer, Andreas Kronthaler. It was in this collection that Naomi Campbell, wearing a royal blue velvet jacket, tartan kilt, tam-o'-shanter and slippery cream rubber stockings, fell from her 10-inch, super-elevated, blue 'mock croc' platforms. These were subsequently acquired by the Victoria & Albert Museum.
The 1990s also saw an increased confidence in tailoring. Westwood studied the work of the French couturier Christian Dior (1905–1957) carefully, saying 'It's beautiful how Dior adapts the masculine look so wonderfully to the feminine body'. Her interest in exaggerating the figure was taken to the extreme in collections such as Erotic Zones (Spring/Summer 1995) with its padded busts and metal cage bustles. This silhouette was soon accentuated with upward-sloping shoulders (in a take on power dressing) and exceptionally high concealed platform shoes. This super-feminine look proved particularly challenging to sell, although the press loved it. Westwood saw such outrageously feminine ensembles as empowering, saying 'It's very confrontational somehow. It's for someone who's a very strong character'.
In her 21st-century collections, Westwood has, for the time being, put historicism aside. Her most recent collections such as Le Flou Taillé (Autumn/Winter 2003–04) and Exhibition (Autumn/Winter 2004) embrace the essential paradox between constriction and freedom through dynamic cut. The work evokes the 'ethnic' cutting which she first explored in the early 1980s, based on squares, rectangles and triangular gussets. The addition of semi-circles and curved seams, inspired by the organic silhouette of animal skins, give fullness to the fabric while skilful, dynamic folding creates air pockets in the fabric. In a recent conversation with the author Westwood held two edges of a sheet of A4 paper together, but not quite aligned, demonstrating how this immediately gave a twisting dynamic to the inert paper, as if she was trying to find another dimension. Westwood said, 'Art must be anchored in technique; this means the manipulation of materials — in my case my materials are essentially the human and cloth. It is my job to make the cloth give expression to the body of a human being. One must constantly judge and manage the detail in terms of the general effect one is trying to create so that the form is the idea: a beautiful form is a beautiful idea — this is design'.
Although Westwood says of Punk, 'I'm proud to have been part of it. It was heroic at the time', she has long since moved on. Her distinctive voice has introduced a startling and highly influential new vocabulary to fashion, characterised by a utopian vision of its potential: 'I would describe it really as a nostalgia for the future'. If you are lucky you may see her cycling past, next time you are in south London, with her wire-haired fox terrier, Alexandria, in the basket. Westwood has never taken the easy route in her life, and has achieved greatness through great effort. She said 'I always try to go a different way home. It's a kind of curiosity, not to want to do the same thing — Why do we have to do it this way? I'm going to try it that way'.
Claire Wilcox is curator of the exhibition Vivienne Westwood, first shown at the Victoria & Albert Museum, London 1 April – 13 July 2004.
She is Senior Curator of Modern Fashion at the Victoria & Albert Museum and author of the publication Vivienne Westwood, London: Thames and Hudson, 2004.
Exhibition organised by the Victoria & Albert Museum, London.