Giving: An interview with Ray Wilson OAM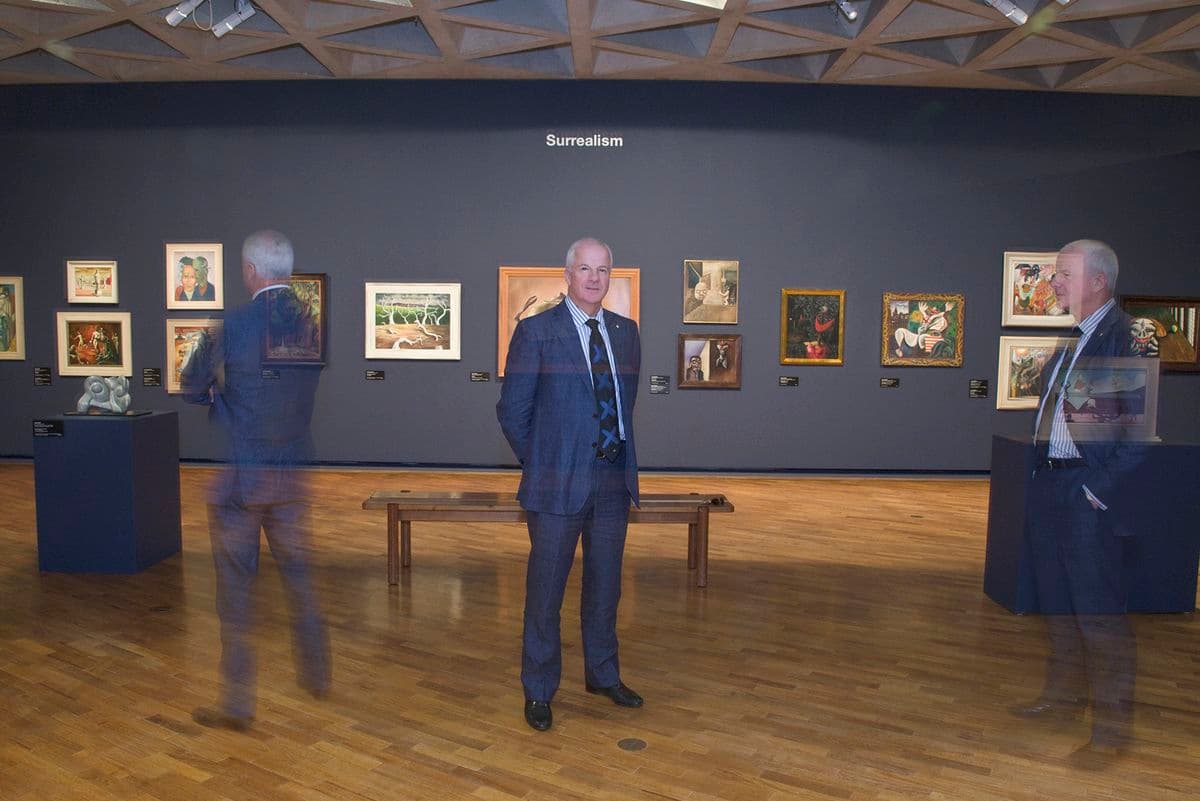 For some, the love of art runs so deep it becomes a life-long pursuit. This love can spark the kind of generosity and support that can inspire others and can enable cultural institutions to go further and do more. Here, we interview Ray Wilson – a man who has devoted his time to organisations, such as the National Gallery, that have, in his words, 'enriched our lives'.
Ray Wilson is a committed arts patron based in Sydney. Ray has been an enthusiastic supporter of the National Gallery's for many years and, notably, became a Visionary Benefactor when he enabled the National Gallery's acquisition of the world's finest and most extensive collection of Australian Surrealist art.
Inspired by the National Gallery's Surrealism: revolution by night exhibition in 1993, Ray and his partner James Agapitos OAM, dedicated over 14 years to studiously and thoughtfully building this major and important collection.
Following James' sad passing in 2007, Ray felt it was time these works belonged in the national collection and facilitated the acquisition. This was in large part a significant donation, with an acquisition price that was a third the value of the collection. It would not otherwise have been possible for these works to be made available to all Australians.
Amongst numerous governing and patronage roles, Ray has been a Director of the National Gallery's Foundation Board since 2011 and is a member of the National Gallery's Bequest Circle.
Please tell us what inspires you to continue your engagement with Australia's National Gallery as a member of its fundraising board?
I was very flattered to have been invited to join the Board all those years ago by former Director Ron Radford, Chairman Rupert Myer and NGA Foundation Chair John Hindmarsh.
It has been wonderful to meet and be associated with such a diverse, interesting and committed group of people.
Learning about the inner workings of the Gallery has been fascinating and the Board's support of the Publishing Fund a tangible way of supporting the Gallery.
Then, of course there is the rewards of seeing the acquisitions the Foundation has been able to fund as well as all the other parts of the Gallery's operations.
Amongst the many acquisitions and programs you have supported, you are a generous donor to our Know My Name initiative. Please tell us what motivated you to be part of this important collective of donors.
Historically James Agapitos (my late partner) and I had actively collected women artists in each of the three collections we assembled, beginning in the mid 1970's.
Often their work was more inspiring than their male contemporaries, but we did find it difficult to find more works for the Surrealist collection.
Perhaps the Surrealist principles didn't appeal to many women? We only managed to find works by six women artists being, Dora Chapman, Joy Hester, Inge King, Pixie O'Harris, Freda Robertshaw and Vera Rudner.
My favourites being Joy Hester's 'Fun Fair' and Inge King's 'Animal Shapes in Space'.
But, my current Indigenous collection is very well represented by women artists.
I think the historical practice of institutional collections to concentrate on male artists has to be addressed and Know My Name is an excellent start and I think the exhibition and publication will be a great wake-up.
What is your favourite work of art in the National Gallery's collection, and what does this work mean to you?
I have to say James Gleeson's 'The Attitude of Lightning towards a Lady-Mountain' has to be my favourite. We bought it at auction and through it we met James Gleeson and became good friends.
This painting was the beginning of our Surrealist collection which gained us recognition in the art world as serious collectors and curators.
I still enjoy the rewards of being able to assemble an important and totally unique collection and see it into the public domain.
The focus of this year's end of financial year giving campaign is Know My Name, a series of exhibitions and initiatives highlighting women artists that started this year and will continue into 2021 and beyond.
Know My Name embodies the National Gallery's determination to focus on gender equity across all areas of our operations, including acquisitions, collection displays and special exhibitions.
Ray has joined a collective of donors who have generously supported this campaign to date and proudly inspire others to join them.
Donations at all levels are welcome and bring us ever closer to realising our ambitions.