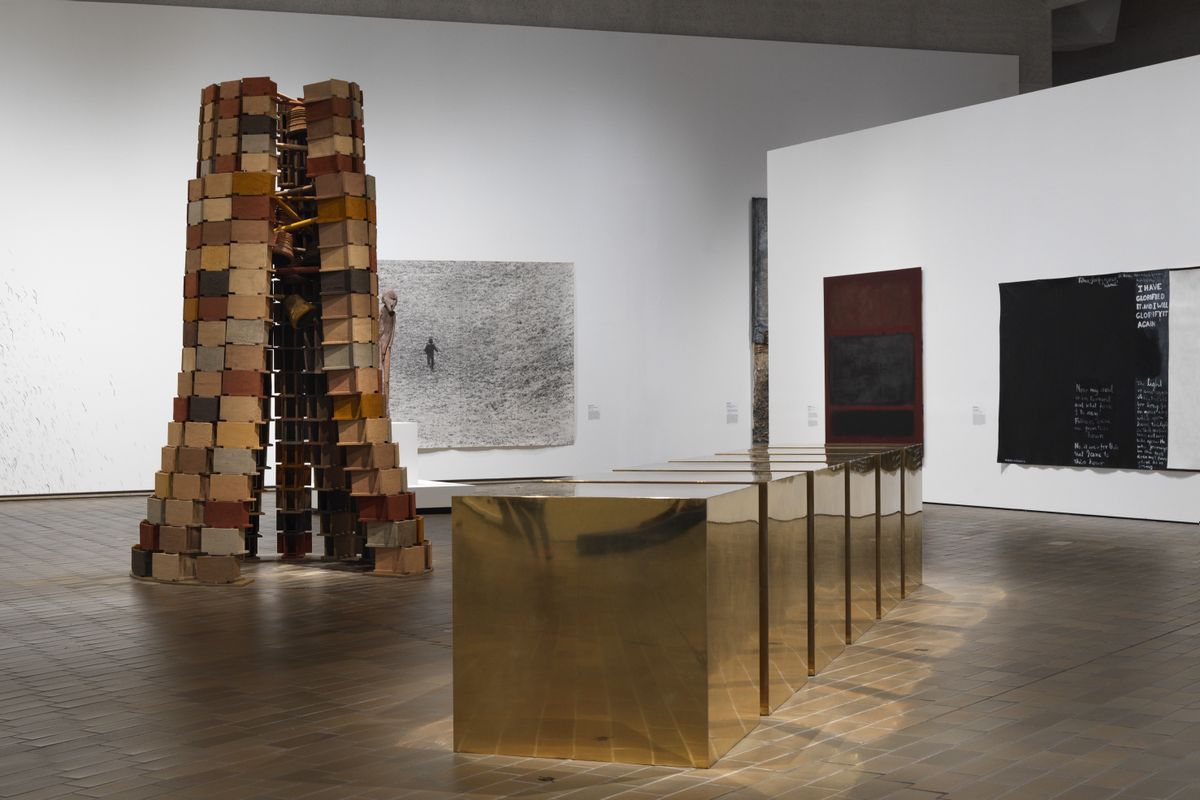 In celebration of the Gallery's 40th Anniversary, Russell Storer, Head Curator of International Art, shares his highlights from the major collection display Worldwide.
Mary Cassatt, The fitting 1890-91
Mary Cassatt was one of the few women who exhibited with the Impressionist artists during the late 19th century in Paris, and the only American. Her work is groundbreaking in that she took the subject of women and children in domestic environments and made it modern. She was able to create intimate vignettes of women's private daily lives – as in this work – that a male artist could not achieve. Inspired by Japanese woodblock prints, Cassatt emulated their style and tone, experimenting with different techniques and compositions to create highly refined images.
Hannah Höch, Imaginäre Brücke [Imaginary bridge] 1926
Hannah Höch was a pioneer of photomontage, in which she took images from magazines, cut them up and reassembled them to make biting critiques of German Weimar society and the media's representation of women. This work brings the methodology of collage to painting, with its mixture of surreal, disjointed motifs. It depicts Höch and her lover at the time, the artist and writer Raoul Haussman, in a spiky allegory of their turbulent relationship. The work is full of symbolism – Höch's mouth is replaced by a baby, showing how her unrequited desire for children created a block in their communication; and the fir trees represent her birthplace of Thuringia in central Germany.
Cindy Sherman, Untitled film still #50 1979
Arguably Cindy Sherman's most influential series, the Untitled film stills made the artist's name and opened up a new path for photography that rolled out through the 1980s. The works play on our deep immersion in the imagery of mass media and popular culture, with the artist playing roles in imaginary films that each look vaguely familiar, their names just on the tip of your tongue. Female self-representation, multiple and changeable identities, pastiche, irony, nostalgia: these were the driving themes of postmodernism, and no-one has ever presented them more succinctly or seductively.
David McDiarmid, Honey, have you got it? 1994
This is one of David McDiarmid's Rainbow Aphorisms – early computer-generated designs in lurid candy colours that in just a few words capture so much. Created at the height of the AIDS crisis – while McDiarmid was gravely ill himself – this work articulates how the gay community was both devastated and galvanised by the disease. It combines sardonic camp humour and pop references with outrageous bluntness and resilience in the face of tragedy. I first saw these works in the National Gallery's 1994 exhibition Don't Leave Me This Way: Art in the Age of AIDS, which had a profound effect on me, demonstrating what an art museum can do in terms of raising awareness and challenging prejudice.
Montien Boonma, Temple of the mind: Sala for the mind 1995
This installation marks a decisive moment, not only in Montien Boonma's work but also for art in Thailand. His work is deeply grounded in folk practices and Buddhist philosophy, as well as informed by the conceptual and Minimalist art that he encountered while studying in Europe – we can see in this work his interest in Donald Judd, with its structure of repeated stacked blocks. He broke out of the figurative conventions of modern painting and sculpture in Thailand and offered new possibilities by using everyday materials and abstracted forms, and involving audiences in the experience of the artwork. This relational dimension had a strong impact on younger Thai artists such as Rirkrit Tiravanija and Navin Rawanchaikul, who went on to influence artists around the world.
This story has been published as part of the National Gallery's 40th Anniversary. For more visit 40 Years.