Daniel Crooks: Structured light
Enlighten Festival
The Balnaves Contemporary Series
4–14 Mar 2022, 8–11pm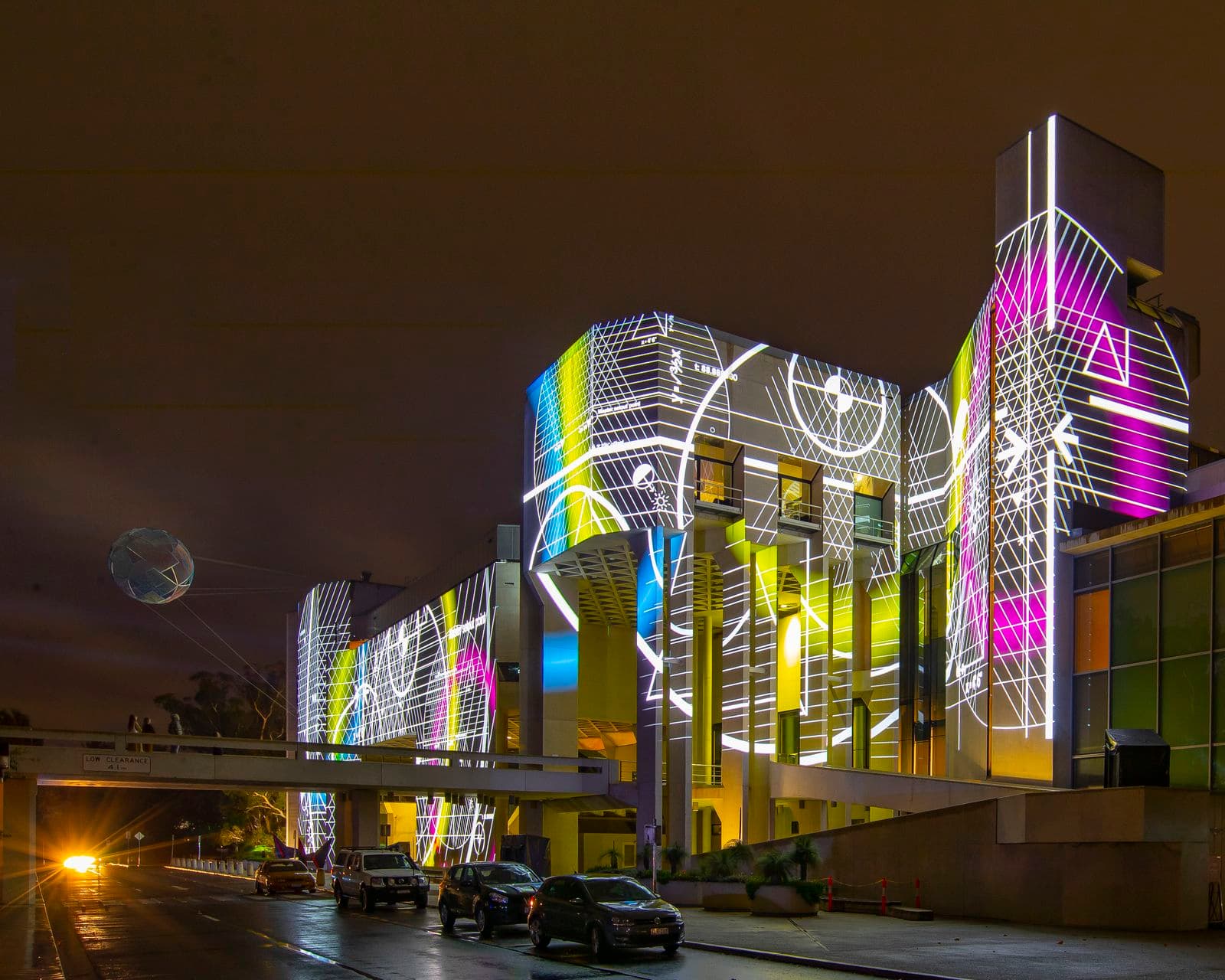 'One of the things I'm trying to do with my work is to offer another way of looking at the world.'
About
---
Naarm/Melbourne based artist Daniel Crooks has been commissioned to illuminate the National Gallery's façade for the 2022 Enlighten Festival.
Held in the Gallery's 40th anniversary year, Crooks' project celebrates the design of the original National Gallery building by Edwards, Madigan, Torzillo and Partners. Using the architects' geometric language as a point of departure, Crooks transforms the Gallery façade through visual manipulations spanning geometry, perspective, colour and light. A score by Byron Scullin responds to the building's brutalist architecture and sense of sacred geometry.
Daniel Crooks is part of The Balnaves Contemporary Series and is presented in partnership with Events ACT.
Curator: Elspeth Pitt, Senior Curator, Australian Art.
'I'm a geometry nerd from way back. As a kid I was obsessed with equilateral triangles and making pyramid structures and platonic solids. It was all deeply fascinating to me. When I came to the National Gallery to do a site visit, I wandered under the footbridge and found the plaque unveiled by [then Prime Minister] Gough Whitlam commemorating the start of construction of the building in 1973. Just above that is another plaque marking the master set-out point. It sits on an octahedron, a literal piece of the structural DNA of the building.

It's an intriguing yet forgotten object with a beautifully graphic line drawing that reminded me of the Pioneer Plaques that were sent into space by NASA in 1972, around the same time Col Madigan was finishing the design of the National Gallery. The Pioneer Plaques featured pictorial messages in case the probe was discovered by extra-terrestrials. I've always been fascinated by the idea of a universal language, and utopian ideas that are meant to speak for humankind.

I then delved into the Madigan archive in the National Gallery Research Library, and it became apparent how obsessed the architect was with an almost sacred geometry. He talks about unifying structure and natural harmony. I'm quite ambivalent about it, but at the same time I see it as an academic way of looking at a universal language, and I do place weight on the philosophy of mathematics.

I was inspired by Madigan's geometry and hand drawings and the very analogue nature of them. Architecture has become so digitalised, but back then it was very real; there's even correction fluid on his drawings. At that time I was also building my own drawing machine and writing a lot of code to do the drawing, so it felt right to focus on geometry and the line drawings themselves.

Brutalism is really having a moment and I love the brutalist sensibility about honesty of materials; and particularly with large scale outdoor projection, subtlety is not rewarded. For my work I'm using a lot of Madigan's drawings and it is going to be super-minimal yet super extreme by embracing the brutalist nature of the building.'
Daniel Crooks In Conversation
In Conversation Live Stream
Thu 10 Mar, 7pm AEDT
Artist Daniel Crooks discusses with Curator Elspeth Pitt his newly commissioned work that will illuminate the National Gallery façade for the 2022 Enlighten Festival.