Enlightening the National Gallery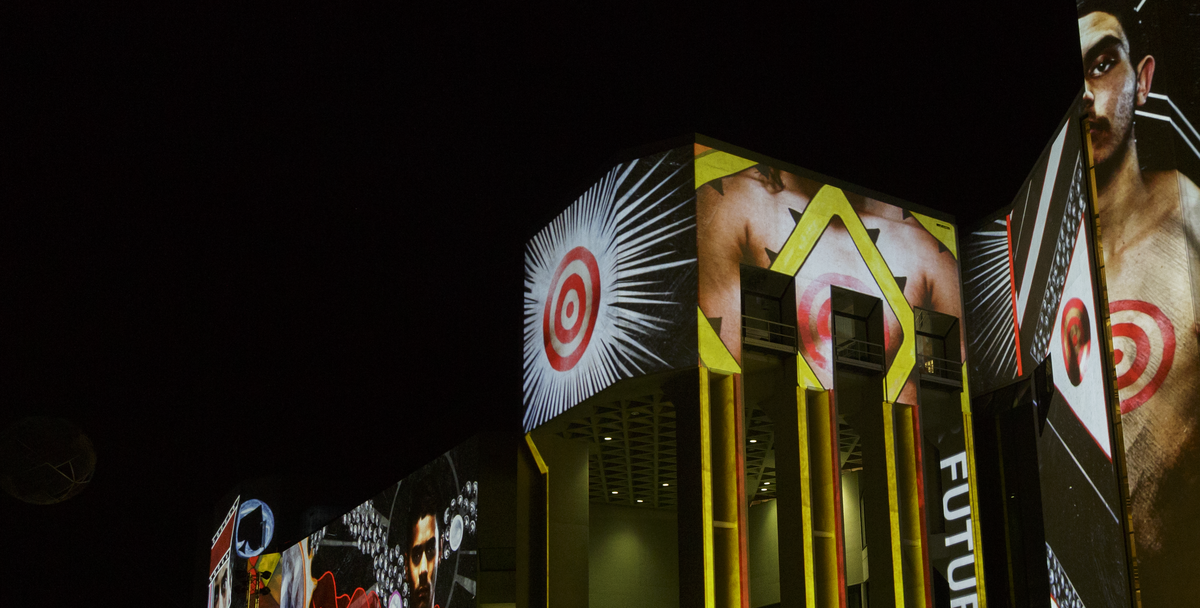 In our 40th year we look back on the artist commissions that have illuminated the façade of the National Gallery building as part of Canberra's Enlighten Festival.
Since 2019, the National Gallery has handed over the iconic, 60-metre façade of its brutalist building four times, inviting Australian artists to create new large-scale works of art.
Artists Tony Albert, Girramay/Yidinji/Kuku-Yalanji peoples, Club Até, Joan Ross and most recently, Daniel Crooks have used this unique platform to open up critical discussions about national identity, culture, community and colonialism.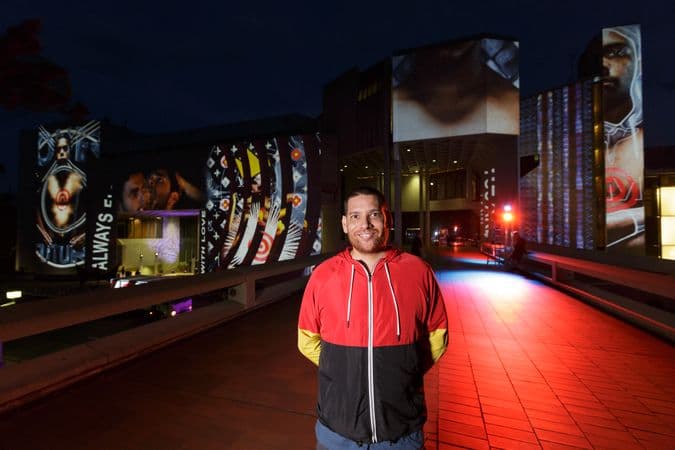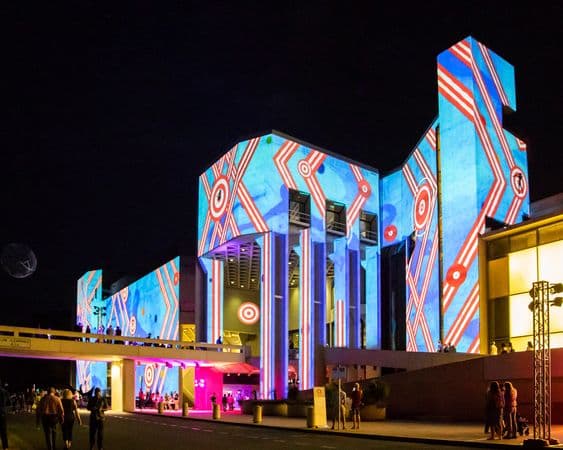 Tony Albert, I AM VISIBLE, 2019
The first commission in the series, Tony Albert's I AM VISIBLE interrogates representations of Indigenous Australians, drawing upon the artist's existing Brothers series, which includes two works of art in the national collection, Brothers (New York Dreaming) 2015 and Brothers (Unalienable) 2015.
The work of art connects issues of racial profiling and miscarriages of justice. By making visible the strengths and vulnerabilities of young men in our community, Albert seeks to destabilise stereotypes and offer new images for now and our collective future.
Tony Albert's I AM VISIBLE was presented at the 2019 Enlighten Festival.
'A target takes away any invisibility—it highlights presence. My practice is about optimism in the face of adversity' and 'it's about engaging in a conversation about making this country a better place.'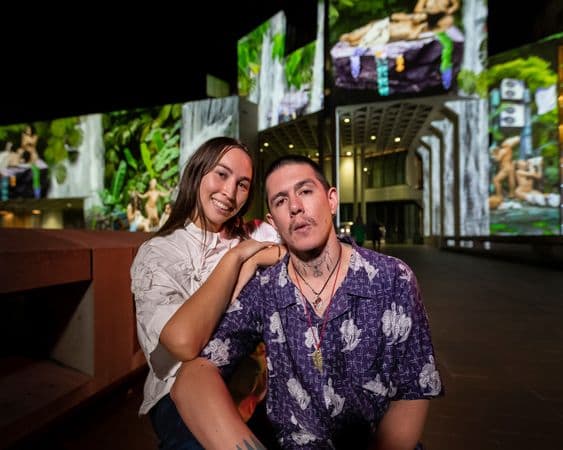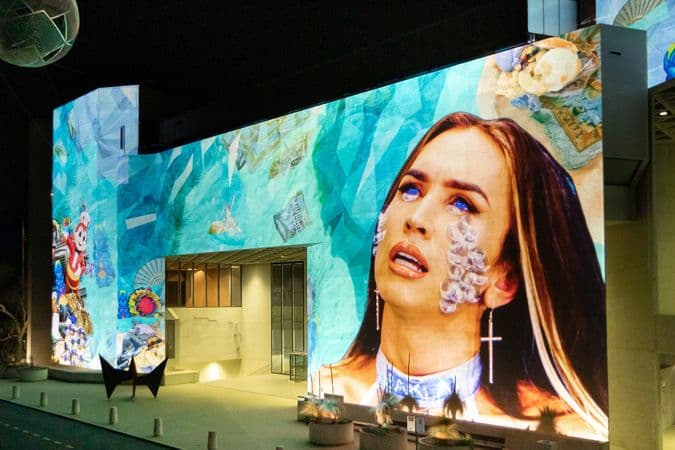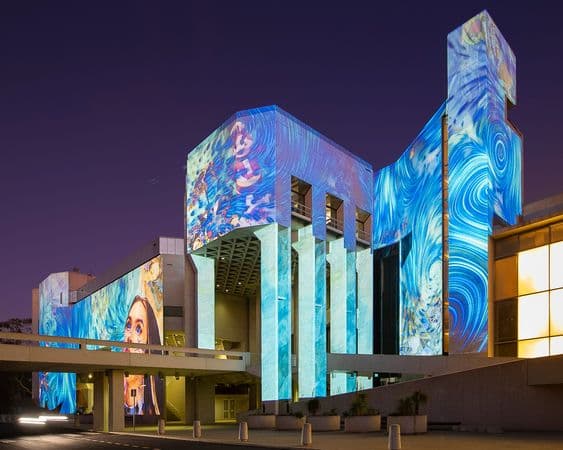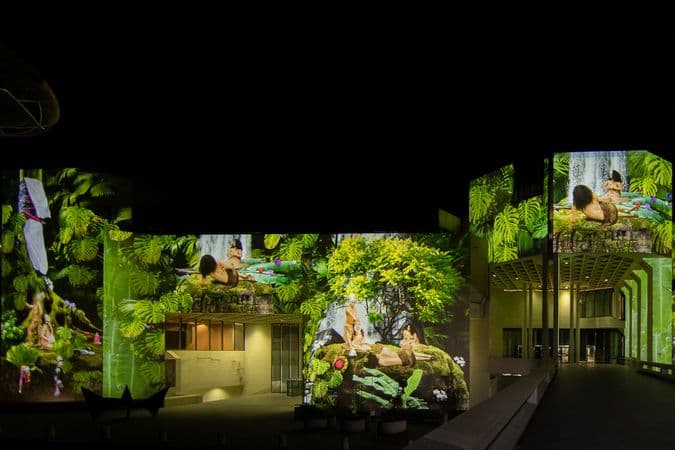 Club Até, In Muva We Trust, 2020
Collaborating with members of the queer Asia Pacific diaspora in Australia and the Philippines, Warrang/Sydney based collective Club Até are invested in creating their own Future Folklore.
The opening scenes from In Muva We Trust 2020 show the artist Bhenji Ra dressed as a mythical winged figure in an ocean paradise. In the scenes that follow, this wonderland is degraded by colonisation and littered with rubbish. A mother earth goddess cries at the devastation. A catastrophic weather crisis follows, and the world goes up in flames. The final scenes depict a beautiful, peaceful place with lush greenery, a place where family and culture are in harmony.
Club Até's In Muva We Trust is a Know My Name project and was presented at the 2020 Enlighten Festival.
'We're looking at Mother Nature, at birth and regrowth, nourishment and care. We're taking signs and symbols from both our queer world and our shared Filipino diasporic vocabulary and mixing it all up to create visions of the future.

'You can almost see Parliament House from the Gallery, so there is a sense of urgency – we want to be direct yet poetic, and maybe subversive as well.'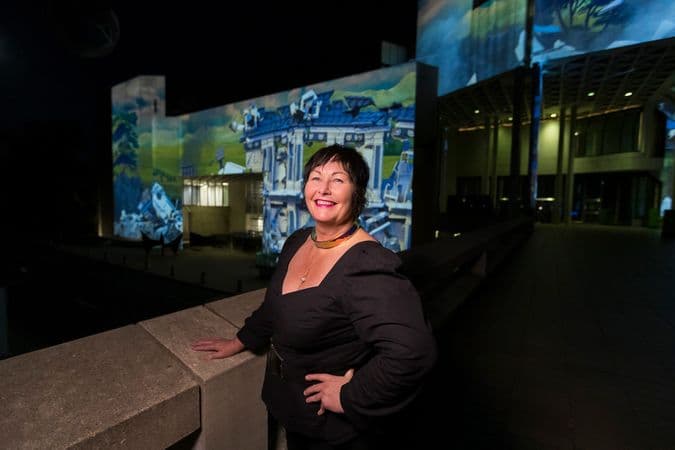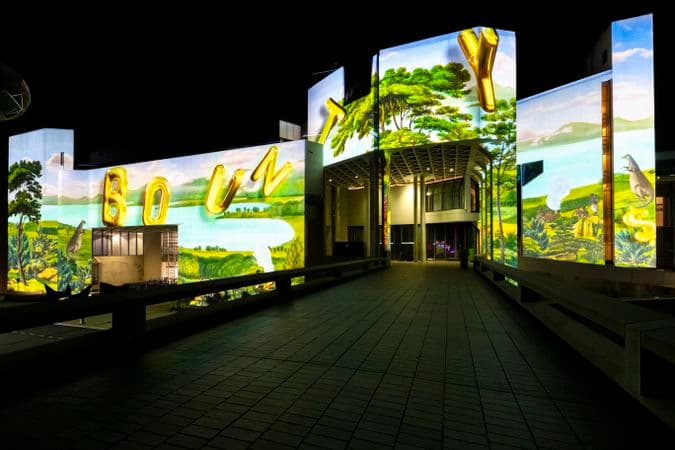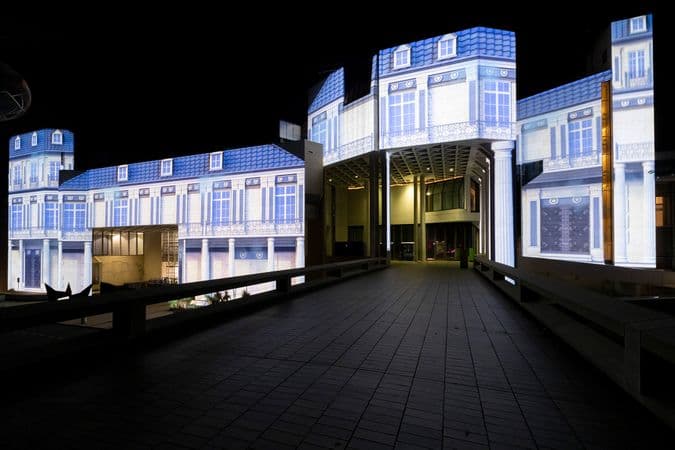 Joan Ross, Collector's Paradise, 2021
For her largest commission to date, Warrang/Sydney based artist Joan Ross asks us to think about museums as places that keep, acquire, and classify objects – continuing the artist's critique of the ongoing impacts of colonisation, a field in which she has worked for twenty years.
In Collector's Paradise 2021 a fluorescent moth with flapping wings unleashes chaos. Vitrines smash, specimens escape, and the museum tumbles. In the wake of a flood that clears the rubble, Weereewa/Lake George emerges as drawn by the colonial artist Joseph Lycett in 1825. Gold balloons spelling $BOUNTY$ float and later burst in the bright blue sky.
Joan Ross's Collector's Paradise is a Know My Name project and was presented at the 2021 Enlighten Festival.
'I feel like we're holding onto some very strong colonial views without actually realising how entrenched they are – so that made me want to collapse the whole museum.'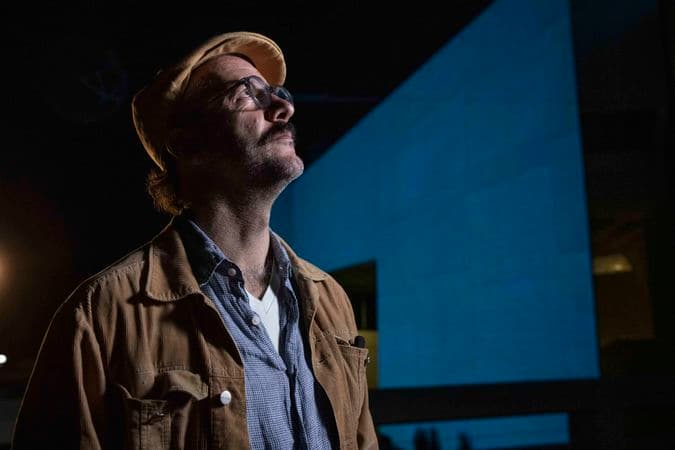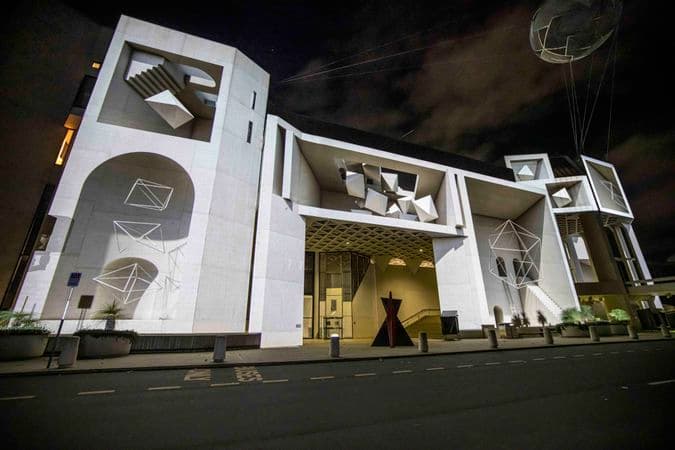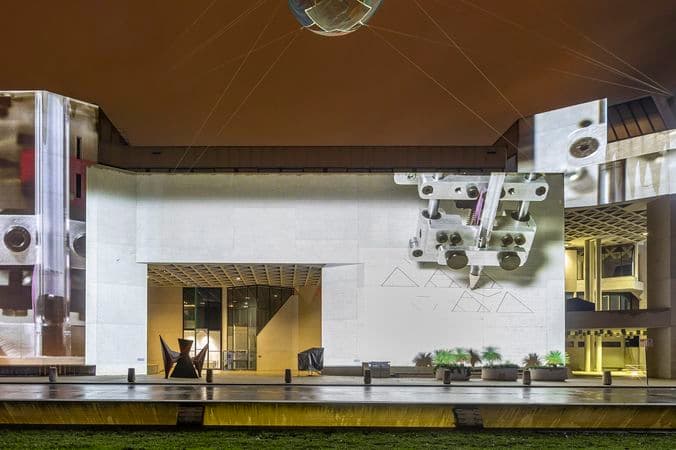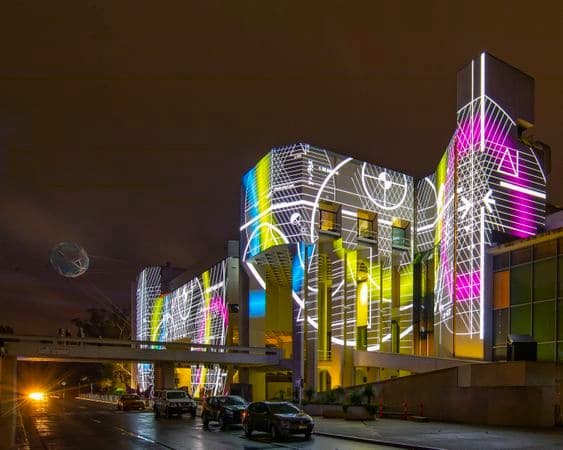 Daniel Crooks, Structured Light, 2022
Naarm/Melbourne based artist Daniel Crooks was commissioned to illuminate the façade of the building in the Gallery's 40th anniversary year.
Structured Light celebrates the design of the original National Gallery building by Edwards, Madigan, Torzillo and Partners. Using the architects' geometric language as a point of departure, Crooks transforms the Gallery façade through visual manipulations spanning geometry, perspective, colour and light. A score by Byron Scullin responds to the building's brutalist architecture and sense of sacred geometry.
To produce Structured Light, Crooks delved into the Madigan archive in the National Gallery Research Library and was inspired by the Gallery's iconic Brutalist and equilateral triangles.
Daniel Crooks is part of The Balnaves Contemporary Series and was presented at the 2022 Enlighten Festival.
'It became apparent [to me] how obsessed the architect was with an almost sacred geometry. He talks about the unifying structure and the natural harmony.

'At the time, I was working on a code to build a drawing machine to create my work, so it felt right to focus on geometry and the line drawings themselves. Brutalism is really having a moment now and I love the brutalist sensibility about honesty [of] materials; subtlety is not rewarded. So, for my work I'm using a lot of Madigan's drawings and it is going to be super-minimal yet super extreme by embracing the brutalist nature of the building.'
This story has been published as part of the National Gallery's 40th Anniversary. For more visit 40 Years.