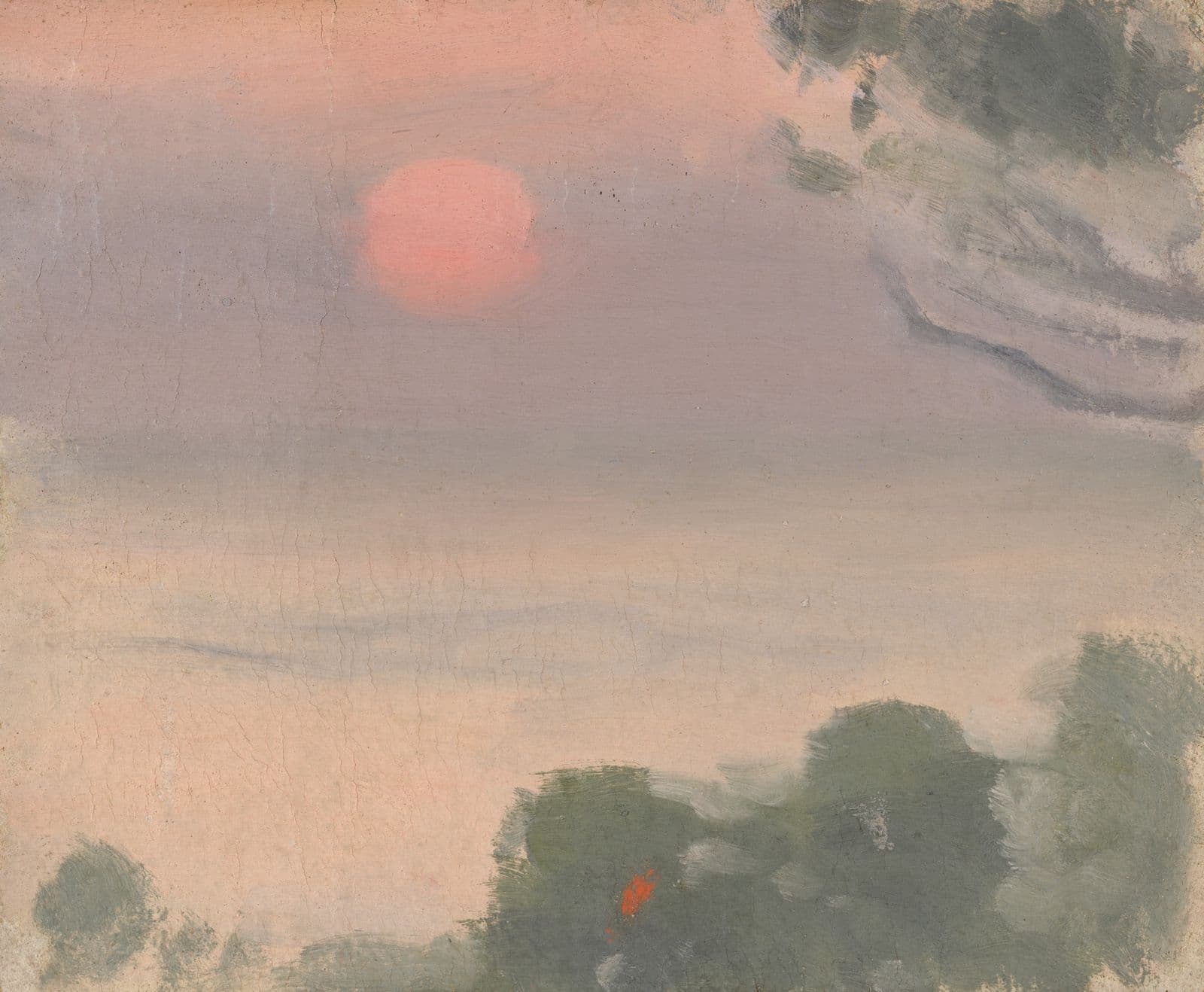 DEIRDRE CANNON discusses the role of women in CLARICE BECKETT'S life, shedding fresh light on her art.
Although Clarice Beckett is now acknowledged as one of the foremost modern Australian artists of the early 20th century, the primary sources that chronicle her short but poignant career reveal a figure who was, during her lifetime, hard to categorise. There are no known extant diaries or journals by her hand; her merit as a painter was defended and dismissed with equal vigour in the press; and a 40-year lapse in her public recognition led to the depletion of what was, purportedly, an extraordinarily prolific 30-year output to a collection of a few hundred canvasses.
In 1924, at the midpoint of her career, Beckett penned her only known artist statement in which she proclaimed her intention to capture the 'exact illusion of reality'.1 This somewhat dualistic self-determination is essential to understanding the range of approaches to art making adopted by Australian artists of this era. Beckett was at once a realist, rooted in the unidealised and tangible qualities of her surroundings and the practicalities of life. But she was also an artist compelled to think deeply about and explore through her work the nature of perception, the affect of sensory experience and the liminal spaces between presence, memory and the aesthetic properties embedded in everyday encounters. Parsing the first-hand accounts of her mature career is akin to the experience of deciphering the blend of figuration and abstraction deployed so confidently in her paintings: we are, overall, left with an indelible 'feeling' that she embodied the traits of a modern artist. Beckett's surviving works ultimately reflect the process central to her highly individual style, 'of working before and abstracting from, the real world.'2
A major factor in the cultivation of Beckett's modern outlook was the education she received over the course of her childhood and into her adult years. Importantly, the women in Beckett's life, particularly those she encountered in social and pedagogical contexts, provided significant guidance and opportunities for her to succeed in her chosen métier. While the tonalist painter Max Meldrum might be the most recognised influence on Beckett's artistic development, underpinning her conviction to pursue art vocationally were the examples set by women: the family, friends, artists and educators in the regional Victorian towns she and her family resided in, as well as the art centre of Naarm/Melbourne where she lived in later life.
Kate Beckett (née Brown) first recognised her eldest daughter Clarice's creativity as a young child. From 1881 to 1903 the Becketts resided in Casterton, a town in the west of Victoria on the lands of the Konongwootong Gundidj clan and Jardwadjali people, near the border of South Australia. As the great-granddaughter of John 'Como' Brown — the prominent builder and wine merchant who transformed Naarm/Melbourne's Como House into a well-known period mansion — Kate and her family belonged to the upper echelons of Victorian society. Through his profession as a bank manager, Clarice's father Joseph was of similarly privileged stock. Despite Casterton's small cultural scene, and likely keen to furnish her daughter with the skills befitting her social rank, Kate was diligent in providing Clarice with drawing materials and books, as well as seeking tutors for musical theory and violin lessons.3 Kate herself was an amateur painter and encouraged Clarice's talent for drawing.4 While a studio would not be provided at the Beckett's home in Beaumaris, where as an adult Clarice lived and cared for her ageing parents, it is evident that Beckett's mother endeavoured to nurture in her daughter, from an early age, a lifelong appreciation for art.
In 1900 Beckett was sent to boarding school at Queen's College in Ballaarat/Ballarat on Wadawurrung Country, a school with a progressive philosophy and a primarily female staff that maintained girls should be given educational opportunities equal to boys so they could 'make their mark in their day and generation'.5 Queen's was popular with wealthy graziers and the gentry who lived in Victoria's western districts and while a student there, Beckett would have socialised with similarly privileged young women. Although some schooling for girls was already available in Australia at this time, Queen's aimed to impart knowledge and skills beyond the domestic sciences that were traditionally the focus of a girl's education. Here, Beckett undertook a full and varied curriculum of subjects including mathematics, botany and physiology. She excelled in humanities and the arts — winning prizes for history, geography and Latin in her second year — played the violin and piano and wrote a play that was performed by her fellow students.6 This holistic introduction to new ways of understanding and reckoning with the world was likely enhanced by Australia's imminent Federation in 1901, with Beckett remaining 'keenly alive to all the movements' around her.7
One of the most important figures to emerge in Beckett's life during the three years she spent at Queen's, where 'the teaching was so sound and the general tone so high'8, was English-born Eva Hopkins (1854–1939). Hopkins taught piano and musical theory and was also Queen's' art tutor. She was a talented artist in her own right — having previously studied with the impressionist artist Walter Withers — and conducted her drawing lessons in a traditional and academic manner, with students producing charcoal sketches from plaster casts.9 Hopkins was said to have derived much pleasure from instructing gifted students and 'quickly recognised Clarice's talent'.10 That Queen's alumni had travelled overseas to pursue study in music and painting would not have been lost on Beckett; it was proof of the opportunities available to women wanting to pursue further training and, potentially, a career in the arts.11
In addition to her classroom work, Hopkins also maintained her own studio from which she gave private art tuition, and it is thought that, even after moving to Bendigo in 1905, Beckett continued to travel back to Ballaarat/Ballarat to receive lessons from her former school mistress.12 Occasionally, Hopkins organised exhibitions for her students and displayed her own compositions alongside that of her pupils. In one exhibition from 1908, it was noted that 'much of the work is devoted to rapid sketches' of land and streetscapes'.13 Demonstrated clearly by the group of paintings Beckett's sister Hilda Mangan donated to the National Gallery, this style of swiftly executed coastal scenes and suburban streets and roads is now a trademark of Beckett's output. Furthermore, this approach to image making — potentially initiated in Beckett's artistic language by Hopkins' instruction — is now central to how we appreciate the aims and methods of Beckett's work. In later years, Hopkins produced works that possessed a 'splendid atmosphere and tonal effect'14, as seen in a painting of Ballaraat/Ballarat's main thoroughfare 'enveloped in a purple sunset haze'.15 Such examples may have imparted a long-lasting stylistic influence on Beckett, encouraging her to seek out the chromatic effects of the rising and setting of the sun and to develop ways of capturing the particular moods brought forth by these transitional times of day.
The ongoing sympatico Beckett felt with her teacher, even as she evolved into a professional artist, is illustrated by the fact that Hopkins attended the opening of Beckett's 1924 exhibition at the Athenaeum Gallery in Naarm/Melbourne. As Edith Zeigler — Beckett's most recent biographer notes — these events were by invitation only and Hopkins' presence at this opening is an indication that Beckett and her former teacher were still in close contact. Zeigler also posits that Beckett may have continued to take art lessons with Hopkins in the years before she commenced at the National Gallery School, over a decade after Beckett's initial training with her.16
In 1904 Beckett's father Joseph was posted to the Colonial Bank's head office in Naarm/Melbourne, bringing his family to the state's capital and to their new home in South Yarra, an affluent suburb close to the city centre. Clarice and her younger sister Hilda were enrolled at Merton Hall, another prestigious private girls school based on a premise similar to Clarice's alma mater: that vocational training, free from traditional gender expectations, should be offered to its students. In addition to her core studies Clarice received tuition in drawing and painting, these lessons led by artist Estelle Mary (Jo) Sweatman.
Sweatman, who assumed the name Jo as a student entering the National Gallery School, forged her own path into visual arts against the wishes of her father, who had intended for his daughter to attend 'the more orthodox "arts" course taught at Melbourne University'.17 This precedent set by Sweatman may have provided Clarice with the conviction required in years to come to train with the controversial painter Max Meldrum, rather than pursue a fourth year of training at the National Gallery School. While at the Gallery School, Sweatman belonged to a milieu of students that included the painter Hugh Ramsay and Meldrum himself, and she followed the academic program set by the canonical Australian painters Frederick McCubbin and Bernard Hall.
Known as a portraitist for much of her career, Sweatman then turned to painting landscapes and floral still lives (the latter a genre for which Beckett would receive consistent positive critical attention throughout the 1920s and '30s). Commonalities were seen between the work of the two artists as they exhibited alongside one another in exhibitions of the Twenty Melbourne Painters group, one reviewer noting Sweatman's talent in faithfully harnessing the spray of wattle flowers and delicacy of fruit blossoms and Beckett's similar feeling for her chosen subject matter in a coastal scene captured in atmospheric tones of green and grey-blue.18 Like the example set by Eva Hopkins, Sweatman's success in both educational and exhibiting contexts demonstrated to the now 17-year old Beckett that a career as an artist was a viable and rewarding path for women.
After she completed her schooling, Beckett's father's work moved the family to the regional town of Bendigo on Dja Dja Wurrung and Taungurung Country in 1907. Here, Kate Beckett befriended local artist families including Fanny and Walt Withers and their daughter Margery — who would establish her own career as a painter — and Sarah and Julius Cohn, whose daughter Ola was training in drawing and sculpture at the Bendigo School of Mines.19 During the years Beckett spent in in the company of these women who shared her aptitude and appetite for art, it is likely that she began forming her own plans for further study. This came at a time when it was expected that she would accept one of the many offers of marriage that were reportedly made to her. Cohn in particular is said to have recognised Beckett's unique talent and to have actively encouraged her to pursue formal training.20 1908 would also see the Australian suffragette movement secure the right to vote for Australian women, this momentous advancement in women's rights likely broadening Beckett's expectations for an autonomous life foregrounded by her own desires and intelligence.
In 1914 Beckett was admitted to the National Gallery School in Naarm/Melbourne, a decision possibly encouraged by her mother's belief that she should continue to develop as an artist.21 Accompanied by her younger sister Hilda, Beckett entered her first year of study as a 27-year-old. Although older than the rest of her peers, she socialised easily and would continue to exhibit, embark on painting trips and maintain friendships with her cohort as her career progressed. Rather than conclude her studies at the National Gallery School, however, in 1917 she embarked on nine months of training with Max Meldrum, a divisive figure in the conservative art world of Naarm/Melbourne. Here she began to adopt Meldrum's principles of Tonalism and her work was transformed by his ideas of how variations in tone, as opposed to colour, could be arranged to reproduce how light, structure and space are perceived by the human eye. Among the artists similarly intrigued by this objective approach to painting, and who Beckett would encounter while working at Meldrum's, were Polly Hurry, Alice Bale and Maude Rowe (1870–1935). Rowe, a mature-aged student and 17 years older than Beckett, belonged to a wealthy family of western-district farmers who were also important supporters and patrons of Meldrum and his circle.
In 1926 Beckett spent a short but unsuccessful period teaching art at the Clyde School, a prestigious girl's academy near Woodend on Dja Dja Wurrung Country. Rowe, perhaps wanting to alleviate any sense of failure Beckett may have felt after her foray into teaching, or to shield her from the negative criticism she was prone to receiving in the press, invited Beckett to live and work at her brother's homestead and farm at Naringal, a rural property south-west of Ballaarat/Ballarat. Potentially, Rowe also intuited the benefit that spending time away from her family home would have on Beckett's artistic practice. In accepting Rowe's invitation, Beckett spent several months free from the domestic responsibilities of her everyday life in suburban Beaumaris and wholly dedicated herself to painting. Through the generosity of Rowe and her family, Beckett had access to her own studio situated on the upper level of a shearing shed, the first and only dedicated studio space she would maintain throughout her career. It provided an ideal vantage point from which the surrounding countryside could be observed stretching into the distance.22
At Naringal, Beckett made some of the most original works of her career, which represent an unprecedented approach to the traditions of Australian pastoral and landscape painting. The location, and its inherent tonal variations of land, trees, fields and sky, was a perfect subject for Beckett's practice of sustained looking and immersion in her immediate surrounds. Distinctive for their abbreviated renderings of vegetation, flattening of perspective and their decidedly antiheroic nature, Beckett's Naringal works demonstrate the catalytic effect this sabbatical, and the support of her friend, had on her painting.
Throughout her life, Maude Rowe acquired several works by Beckett for her personal collection. She passed away in 1935, the same year as Beckett, having bequeathed a notable group of paintings to regional galleries around Victoria. These donations to the Art Gallery of Ballarat and Castlemaine Art Museum represent the first works by Beckett to enter Australian public collections. And so, even after her death, Rowe provided opportunities to advocate for her friend's artistic talent and to bring greater awareness to her extraordinary vision.
Women would continue to play a pivotal role in the promotion and dissemination of Beckett's work in the decades that followed — a period in which she receded from public consciousness. In 1965, after a chance viewing of two small enigmatic paintings signed 'C. Beckett' in a private collection in country Victoria, Rosalind Hollinrake was compelled to uncover the identity of their maker. After five years of fruitless research as to who C. Beckett could have been, Hollinrake established a gallery in Naarm/Melbourne focused on forgotten or overlooked women artists from the early 20th century.23 Through an article published in the Sun News Pictorial, Beckett's sister Hilda Mangan became aware of Hollinrake's undertaking and visited the gallery with a selection of small paintings by Beckett for her consideration. This meeting brought about the resolution of years of speculation by Hollinrake and initiated her pathway forward as Beckett's most ardent champion and defender of her place within Australian art history.
In 1971, eight paintings from Hollinrake's inaugural exhibition of Beckett's work were purchased for the then nascent national collection by the National Gallery's inaugural director James Mollison. The following year, in recognition of the Gallery's commitment to her sister's practice, Hilda Mangan enhanced this original acquisition with a gift of 24 paintings that illustrate Beckett's tireless pursuit of pictorial invention and the abiding creative stimulus she drew from her surrounds. The role of women in Beckett's life and career — as supporters, teachers, mentors, advocates and agents in her posthumous rediscovery — has ensured, as Hollinrake has observed, that 'future Australians will have access to a vision and mood of the '20s and '30s not otherwise presented or expressed'.24
Clarice Beckett, Twenty Melbourne Painters catalogue: 6th annual exhibition, Phoenix Press, Melbourne, 1924, quoted in Frances Lindsay, 'Foreword', in Rosalind Hollinrake, Clarice Beckett: politically incorrect, Exhibition catalogue, The Ian Potter Museum of Art, Melbourne, 1999, p 19.
Margaret E McGuire, The singular career of Clarice Beckett: painting and society in Melbourne, 1916–1936, Masters research thesis, Department of Fine Arts, Faculty of Arts, The University of Melbourne, 1984, p 63.
Edith Zeigler, The worlds and work of Clarice Beckett, Arcadia, North Melbourne, 2022, p 27.
See Hollinrake, 1999, p 10; and Margaret E McGuire, 'The silver thread: Clarice Beckett and her brother', Victorian Historical Journal, vol 83, no 2, November 2012, p 280.
'Queen's College: report of the principals', Ballarat Star, 19 December 1900, p 6.
Siobhan Byford, Clarice Beckett (1887–1935): the artist's life and her lost exhibitions, 1887 to 1970, Graduate Diploma (Advanced) of Arts thesis, School of Culture and Communication, The University of Melbourne, 2021, p 25.
Ballarat Star, p 6.
Ballarat Star, p 6
Ziegler, p 56. See also Susanne L White, Mainly about girls: a history of Queen's, Ballarat 1876–1972, Ashburton House, Ashburton, Victoria, 1990, p 44. A work by Hopkins belongs to the collection of the Art Gallery of Ballarat.
Zeigler, p 32.
'Queen's College annual speech day', Ballarat Star, 19 December 1902, p 1.
Zeigler, p 56.
'Bishop Green on art: opening an exhibition', Ballarat Star, 2 December 1908, p 4.
'Exhibition of painting', Ballarat Star, 10 December 1914, p 6.
'Meterological', Ballarat Star, 17 May 1919, p 4.
Zeigler, p 57.
'Australian artists of today', The Age, 9 May 1931, p 7.
'Realistic wattle', Table Talk, 26 September 1929, p 7.
McGuire, p 10.
Ziegler, p 51.
Rosalind Hollinrake, Clarice Beckett: the artist and her circle, Macmillan, Melbourne, 1979, p. 11.
Jason Smith and Lisa Sullivan, Clarice Beckett – Atmosphere, exhibition catalogue, Geelong Gallery, Geelong, 2023, p. 29.
Hollinrake, 1999, p. 5.
Rosalind Hollinrake, 'Cumulative fugues of light', Hemisphere, vol 24, no 3, p 135.