Digital Young Writers Mentorship Program
Contemporary Resonances of Art in the Age of AIDS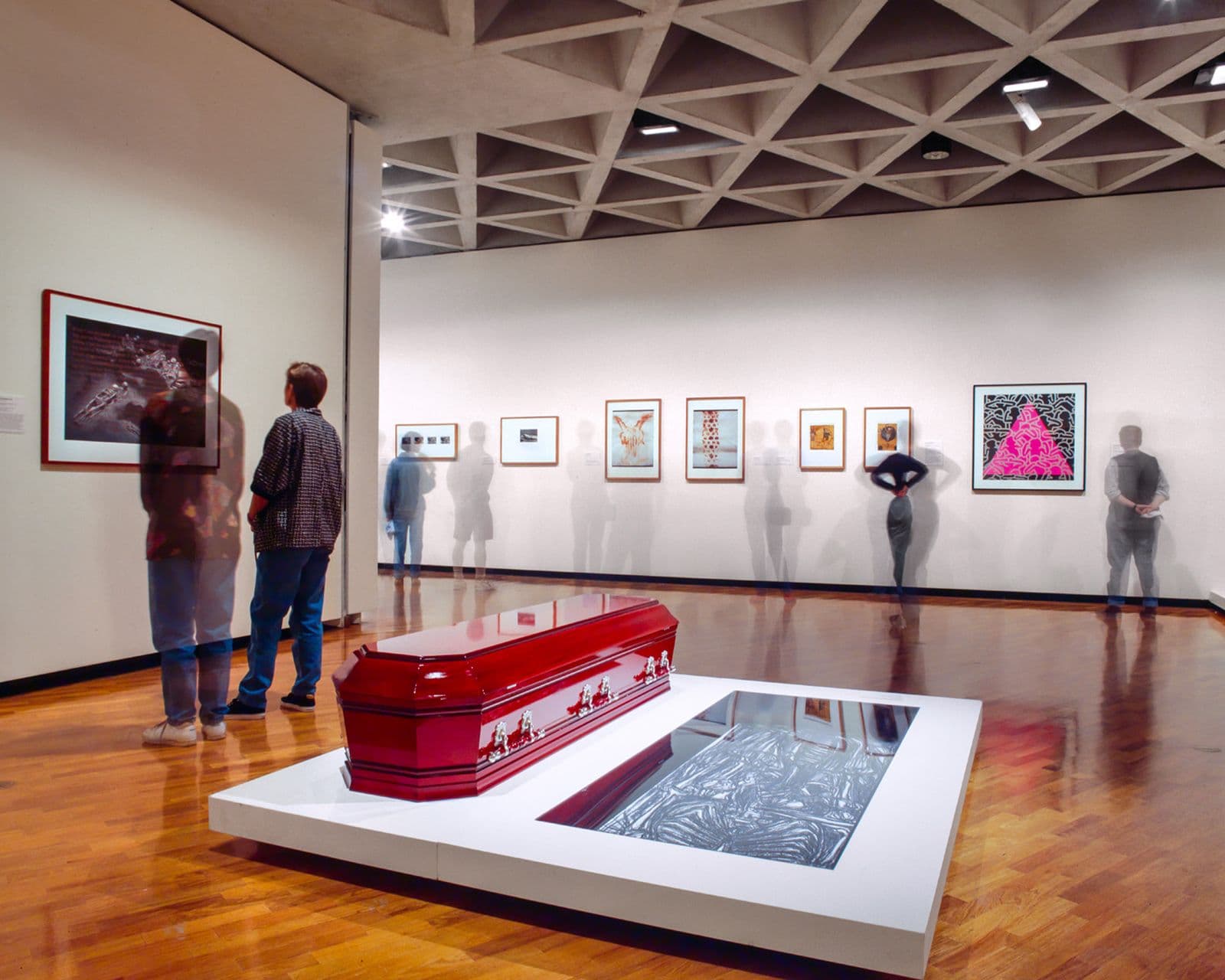 More than two decades on from Don't Leave Me This Way: Art in the Age of AIDS, Aisyah Aaqil Sumito reflects on the contemporary resonances of this trailblazing exhibition.
– Visitor, Perth, Western Australia [i]
In 1994, the National Gallery of Australia presented Don't Leave Me This Way: Art in the Age of AIDS, curated by Ted Gott. More than two decades on, the gravitas of this exhibition still resonates. A series of community led artistic responses and exhibitions played a key role in shifting the conversation around HIV/AIDS across this continent. Contemporary resonances of this collective history are ongoing, oscillating between reflections on the past and the present realities of HIV/AIDS.
Presented in Don't Leave Me This Way, was eX de Medici's documentation of the vulnerable exchange that takes place between an artist and client when completing a tattoo, an experience the artist encountered first hand during their time as a practicing tattoo artist. In the works, Godscience IV and Godscience V (stars) 1994, which consisted of cibachrome photographs of post-tattoo blood swabs taken from clients, Medici represented a consistency of safely negotiated risk, a dialogue closely adjacent to community education surrounding safe IV drug use. It was the artists, punks and queers like eX de Medici that worked closely with organisations like the AIDS Action Council ACT to significantly reduce the risk of bloodborne transmission within the practice of tattooing. [ii, iii]
'I loved this exhibition, but AIDS is also a problem for I/V drug users. Lives are lost this way too. Don't share needles – spread the word.'
Coming out in 1980s Perth, JC, an artist and activist, travelled to see Don't Leave Me This Way: Art in the Age of AIDS while they were living in Sydney. JC's formative years took place when the impacts of the HIV/AIDS epidemic were at their most devastating, however Gott's exhibition opened new avenues for change: 'That was the first time I really felt that art could change the world.'
Almost 25 years later, JC presented Transmission 2020 at Perth Institute of Contemporary Arts, an artistic intervention of both a personal and collective history of devastation, and a contemporary reckoning with queer eldership. Transmission was in essence a queer party: an empty go-go stage at its centre, and a DJ spinning disco off to the side somewhere. Eventually the stage was lit up and JC stepped up in their jeans, black leather chaps and an old Sydney Gay and Lesbian Mardi Gras t-shirt acquired from their time spent running the float workshop. They shared their stories of coming out, and of being at extreme risk of transmission as a sexually active, intravenous (IV) drug-using lesbian, who sometimes had sex with men. JC shared that the only thing saving them in the throes of their addiction were the public health measures put in place by community, in lieu of tangible government support. JC then invited various members of chosen family up to the stage to share a kiss, then 'transmit' this through the crowd, as a metaphor for the transmission of their histories. Transmission was a communal performance, an engagement which recognized and reinvigorated the central role that queer kinship plays in collective healing and survival.
According to JC, works like David McDiarmid's It's my party and I'll die if I want to, Sugar 1994 and the extensive collection of posters presented in Don't Leave Me This Way, were pasted on the backs of toilet doors in queer bars and on the walls of needle exchanges. The intimacy of these posters did not come from within an art industry complex, they came from within community, made by community.

Most recently, echoes of this practice are seen in Andrew Sutherland's ephemeral vinyl text installation future-proofing pasted across the intimate corners of a Redfern queer bar on bathroom mirrors, on partition windows, behind the DJ booth, and above bar stools. This work was presented in VIRAL BODIES, curated by Ian Sinclair earlier this year at The Bearded Tit. Much like McDiarmid's famously cheeky laser print-series, future-proofing was a vessel for Sutherland to speak through transmission and virality with an unmistakably sardonic sense of humour. Sutherland's debut poetry collection Paradise (point of transmission) 2022 reflects on a much more recent history of viral transmission, seroconversion, being diagnosed with HIV, and the contemporary implications of being Poz.
'[...] deface my year-old headshots; scrawl let me in in dripping gold

Lead the warm up, though my vital parts stay cool

I could never nail a monologue the way you do

don't you think seeing a 20-year-old in stage makeup sarcoma is hideous?

& somehow, so banal [...]'
'-- there was certainly room for more works by & of Jews … and women … and dykes … and people of colour … and non-Christians. [...]'
The manifestation of art in the wake of AIDS is manifold, ongoing and has never been limited to one exhibition. Across eX de Medici's Godscience IV and Godscience V (stars) 1994, JC's Transmission 2019, David McDiarmid's It's my party and I'll die if I want to, Sugar 1994 and Andrew Sutherland's Paradise (point of transmission) and future-proofing 2022 there is an abundance of truth telling and healing. Whilst this is only a portion of the contemporary resonances of Don't Leave Me This Way: Art in the Age of AIDS, the exhibition visitor Mazel said it most succinctly. There's always room for more.
i Art in the Age of AIDS Public Comments, National Gallery Research Library
ii Dr Ted Gott, "eX de Medici: an epic journey on a Lilliputian scale", Art & Australia, 2002
iii Defining Moments: Don't Leave Me This Way: Art in the Age of AIDS, Dr Ted Gott, from ACCA lecture series Defining Moments: Australian Exhibition Histories 1968–1999. 2022
iv Andrew Sutherland, "I watch the student actors perform Angels in America the day after I am diagnosed positive" (excerpt), Paradise (point of transmission), Fremantle Press 2022