Family matters
Cressida Campbell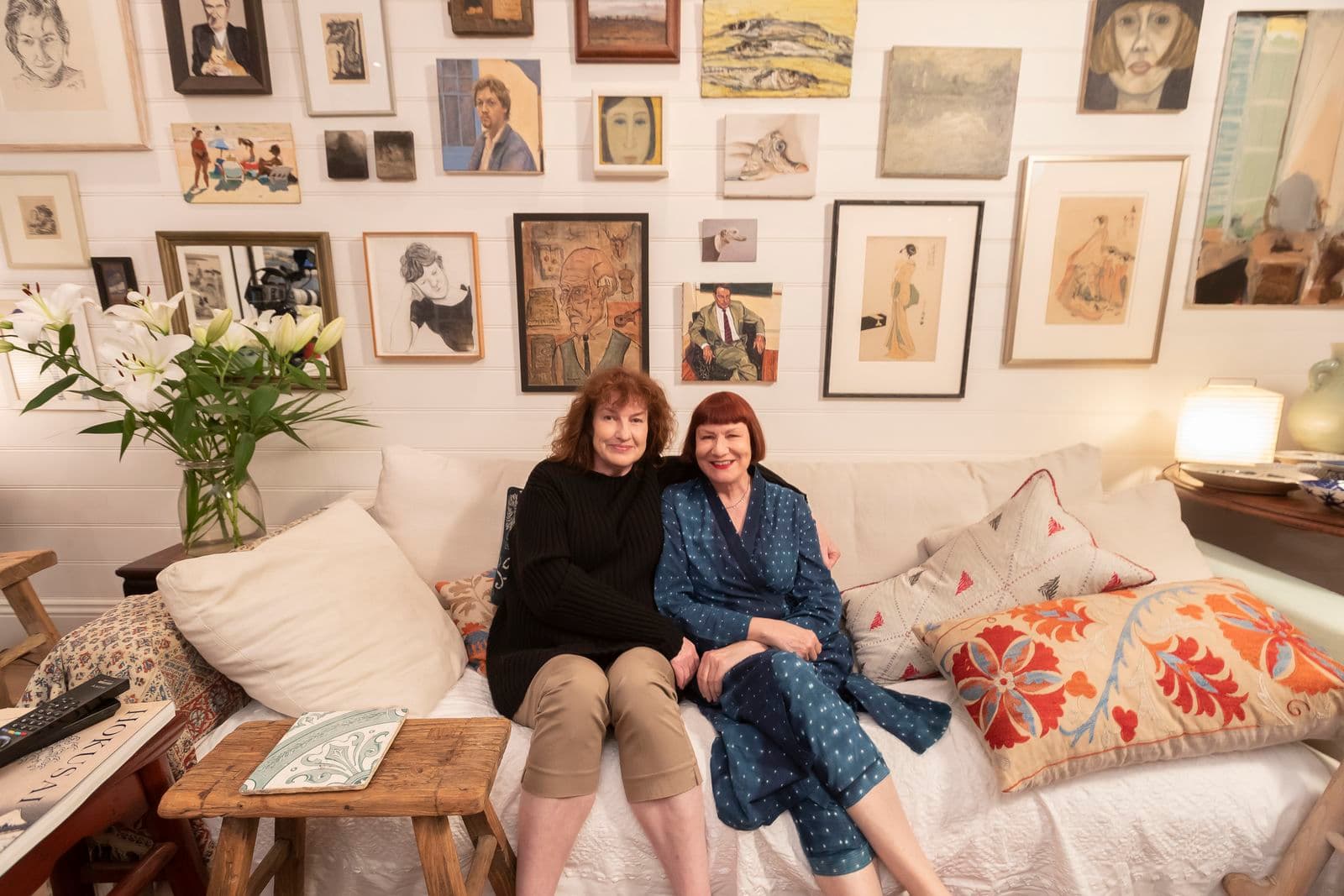 Ahead of a major new survey exhibition to celebrate the National Gallery's 40th anniversary, Australian artist Cressida Campbell – who attended the opening in 1982 – is interviewed by her actress sister, Nell Campbell, about art, life and her recent brush with death.
For more than four decades, Warrang/Sydney-based artist Cressida Campbell has sought inspiration from her house and local surroundings to transform commonplace experiences into single-edition prints and painted woodblocks. Her works combine keen observation with a delicacy of line and capture the overlooked beauty of the everyday. Working in her backyard studio, Campbell brings her intuitive understanding of colour and composition to delicately detailed arrangements of garden flowers, stacked dishes and compost scraps through to burnt bushland, rusty shipping containers and coastal panoramas. Her world is rendered with a strong sense of design and pattern, explored through the meticulous nature of her idiosyncratic technique.
Campbell grew up on Sydney's north shore, the youngest of four children born to journalists Ross and Ruth Campbell. During the 1950s, 60s and 70s, the suburban adventures of the Campbell family were recounted in a regular newspaper column written by her father, who shared humorous stories about his children using the pseudonyms Theodora (Sally), Lancelot (Patrick), Little Nell (Laura) and Baby Pip (Cressida). For actress Nell Campbell, her father's epithet became her stage name, first immortalised in her role as Columbia in the cult 1975 film The Rocky Horror Picture Show, and later as owner of the New York nightclub Nell's. The two Campbell sisters recently caught up to talk all things art and life.
CRESSIDA CAMPBELL: Well, here we are – my wonderful sister, Nell Campbell, and myself in my living room. We've got together to talk to each other about our childhood and all sorts of aspects of our lives. But it's mostly because I have been given this incredible opportunity of having a big survey exhibition at the National Gallery. Now, do you remember when I was born?
NELL CAMPBELL: I shall never forget it. One of the greatest times. I was seven, our brother, Patrick, was 10 and Sally was 13. We were so excited about you being born. We weren't allowed to visit you in the hospital because children weren't allowed in at that stage. Mum would wave from the window and then you came home and we absolutely adored you. We used to fight over who could hold you, who could give you all the love and attention.
CRESSIDA: I remember Mum said I came out with this enormous shock of bright red hair.
NELL: And you had the softest skin imaginable, which is why you got the nickname 'Butter'. So, why did you first like drawing?
I think I've always loved detail and Mum said I once said to her, "All I'm good for is drawing." I think, like anything you are interested in doing and get some vaguely good results [with], that you like doing it. And I love drawing plants and animals and all sorts of things. So it just came naturally.
NELL: It's your favourite thing to do, it seems, like, if I say, "Oh, I had the greatest day, I just lay down and read and had a swim and da, da, da," you would go, "I had the greatest day, I painted all day long." Now, you started collecting things very young. What was your first collection?
CRESSIDA: I started with stamps. I wasn't interested in the valuable ones, the ones with just a head on it. They're quite boring. But often the ones that came from places like Poland and Hungary and America had all these fabulous pictures on them. I would spend hours rearranging the stamps in the album like a salon hang. And that's exactly what I've got in this house and it's what I'm doing in my pictures now in the interiors. The next collection was shells. When we went to Pearl Beach [on New South Wales's Central Coast] as a child, we stayed in a very interesting old house at a friend of Mum and Dad's who was a crime [writer].
NELL: Lester Cotton.
CRESSIDA: In those days, I'm talking, like, 1967, we went down to the rock pools in Pearl Beach and, unbeknown to me, Mum bought a few shells from the shell shop [at The Rocks] and she'd go ahead and wedge one of these shells in a rock pool. And they usually came from miles away, like New Guinea or Mauritius. And she would say to me, "I've got a funny feeling that I saw just a glint of something in that pool." And you'd put your finger into a sea anemone and then wedge out an [empty] cone shell fromNew Guinea that is [usually] totally poisonous. And we'd go back and look [it up in] the shell book and I'd say to Mum, "Why do you think a shell from New Guinea would be in Pearl Beach?" and she'd say, "Oh, darling, I think it was that storm we had last week." So that was the beginning of the shell collection. As you can see, I'm an eclectic collector. I now like Japanese ukiyo-e prints and quite a bit of Indigenous art and Asian ceramics that I put in my work, and I've got fabrics by Sally, our other sister, who is a textile designer
NELL: I'm wearing her outfit right now.
CRESSIDA: Every cupboard in the house is full of Sally Campbell textiles.
NELL: Did you like being a teenager?
CRESSIDA: I loved primary school and I absolutely loathed being a teenager… but I got in with the wrong crowd and was a complete idiot. I left school and went on to the [Australian International Independent School] and Paul Delprat, the painter who runs the Julian Ashton School, was my teacher and he was terribly nice. I left when I was 16 and went to art school.
NELL: How long did you last in art school?
CRESSIDA: Well, it was the first year of Sydney College of the Arts… I went to that school because it was meant to be brilliant and exciting. I only stayed for three days because they weren't into drawing. But then I went to the East Sydney Tech, which is now the National Art School, because they were more interested in drawing and painting. It was a two-year course run by Roy Fluke. I was thrilled to be there, but the problem was in that period – it was '76 – everyone wanted people to paint like Cézanne and have a very big brush. And I don't even know if Cézanne used a big brush, for that matter, but they wanted us to have these huge brushes and it was all very gestural. And to this day I still use sable brushes that are absolutely minute. So it just was completely the opposite and so that didn't go with me. So then I did printmaking in the second year.
NELL: So that's where you got into woodblocks, right?
CRESSIDA: Yes. I was studying etching and drypoints. And around about that time the Art Gallery of New South Wales had a big Margaret Preston show. It was a total eye-opener… and I was really taken by her woodblocks. I'd already experimented with the Japanese traditional ukiyo-e technique. But I like the combination of painting and printing, whereas if you're using the Japanese technique they scrub the block with ink, they don't paint the block like I do. Anyway, the printmaking teacher, Leonard Matkevich, suggested I carve a block and just paint it with watercolour. So I did it very simply and then we put it through an etching press and that is sort of where it started.
NELL: So the only difference since that time is that you handprint?
CRESSIDA: I use to paint the block quite heavily with watercolour paint. And Leonard and I would put it on the etching press, spray it with water, roll it through. And the first print would be very heavy, strong colour. And then we'd just keep doing it. By the sixth print the print would be incredibly pale, more like watercolour. So there'd be six in an edition. And when I did the work at home when I left the Tech, I did small editions, but I had to repaint the entire block up in between each print and it was terribly boring, as you can imagine.
NELL: Of course, that's like being in a play – doing the same lines every time.
CRESSIDA: And in the end I started exhibiting the painted block and making one print. In more recent years, I actually spend a lot of time retouching and handpainting the print as well because there's often quite a lot of it that needs work. So it's just developed slowly.
NELL: So how long would you spend on one picture?
CRESSIDA: It depends, but I'd say at least three months, but if it's big it takes longer. It's maddening because I would love to do more. But it's a combination of painting and printing that gets the results, and drawing. If I just painted, I have painted directly onto paper and they're not quite as good.
NELL: Different effect.
CRESSIDA: I've found my language, if you know what I mean? And unfortunately I'm sticking with it.
NELL: Now, one thing I meant to mention with your divine Asian pottery and paintings, you went to Japan to study Japanese woodcut printmaking.
CRESSIDA: Yes, in 1985, after art school. It was fascinating but I realised it wasn't for me. Because even though I love really good old ukiyo-e prints – I mean Utamaro and Hokusai, Harunobu and Eisen and other artists – it's not a combination of painting and printing like the way I work. It's a totally different method.
NELL: Now, you were great friends with Margaret Olley – what did she teach you?
CRESSIDA: Well, where do you begin with Margaret? She was an extremely eccentric and wonderful woman. She didn't drive and I often took her to exhibition openings. And one time I forgot to invite her and I said to her later, "Sorry Margaret, I didn't think you'd be interested." There was dead silence on the telephone and she just said, "Cressy, never presume anything." So that was one thing she taught me.
NELL: It's a very good piece of advice.
CRESSIDA: It is. It's just that it's hard to keep it. But she was incredibly supportive about my work and we had similar aesthetics as far as museums and she was insatiably curious about art and had some very difficult times in her life. She was a sort of magical person in a funny kind of way. In the end she was a great friend. And at times she would give me the odd bit of advice about work. And she adored Peter. It was a great friendship that lasted a long time.
NELL: Now, our darling mother, Ruth: did she contribute to your work in any way?
CRESSIDA: An enormous amount. From when I was a little girl she'd be encouraging. Later she helped edit, because when I finish painting a woodblock and make the print, sometimes I decide the composition isn't that great with the woodblock and I just saw up the block. We would often have a lot of fun editing the blocks. I can do it myself, but she was a great person to…
NELL: To play off, yeah.
CRESSIDA: Also, years earlier when I was doing quite a bit of work around the harbour and bush, she used to come and she made the most fantastic chicken sandwiches and we'd sit and she'd be my bodyguard, because you just don't get bothered as much if there's someone with you. We had lots of great times.
NELL: You have an exhibition coming up at the National Gallery to celebrate its 40th anniversary. How do you feel about that honour?
CRESSIDA: It's really amazing. The collection in that Gallery is awe-inspiring, especially for such a young gallery. It's just an incredible compliment.
NELL: When did you first go to the National Gallery?
CRESSIDA: Amazingly, I went to the opening in 1982. Martin Sharp got tickets and asked me if I'd like to go. It was incredibly exciting. It's such a sculptural building in itself. At the opening I found all sorts of things I loved – there were Rodin drawings, Durer prints, Ingres drawings, Piranesi etchings...
NELL: They bought a picture of yours in 1987 – which picture was that?
CRESSIDA: Yes, funnily enough that was a picture called Through the windscreen. Peter had a Volkswagen that he drove from Adelaide to Sydney. It was actually a rather horrible sort of mustard but I made it red. A lot of the harbour pictures I did were around Greenwich where we grew up, because the Shell company had lots of very graphic, giant gas cylinders and there were lots of ships that came in and out, and it was fabulous bush combined with industrial stuff.
You could park at the end of Vista Street an I just drew the windscreen and then looking through that was the harbour and the tanks. It was a pretty simple composition, but it was punchy.
CRESSIDA: One of the Australian artists I've always really admired is John Brack – he and probably Margaret Preston have been the most inspirational to me. Our work isn't at all the same, but Brack did a great picture of some people in a car and I got inspired by that. He also had a very good graphic sense with his still lifes, and saw beauty in often slightly grotesque things. I wouldn't say I see it in grotesque things, but I'll see it in things like a grater and ordinary, everyday things.
NELL: Well, you always said you love an obstructed view.
CRESSIDA: Japanese artists are absolute masters of this seeing a view through something rather than wham in the middle of your face. I love the way the Japanese appreciate the design of small household objects, like in Hokusai's sketchbook. I love tiles on a roof, a grasshopper, endless little fungi, just a fascination in looking at the…
NELL: the minutiae of life…
CRESSIDA: ... that most people may not take the time to look at.
NELL: What subjects have appealed to you, and do you find that over the years the same subjects have come back into your work?
CRESSIDA: In the beginning it was landscape a lot, bush and nature. I want to do a whole series on lichen. I love plants and gardens. And I would like to do some portrait drawings, but they take so long I never do them.
NELL: You've been doing round pictures – what inspired that?
CRESSIDA: I got interested in them when the art shop was selling the odd round board. I've never really liked round pictures, but I am finding these really interesting. They're very good with non-organic shapes. Like if you're doing an interior with straight windows and lines that cut the circle, it's quite interesting.
NELL: Absolutely. And another great tip you gave me once is that the eye likes to have a rest.
CRESSIDA: Yes. That's why I've got 4000 images in the house.
NELL: I've lived out of Australia for half my life and now I'm back, and have been for some time. Do you like having me around more, Cress? Speak frankly.
CRESSIDA: Of course I do. I love having you around… and we speak pretty much every day on the phone. What can I say? You're an incredible person and wonderful and I love you madly.
NELL: Thank you, darling. The feeling is highly mutual. Dah-dah. That's it, treasures. Now, bloody well put on an exhibition. Show us your stuff.
This article is an excerpt from the Summer 2022 issue of Artonview. Introduction by Sarina Noordhuis-Fairfax, Curator, Australian Prints and Drawings
Cressida Campbell opens at the National Gallery on September 24 2022.