The Kenneth E. Tyler Collection
Painting Joan Mitchell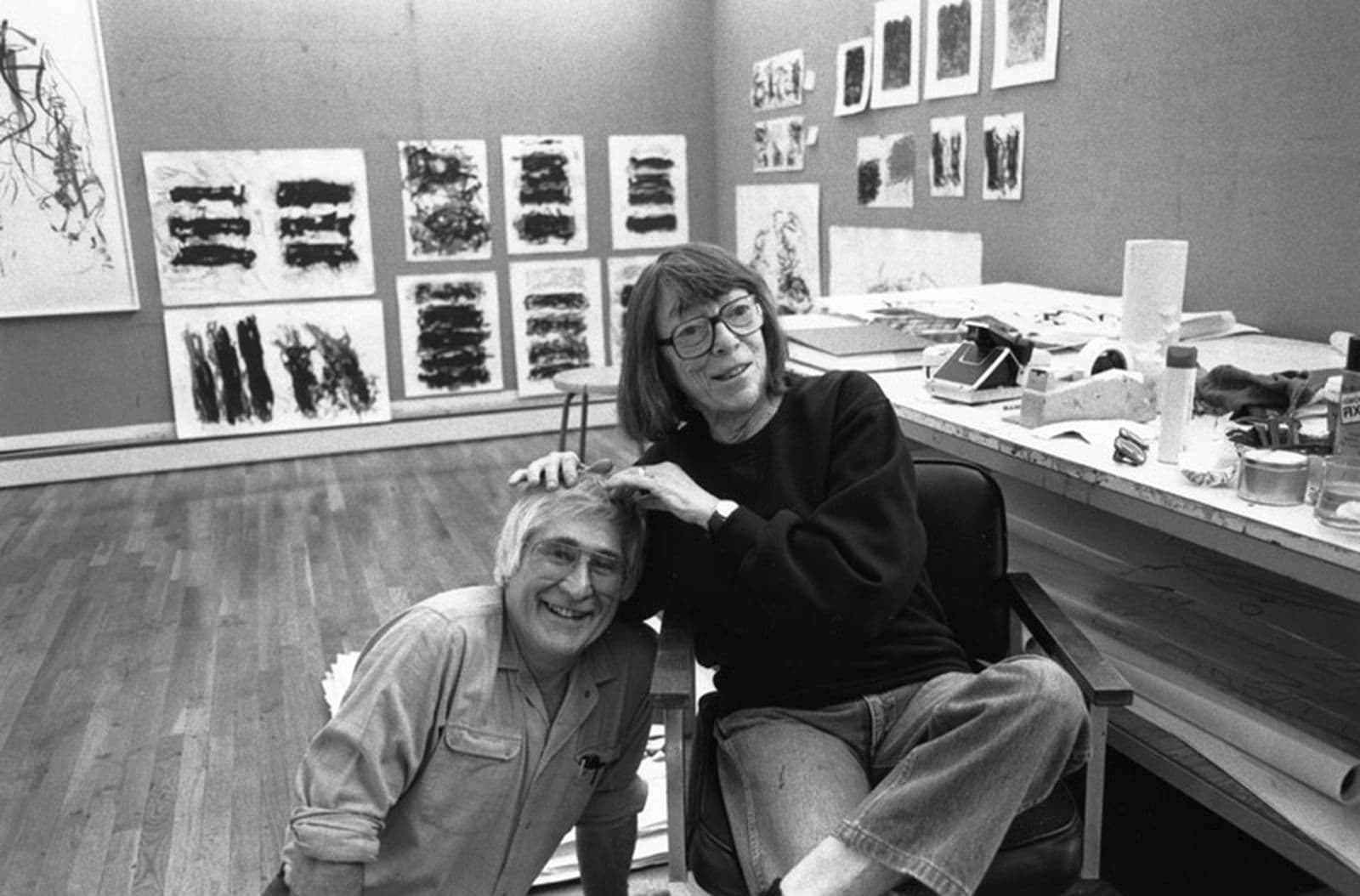 JULIA GREENSTREET discusses JOAN MITCHELL'S career, friendships, and tenacious spirit as a seminal female print artist.
At just twelve years old, Joan Mitchell knew she wanted to be an artist. From her debut on the New York scene in the 1950s through to the 1990s, she painted her way into the annals of Abstract Expressionism with steely determination, creating a body of work of soaring lyrical beauty. Painting was her solace, a lifeline: 'painting is what allows me to survive'. She espoused an unerring belief in the vital role of painting in nurturing the careers of younger, less established artists, fostering a legacy that straddles both artistic and philanthropic spheres. The National Gallery is fortunate to hold a substantial collection of prints by Mitchell, providing us with a unique entry point into the life and practice of this highly regarded artist.
Having graduated from the School of the Art Institute of Chicago with a Bachelor of Fine Arts, the next logical step for Mitchell was New York—postwar capital of the Western art world—and she settled there in 1949. At this time, Jackson Pollock and Willem de Kooning reigned over an art scene that relegated women artists to the periphery. The prevailing and well-vocalised belief amongst male painters that women couldn't paint was echoed at an institutional level. Prominent galleries such as Kootz and Sidney Janis didn't represent women, while membership to the Ninth Street Club, aka 'The Club', intellectual hub of the New York School, was strictly off limits until 1951—and, even then, very few women were invited (Mitchell, as it happens, was one of them).
Confronted with this macho milieu, Mitchell didn't shrink—she snarled. Drinking, smoking, cursing and 'playing the field' on par with the men, she also had a biting tongue and searing temper. Her active involvement in The Club and frequent attendance at the Cedar Street Tavern combined with her tough persona, sharp intellect and fierce commitment to painting saw Mitchell enjoy a level of acceptance unusual for her gender. It didn't hurt that she idolised them, too: 'I adulated the men so much they sort of liked me … I don't think women in any way were a threat to these men, so they could encourage the "lady painter"'.
And encouragement Mitchell needed. For, despite her inclusion in the landmark Ninth Street Show of 1951 and a string of solo exhibitions, her struggle to make it as a painter was real, and she was often plagued by self-doubt, loneliness and depression. During this fledgling period, the friendship and support of revered painter-idols Franz Kline and Willem de Kooning provided the young artist with vital reassurance. Mitchell was buoyed not only by their warmth and openness but, most importantly, by their belief in her as a painter. Kline, she recalled, was generous 'about other painters, which is very unlike many painters … He was so honest and not snobby, not saying: "Why don't you forget it—get a job or something?" Always generous. No, he really never forgot and always helped other people … Absolutely marvellous'. De Kooning, too, was a valued mentor to Mitchell, who called him 'my father'.
Memories of Kline and de Kooning's encouraging words stayed with Mitchell for years to come and, in turn, were reflected in her own relationships with younger artists. As an established painter in the 1970s and 1980s living in Vétheuil, France, Mitchell opened her home to countless emerging, struggling artists, adopting the role of mentor, teacher, friend and financial backer. She instilled in them the importance of feeling and her love of painting, poetry, light, landscape and colour.
Although Mitchell was a painter above all else (oil on canvas was her preferred medium), she was also an accomplished printmaker and produced a significant graphic oeuvre of prints and artist books. The National Gallery's collection of Mitchell prints and associated proofs numbers in the hundreds and is the largest in Australia. Completed over two sessions in 1981 and 1992, the works bear witness to the fruitful collaboration between Mitchell and Kenneth Tyler, postwar America's pre-eminent printer-publisher. Tyler Graphics Ltd, established by Tyler in 1974, was the first print workshop she worked in that offered a full range of techniques and was affectionately referred to by the printer as his 'candy store'. While Mitchell wasn't interested in the intricacies of print processes, the workshop's technical excellence and ethos of innovation nonetheless excited her, and she would ask Tyler, 'what piece of candy do I get today?'
Both grew up in Chicago and had many mutual art world connections, which set the stage for their close friendship to come. Tyler was unfazed by Mitchell's forceful personality, heavy drinking and swearing, finding her to be 'a very bright, charming and lovable person with a good sense of humour'. Their camaraderie fed into an equally successful working relationship that resulted in some of Mitchell's most powerful graphics.
In 1981, Mitchell produced ten large lithographs collectively titled the Bedford series after the workshop's Bedford Village location in New York. Keen to facilitate Mitchell's drawing process, Tyler provided her with clear sheets of Mylar, which, when layered over one another on the studio wall, allowed her to view the entire image at once and thus work with greater immediacy. For the printers, this served the dual function of creating instant colour separations, which could then be directly transferred to photosensitive lithographic plates for proofing. Mitchell harnessed Tyler's innovative technique to expand her printmaking palette and incorporated up to ten colours in one work, marking a significant break from the more subdued tones of earlier prints.
Tyler was struck by Mitchell's 'mastery of colour unparalleled by her contemporaries. I never worked with anyone since [Josef] Albers that had such a keen knowledge of colour and how colours interacted with each other'. Abstract but always precise, she would say, 'Ken, I want to try a colour like the colour of dying sunflowers'. Blue was particularly significant to Mitchell and, when she requested cobalt blue—illegal in printer's ink in 1991—for Trees V, Tyler went to great lengths to get it for her, sourcing a box of cobalt blue oil sticks from a New York art supply store and grinding them up to make ink.
For a week in October 1992, Mitchell stayed at TGL to complete a cycle of prints she had started the year prior. During this visit, she was diagnosed with advanced lung cancer and the session became a 'marathon race to the finish'. Printer Susan Hover Oehme recalls, 'she knew she was dying, and Ken knew she was dying, and we knew she was dying. It was such a weird situation. It was very sad, and yet she was very pragmatic about it'. The Trees, Sunflowers, Weeds and Fields works feature many of Mitchell's favourite natural subjects and are remarkable for their energy and sweeping physicality. With enormous lithographic presses at her disposal, she seized the opportunity to incorporate the full range of her movement in monumental diptychs such as Sunflowers II and Trees IV, the largest prints she ever produced.
Another project completed at this time was Poems, a book of eight lithographs illuminating the poetry of Nathan Kernan. When Kernan met Mitchell, he had made 'hesitant beginnings in writing poetry' and was as yet unpublished. Before he knew it, though, Mitchell was reading his work and declaring to all that he was a poet, much to his dismay. When Tyler approached Mitchell to make an artist book, she was determined to work with a young, unknown poet and chose Kernan. Despite Kernan's protests, Mitchell persisted, saying 'let's just make something and have fun'. The collaboration had a lasting impact on Kernan, who reflected in 2013, 'There remains something unfinished about our friendship, not least in my feeling that I haven't yet lived up to her belief in me, if that's what it was. When I see her on film her presence rushes forcefully back: her voice, her mannerisms, her vulnerability, her sharp retorts, and I miss Joan terribly'.
Kernan's story is not unique. Indeed, during her lifetime Mitchell took many young artists under her wing. Biographer Patricia Albers outlines how, in New York, Mitchell gave painter Howard Kanovitz advice on art materials and discussed 'how to live, how to make it, what it was all about', while providing emotional support to a struggling Marilyn Stark, who thought of Mitchell as her 'big sister'. At her home in Vétheuil, Mitchell received a steady flow of artist guests, with several staying for months or years at a time. Her childlessness, loneliness and outsider mentality arguably played a part in her nurturing relationships with young artists. In addition, her isolation from New York likely fed a desire to recreate the sense of community and lively artistic debate she had herself found so enriching as a youth.
While Mitchell turned down prestigious teaching opportunities at institutions such as the École des Beaux-Arts in Paris, she found satisfaction in passing on some of her formidable knowledge about the craft of painting to fledgling artists. Phyllis Hailey, who lived at Vétheuil for over a year, wrote that Mitchell was 'truly doing wonders for me painting-wise and person-wise'. Student and painter Christopher Campbell, initially told by Mitchell that his work was 'a complete pile of shit', was subsequently given an 'amazing lesson' in colour.
Today the Joan Mitchell Foundation—established in 1993 as stipulated in the artist's will—continues Mitchell's advocacy for the support and professional development of artists on a national scale. Key initiatives include free studio classes for emerging artists, an annual grants program, and funding of community arts organisations. The Joan Mitchell Center in New Orleans, conceived in response to the devastation of Hurricane Katrina, runs a residency program providing artists with living quarters and studio space. In the United States, artist-endowed organisations such as the Joan Mitchell Foundation are on the rise and are playing an increasingly important role in the cultural landscape as government funding declines.
Mitchell's art and life were inseparable from one another. Despite the gender discrimination of the art establishment, and compelled by a 'rage to paint', Mitchell carved a path uniquely hers, passing her passion and commitment on to successive generations of artists. For a figure so integral to the story of Abstract Expressionism, Mitchell is under-represented in Australian collections. Tyler's generous donation to the National Gallery of over four hundred of her prints in 2001 is, therefore, all the more precious.
This essay was first published in Artonview no. 86 | Winter 2016.